Strawberry Shortcake Cupcakes
Strawberry Shortcake Cupcakes are sponge cake cupcakes layered with strawberry curd and whipped cream. Make them as a beautiful strawberry dessert!

There is beauty in the rain.
Or in fallen cupcakes.
Gravity laughed as my Strawberry Shortcake Cupcake toppled over.
Ok only one fell over and I still got my pictures of the finished product, but I thought it was beautiful the way it fell.
Kinda like all the layers slid apart so you could see the individual components.
Sometimes you just need to take a step back and appreciate that everything doesn't go as planned. And sometimes, the outcome is better than what you could imagine.
The only adjusting I did was moved it from where it fell to the little plate for pictures, but I was careful not to mess up the placement. But seriously, after I added the strawberry on top, it toppled over just like that.
Of course with fresh strawberries, you just have to make a shortcake. Biscuits or sponge cake? Personally, I'm a cake girl (shocker). I thought about those little round sponge cakes you always see in the produce aisle. And of course I couldn't go through strawberry season without making a cupcake.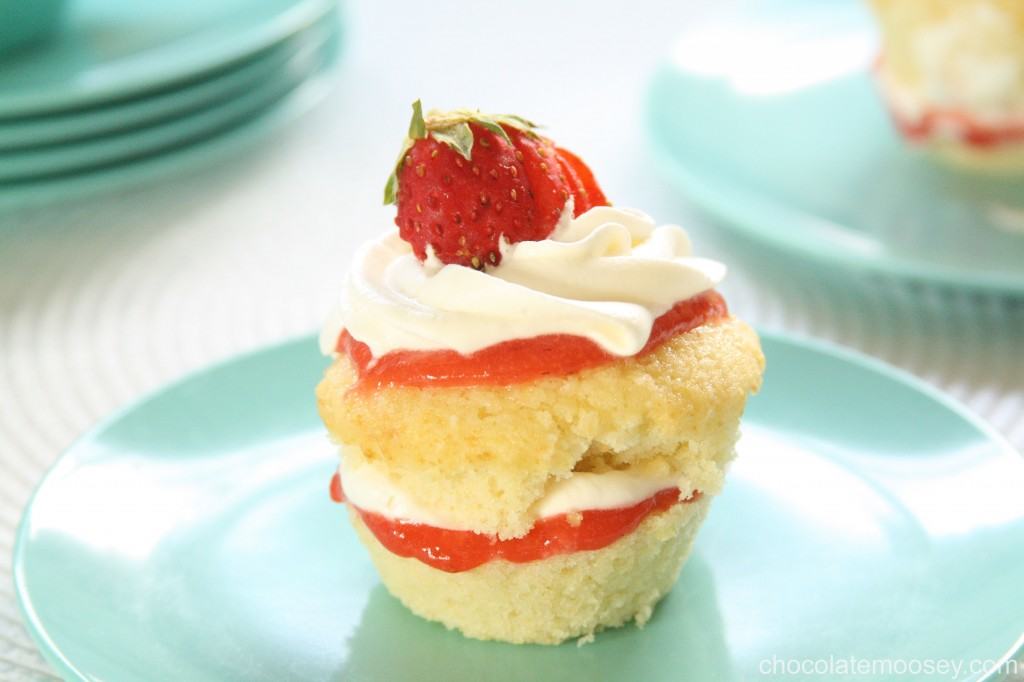 These are sponge cakes layered with
strawberry curd
and
homemade whipped cream
.
You can also use strawberry jam without pectin or strawberry sauce.
Since you'll be removing the cupcake wrappers, either use cheap white ones or a silicone pan.
If you use a silicone pan, let it cool completely in the pan before removing because I broke a few for being too warm.
Strawberry Shortcake Cupcakes
Yield: 6 cupcakes
Prep Time: 20 minutes
Cook Time: 20 minutes
Total Time: 40 minutes
Strawberry Shortcake Cupcakes with strawberry curd and whipped cream
Ingredients
3/4 cup all-purpose flour
3/4 teaspoon baking powder
1/8 teaspoon salt
1/2 cup granulated sugar
1/4 cup (2 ounces or 4 tablespoons) unsalted butter, melted and cooled slightly
1 egg, room temperature
1/4 teaspoon vanilla
1/4 cup milk, room temperature
Instructions
Preheat oven to 350F. Line a cupcake pan with 6 paper liners. In a small bowl, whisk together the flour, baking powder, and salt.
In a large bowl, whisk together the sugar, butter, egg and vanilla until smooth. Alternately whisk in the flour mixture and milk, making three additions of flour and two additions of milk. Beat until smooth.
Scoop batter into prepared pan and bake for 20 minutes or until golden brown and a toothpick inserted in the center comes out clean. Cool completely.
Cut each cupcake in half horizontally. For each cupcake, spoon and spread some of the curd/jam onto one half. Spoon and spread some of the whipped cream. Top with the remaining cupcake half. Spoon and spread some more curd/jam on the top half then top with some more whipped cream. Repeat with the remaining cupcakes. Garnish with a strawberry. Chill until ready to serve.
Source: Adapted from
125 Best Cupcake Recipes by Julie Hasson
This post may contain affiliate links. As an Amazon Associate and member of other affiliate programs, I earn from qualifying purchase.