Learn how to make small batch Strawberry Cupcakes with Strawberry Cream Cheese Frosting with real strawberries from scratch without using strawberry Jello. Makes 6 cupcakes.
Do you listen to Pandora radio? If you're not familiar with it, it's a website where you can listen to free music with some commercial breaks. There are so many channels you can choose, there is something for everyone.
I didn't start using Pandora until I started working from home as it can get pretty quiet when playing around in the kitchen. Recently I've been listening to the Pitch Perfect channel that my friend Courtney mentioned. In addition to the songs from the movie, Pandora also plays similar songs that it thinks I might like.
I've gained a few new favorites, including Madilyn Bailey's Titanium cover (so much better than the original!) and acapella versions of songs I didn't really care for in the first place.
However, sometimes Pandora goes crazy and gives me songs that no way in a million years would I listen to; I can't click on the thumbs down fast enough and just want to scratch out my ear drums. I think if you listen to one channel for too long (i.e. all morning), it runs out of good songs to play.
Anyway, as I mentioned I almost always have Pandora on while I'm working unless I'm writing (for some reason, I can never write and listen to music at the same time). My latest baking adventure in the kitchen is with these small batch Strawberry Cupcakes with Strawberry Cream Cheese Frosting made using real strawberries.
Since my Strawberry Layer Cake and Strawberry Snack Cake are popular recipes, I wanted to turn the batter into cupcakes.
Most strawberry cake recipes call for either cake mix and/or strawberry Jello; very rarely do they actually use real strawberries. With the fresh strawberries I picked earlier this month, I knew these cupcakes would be in my future.
Of course every strawberry cake needs strawberry cream cheese frosting. You can never go wrong with double the strawberry flavor.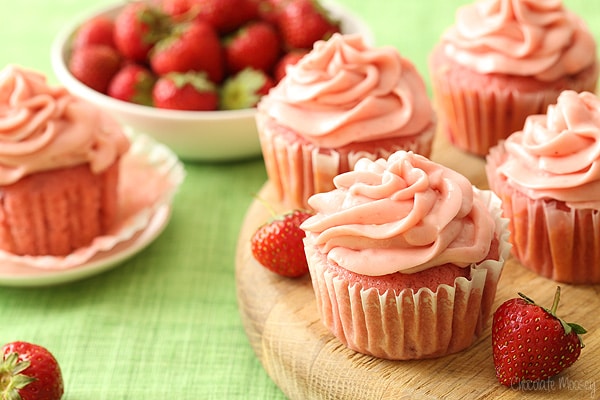 When I think of strawberry cupcakes, I think of pink. Although the food coloring isn't necessary, I did add a few drops for presentation. The
strawberry cream cheese frosting
, however, is naturally pink from using fresh strawberries.
If you don't want a double strawberry cupcake, you can also top them with Small Batch Chocolate Frosting.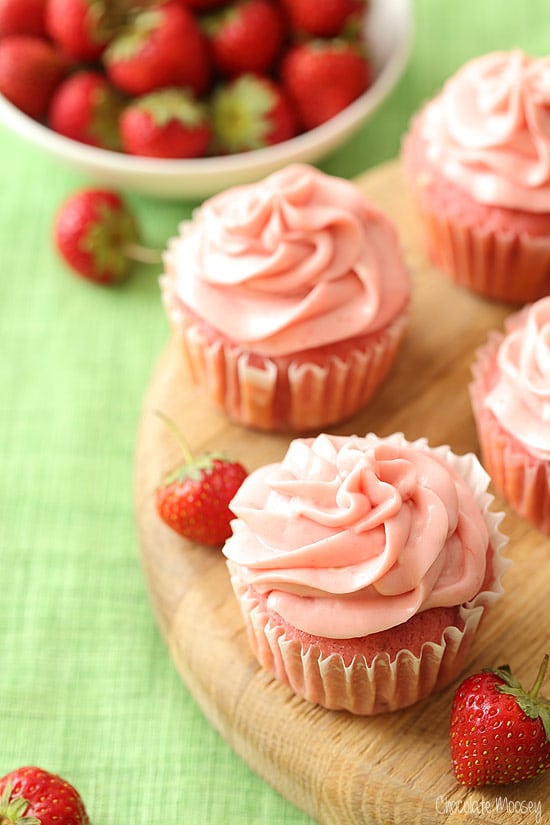 For the cream cheese frosting, it's important you follow the directions and cook the strawberries down enough; otherwise, your frosting will be too runny. Yes, you will actually need to measure it and keep cooking until it's right. Please trust me on this.
Speaking of runny, my kitchen was really warm thanks to a broken air conditioner, so I chilled the frosting for 15 minutes before piping. You may or may not need to do this step, depending on the temperature of your kitchen. Use your best judgment.
More Small Batch Cupcake Recipes

Looking for more cupcake recipes? Here are recipes for small batch cupcakes: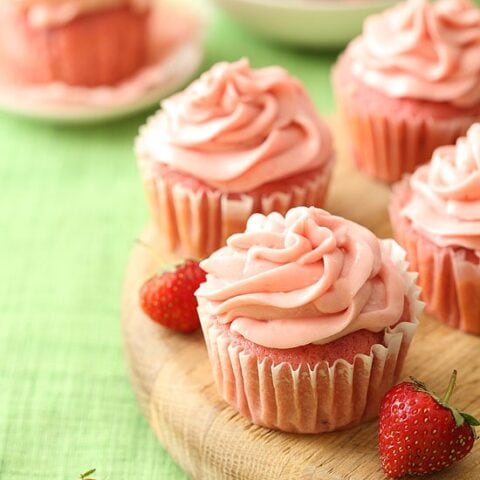 Strawberry Cupcakes with Strawberry Cream Cheese Frosting
Yield: 6 cupcakes

Prep Time: 1 hour

Cook Time: 20 minutes

Total Time: 1 hour 20 minutes

Learn how to make small batch Strawberry Cupcakes with Strawberry Cream Cheese Frosting with real strawberries from scratch without using strawberry Jello.
Ingredients
1/2 cup chopped strawberries
2 teaspoons water
3/4 cup all-purpose flour
1 tablespoon cornstarch
1 teaspoon baking powder
1/8 teaspoon salt
1/4 cup (2 ounces or 4 tablespoons) unsalted butter, softened
1/3 cup + 2 teaspoons granulated sugar
2 egg whites, room temperature
1/2 teaspoon vanilla extract
2 tablespoons whole milk, room temperature
Few drops red food coloring (optional)
1 recipe Strawberry Cream Cheese Frosting (get the recipe here)
Instructions
Preheat oven to 350F. Line a cupcake pan with 6 paper liners.
In a medium saucepan, add 1/3 cup strawberries, water, and 2 teaspoons sugar. Bring to a boil, stirring occasionally. Boil for 2-3 minutes or until the strawberries cook down. Remove from the heat and cool at least 15 minutes.
In a large bowl, sift together the flour and cornstarch. Stir in the baking powder and salt.
In another large bowl, beat together the butter and remaining 1/3 cup sugar until creamy, 2-3 minutes.
Beat in the egg whites, one at a time, until smooth then add the vanilla.
Add the flour mixture alternating with the milk, adding the flour in 3 additions and the milk in 2 additions (begin and end with dry ingredients).
Stir in the cooked strawberry mixture and remaining chopped strawberries. Add food coloring if desired.
Divide the batter among the paper liners and bake 18-20 minutes or until a toothpick inserted in the center comes out clean. Cool completely.
Once cool, frost with Strawberry Cream Cheese Frosting.
Source: Adapted from Cooking Classy
Recipe updated 4/6/18 to make 6 cupcakes.