Boston Cream Pie Cupcakes (Small Batch)
In the mood for cupcakes but don't want to make a dozen? This small batch Boston Cream Pie Cupcake recipe with a homemade custard filling and chocolate ganache makes half a dozen cupcakes, perfect for small households.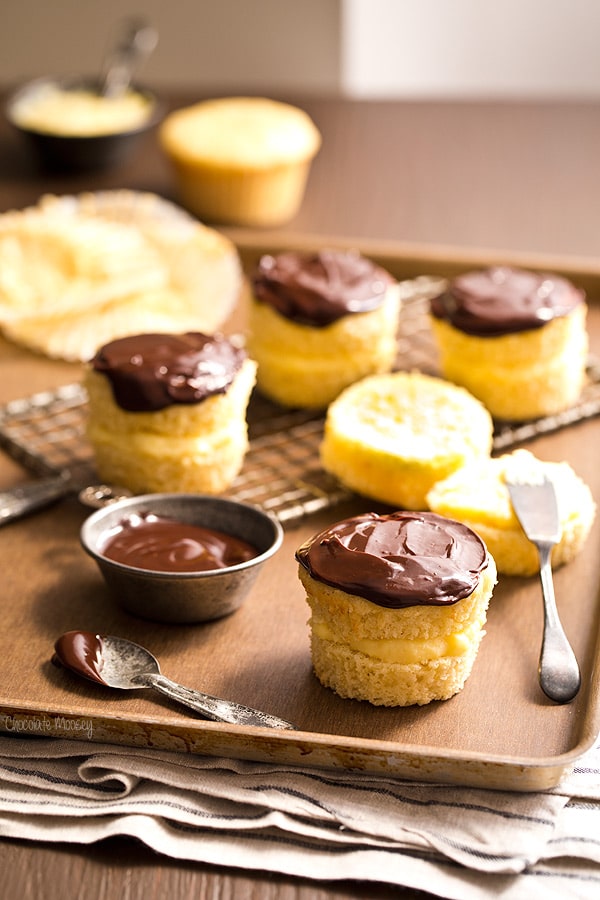 Looks like we're less than a week until Valentine's Day.
I swear every year I write the same thing: I'm single for Valentine's Day and am focusing on Tom and Donna's mantra treat yo'self.
I haven't quite figured out how I'm going to treat myself on Sunday.
Maybe I'll finally buy a fresh lobster from the local fish market and attempt to cook it.
Maybe I'll stick with fresh sushi from said local fish market and not worry about killing anything.
Maybe I'll pick up some chicken quarters and make extra crispy chicken skin.
Maybe I'll stop at the French bakery for a pain au chocolat (chocolate croissant).
Maybe I'll have pain au chocolat for breakfast, sushi for lunch, and crispy chicken skin for dinner. Who knows what I'll get into come Sunday morning.
Since Valentine's Day is about recipes for two (or one if you're like me), I had a reader make a comment about small batch cupcakes as most recipes make a dozen or more.
Even my cupcake recipes make a dozen or so because it becomes a little tougher scaling it down when you have 1 egg (half an egg, anyone?).
But don't worry – I got you covered with these small batch Boston Cream Pie Cupcakes without having to worry about oddball measurements.
Making only six cupcakes, these mini yellow sponge cakes are sliced in half, stuffed with homemade custard , then topped with chocolate gananche. I guarantee these won't last long as all.
It's weird – I've been craving Boston cream pie lately for no reason.
It's not like it's my favorite cake. It probably wouldn't even be in my top five.
I just really wanted yellow cake, custard, and chocolate.
Despite the name, Boston cream pie is actually a cake, not a pie. Not sure whose brilliant idea it was to call it that, but talk about confusing.
After doing some quick reading, it looks like back in the day, this cake was actually made in a pie pan.
Looks like you can even visit where it was invented in Boston and order the original cake for dessert.
You do need to do some planning ahead to make the custard filling as it needs about an hour or so of chill time.
However, if you make it while the cupcakes are baking, by the time you wait for the cupcakes to cool and you're ready to assemble, the custard should be chilled enough.
Alternatively you can make the custard a day or two ahead of time before assembly.
More Small Batch Cupcake Recipes

Looking for more cupcake recipes? Here are recipes for small batch cupcakes:

For a full list of recipes, check out my Small Batch Cupcake Recipes guide.

Don't want to make cupcakes? Make my 4 inch Mini Boston Cream Pie.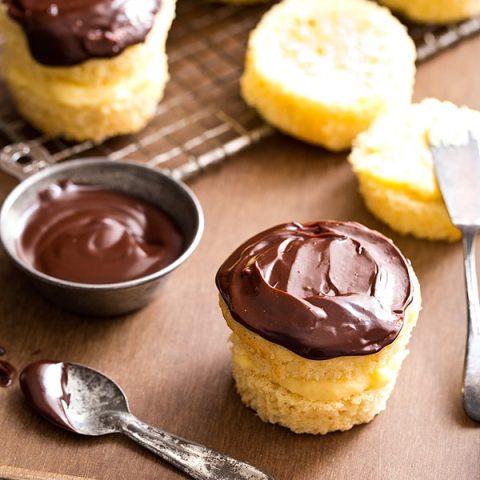 Boston Cream Pie Cupcakes (Small Batch)
Yield: 6 cupcakes
Prep Time: 30 minutes
Cook Time: 20 minutes
Total Time: 50 minutes
Small Batch Boston Cream Pie Cupcake recipe with a homemade custard filling and chocolate ganache makes half a dozen cupcakes, perfect for small households.
Ingredients
3/4 cup (97 grams) all-purpose flour
1 teaspoon baking powder
1/4 teaspoon salt
1/2 cup (105 grams) granulated sugar
1/4 cup (2 ounces, 56 grams, or 4 tablespoons) unsalted butter, melted and cooled slightly
1 egg, room temperature
1/4 teaspoon vanilla extract
1/4 cup (60 mL) whole milk, room temperature
Custard
1/2 cup whole milk
1 egg yolk
2 tablespoons granulated sugar
1 tablespoon cornstarch
1/8 teaspoon salt
1/2 tablespoon unsalted butter
1/4 teaspoon vanilla extract
Chocolate Ganache
2 ounces semisweet chocolate, chopped
3 tablespoons heavy whipping cream
1 tablespoon corn syrup
1/8 teaspoon vanilla extract
Instructions
Preheat oven to 350F. Line a cupcake pan with 6 paper liners.
In a small bowl, whisk together the flour, baking powder, and salt.
In a large mixing bowl, beat together the sugar, butter, egg and vanilla until pale yellow and smooth, about 1 minute.
On the lowest speed possible, alternately add the flour mixture and milk, making three additions of flour and two additions of milk. Scrape down the bowl.
Scoop the batter into liners and bake for 18-20 minutes or until golden brown and a toothpick inserted in the center comes out clean. Cool completely.
To assemble: Working with one cupcake at a time, unwrap and cut in half horizontally. Spread some of the custard (recipe below) onto one half. Top with the remaining cupcake half. Spread chocolate ganache (recipe below) on top. Repeat with the remaining cupcakes. Chill until ready to serve. Let sit at room temperature for 15-30 minutes before serving. Store in an airtight container in the refrigerator for up to 3 days.
For the custard:
In a large saucepan, warm the milk until hot but not boiling.
Meanwhile in a small bowl, whisk together the egg yolk, sugar, cornstarch, and salt until a smooth paste forms. Whisk some of the hot milk into the egg mixture then pour the mixture back into the saucepan. Cook until boiling, whisking constantly. Once boiling whisk for another 60 seconds or until the custard thickens.
Remove from the heat and immediately whisk in the butter and vanilla. Pour through a strainer into a clean bowl and cover the surface with plastic wrap. Cool to room temperature and then refrigerate for 1 hour or until firm.
For the chocolate ganache:
Add the chopped chocolate to a heatproof bowl. In a medium saucepan, heat the cream, corn syrup, and vanilla until hot but not boiling. Pour the hot cream over the chocolate and wait 1 minute. Stir together until completely smooth.
Source: Adapted from
125 Best Cupcake Recipes
(Amazon affiliate link)
This post may contain affiliate links. As an Amazon Associate and member of other affiliate programs, I earn from qualifying purchase.