Strawberry Layer Cake With Cream Cheese Frosting
This two layer strawberry cake is made all from scratch – no cake mix, no strawberry Jello. And of course you can't forget the homemade cream cheese frosting.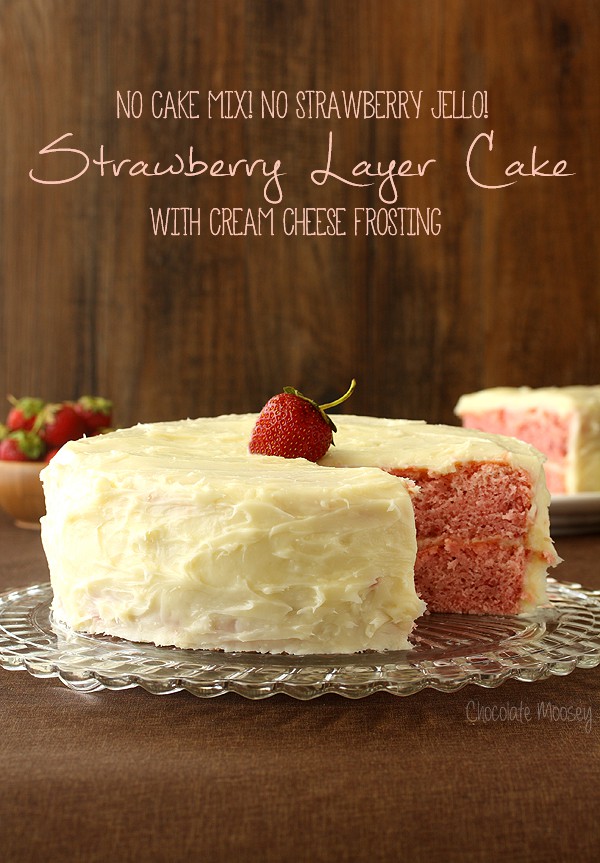 Trusting your gut is a very powerful feeling. Sometimes you can't explain it other than it just feels right.
When I decided to study abroad in Ireland seven years ago, it wasn't so much about the traveling or experiencing another culture. I imagined myself studying there, walking around campus, being a student of another country. That's how I knew I had to go because it felt like I already belonged there.
Then when I was looking for apartments in my current town, I fell in love with the one I'm in now because it felt right.
Sometimes, I use that same gut feeling in baking as I did with this Strawberry Layer Cake. Although my first attempt was good – not perfect but still a good cake – I kept thinking about it. It wasn't pink enough. It wasn't strawberry enough.
The next morning I woke up with several ways to improve it and knew if it bugged me that much to the point where it was the first thought in my head for the day, I knew I had to remake it.
Today I'm proud to bring you a Strawberry Layer cake made from scratch – no cake mix, no strawberry Jello. Good ol' flour, sugar, eggs, butter, fresh strawberries, and of course homemade cream cheese frosting.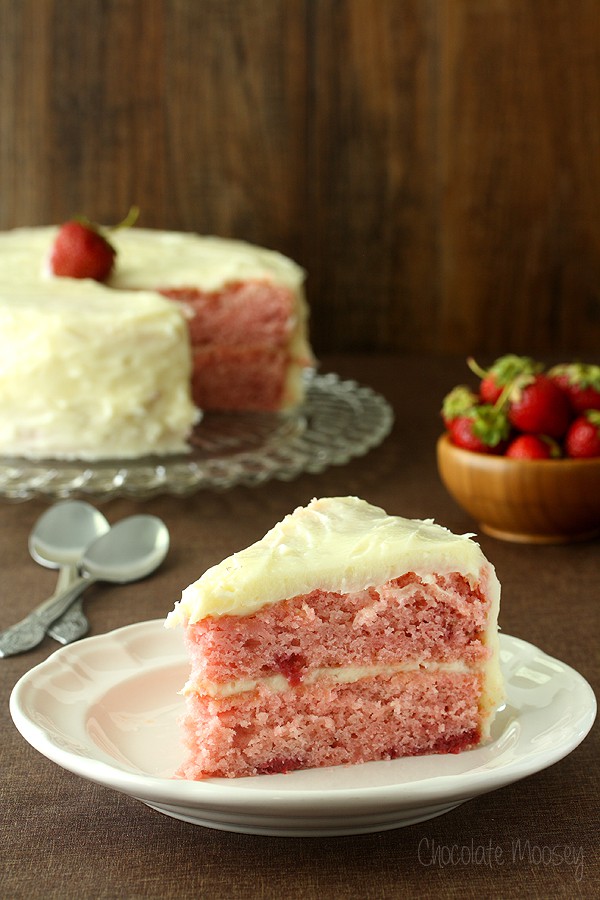 When you think of strawberry cake, you probably think of those very vibrant pink layer cakes paired with either vanilla or cream cheese frosting. However, most of the time it also comes from a box. Is it possible to recreate this cake from scratch not only with its pink look but also be prominent in strawberry taste? Answer – yes.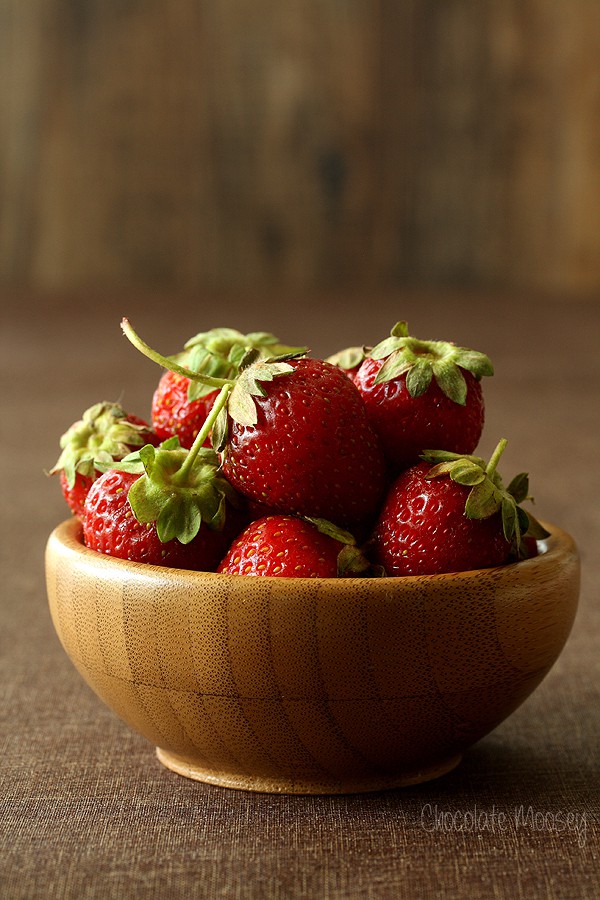 As I researched strawberry cake recipes, I noticed that a good bit of them still used strawberry Jello. I wanted my strawberry flavor to come from fresh strawberries, not gelatin.
The first time I made this cake, I used whole eggs and strawberry puree. Although the cake came out fine, it had more of a greyish pink color and subtle strawberry flavor. Not what I was looking for in a strawberry cake.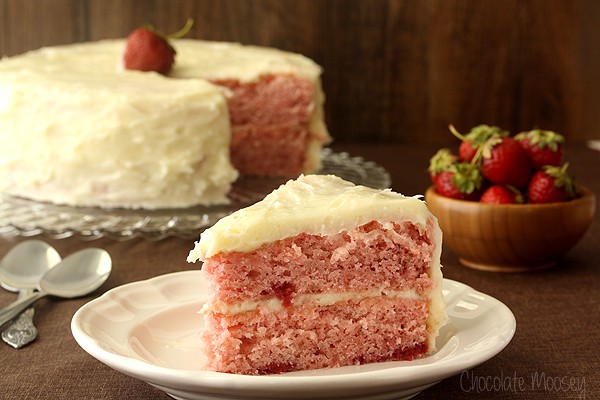 I decided to focus more on making it a white cake with strawberry puree in hopes that the pink will be more vibrant. I swapped out the whole eggs for egg whites (so the yolks didn't affect the color) and cooked the strawberries down, very similar to a jam. Usually strawberry preserves have a more concentrated flavor than straight up pureed strawberries, so I thought cooking them would help. And it did. Yes, I did cheat a little and added some red food coloring, but I did achieve the brightness and flavor I wanted.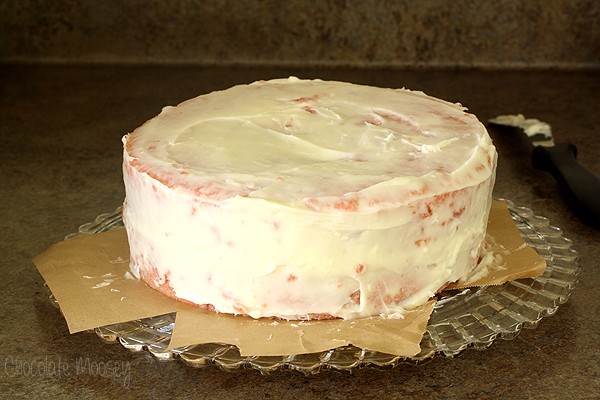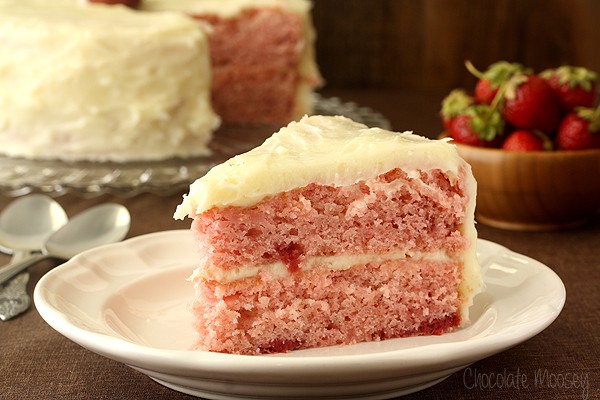 Now that the cake was perfect, time to decorate. Or pretend to decorate, in my case.
Strawberries and cream cheese frosting go so well together, almost like peanut butter and jelly or wine and cheese. You can use cream cheese frosting or amp up the berry flavor with Strawberry Cream Cheese Frosting (double the recipe for this cake).
You can also use strawberry buttercream.
The trick to frosting any cake is to create a crumb layer. You want to very thinly cover the cake just enough to secure the crumbs and not use more than half of your frosting doing this. Otherwise, you won't have enough frosting left for the outside.
I used little pieces of parchment paper underneath the cake to keep the cake stand clean. After frosting, just pull those pieces out from underneath, and it's like you were never there with your spatula.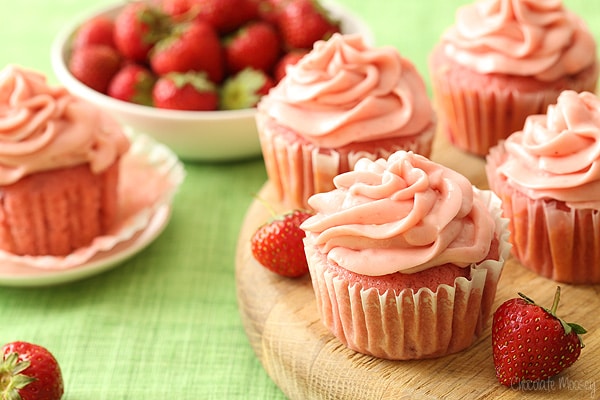 Loving this strawberry layer cake? You'll also love my
Strawberry Cupcakes with Strawberry Cream Cheese Frosting
and
Strawberry Snack Cake
. Both made from scratch without Jello or cake mix!
Update 6/8/16: Based on reader feedback, I retested the cake and edited the recipe below to reflect those changes. I changed the technique and adjusted some of the ingredient amounts.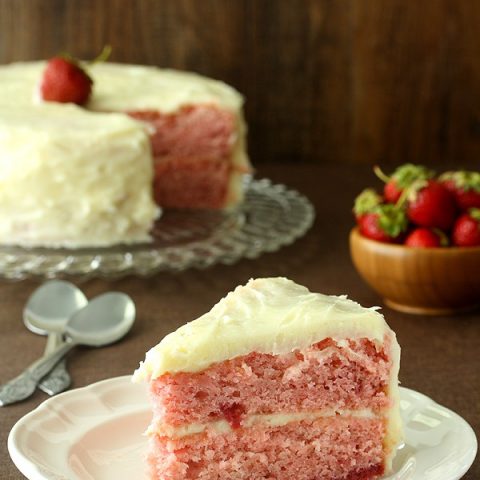 Strawberry Layer Cake With Cream Cheese Frosting
Yield: 8-10 servings
Prep Time: 20 minutes
Cook Time: 25 minutes
Total Time: 45 minutes
This two layer strawberry cake is made all from scratch – no cake mix, no strawberry Jello. And of course you can't forget the homemade cream cheese frosting.
Ingredients
2 cups sliced fresh strawberries* (see Note about quality)
2 tablespoons water
1 3/4 cup all-purpose flour (when measuring, spoon the flour into the measuring cup and level it off)
1/4 cup cornstarch
2 teaspoons baking powder
1 teaspoon salt
1/2 cup (1 stick or 4 ounces) unsalted butter, softened
1 1/2 cups + 2 tablespoons granulated sugar
4 egg whites, room temperature
1 teaspoon vanilla extract
1 cup whole milk, room temperature
Red food coloring (optional)
Frosting Options (Pick One)
Instructions
Preheat oven to 350F. Grease two 8-inch wide x 1 1/2 inch deep round cake pans and line the bottoms with parchment paper.
In a large saucepan, stir together 1 1/2 cups strawberries, water, and 2 tablespoons sugar. Bring to a boil, stirring occasionally. Boil for 5 minutes or until the strawberries cook down and start to thicken. Remove from the heat and cool 15 minutes.
In a large bowl, sift together the flour and cornstarch. Stir in the baking powder and salt.
In another large bowl with a mixer on medium speed, beat together the butter and remaining 1 1/2 cups sugar until creamy, 2-3 minutes. Beat in the egg whites, one at a time for 1 minute each, then add the vanilla.
On low speed add the flour mixture alternating with the milk, adding the flour in 3 additions and the milk in 2 additions (begin and end with dry ingredients). Do not overmix the flour. Stir in the cooked strawberry mixture and remaining 1/2 cup strawberries. At this point, if the batter isn't pink enough, add 3-5 drops red food coloring if desired.
Divide the batter between the two cake pans (batter will be thin) and bake 25-30 minutes or until the tops are brown and a toothpick inserted in the center comes out clean. Cool for 15 minutes then invert cakes onto cooling racks. Cool completely.
If the cake layers are not flat, trim some of the cake off of the top until flat.
Place one cake layer on a cake stand or plate. Slide pieces of parchment or wax paper underneath the cake for easy clean up later. Spread some of the frosting on top of the cake. Top with the remaining cake layer. Spread a thin layer of frosting all over the cake, sealing in the crumbs (don't use more than half of the frosting). Refrigerate 15 minutes.
Finish covering the cake with the remaining frosting. Carefully remove the paper pieces. Refrigerate until the frosting is firm. Store the cake covered in the refrigerator. For best results, let the cake sit at room temperature for 30 minutes before serving.
Notes
*Make sure your fresh strawberries are ripe and juicy. If they are underwhelming in strawberry flavor, the cake will also be underwhelming in strawberry flavor.
If it's not strawberry season, you can substitute frozen strawberries (the fruit, not the kind frozen in syrup). Thaw completely and drain all extra liquid before using.
Source: Originally adapted from
Simply from Scratch Recipes Vol 2
(Amazon affiliate link). Recipe updated after that based on reader feedback
This post may contain affiliate links. As an Amazon Associate and member of other affiliate programs, I earn from qualifying purchase.