Even though I love cheesecake, sometimes I just want a few small bites. This plain mini cheesecake recipe makes just enough dessert for two and can be customized with different toppings and batters. Mini chocolate cheesecake recipe also included.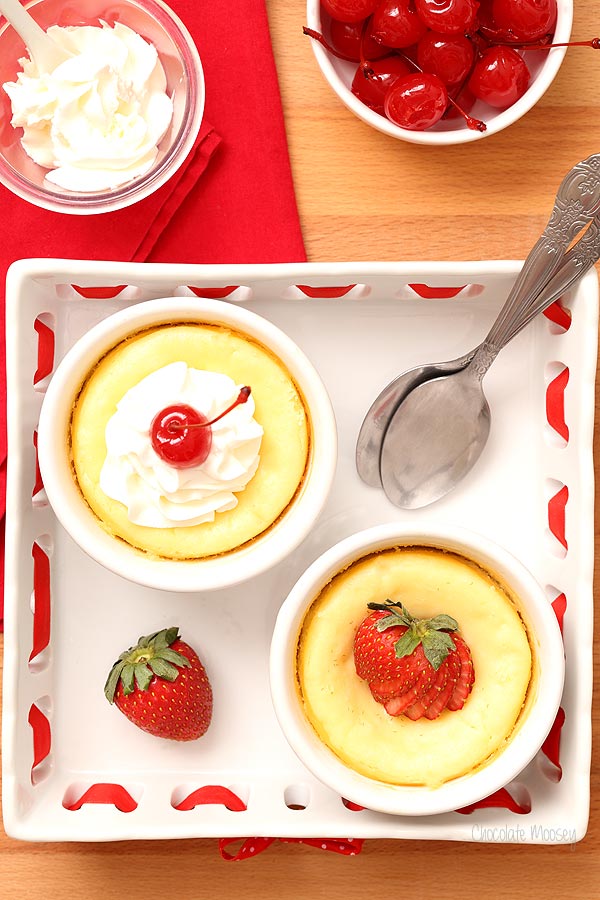 It seems like lately all I've been posting are dinner recipes. I usually blog what I'm in the mood for, and my body was totally over sweets and ready for some real food.
In fact, I almost posted another dinner idea today, but how long could I really go without posting any dessert? The third week in January is probably pretty safe, right?
Everybody has been obsessing over detoxing, fruit smoothies, and "skinny" recipes the past few weeks. Surely your sweet tooth needs some love.
And of course my first dessert of 2015 is cheesecake because I wouldn't be me otherwise. Now as much as I love cheesecake, I can't always go making a whole one. Sometimes I just want one slice and be done (not because I don't want the rest of the cheesecake but rather I know what the consequences would be).
My solution? Scaling it down and making Cheesecake For Two, which you can totally customize for each person with different toppings (or all for yourself – nobody's looking). You can even make it plain or make it chocolate.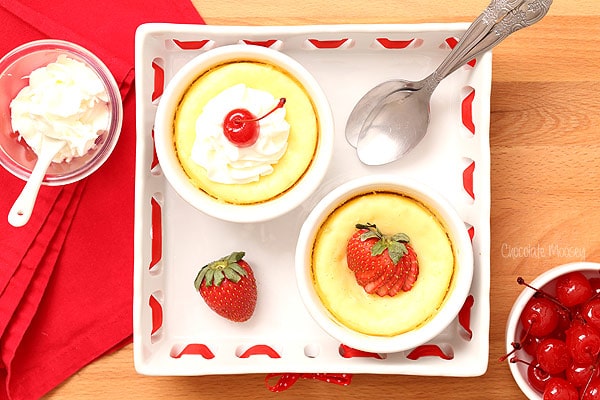 I have a friend who sent me an "angry" text one day, asking why didn't I have just a plain cheesecake recipe on my site? I told her I had the perfect recipe but never posted it as is; it always had to have a little pizzazz –
strawberry swirl
,
caramel apple
,
gingerbread
.
I still owe her my recipe for a whole plain cheesecake, but for now she can make my mini version of it (and then share it with me because I'm a good friend. Ahem).
Speaking of sharing, as a blogger I have an obligation to mention that this is the perfect dessert for two to serve your loved one for Valentine's Day (personally I vote for a random date night in any day of the year).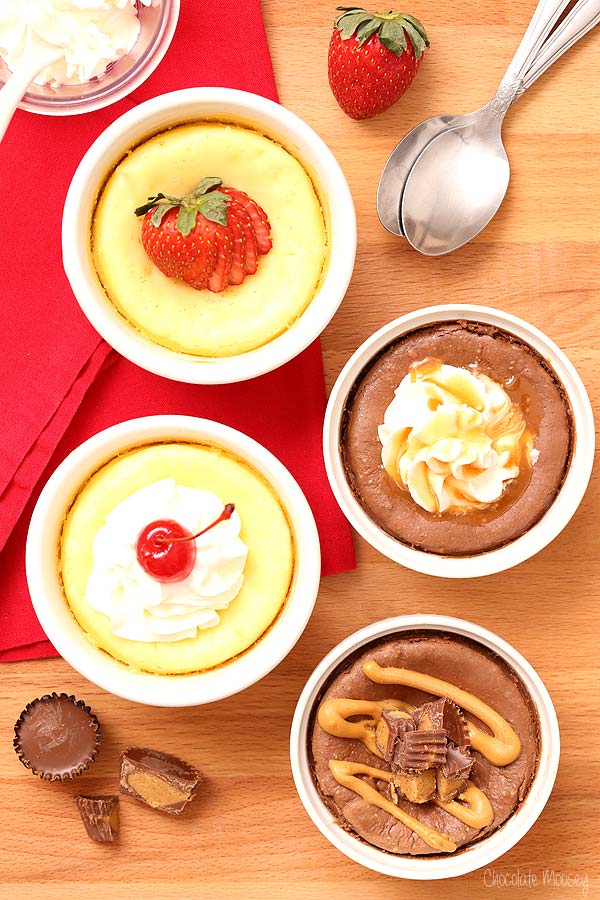 I scaled down my favorite cheesecake recipe, baked in ramekins, then had some fun with the toppings. Top it with strawberries. Top it with whipped cream and a cherry on top. Top it with caramel. Top it with melted peanut butter chips.
Make them plain. Make them chocolate. Make one plain and one chocolate.
I know you're smart and will come up with even better flavors than that. Just let your heart (and your taste buds) guide you.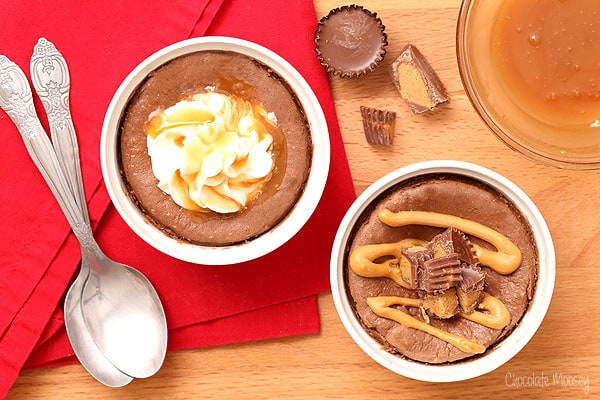 Just a little note – since ramekins can vary in size (I used 6 ounce and 4 ounce ones because I apparently don't have a matching set), it is possible that the cheesecake may sink in the middle. If this happens, just add extra whipped cream on top. Problem solved.
Check out my Small Batch Strawberry Swirl Cheesecake Bars made in a loaf pan, for another cheesecake for two recipe!
Leave me a comment telling me: What topping(s) would you put on your cheesecake?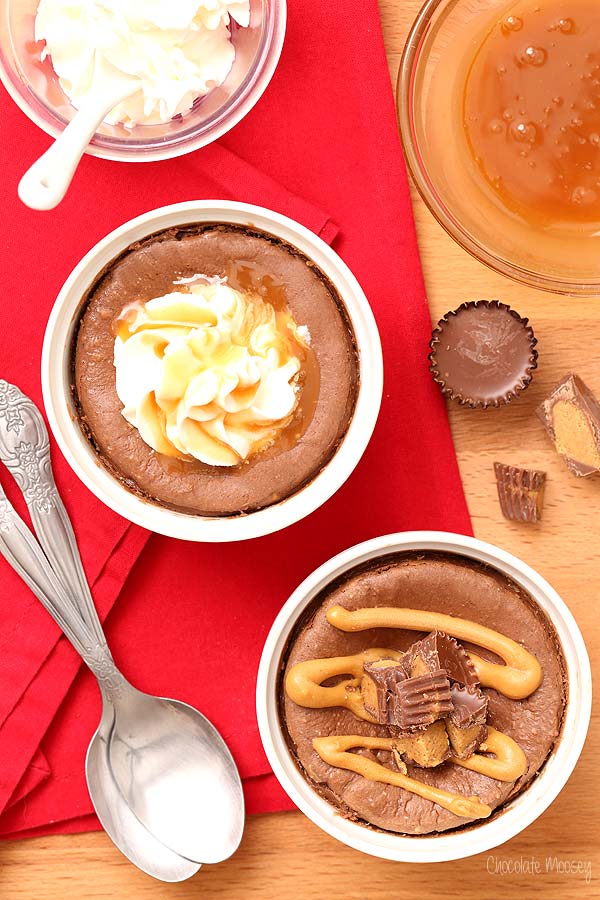 Items You May Need: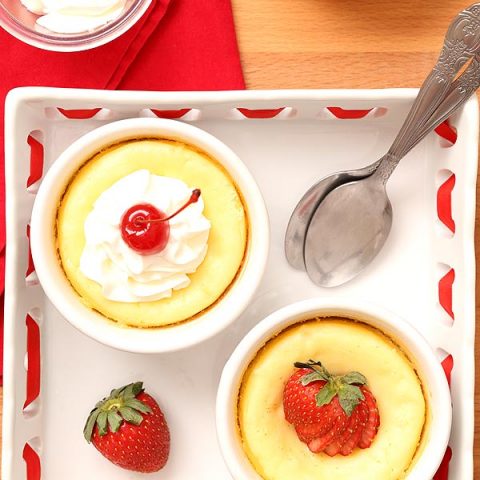 Cheesecake For Two
Yield: 2

Prep Time: 20 minutes

Cook Time: 25 minutes

Total Time: 45 minutes

Prep time does not include 4+ hour chill time. Please plan ahead.
Ingredients
For plain cheesecake
1/4 cup graham cracker crumbs
1 tablespoon unsalted butter, melted
6 ounces full-fat cream cheese, softened
1/3 cup granulated sugar
1 egg
1/4 teaspoon vanilla extract
For chocolate cheesecake
1/4 cup chocolate sandwich cookie crumbs
1 tablespoon unsalted butter, melted
6 ounces full-fat cream cheese, softened
1/3 cup granulated sugar
1 egg
2 ounces semisweet chocolate, melted
1/4 teaspoon vanilla extract
1/8 teaspoon espresso powder (optional)
Instructions
Preheat oven to 350F. Have two 6-ounce ramekins* ready and place on a baking sheet.
In a small bowl, mix together the crumbs and melted butter. Press into the bottom of each ramekin.
In a large mixing bowl, beat together the cream cheese and sugar until smooth and creamy, about 2-3 minutes. Beat in the egg and beat another minute or until incorporated. Beat in the vanilla, melted chocolate** (if using), and espresso powder (if using).
Divide the batter between the ramekins and bake for 20-25 minutes or until the tops puff up and are firm to the touch. There may be a slight jiggle when moved - that's ok.
Cool completely then refrigerate at least 4 hours or overnight. Serve with various toppings.
Notes
Because ramekins can vary in size (I recommend 6 ounces), it is possible that the cheesecake may sink in the middle. If this happens, just add extra toppings. If you use 4 ounce ramekins, you may need to divide the batter among three ramekins to avoid overflow.[br][br]*If you want to make one plain and one chocolate, reduce the melted chocolate to 1 ounce. Divide the batter into two bowls then mix the melted chocolate into one.



Source: Adapted from Taste Of Home
Disclosure: This post contains Amazon affiliate links, which means I earn a small amount of money if you buy through these links. All money goes back into running this blog (mainly groceries). Thank you for your support!