Sweet Chili Baked Meatballs
Looking to liven up your ground beef? These Asian meatballs are baked then served in a sweet chili sauce. Serve them as a simple party appetizer or for an easy dinner over rice.

I think I may have an addiction to sweet chili sauce because I use it all the time. As I was thinking about my cooking style the other day, I realized I tend to put an Asian twist on recipes:
Thai Sweet Chili Shrimp with Cabbage "Noodles"
,
General Tso's Sweet Chili Shrimp
,
Sweet Chili and Pineapple Thai Burgers
. Even my
shrimp tacos
are Asian (but not a drop of sweet chili sauce in sight – I should fix that). Some of my Pittsburgh friends may find this blasphemous but – I think I love it even more than ranch dressing (and this is coming from someone who dips mediocre pizza, tater tots, and fish sticks in ranch). I can't help it though. There's something special about that sweet and spicy condiment that makes everything, well, taste better. These Sweet Chili Baked Meatballs are no exception. What can I say – habits are hard to break (good or bad). The idea for this recipe came when I was thinking about those cocktail meatballs you often see at parties made in a slow cooker. You know – the ones with a "sauce" of grape jelly and chili sauce. It sounds odd, but they are really, really good. However, I decided to do an Asian twist on the meatballs (surprise!) and make them from scratch with sweet chili sauce. Since I don't own a slow cooker, I opted to bake the meatballs instead. That way, anybody with an oven can make these meatballs.
If you've never had sweet chili sauce before, it's a sweet and spicy Asian condiment made of chili peppers, garlic, and sugar (and a few other things). I do have a recipe for
homemade sweet chili sauce
, but when I don't have any red spicy peppers, I often buy a bottle, often found near the soy sauce.
When I think of meatballs, I think of food for a crowd, especially tailgating and Super Bowl parties. You can serve these meatballs two ways – either with a toothpick in each one or keep them warm in a pot or slow cooker and serve with a spoon. The key to keeping the meatballs round while baking is to place on a roasting or cooling rack on top of a baking sheet. That way, the fat drips down and the meatballs aren't flat against the tray.
Even though I've been focusing on serving meatballs to a crowd, they aren't just for parties (if that were the case, I'd only eat these like once or twice a year, and that just wouldn't be fair). I like to serve them for dinner over rice. You can even serve them on a hoagie bun to make meatball subs for lunch or dinner. Don't forget to serve with extra sweet chili sauce.
Sweet Chili Baked Meatballs
Yield: 16 meatballs
Prep Time: 30 minutes
Cook Time: 20 minutes
Total Time: 50 minutes
Looking to liven up your ground beef? These Asian meatballs are baked then served in a sweet chili sauce. Serve them as a simple party appetizer or for an easy dinner over rice
Ingredients
1/2 pound ground beef, thawed
1 green onion, chopped
2 garlic cloves, minced
1 teaspoon ground ginger
2 teaspoons fresh chopped cilantro
1/2 teaspoon salt
1 tablespoon soy sauce
1/2 cup panko bread crumbs*
1 egg
1/2 cup sweet chili sauce (homemade or store bought)
Cooked white rice, for serving
Instructions
Preheat oven to 350F. Line a baking sheet with foil then place a wire rack on top.
In a large bowl, mix together the beef, onion, garlic, ginger, cilantro, salt, soy sauce, breadcrumbs, and egg. Roll the mixture into roughly 1 inch meatballs and place on the baking sheet. Bake 15-20 minutes or until brown and cooked completely.
Shortly before the meatballs are done, add the sweet chili sauce to a medium saucepan and heat until just before boiling. Once the meatballs are cooked, roll in the sweet chili sauce until fully coated. Serve as is or over rice.
Notes
*Panko bread crumbs are Japanese-style bread crumbs that are coarser than traditional bread crumbs and are often found in the Asian section of your grocery store. In a pinch, you can substitute regular bread crumbs or even crushed up butter crackers.
More Sweet Chili Sauce Recipes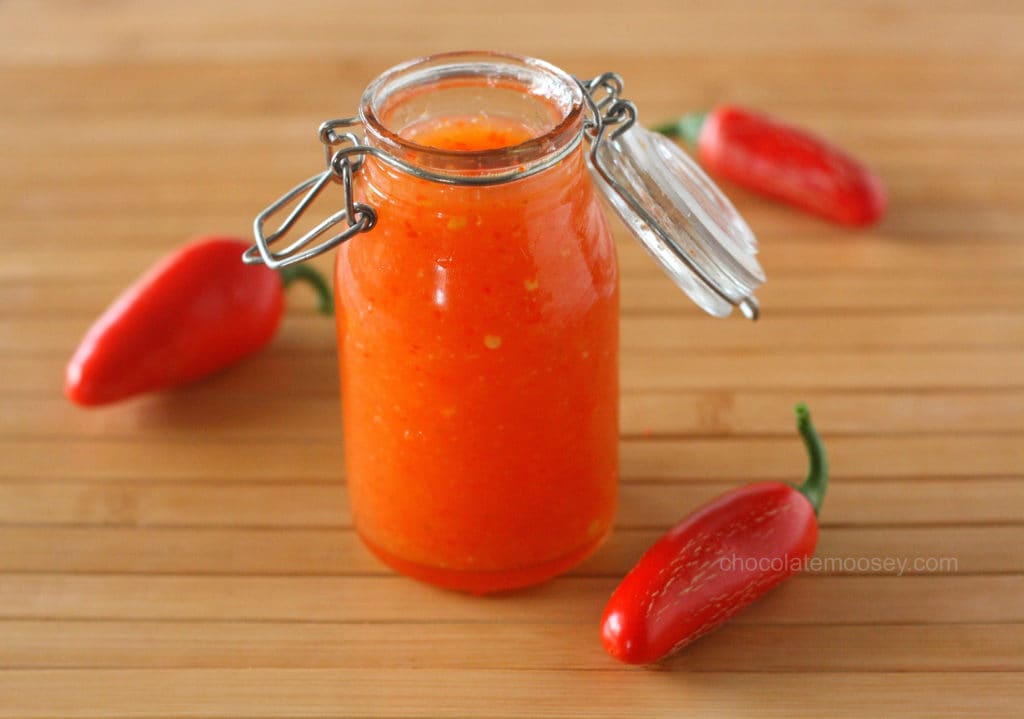 Homemade Sweet Chili Sauce
This post may contain affiliate links. As an Amazon Associate and member of other affiliate programs, I earn from qualifying purchase.