Chocolate Whipped Cream
Dress up your desserts with Chocolate Whipped Cream made from scratch using cocoa powder! 4 ingredients, 5 minutes of whipping time, and no leftovers.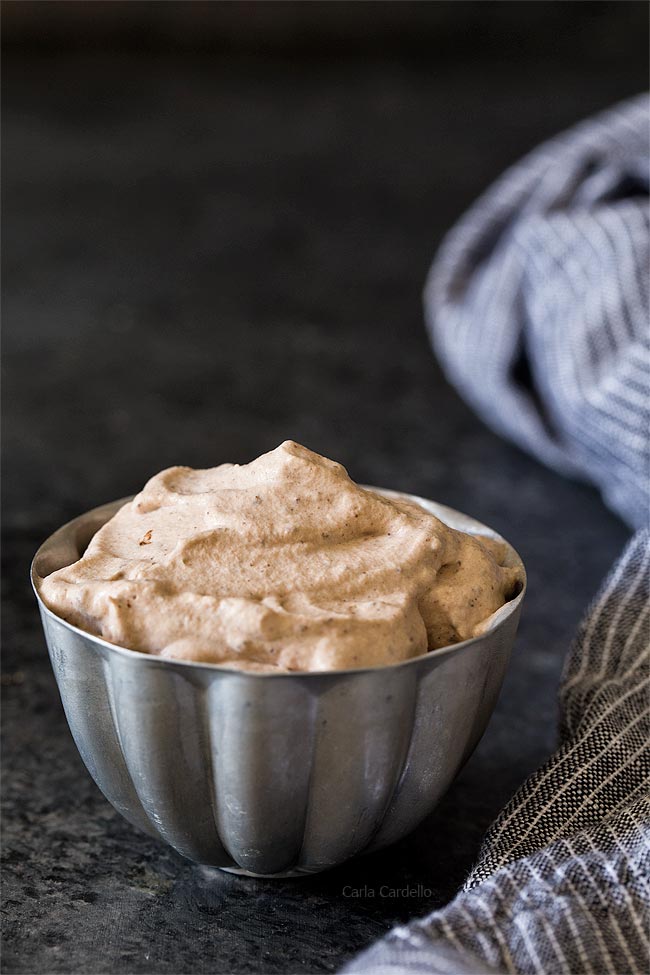 Today I'm bringing you a classy yet simple way to garnish your desserts – Chocolate Whipped Cream!
Previously I posted my Homemade Whipped Cream and Peanut Butter Whipped Cream. Time to end this trio with chocolate.
This chocolate whipped cream recipe is so easy and delicious because you don't have to melt chocolate. Add some high quality cocoa powder and voila – another way to add chocolate to your dessert.
Cocoa whipped cream isn't too sweet either, which is the perfect companion for sinfully rich desserts such as my Chocolate Peanut Butter Mug Cake where you need something light to cut through all of the decadence.
Since homemade whipped cream isn't something that lasts more than 1-2 days, I scaled down the recipe and made small batch whipped cream. No more throwing away leftovers.
Not to mention I've been making this recipe for chocolate whipped cream way before companies started selling it.
With only 4 ingredients and 5 minutes of whipping time, you'll never buy whipped chocolate cream again.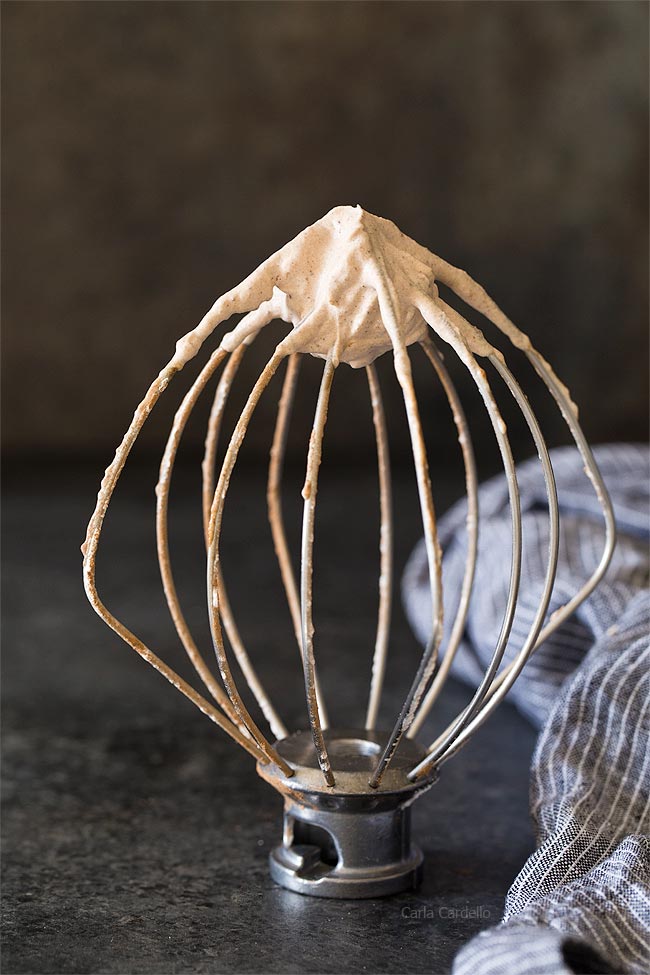 Ingredients For Chocolate Whipped Cream
To make homemade chocolate whipped cream, you'll need these 4 easy ingredients:
Heavy whipping cream: Make sure it says heavy whipping cream and not just whipping cream (more on that below)
Cocoa powder: Use natural, unsweetened cocoa for best results.
Powdered sugar: Both sweetens and thickens the whipping cream
Vanilla extract: Really brings out the chocolate. If you taste it before and after adding vanilla, you'll immediately notice the difference.
What is the difference between heavy whipping cream and whipping cream?
When buying cream, make sure the carton says heavy whipping cream instead of whipping cream without the word heavy.
Although both produce airy whipped cream, heavy whipping cream has 36% milk fat, which whips better and holds its shape more.
Whipping cream only has 30% milk fat, so it's a little lighter and a little more time sensitive. That means it won't last as long before it deflates.
If you're serving it right away, especially if it's going to melt on thick hot chocolate, using either type of cream will work.
However, if you need it to last longer, such as on top of angel food cake, you'll want to use heavy whipping cream.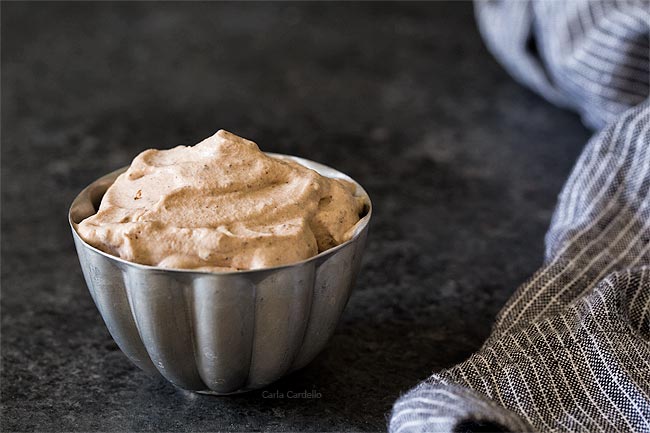 How To Make Chocolate Whipped Cream
Learning how to make chocolate whipped cream is so easy, you'll wonder why you bother buying canned whipped cream.
It's much easier (and faster) to keep heavy cream in your fridge and make your own than run to the store.
Always start with cold cream. Which is even better because then you don't have to wait for it to come to room temperature.
Next, start beating the cream and cocoa powder on high speed until the cream starts to thicken.
Make sure you're using high quality cocoa powder. Since there are such few ingredients, you'll really taste the quality of what you use.
At this point, gradually add the powdered sugar and vanilla to sweeten up the cream.
Keep beating on high speed until stiff peaks start to form. This means when you pull the beater straight up, peaks will form in the cream and will not fall over.
This takes anywhere from 3-5 minutes, depending on the speed of your mixer (or your arm muscles).
If the tops of the peaks do fall over, that is the soft peak stage, which means you still have a few more minutes of beating left.
Once you reach the stiff peak stage, stop beating. If you go further than that, it'll get grainy then eventually turn into butter.
If you do find yourself with overbeaten whipped cream, add in another tablespoon or so of cream to help smooth it out.
How To Make A Small Batch Of Whipped Cream
As I mentioned earlier, I hate throwing out leftover whipped cream. Sure, I could eat it by the spoonful but that's not very helpful when there's a lot there.
So, how DO you make whip a small batch whipped cream?
With 1/4 cup heavy whipping cream, you can still whip it up in a 5 quart stand mixer bowl with your whisk attachment.
However, I had a few readers tell me their bowl is too large for such a small amount. If this is the case, use a smaller bowl and a hand mixer.
You'll have about 2 servings of whipped cream for 1/4 cup heavy whipping cream, ideal for small batch desserts.
Can you make whipped cream ahead of time?
Homemade chocolate whipped cream can be made in advance because it'll last about 1-2 days in the refrigerator. It will deflate as it sits, but it'll be fine to spoon on top of your Peanut Butter Hot Chocolate.
You can also re-whip deflated cream to put more air back into it. Be careful you don't overwhip it into butter.
Can you freeze whipped cream?
Additionally you can freeze cocoa whipped cream to make it last even longer, about 2 months or so.
Portion the whipped cream onto a cookie sheet (either piped or spooned), freeze until firm, then transfer them to a freezer-safe bag.
That way, they're ready to go for hot chocolate and individual desserts.
Recipes Using Chocolate Whipped Cream

Now that you made whipped chocolate cream, here are some the desserts you can serve with it:
Chocolate Whipped Cream
Yield: 2 servings
Prep Time: 5 minutes
Whip Time: 5 minutes
Total Time: 10 minutes
Dress up your desserts with Chocolate Whipped Cream made from scratch using cocoa powder! 4 ingredients, 5 minutes of whipping time, and no leftovers.
Ingredients
1/4 cup heavy whipping cream, cold (make sure it says heavy on the packaging)
1 tablespoon unsweetened natural cocoa powder
2 tablespoons powdered sugar
1/2 teaspoon vanilla extract
Instructions
In a large cold mixing bowl on medium-high speed (with whisk attachment if using a 5 quart stand mixer), beat the heavy cream and cocoa powder until it starts to thicken, about 1 minute.

Because this recipe makes a small batch, you don't want your bowl larger than 5 quart. If needed, use a small bowl with a handheld mixer or double the recipe for a larger bowl.
Gradually beat in the sugar and vanilla then continue beating until stiff peaks form (when you pull the beater up, peaks will form and not fall over), about 3-4 minutes.
Serve immediately. Store in the refrigerator for up to 2 days. The longer it sits, the more it'll deflate but will still be edible.
Recommended Products
As an Amazon Associate and member of other affiliate programs, I earn from qualifying purchases.
First published March 7, 2019
This post may contain affiliate links. As an Amazon Associate and member of other affiliate programs, I earn from qualifying purchase.