Chocolate Cherry Cheesecake Dip
When you're craving cheesecake but only want a few bites – small batch no bake Chocolate Cherry Cheesecake Dip made with cherry pie filling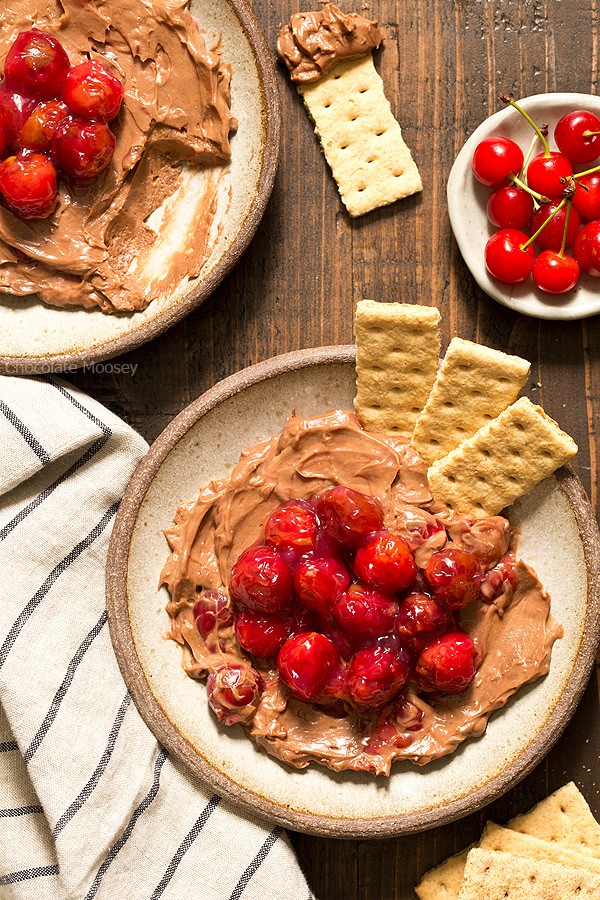 I'm back at it again with my cheesecake obsession. The best thing about cheesecake is it's a blank canvas for any flavor imaginable –
German chocolate cheesecake
,
banana split cheesecake
, even a savory
Irish cheese cheesecake
.
Since it's pretty much been in the 90s these past few weeks (not like it's summer or anything…), I didn't want to turn on my oven for dessert.
I already turned my oven on for dinner and could hear my air conditioner telling me it was too much.
Luckily there's this invention called no bake desserts where you can have your cheesecake and eat it too without turning your kitchen into a hot box.
My strawberry cheesecake dip worked wonders. Why not do it with cherry?
Last month I had about 5 pounds of freshly picked sour cherries to use. I ended up freezing a good bit of them, but before I did I was in the mood for Chocolate Cherry Cheesecake Dip.
I love making cheesecake dips for two reasons: 1 – they are a no bake dessert, which means I don't have to turn on the oven in the summer.
And 2 – with this small batch recipe, I can make just enough cheesecake to satisfy my craving without going overboard.
What you see in the photos is how much dip I made. Even though I divided it between two bowls, the dip is rich enough you can get four servings out of it.
All of the cherry cheesecake dips I've seen are classic vanilla. I wanted to make mine chocolate, reminiscent of chocolate covered cherries.
You can't go wrong with adding some melted chocolate to the batter. You can even take it one step further with chocolate graham crackers, but I ran out and was too lazy to make an extra trip to the store for one item.
The grocery store down the street is small and wouldn't have carried them anyway. Cinnamon graham crackers work just as well.
Or you can skip the crackers and go straight for a spoon.
Since sour cherries have such a small window in the summer, if you're having trouble locating them, you can use almost any variety of cherry you see at the store.
You can also use frozen cherries. Make sure they are thawed and drained of excess liquid before using.
Don't have fresh or frozen cherries? Use a few spoonfuls of canned cherry pie filling. Then use the rest with these 10+ Cherry Pie Filling Desserts.
More Cherry Pie Filling Recipes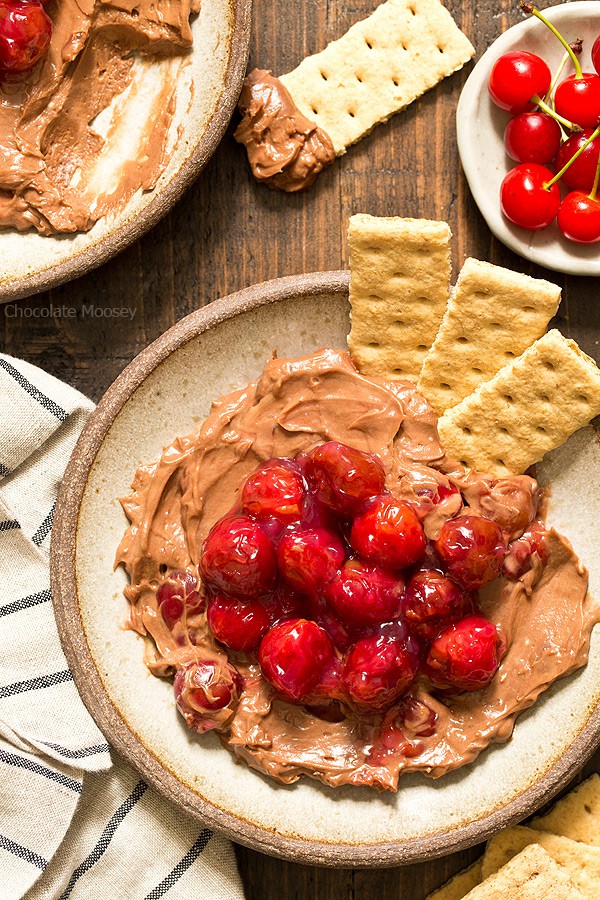 Chocolate Cherry Cheesecake Dip (Small Batch)
Yield: 4 servings
Prep Time: 30 minutes
Cook Time: 5 minutes
Chill Time: 1 hour
Total Time: 1 hour 35 minutes
When you're craving cheesecake but only want a few bites – small batch no bake Chocolate Cherry Cheesecake Dip made with homemade cherry pie filling
Ingredients
Cherry Pie Filling
2 tablespoons water
2 tablespoons granulated sugar
1 teaspoon cornstarch
1/8 teaspoon almond extract
Red food coloring
1/2 cup pitted sour cherries
Dip
1/4 cup heavy whipping cream
4 ounces cream cheese, softened
1/2 cup powdered sugar
2 ounces semisweet chocolate, melted
1/2 teaspoon vanilla extract
Instructions
Make the pie filling: In a large saucepan, combine water, sugar, and cornstarch. Bring to a boil over medium heat, stirring often. Cook for another 1-3 minutes or until thickened. Remove from heat and stir in almond extract and food coloring. Stir in cherries. Cool to room temperature then use right away or store in the refrigerator*.
Make the dip: In a large mixing bowl (with whisk attachment if using stand mixer), beat the heavy cream until it thickens and stiff peaks form, roughly 3-4 minutes (when you pull the beaters up, peaks will form and not fall over). Transfer to another bowl and keep cold in the refrigerator.
In the same mixing bowl (no need to clean bowl - switch to paddle if using stand mixer), beat together the cream cheese and sugar until smooth and creamy, about 2-3 minutes. Beat in the melted chocolate and vanilla. Scrape down the bowl.
Fold in the whipped cream until fully incorporated then fold in cooled pie filling. Chill for at least 1 hour before serving. Store in an airtight container in the refrigerator for up to 1 week.
Notes
*If you store the pie filling in the refrigerator, it may gel up. Reheat everything back up in a saucepan until smooth.
This post may contain affiliate links. As an Amazon Associate and member of other affiliate programs, I earn from qualifying purchase.