5 Baked Chicken Wing Recipes For Tailgating Parties
If you're looking for tailgating food ideas to eat while watching your favorite sports team, don't forget the wings! I'm sharing my 5 favorite recipes for baked chicken wings that are crispy fresh from the oven.

In just under two weeks, one of the biggest food days of the year will be here. No, not Thanksgiving again – the Big Game Day! I don't think I'm legally allowed to say the official name, but it starts with Super and ends with Bowl (if you don't live in the US, it's the final American football game until next season). According to the
National Chicken Council
, in 2014 Americans were predicted to eat roughly 1.25 BILLION wings in one day. One. Day (and yes, I contributed to that number). I'm guessing 2015 will be even more! I love eating wings all year round, but there's something special about biting into that crispy skin and making a huge saucy mess while licking your fingers on Game Day. I wish I could say while watching the Steelers win, but unfortunately they didn't make it all the way (grumble, grumble). Regardless, I will be watching the game (ok fine, the commercials) while eating wings. Lots of wings. My guess is you might also be contributing to that 1.25 billion number with me. Good thing I have 5 Baked Wings Recipes for you to make. Not only is it healthier to bake than frying, the wings still crisp up after a quick toss in some oil. The best part about making your own wings? You don't add the sauce until after the wings are baked, so if you want a variety of wings (or you just have picky eaters), you can make several flavors at once.
1. Buffalo Baked Wings – Of course no tailgating is complete without classic Buffalo wings! Despite what Jessica Simpson may think, buffalo wings got their name from originating in Buffalo, NY. Someone thought tossing wings in hot sauce was a great idea. Turns out he/she was right.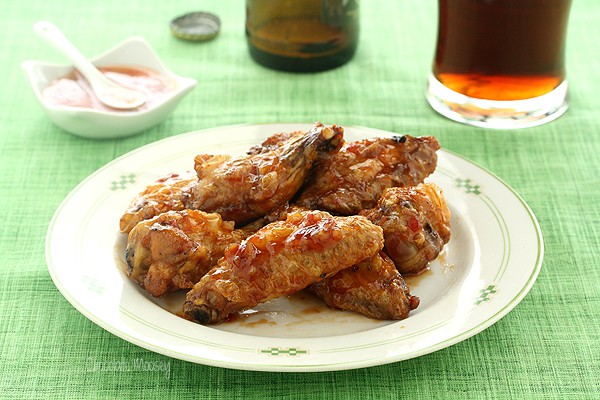 2. Sweet Chili Baked Wings – Just in case you haven't been reading my blog long enough, I am obsessed with
sweet chili sauce
. There's something about that sweet and spicy sauce that makes everything taste better, including wings. Maybe that's why I love Asian food so much.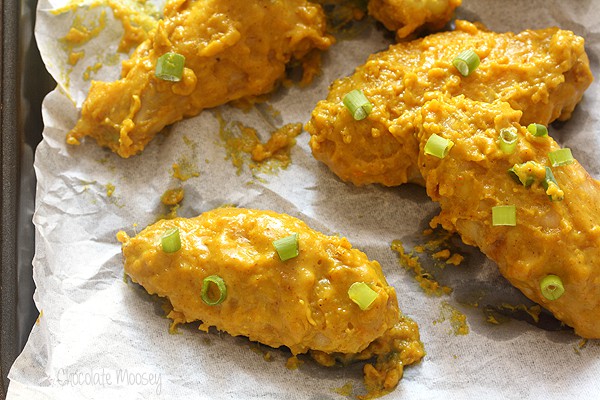 3. Curry Baked Wings – Speaking of Asian food, Indian food is another favorite cuisine of mine, so of course when a local bar had curry wings on their menu, I had to order it (then recreate it at home to save money).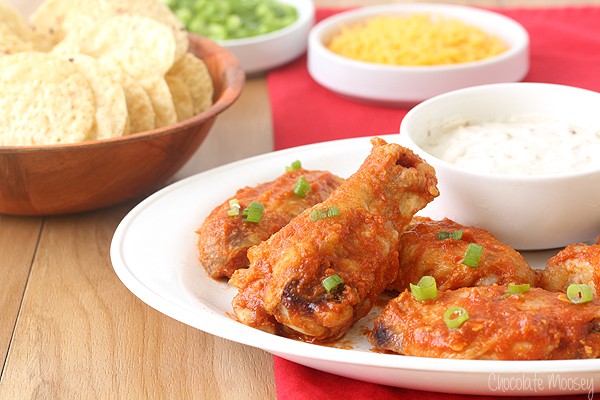 4. Saucy Taco Baked Wings – Sticking with the world cuisine theme, I think I love these Saucy Taco Wings more than traditional buffalo sauce. Tossing wings in a homemade taco sauce is a great way to spice up your tailgating menu with a Mexican flair.
5. Jack Daniel's Honey Barbecue Baked Wings – If you love sweet and not a whole lot of spice, then these honey barbecue wings are for you! Sweet and messy, this is a must for BBQ lovers. You can also add some cayenne to kick them up a notch.
This post may contain affiliate links. As an Amazon Associate and member of other affiliate programs, I earn from qualifying purchase.