Sometimes you can't go wrong with a classic dessert recipe! This homemade 9 inch classic cheesecake recipe doesn't crack and doesn't require a water bath. Serve it plain or with fruit on top.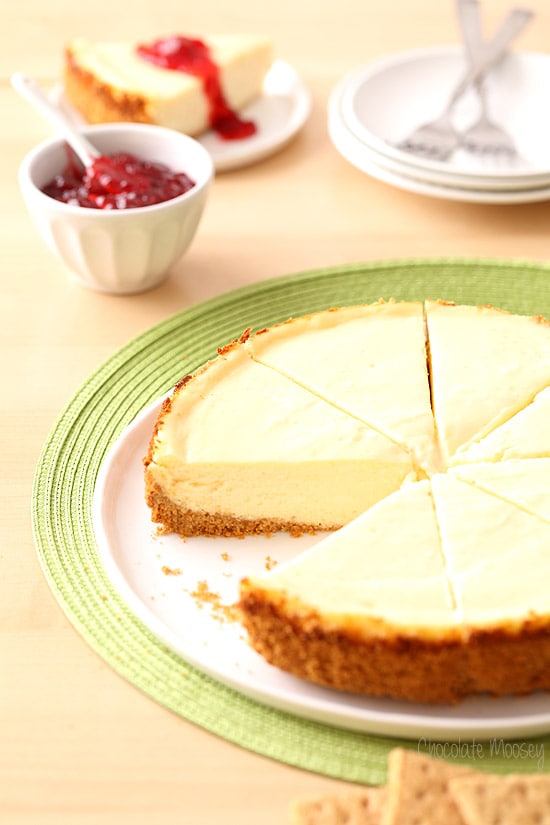 I typically don't post too many classic recipes as you can find millions of classic recipes on the web; I like to change it up and add my own twist.
Caramel apple, strawberry shortcake, carrot cake, the list goes on.
However, I've had at least three people request a plain cheesecake recipe from me, not to mention I often see multiple requests for one in a dessert Facebook group I manage.
When you ask, I can't ignore, so here it is – my go to Classic Cheesecake recipe that has never failed on me and never cracks if you follow directions (it cracked once when I overbaked it in a new-to-me oven. Totally my fault).
You don't need a water bath. You don't need to spend $20 on ingredients. Just you, 6 ingredients, and a 9 inch springform pan.
If you're looking for a smaller cheesecake to serve, check out my 6 inch cheesecake recipe. Same recipe, just adjusted for a smaller pan size.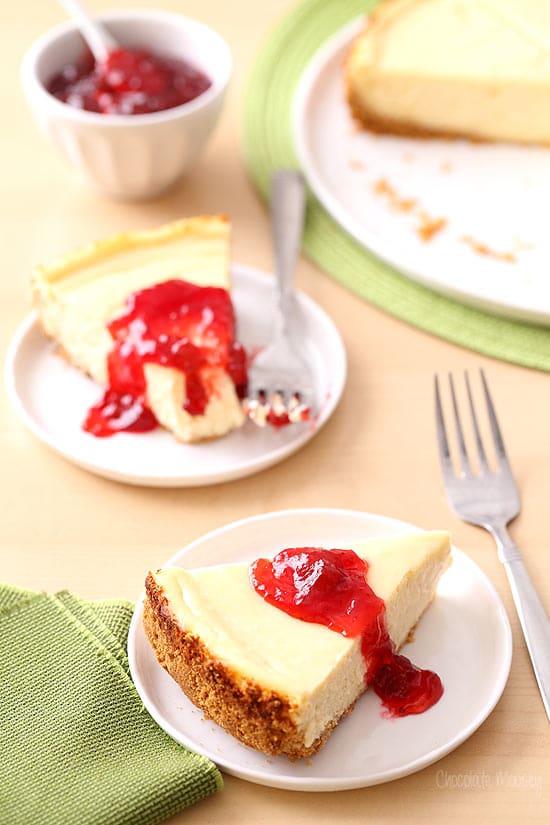 I've lost track as to how many times I've made this recipe.
For the past few years, it's been my base recipe for all of my cheesecake recipes.
I've tried all kinds of recipes before that – ones with sour cream, heavy cream, tons of eggs, water bath, no water bath.
There's one recipe in particular that was really, really decadent, but it also required 12 minutes of beating time and a water bath.
My recipe does not use a water bath and the beating time isn't quite as long.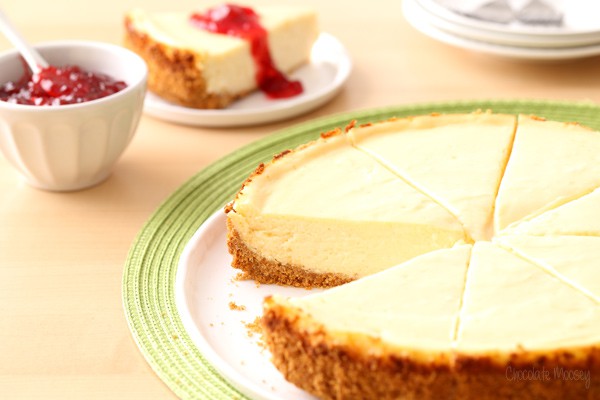 Personally I love serving this cheesecake as it without any toppings as the creaminess and flavor stand well on their own, but as you can see, I did serve a few slices with
strawberry jam
.
You can also make strawberry sauce (change the fruit to your liking), peach curd, hot fudge sauce, caramel sauce, anything you can imagine.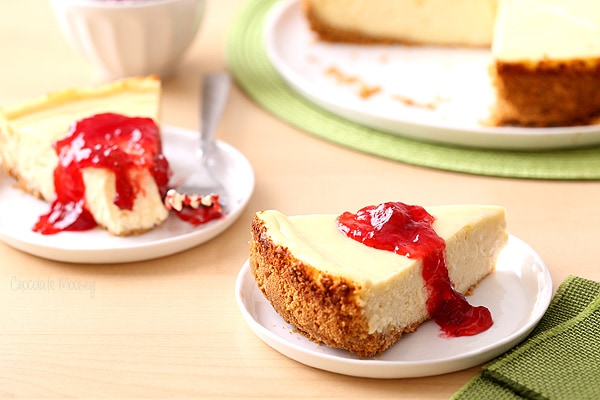 Items You May Need (affiliate links):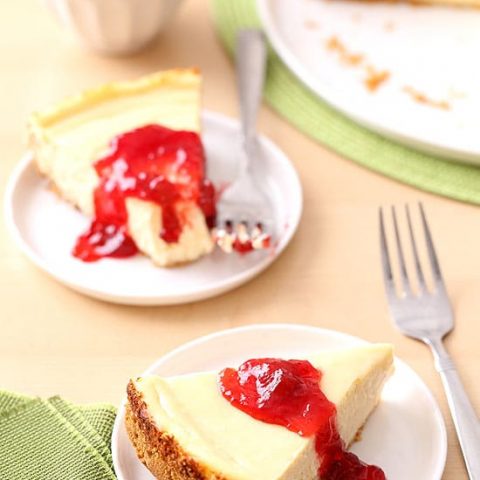 9 Inch Classic Cheesecake Recipe
Sometimes you can't go wrong with a classic dessert recipe! This homemade 9 inch classic cheesecake recipe doesn't crack and doesn't require a water bath.
Ingredients
2 1/2 cups graham cracker crumbs
6 tablespoons unsalted butter, melted
24 ounces (3 blocks or 24 tablespoons) full-fat cream cheese, softened and not cold to the touch (do not sub fat free)
1 cup granulated sugar
3 eggs, room temperature and not cold to the touch
1 tablespoon vanilla extract
Instructions
Preheat oven to 350F. Have a 9 inch springform pan ready.
In a large bowl, mix together the graham cracker crumbs and melted butter. Pat into the bottom and roughly 2 inches up the side of the pan.
In a large mixing bowl, beat together the cream cheese and sugar until light and fluffy, about 2-3 minutes. Scrape down the bowl as necessary.
Beat in the eggs, one at a time, for 1 minute each. Add the vanilla then beat for an additional minute.
Transfer the batter into the crust then bake 35-40 minutes or until the center is almost set and internal temperature reaches 150F degrees (it'll move when the pan is shaken, but the top should be firm when you touch it). Remove from the oven and cool 1 hour in the pan.
Carefully run a knife along the edge to loosen the cheesecake. Cover and refrigerate for at least 4 hours or overnight. Remove the pan side before serving. Store leftovers in an airtight container in the refrigerator for up to 1 week.
Recommended Products
As an Amazon Associate and member of other affiliate programs, I earn from qualifying purchases.
Source: Adapted from
Taste Of Home
More Cheesecake Recipes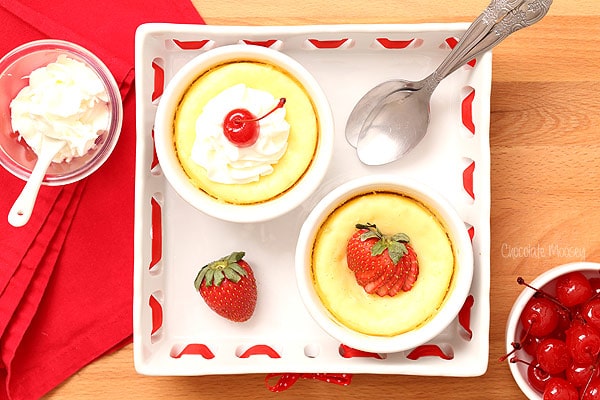 Cheesecake For Two

Chocolate Cheesecake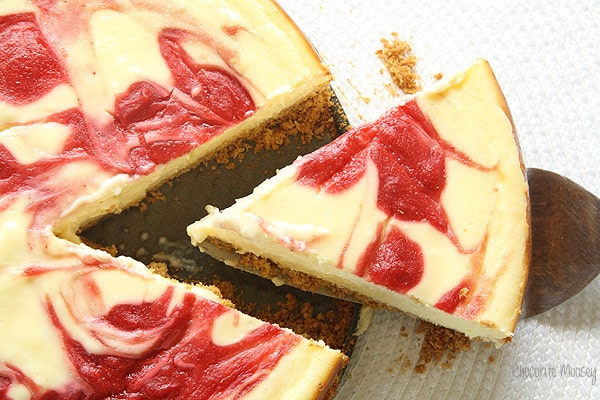 Strawberry Swirl Cheesecake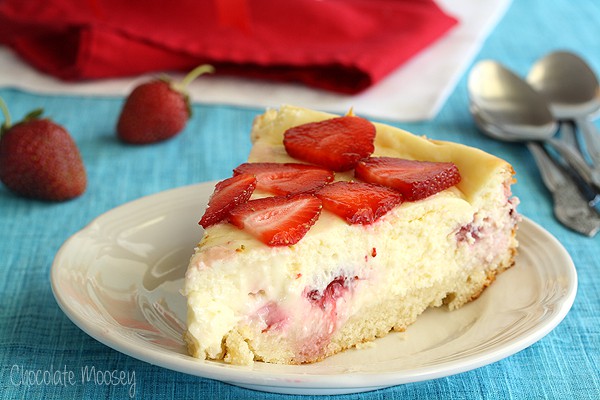 Strawberry Shortcake Cheesecake

Caramel Apple Pecan Cheesecake

Carrot Cake Cheesecake

Gingerbread Cheesecake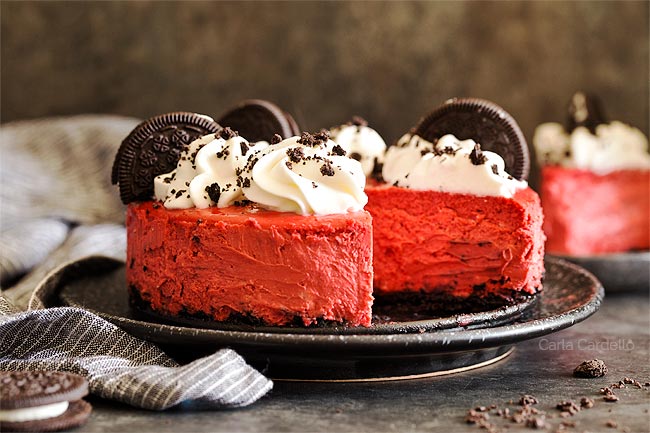 Red Velvet Oreo Cheesecake