Introduce a new potato salad possibility to your picnic table with Italian Potato Salad – russet potatoes tossed with olive oil, vinegar, onion, garlic, and parsley.
Potato salad – such a classic side dish to serve at picnics yet there are so many ways you can dress it up. I'm guessing you are familiar with mayonnaise-based potato salads and even
Amish potato salad
with mustard, but what if I told you one of the best ways to make it involves olive oil? For the past few years now, Dad makes his Italian Potato Salad for cook outs, a recipe he learned from his mom and then passed it along to me. Now I'm passing it along to you for your next picnic.
I made my potato salad slightly different than my dad. First, I added garlic and parsley pastes, which you can find both in your store's produce section by the fresh herbs. Using pastes distributes the flavors more evenly in the dressing; however, you can use minced garlic and chopped parsley if you don't have the pastes. Or you can make your own pastes.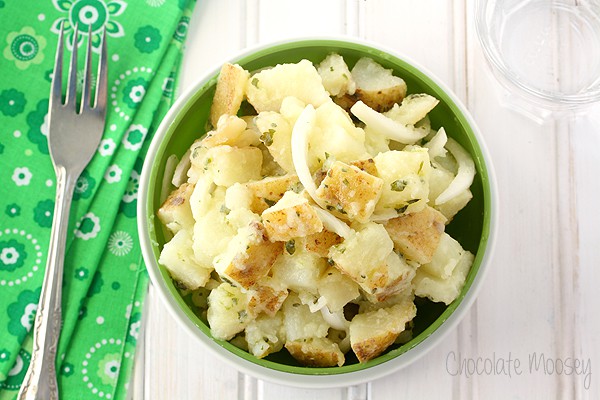 Since you're using olive oil as a dressing rather than a cooking oil, you want to use the best quality you can afford. I highly recommend not using vegetable oil as a substitute. In fact, don't substitute the olive oil at all, but if you must, make sure you use a flavored oil.
Now it wouldn't be a potato salad without talking about the star of the dish – the potato! The potatoes I used are russet potatoes straight from Idaho. They have a low-moisture content, which gives them more potato flavor. Make sure you cook them on simmer and not at a full boil. Otherwise they will disintegrate before fully cooked through.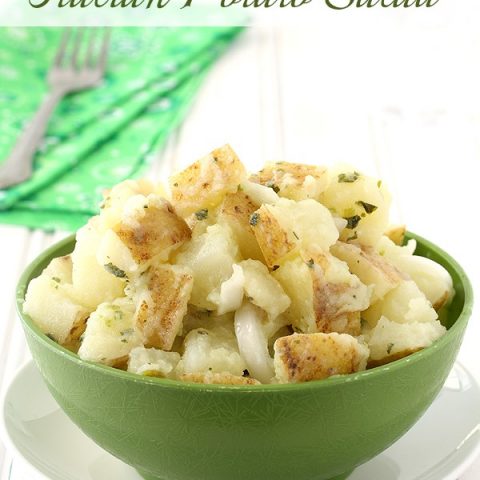 Italian Potato Salad
Ingredients
3 cups cubed potatoes (roughly 2 large potatoes)
1/3 cup olive oil
2 tablespoons vinegar
1 tablespoon parsley paste
1 tablespoon garlic paste
1/2 teaspoon salt
3/4 cup sliced onion
Instructions
Bring a large pot of water to a boil. Add the potatoes and cook 10-15 minutes until soft but not overcooked. Drain and cool.
In a large measuring cup, whisk together the olive oil, vinegar, parsley paste, garlic paste, and salt.
In a large bowl, toss together the potatoes, onion, and olive oil mixture. Chill in the refrigerator at least 1 hour before serving.
Disclosure: This post is sponsored by the Idaho Potato Commission. All opinions are my own.