Put a fun twist on pumpkin pie with these Pumpkin Pie Cupcakes! Piped with homemade whipped cream to look like mini pies, these pumpkin spice cupcakes will take center stage on your Thanksgiving dessert table.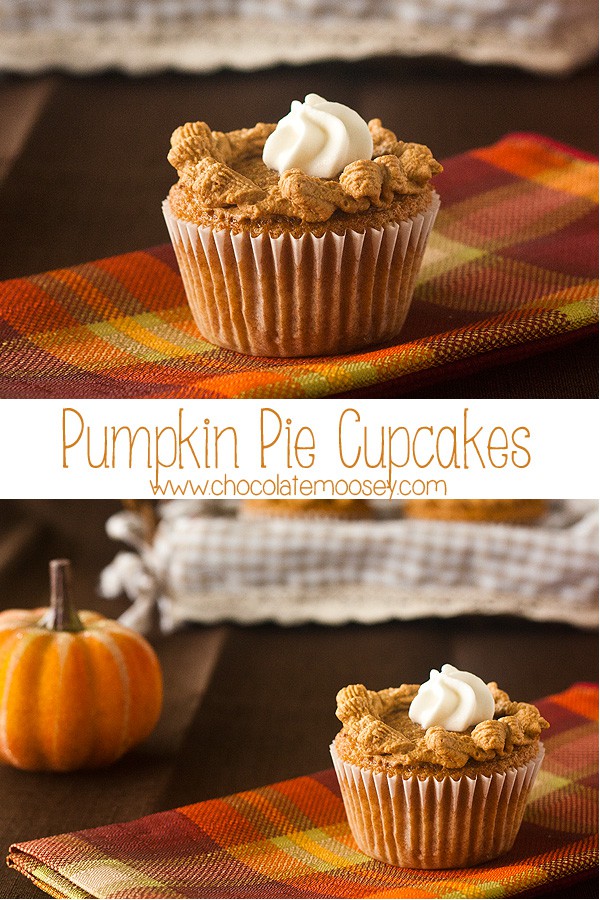 Want to hear something funny about Thanksgiving? I'm not allowed to make dessert. Me,
the award-winning baker
, cannot make nor suggest anything else other than pumpkin pie. Dad always makes the pie. He gets so excited too. The week before, he'll "test" his recipe (the one he's been using for the past how many years now) by making two pies. Then the night before Thanksgiving, he will make another two pies – one to eat Wednesday night and one to eat for Thanksgiving. I always ask why he just doesn't make one pie. "But that's what the recipe says." "Cut it in half." "Nah, we'll eat both pies." Disappointed, I made Pumpkin Pie Cupcakes for my own satisfaction. Except I've come to the conclusion cake decorating is not a strong skill of mine. Rest assured they taste just like pumpkin pie minus the crust.
I went with pumpkin spice cupcakes with homemade whipped cream to mimic pie. I thought about filling them with pumpkin mousse, but then I came across a photo for inspiration (link no longer exists). Cupcakes that look exactly like pie! I didn't want to cut a hole in them for presentation purposes. The cupcakes are very moist, so no filling was needed anyway.
My piping was definitely a learning curve. First, the color. I had brown food coloring, so I kept adding a few drops. And a few drops. And a few more drops. Man it took a lot of drops to get the shade that I got. Although it isn't the perfect shade of pie crust, I think it got the point across. Next was the actual piping. I experimented with so many tips, I lost track. I finally settled on the basket weave tip (which is weird because it only pipes one way, so you have to physically turn the cupcake as you pipe). I piped, realized how horrible they looked, scraped off the frosting, and kept trying.
Looking for more mini pumpkin pie desserts? Check out
Mini Deep Dish Pumpkin Pies
and
Pumpkin Pie For Two
.
Items You May Need (affiliate links):

Yields 9 cupcakes
Pumpkin Pie Cupcakes
40 minPrep Time
20 minCook Time
1 hrTotal Time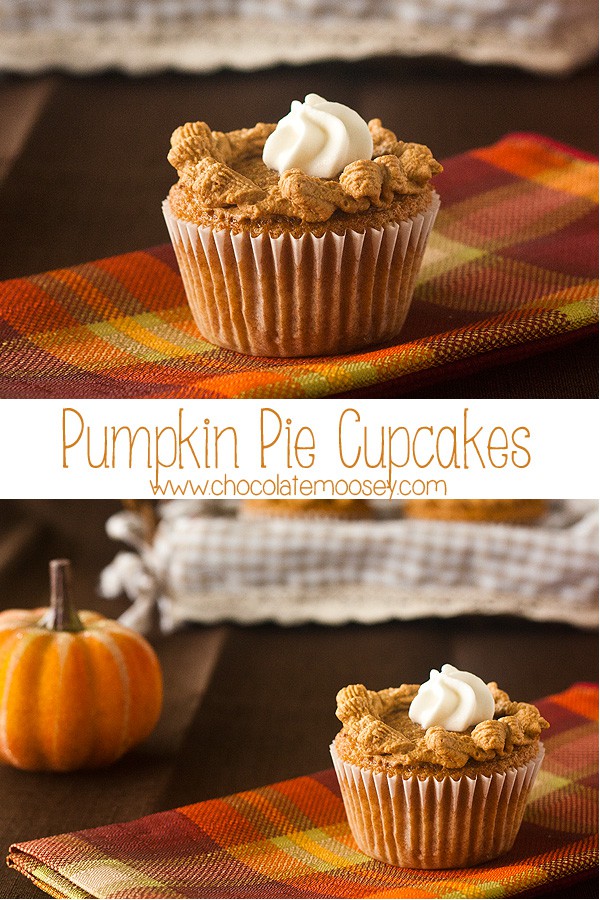 Ingredients
Cupcakes

3/4 cup all-purpose flour
1/2 teaspoon baking powder
1/2 teaspoon baking soda
1/2 teaspoon ground cinnamon
1/4 teaspoon ground allspice
1/4 teaspoon ground nutmeg
1/4 teaspoon ground ginger
1/8 teaspoon salt
3/4 cup granulated sugar
1/4 cup vegetable oil
1 egg
1/2 cup canned pumpkin puree
1 tablespoon heavy cream

Whipped Cream

1/2 cup heavy whipping cream
1/4 cup powdered sugar
1/2 teaspoon vanilla extract
Brown food coloring
Instructions
Preheat oven to 350F. Line a cupcake pan with 9 cupcake liners.
In a medium bowl, whisk together flour, baking powder, baking soda, cinnamon, allspice, nutmeg, ginger, and salt.
In a large mixing bowl, beat together sugar, oil, and egg until smooth. Beat in the pumpkin and cream. Gradually beat in the flour mixture.
Scoop the batter into the cupcake liners. Bake 18-20 minutes or until a toothpick inserted in the center comes out clean. Cool completely.
For the whipped cream: In a large mixing bowl (with whisk attachment if using a stand mixer), beat the heavy cream until thickened. Gradually beat in the sugar and vanilla then continue beating until stiff peaks form (when you pull the beater up, peaks will form and not fall over).
Pipe some of the whipped cream in the middle of each cupcake with a star tip.
With the remaining cream, lightly beat in the food coloring, adding a few drops at a time until the desired shade of brown is reached. Pipe a pie crust onto each cupcake using a basket weave tip. Store in an air-tight container in the refrigerator for up to 1 week.
7.6.3
2939
https://www.chocolatemoosey.com/2012/11/13/pumpkin-pie-cupcakes/
Adapted from 125 Best Cupcake Recipes by Julie Hasson
Disclosure: This post contains Amazon affiliate links.