Learn how to make crispy Sweet and Sour Chicken Wings in the oven with a homemade sweet and sour sauce. Serve them for your next tailgating party or alongside pizza night.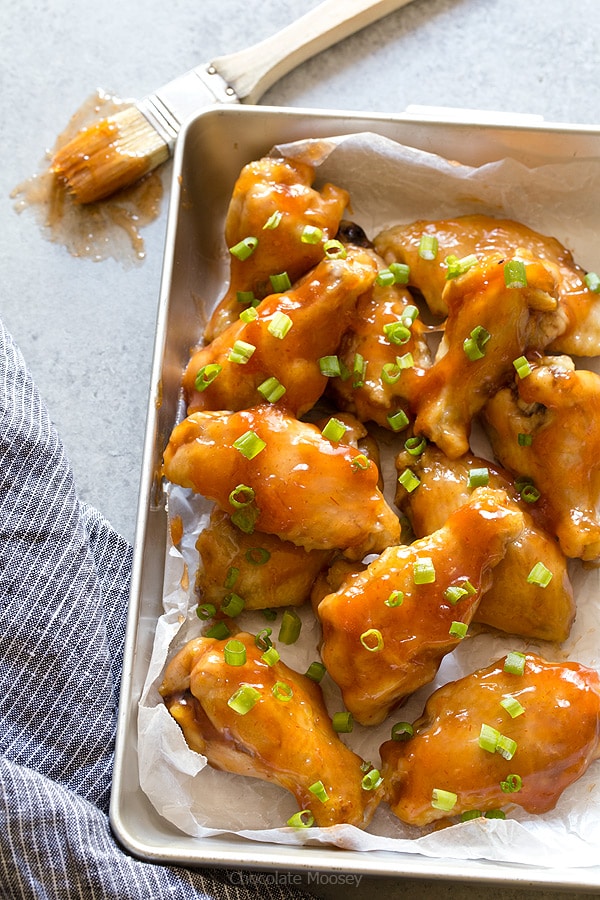 Fall marks that time of year where it's wing season.
Although eating wings is associated with tailgating and watching Sunday football games, really I eat them for dinner because I love wings.
If I'm ordering pizza or hoagies for dinner when my parents visit, we usually end up buying a dozen wings too.
However, wings can be expensive, which is why I make them at home often. I buy a bag, usually about 3-4 pounds worth (which equals 2-3 meals), bake them in the oven until crisp, and cover them in sauce.
My favorite recipes to make are baked buffalo chicken wings and sweet chili wings, but I had the idea to make these Sweet and Sour Chicken Wings in the oven since last year.
One of those "long lost recipes" that I tucked away for future reference when it got closer to wing season (because who really wants to bake wings in July?).
They are reminiscent of sweet and sour chicken you order at a Chinese restaurant but instead of fried chicken pieces, the sauce covers baked wings.
It's the taste of Chinese food without picking up a menu for take out.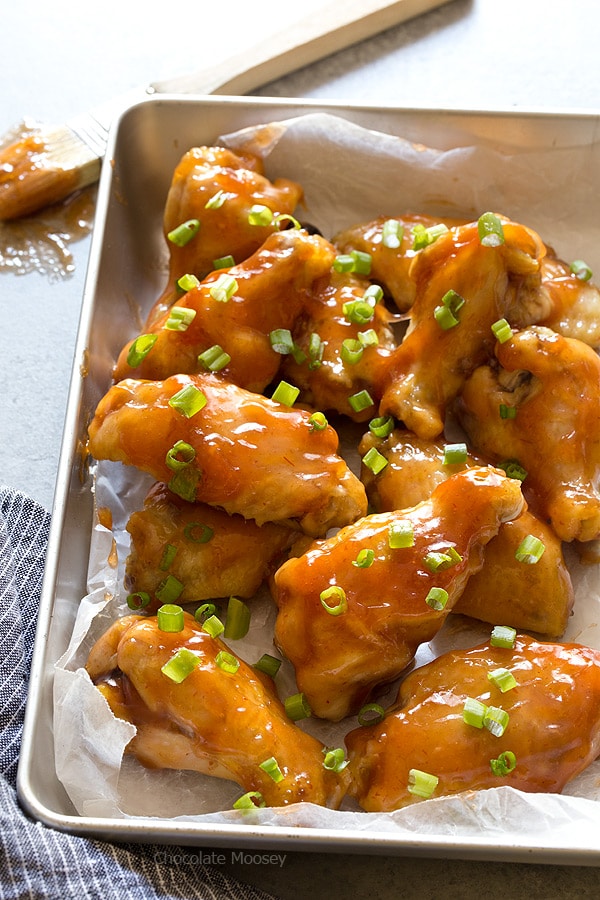 To be honest, I can't remember the last time I ate sweet and sour chicken.
Any time I think "I'm going to order it today," I end up ordering general tso's chicken instead.
What I do remember about the dish is the sauce. The fried chicken itself was ok, but that sweet and sour dipping sauce was everything.
The sweetness comes from pineapple juice, brown sugar, and ketchup.
Yes, ketchup. It's what gives this sauce its bright red color. The sourness comes from vinegar.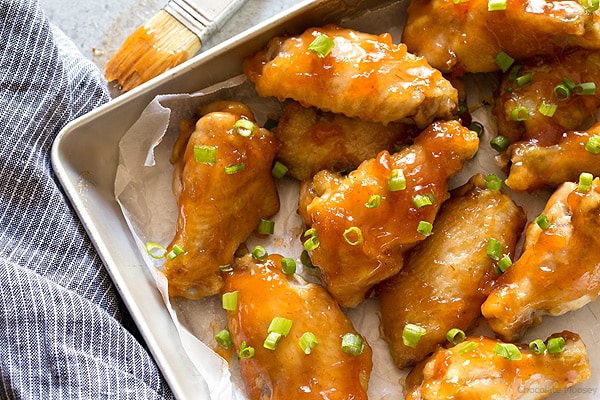 The key to baking crispy chicken wings? Using a roasting rack inside a baking pan.
This elevates the wings, allowing the heat to circulate underneath and for the juices to drip down.
I learned this trick from Bon Appetit a long time ago and have been using this technique since.
If you don't own a roasting rack, you can use a cooling rack on a cookie sheet.
More Crispy Baked Chicken Wings

Looking for more easy wing recipes? Check out these oven baked wing recipes:
Items You May Need (affiliate links):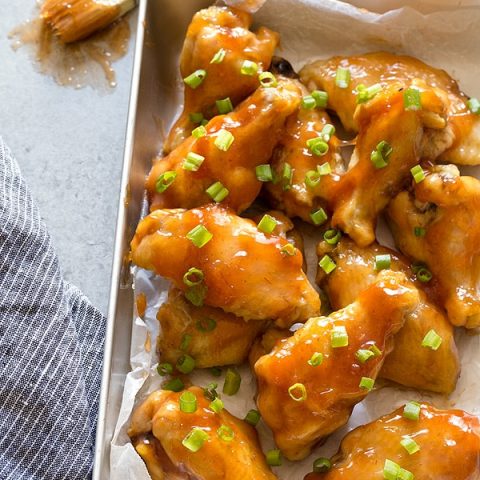 Sweet and Sour Chicken Wings
Total Time:
1 hour
15 minutes
Ingredients
12 wing pieces (drumettes and flats separated)
2 tablespoon vegetable oil
Salt, to season
1/2 cup canned pineapple juice
1/4 cup packed brown sugar
3 tablespoons white distilled vinegar
3 tablespoons ketchup
1 1/2 tablespoons cornstarch
Green onion, for garnish
Instructions
Preheat oven to 400F. Line the bottom of a roasting pan or cookie sheet with foil. Place a roasting or cooling rack on top.
In a medium bowl, toss together the wings, oil, and salt. Place wings onto rack in the pan and bake 50-55 minutes until cooked to an internal temperature of 165F and skin is crispy.
Meanwhile, in a medium saucepan mix together the pineapple juice, brown sugar, vinegar, ketchup, and cornstarch. Bring to a boil. Reduce heat to low, stirring occasionally, until thickened, about 5-8 minutes.
When the wings are baked, toss with the sauce and garnish with green onion.