Strawberry Shortcake Cheesecake
Strawberry Shortcake Cheesecake with a sponge cake crust turns everyone's favorite strawberry shortcake into a refreshing dessert that can define summer with just one bite.
Do you have a summer bucket list?
Mine is pretty much the same every year – pick strawberries in June, don't miss sour cherry season in July (I swear I miss it all the time), eat fresh corn and pick peaches in August.
Then there's vacation, which I took to Mount Rushmore end of last month.
And since my summer bucket list pretty much revolves around food, there's always a long to-make list to use up my fresh bounty.
This Strawberry Shortcake Cheesecake was one of my genius ideas from last year's list and was finally able to make it.
Instead of your typical graham cracker crust (or even Oreo), the crust is a thin sponge cake layer to mimic shortcake (the cake, not the biscuits).
Then juicy strawberries are folded into the cheesecake to mimic the whipped cream and berries then topped with a beautiful, vibrant layer of sliced strawberries.
This is the dessert that defines summer and one you don't want to miss.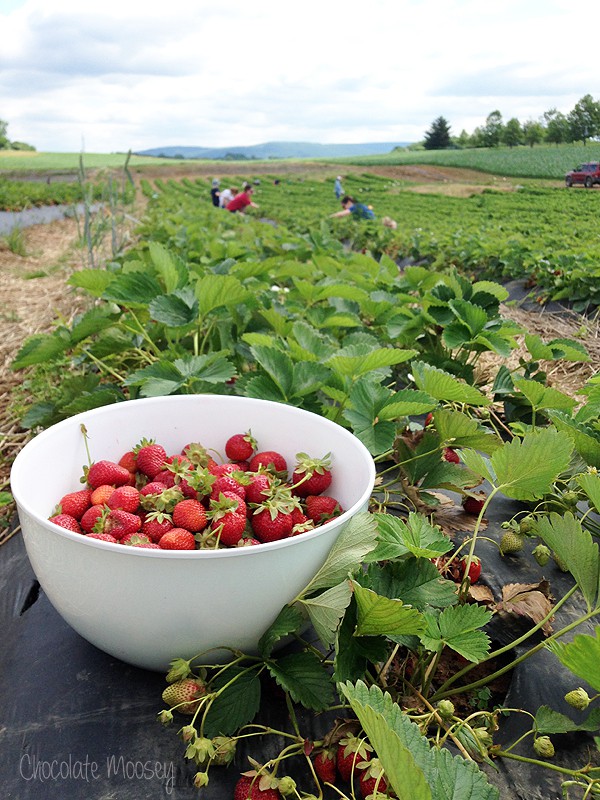 A few weeks ago, I did probably one of my most favorite outdoor activities – picking strawberries.
Normally I go with my dad but due to our schedules, I picked them by myself.
The weather was absolutely perfect – a little bit cool with the sun shining and fluffy white clouds lining the sky.
It was my form of self meditation. 20 minutes and four pounds of strawberries later, I was ready to rush home and make all the things.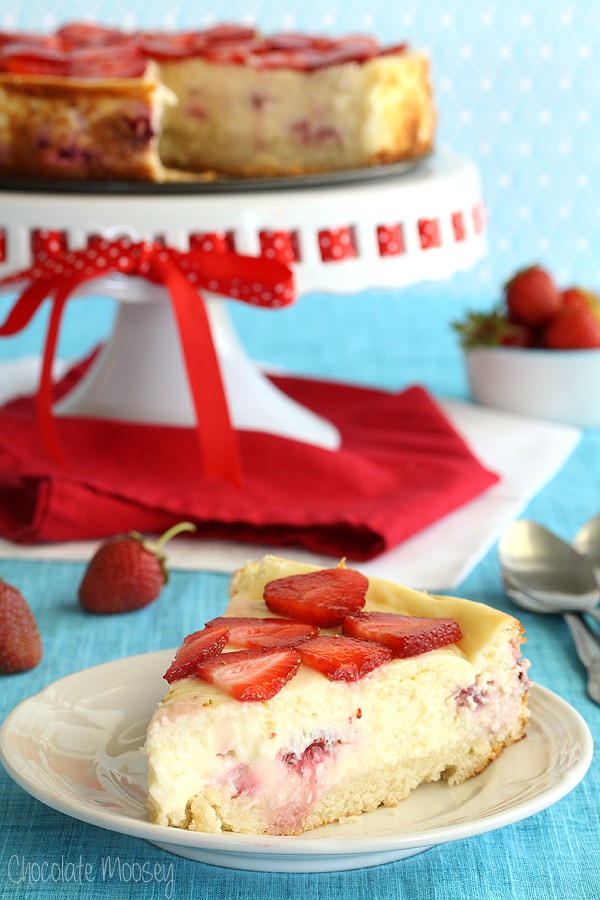 The first thing I made was this Strawberry Shortcake Cheesecake. The crust was a bit of an experiment.
Since my Carrot Cake Cheesecake, I knew adding the cheesecake batter on top of the cake batter would turn it into one layer rather than a thin layer of cake and a layer of cheesecake.
I baked the crust until it was just firm on top then added the cheesecake batter.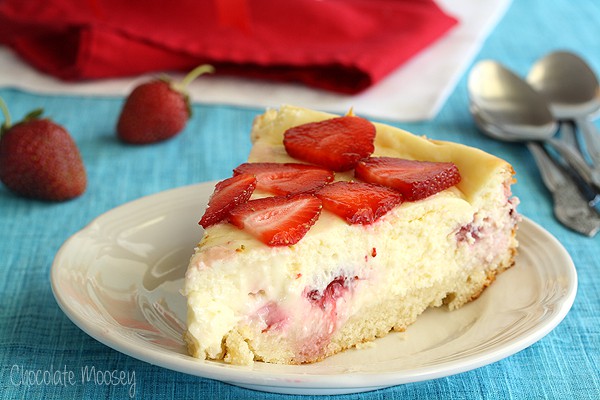 I wanted the cheesecake to be plain with strawberries folded in rather than strawberry cheesecake with strawberry puree.
The only caution I have when assembling is add the strawberry slices on top right before serving. After a few days in the fridge, the top was a little bit watery from the fresh berries.
The cheesecake was fine to eat once you got past that, but just a heads up if you are serving for looks.
You can also serve it with strawberry sauce or a scoop of strawberry cheesecake ice cream on top.
Or swirl in strawberry curd like I did for my strawberry swirl cheesecake.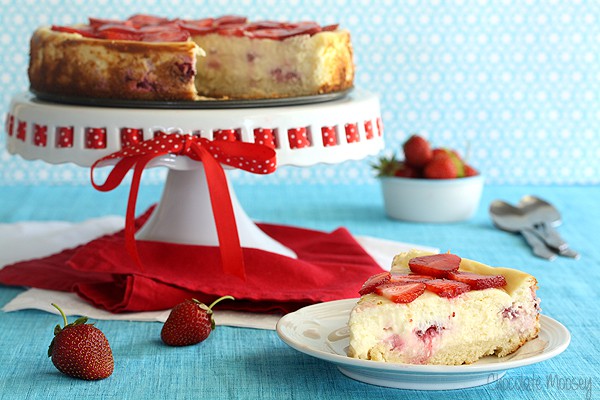 Of course don't let summer stop you from making this cheesecake. Whether you buy frozen strawberries then let them thaw completely or buy fresh strawberries from the grocery store, you can definitely bake this cheesecake any day of the year.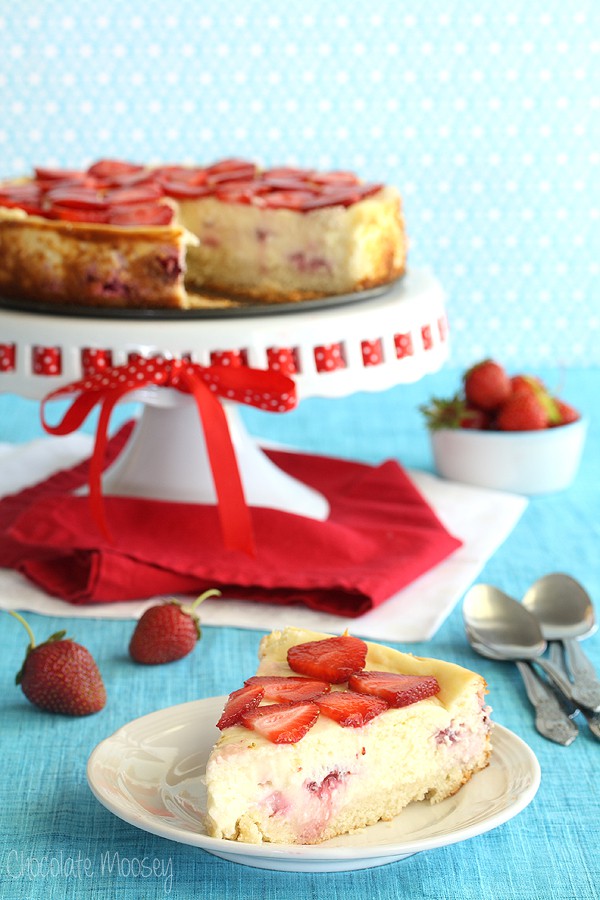 Strawberry Shortcake Cheesecake
Yield: 8-10 servings
Prep Time: 45 minutes
Cook Time: 50 minutes
Total Time: 1 hour 35 minutes
Strawberry Shortcake Cheesecake with a sponge cake crust turns everyone's favorite strawberry shortcake into a refreshing dessert that can define summer with just one bite.
Ingredients
Crust
3/4 cup all purpose flour
1/2 teaspoon baking powder
1/8 teaspoon salt
1/2 cup granulated sugar
1/4 cup (4 tablespoons or 2 ounces) melted butter
1 egg, room temperature
1/2 teaspoon vanilla extract
1/4 cup milk, room temperature
Cheesecake
24 ounces cream cheese, softened
1 cup granulated sugar
3 eggs, room temperature
1 teaspoon vanilla extract
1 cup chopped strawberries
Instructions
For the crust: Preheat oven to 350F. Grease a 9-inch springform pan.
In a medium bowl, whisk together the flour, baking powder, and salt.
In a large mixing bowl, beat together the sugar and melted butter until combined, about 1-2 minutes. Beat in the egg and vanilla until fully incorporated, another minute. Alternating between the flour mixture and milk, gradually add the flour in three parts and the milk in two parts, starting and ending with the flour. Do not overbeat.
Spread into the bottom of the pan and bake 10-15 minutes or until the top is just set. Let cool while you prepare the cheesecake filling.
For the cheesecake: In a large mixing bowl, beat the cream cheese until smooth, about 30 seconds. Add the sugar and beat until smooth and fluffy, about 2-3 minutes. Beat in the eggs, one at a time and 1 minute per egg, until everything is fully incorporated, scraping the bowl down if needed. Beat in the vanilla. Fold in the chopped strawberries.
Spread the batter on top of the crust. Bake for 35-40 minutes or the center still wiggles slightly when the pan is moved (Note: some people have mentioned the middle being underbaked. The center should only wiggle slightly. If there is too much movement, continue baking but do not overbake. If the center doesn't move at all, it will be dry).
Cool at room temperature for one hour. Run a knife around the edge of the cake to loosen. Cover and chill in the refrigerator for at least 4 hours or overnight. Right before serving, garnish the top with sliced strawberries.
Source: Adapted from
Taste Of Home
and
125 Best Cupcake Recipes
—-
Want more strawberry recipes?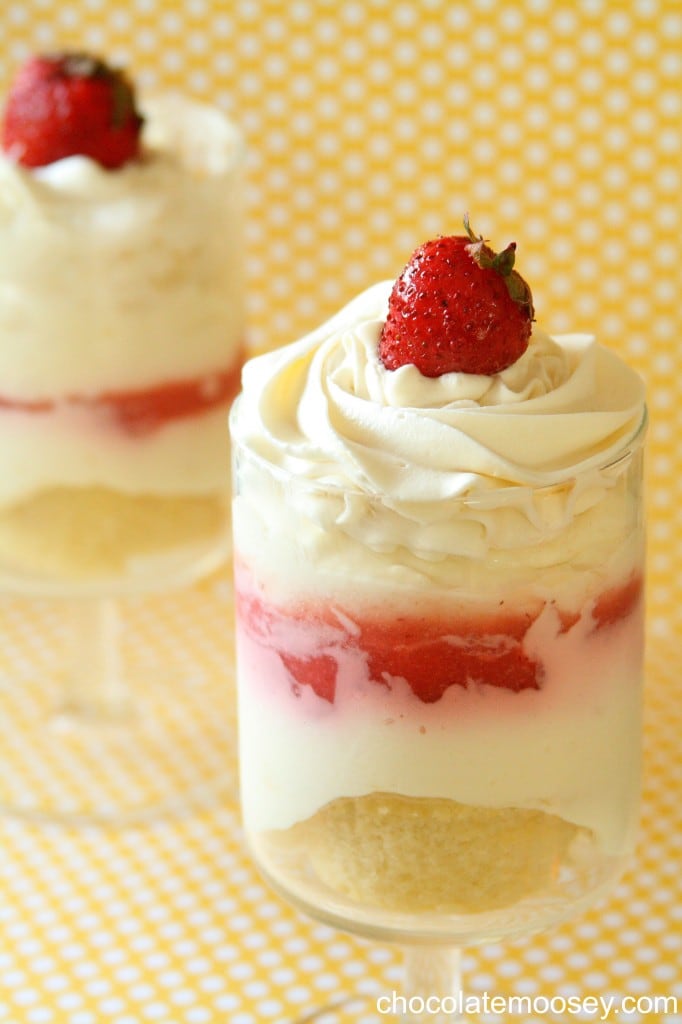 Strawberry Cheesecake Parfaits
This post may contain affiliate links. As an Amazon Associate and member of other affiliate programs, I earn from qualifying purchase.