Start your morning off right with a stack of Small Batch Chocolate Chip Pancakes For Two made from scratch with cinnamon and clove.
When I stay overnight at my parents, they make me
breakfast
.
I rarely eat a big breakfast during the week, usually a clementine or some oatmeal.
The weekends are reserved for an actual sit-down breakfast, which usually consists of hash browns, bacon, and either chocolate chip pancakes or waffles.
When it's only me on the weekends, I still want chocolate chip pancakes.
However, I don't want to stand there and make millions of pancakes one at a time in my skillet when I want to eat breakfast now and not later.
And I'm certainly not going to buy a griddle just so I can make multiple pancakes at once. Nobody has room for that!
That's why my Small Batch Chocolate Chip Pancakes For Two recipe makes 6 pancakes. Less time cooking, more time eating.
One serving is roughly 3 pancakes per person. Now I'm certainly not going to tell you that you can't eat the whole stack. One stack is basically one serving anyway, right?
As I was researching pancake recipes, I noticed a lot called for whipping the egg whites then folding into the batter.
Listen, I'm not a morning person so that will never, ever happen in my kitchen. Whipping egg whites is reserved for angel food cake, not morning pancakes.
I did find a recipe to make pancakes for one, but it called for 1/4 of an egg. Did you catch that? You literally measure out 1/4 of an egg. Raise your hand if you want to do that.
Yea, I didn't think so. My pancakes for two recipe calls for 1 whole egg. I made sure to balance it out with enough flour so the batter isn't too thin. And if you are making pancakes for one, you can easily freeze the extras for another morning.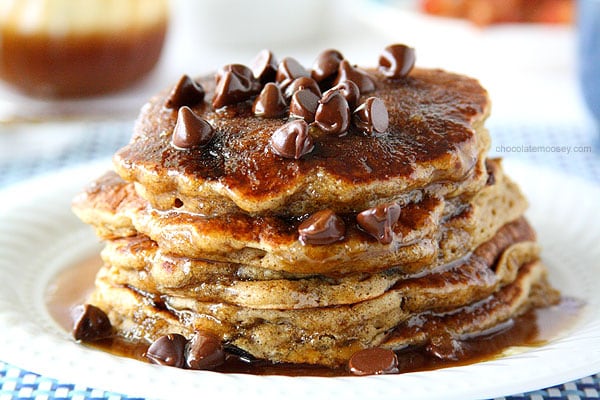 How To Make Chocolate Chip Pancakes From Scratch
Like everything else on this blog, these small batch pancakes for two are made from scratch. No baking mixes or Bisquick needed.
Just your basic flour, sugar, baking powder, salt, egg, milk, and melted butter.
To make the pancake batter, first you whisk together the dry ingredients. Then you whisk in the wet ingredients. Finally you stir in the chocolate chips.
Before cooking, you want to let the batter rest for at least 5 minutes. This allows the gluten to relax so the pancakes don't toughen up while cooking.
The batter will also thicken a little more because the flour absorbs the liquid. If you let it rest longer and the batter is too thick, whisk in a little more milk to loosen it.
Next, heat your skillet. Ideally you want a non-stick pan. I let mine heat up while dry (aka no butter or oil). To make sure it's hot enough, I throw in a few drops of water. If they sizzle and evaporate quickly, the pan is ready.
However, if your pan isn't non-stick or you want a little more butter flavor, you can melt about 1/4 tablespoon of butter first. You can then use the remaining tablespoon for serving.
Once your skillet is hot, pour about 1/4 cup of batter into the pan. Your pancake is ready to flip when the edges are set and bubbles form in the middle. The second side won't need as much cooking time since it's already halfway cooked.
The heat will fluctuate while cooking. If your pancakes are getting too brown, turn the heat down. If your pancakes are taking too long to cook, turn the heat up.
Once ready, serve them with lots of butter and syrup.
How To Freeze Pancakes
If you're making small batch pancakes for one, pancakes do freeze well! Let the extras cool completely then store in a single layer in a freezer locked bag.
How To Rewarm Pancakes
Even though you're only making 6 pancakes, they get cold quickly if you don't serve them straight from the skillet.
If you're making all six and waiting until the end to eat, preheat your oven to 200F. Once you're done cooking, stick the pancakes in the oven for about 5 minutes or until warm.
Don't feel like turning your oven on (or you forgot)? You can reheat them in the microwave in 15 second increments.
Although plain chocolate chip pancakes are delicious, spiced chocolate chip pancakes are even better.
I never knew spices could make that much of a difference in something so ordinary until I made Spiced Cookie Dough Ice Cream.
That's when I got the idea of adding cinnamon and clove to my pancakes because they intensify the flavor of the chocolate chips. You'll never go back to plain again.
If you're not into serving pancakes with maple syrup, serve the pancakes with
homemade strawberry sauce
or
small batch homemade whipped cream
on top.
Pancake Tips And Tricks

Not happy with your pancakes? Here are some troubleshooting tips to keep in mind:

If your pancakes are thin and didn't rise: make sure your skillet is hot before adding the batter; you need heat to react to the baking powder. If the pan is too cold, there is no heat. If there is no heat, the baking powder won't rise properly.

If your pancakes are too doughy and/or raw in the middle: they are too thick. Make sure they aren't more than 1/4 inch thick in the skillet.

If your pancakes aren't fluffy: you overmixed your batter. The more you stir your flour, the more the gluten develops. And overdeveloped gluten will result in chewy pancakes rather than fluffy. It's ok if your batter is a little lumpy, as long as there are no dry spots of flour left.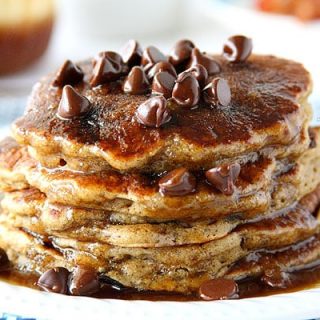 Small Batch Chocolate Chip Pancakes For Two
Start your morning off right with a stack of Small Batch Chocolate Chip Pancakes For Two made from scratch with cinnamon and clove.
Ingredients
3/4 cup all-purpose flour
1 tablespoon granulated sugar
2 teaspoons baking powder
1/2 teaspoon ground cinnamon
1/4 teaspoon ground clove
1/4 teaspoon salt
1 egg, room temperature
1/2 cup whole milk
1 tablespoon vegetable oil or melted butter
1/2 cup semisweet chocolate chips
Maple syrup, for serving
Instructions
In a large bowl, whisk together the flour, sugar, baking powder, cinnamon, clove, and salt.
In a large measuring cup, whisk together the egg, milk, and oil/butter.
Gradually pour the wet mixture into the dry ingredients while whisking until everything is moistened (do not overmix - lumps are ok but there should be no pockets of flour). Stir in the chocolate chips. Let the batter rest for 5 minutes.
Optional: If you're not serving the pancakes immediately after cooking, preheat the oven to 200F. They will get cold quickly if you make them all before eating.
Heat a dry small non-stick skillet large enough to flip one pancake. If your skillet is not non-stick and/or you want extra butter flavor, melt 1/4 tablespoon butter. You can use the rest of the butter for serving.
If you're using a dry skillet, add a few drop of water to make sure your pan is hot enough (they should sizzle then evaporate quickly). If you're using butter, butter should be melted and hot. Once hot, pour in 1/4 cup of batter, making sure it's no more than 1/4 inch thick.
Cook until bubbles form on top and edges are set, about 1-2 minutes. Flip and cook the other side until brown, about 1 more minute.
Remove and place on a cooling rack. Repeat with the remaining batter. You may need to adjust your heat if your pancakes are getting too dark.
If pancakes are cold, warm in the oven for 5 minutes. Serve with maple syrup and butter. Freeze any leftovers in a freezer-safe plastic bag.
Recommended Products
As an Amazon Associate and member of other affiliate programs, I earn from qualifying purchases.
Source: Adapted from
The Kitchn
More Small Batch Pancakes For Two Recipes