Biscuits and Gravy For Two
Take some time to relax for breakfast and enjoy freshly baked buttermilk drop biscuits with sausage gravy. Makes enough to feed two people.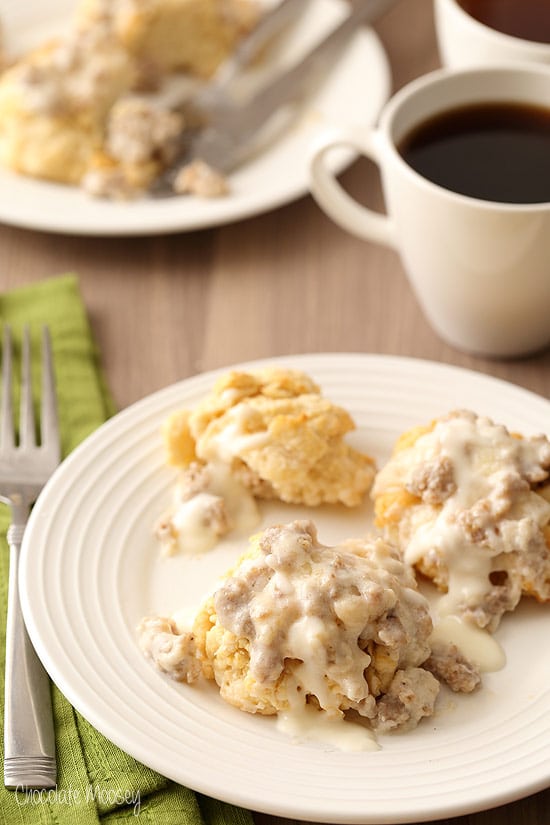 What do you like to eat for breakfast on a lazy Sunday morning? My guilty breakfast pleasure (besides cake) is biscuits and gravy. There's just something so comforting about stick-to-your-ribs biscuits and gravy. However, it's a special treat kind of breakfast as it's not something I can eat every day. When I went to
Tennessee
a few years ago, the hotel served biscuits and gravy all week. On Day Three, I was done. That doesn't stop me from making it at home every few months or so. The best part it's actually super easy to whip up as I bet you have almost all of the ingredients in your pantry right now (except maybe the sausage, which you can easily pick up at the store). You can even make the biscuit dough in the food processor to make the process even faster. Funny story – I accidentally turned my recipe into a small batch recipe as I didn't expect to make only six biscuits. Once I realized that happened, I decided to roll with it and scale down my sausage gravy recipe. Now you can easily make this breakfast for two on the weekend when you're sitting down to relax with a hot cup of coffee. Or if you're feeding a crowd, you can easily double the recipe.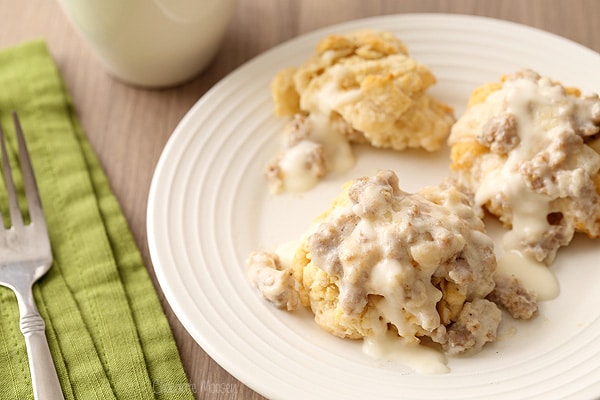 As I was planning my recipe, I was debating on whether I wanted to do traditional buttermilk biscuits where you roll and cut out the dough or just go rustic with drop biscuits. Since this is a breakfast recipe and I'm totally not a morning person, I went with drop biscuits because they take less time and less effort. All you do is make the dough in the food processor (or by hand with a pastry cutter) then drop the dough onto the cookie sheet. Easy peasy. While the biscuits are baking, you can make the gravy.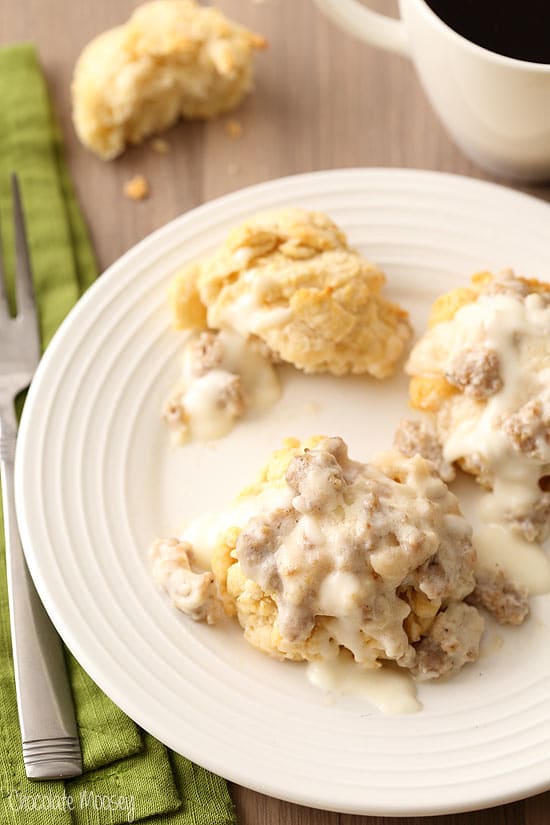 The key to a really good gravy? Salt. Please don't be afraid of adding more salt if your gravy tastes flat. I find that most cream based sauces benefit greatly from adding more than a few pinches of salt. Of course you'll have to account for how salty your sausage is as that can vary, but as long as you taste as you go, you'll be fine.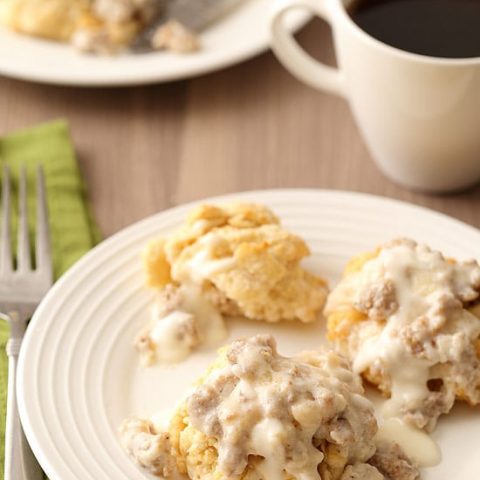 Biscuits and Gravy For Two
Yield: 2 servings
Prep Time: 15 minutes
Cook Time: 20 minutes
Total Time: 35 minutes
Take some time to relax for breakfast and enjoy freshly baked buttermilk drop biscuits with sausage gravy. Makes enough to feed two people.
Ingredients
Biscuits
1 1/2 cups all-purpose flour
1 1/2 teaspoons baking powder
1/4 teaspoon baking soda
1/4 teaspoon salt
1/4 cup (2 ounces or 4 tablespoons) unsalted butter, cold and cut into 8 pieces
1/2 cup buttermilk, cold
Gravy
1/2 pound pork sausage, thawed
2 tablespoons chopped onion
1 tablespoon all-purpose flour
1 cup whole milk, room temperature
1/4 - 1/2 teaspoon salt
1/8 teaspoon Worcestershire sauce (optional)
Instructions
For the biscuits: Preheat oven to 400F. Line a baking sheet with parchment paper or silicone baking mat.
Add the flour, baking powder, baking soda, and salt to the bowl of a food processor.
Add the butter pieces and pulse until butter is cut into the flour mixture, looking like pebbles of different sizes.
Add the buttermilk and pulse until a dough forms and is no longer crumbly. Alternatively, you can add the dry ingredients to a large bowl, cut in the butter using a pastry cutter, and stir in the buttermilk with a spoon.
Drop the dough into 6 biscuits onto the baking sheet. Bake 15-17 minutes or until golden brown.
While the biscuits are baking, make the gravy: Heat a dry large skillet over medium heat until hot. Add the sausage, breaking it into pieces with your spatula (the more it cooks, the more it'll be easier to break up).
Add the onion and cook until the sausage is no longer pink, roughly 5-8 minutes.
Remove the sausage with a slotted spoon to a bowl or plate lined with paper towels. Discard all but 1 tablespoon of grease from the skillet.
Place the skillet back on the heat and whisk in the flour to make a roux (paste). Cook an additional minute or until it starts to brown. Gradually whisk in the milk, whisking constantly to smooth out any lumps. Bring to a boil.
Once boiling, cook until it thickens, roughly 3-5 minutes, whisking often.
Add 1/4 teaspoon salt and Worcestershire sauce. Taste the gravy with a piece of sausage. If it's not too salty, add the remaining 1/4 teaspoon salt.
Add the sausage back to the skillet and stir to incorporate. Serve hot over warm biscuits.
Source: Adapted from
The Pioneer Woman
More Sunday Brunch Recipes

Baked Eggs in Cheesy Hash Brown Bowls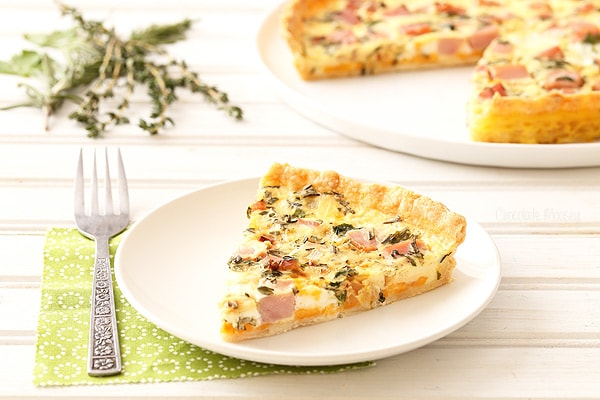 Ham and Herb Quiche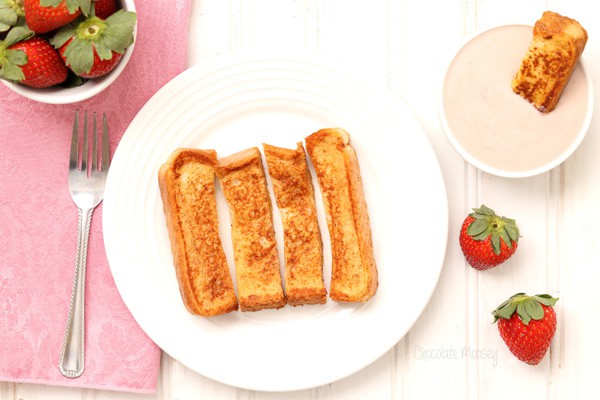 French Toast Sticks with Strawberry Yogurt Dipping Sauce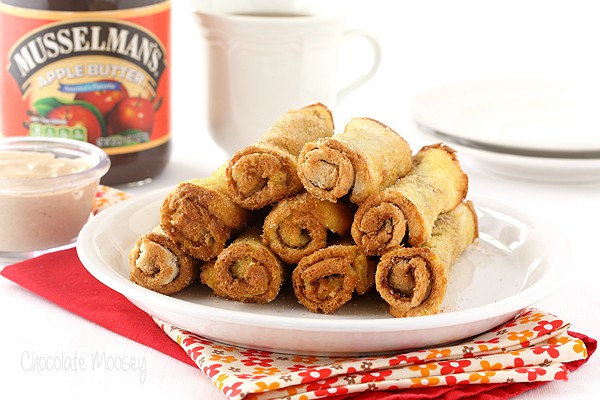 Apple Butter French Toast Roll Ups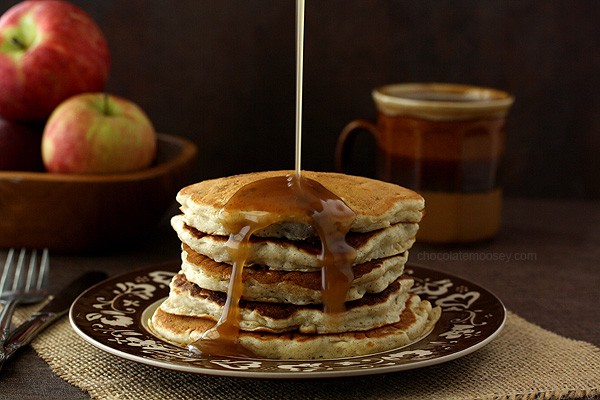 Apple Sausage Pancakes
This post may contain affiliate links. As an Amazon Associate and member of other affiliate programs, I earn from qualifying purchase.