Ham and Cheese Waffles
Need a little help in the mornings? Ham and Cheese Waffles can be made and frozen ahead of time, making them ready for breakfast in minutes. Ideal to serve for breakfast, brunch, and brinner.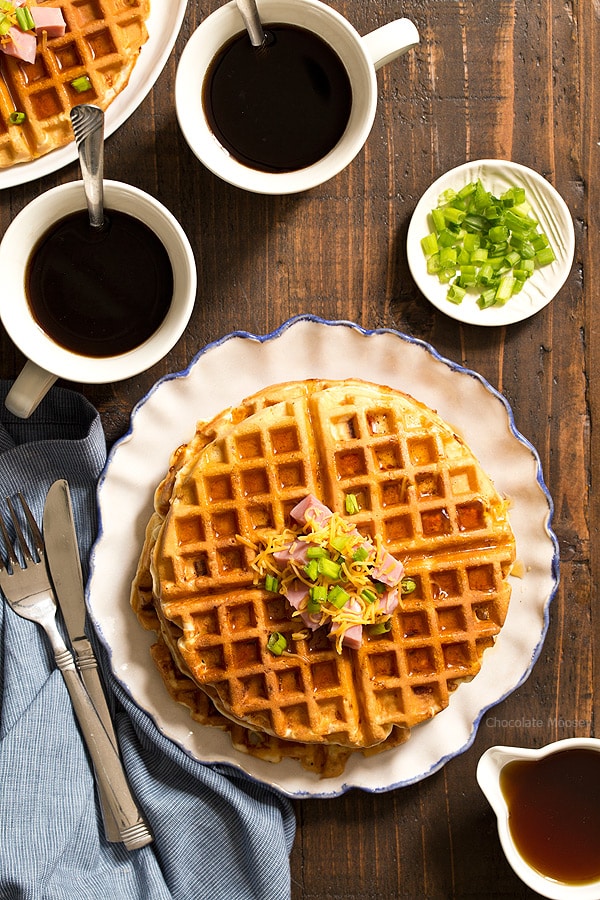 Does this sound familiar?
After hitting the snooze about 5 times, you finally roll out of bed. Put your contacts in, get dressed, do your hair, then make some coffee.
Sit there for 30 minutes while drinking said coffee and try to find even an ounce of motivation to make breakfast.
Or you roll out of bed, have about 30 minutes to eat before running out the door, and you stare at the contents of your fridge not knowing (and not awake) to make anything.
Yup that's me, whether I'm getting ready for another day of work or I have to be somewhere early in the morning.
It's no secret I'm not a morning person. I'm terrible at eating a fulfilling breakfast, not because I don't like breakfast but because it takes me awhile to wake up and get going.
I never skip breakfast, but I usually end up eating some yogurt or an apple.
The best way for me to eat a better breakfast is having something ready to eat and can keep in the freezer at a moment's notice.
Something like waffles. Usually my go-to waffles are chocolate chip, but as much as I'd love to, I can't eat chocolate every morning.
However, waffles are super easy to prepare – pop them in the toaster and wait. How can I make them more acceptable for breakfast without feeling like I'm eating dessert?
By making them savory with Ham and Cheese Waffles. I'm not sure if savory waffles are a thing, but I'm making it a thing.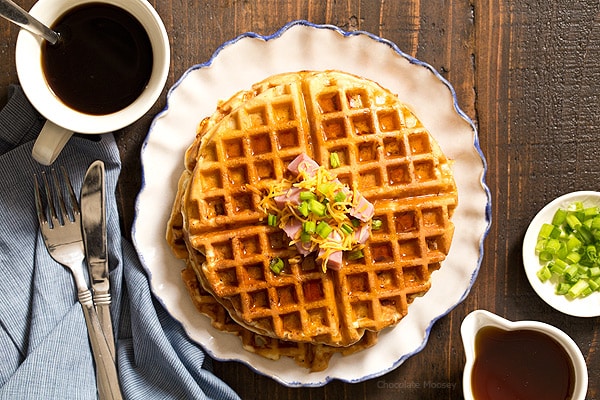 Even though waffles are traditionally breakfast, by making them savory you can eat these Ham and Cheese Waffles for breakfast, brunch, and brinner.
My vote is brinner because not only am I awake by then (ha), I can freeze the leftovers for breakfast the next morning. Win win.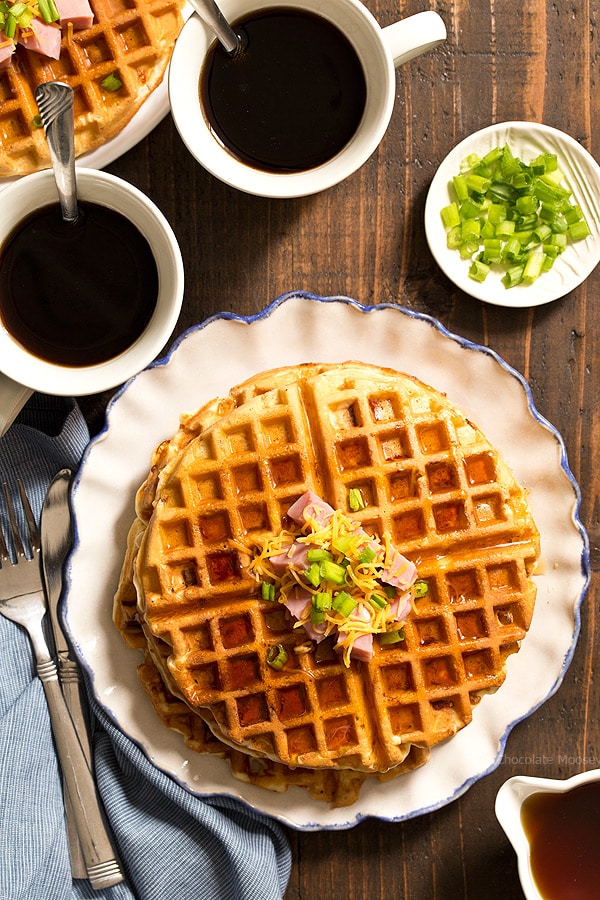 Because waffles come in all shapes and sizes, your yield may vary. I used
this round waffle maker
for 4 round waffles.
Still have leftover ham? Check out my Ham and Cheese Soup and Baked Eggs with Ham and Cheese.
Ham and Cheese Waffles
Yield: 4 six-inch waffles
Prep Time: 20 minutes
Cook Time: 10 minutes
Total Time: 30 minutes
Ingredients
1 cup all-purpose flour
1 tablespoon granulated sugar
1 1/2 teaspoons baking powder
1/2 teaspoon salt
3/4 cup whole milk
3 tablespoons melted butter or vegetable oil
1 egg
1 (8-ounce) package Smithfield Anytime Favorites Chopped Ham (roughly 1 1/2 cups)
1 cup shredded cheddar cheese
1 green onion, chopped
Instructions
In a large mixing bowl, whisk together the flour, sugar, baking powder, and salt.
In a large measuring cup or another mixing bowl, whisk together the milk, melted butter, and egg.
Pour the wet ingredients into the dry ingredients then stir together until well blended and smooth. Stir in the ham, cheese, and green onion. Let sit 5 minutes.
Preheat your waffle maker according to the machine's instructions. Lightly grease with cooking spray if necessary.
Once hot, pour roughly 1/2 cup batter into your waffle maker. Cook according to the machine's instructions until toasted, roughly 2-3 minutes. Repeat with the remaining batter. Serve immediately or cool completely before freezing.
This post may contain affiliate links. As an Amazon Associate and member of other affiliate programs, I earn from qualifying purchase.