Brownie Biscotti with Vanilla Bean Glaze
Are you Team Chocolate or Team Vanilla? Now you don't have to choose as both flavors come together as one in this Brownie Biscotti recipe with vanilla bean glaze.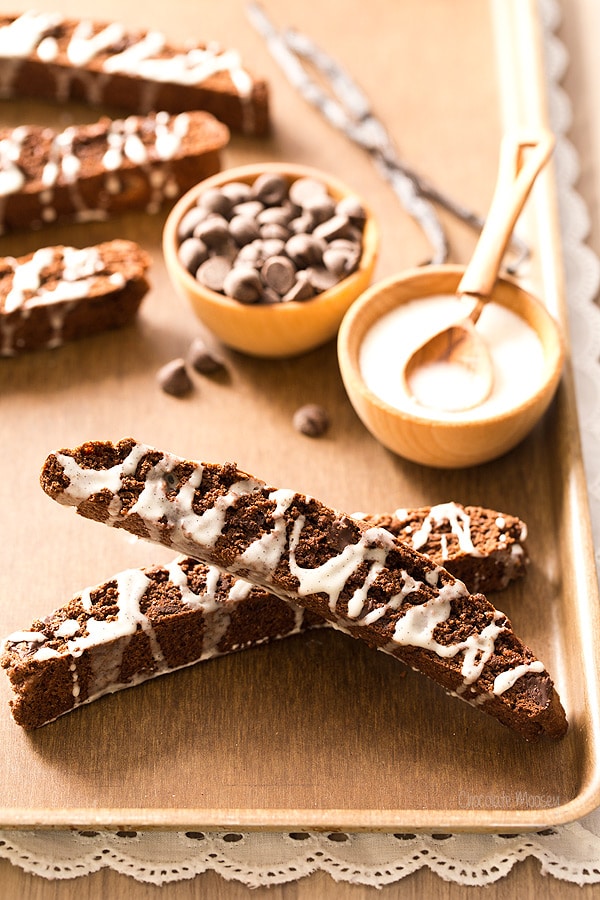 Did you drink your morning coffee yet?
Good because today we're going to talk about food science.
I know. You thought you were done with science once you graduated school.
Don't freak out though – I promise this science lesson is more fun than learning the chemical formula for sucrose.
Have you ever wondered why you add certain ingredients like salt or vanilla to recipes that are neither salty nor vanilla-y?
I once had a friend ask why is she adding salt to sugar cookies; after all, she's making sugar cookies and not salt cookies.
That's because salt acts more like a flavor enhancer; you don't notice its effect until it's not there.
Have you ever tasted a sauce, realized something was missing so you added salt? That doesn't necessarily make the sauce salty; if you don't overdo it, you won't notice the salt at all.
Want to know the secret to making the best sausage gravy for biscuits? Add salt. It's almost unbelievable how much difference 1/2 teaspoon salt can make.
Vanilla works the same way as salt. Most of the time, you don't notice it's there until you don't use it.
At my previous job, one coworker brought in his hand crank ice cream machine so we could churn fresh peanut butter ice cream at lunch.
One time he accidentally forgot to add vanilla extract, and we could tell our batch just wasn't the same; it really brought out the peanut butter flavor.
The same goes when baking with vanilla. Looking at my recipe notes, it's very rare that I bake without vanilla extract, especially when using chocolate.
Chocolate and vanilla may naturally seem like opposites, but really they go hand in hand like peanut butter and jelly.
Show me a chocolate recipe without vanilla, and I'll tell you it'll fall flat of expectations before you even measure your flour.
Take these Brownie Biscotti for example. Everything about them screams chocolate – the name, the cocoa powder, the chocolate chips.
However, they don't truly sing without vanilla backing them up.
To bring out the vanilla flavor even more, I drizzled them with a vanilla bean glaze. It's like the yin and yang of the biscotti world.
Biscotti, meaning twice-cooked, are known for being so hard, they may almost break your teeth. That's why they are often served with coffee for dunking.
These chocolate biscotti are not like that; they are still crunchy without feeling like you need to see a dentist afterwards.
They also taste like brownies in crunchy cookie form (hence the name). I threw in chocolate chips to add even more chocolate in each bite.
You can even add crushed Oreos like this Oreo Biscotti from All You Need Is Brunch.
Brownie Biscotti with Vanilla Bean Glaze
Yield: 18
Prep Time: 20 minutes
Cook Time: 55 minutes
Total Time: 1 hour 15 minutes
Ingredients
1 1/4 cup all-purpose flour
2/3 cup granulated sugar
1/3 cup unsweetened cocoa powder
1 teaspoon baking powder
1/4 teaspoon baking soda
1/4 teaspoon salt
1/4 cup (2 ounces or 4 tablespoons) unsalted butter, melted
2 eggs
1 teaspoon Nielsen-Massey Madagascar Bourbon vanilla extract
1/2 cup semisweet chocolate chips
Vanilla Bean Glaze
1 cup powdered sugar, sifted
1 tablespoon milk
1 Nielsen-Massey Madagascar Bourbon vanilla bean
Instructions
Preheat the oven to 325F. Line one cookie sheet with parchment paper.
In a large bowl, whisk together the flour, sugar, cocoa powder, baking powder, baking soda, and salt.
In another large bowl, beat together the melted butter, eggs, and vanilla until smooth. Gradually beat in the flour until incorporated then stir in the chocolate chips.
With floured hands, lightly knead the dough inside the mixing bowl. Place the dough on the parchment paper and pat out into a log that is roughly 15 to 20 inches by 5 to 6 inches, no more than 1/2 inch high.
Bake 30-35 minutes or until set on the edges and center is firm. Remove from the oven but leave the oven on.
Cool the dough for 15 minutes then with a serrated knife, cut into 1/2 inch wide pieces. Place cut side down back onto the cookie sheet and bake an additional 15-20 minutes until firm. Cool completely.
For the glaze: In a large bowl, whisk together the powdered sugar and milk until smooth. Make a slit to the vanilla bean lengthwise and scrape the seeds into the glaze. Drizzle over biscotti. Let glaze harden before serving.
More Biscotti Recipes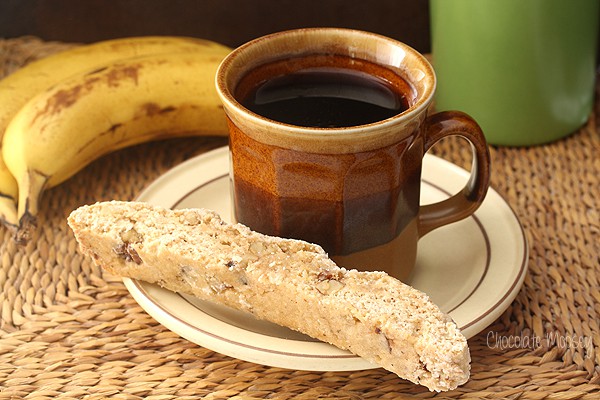 Banana Biscotti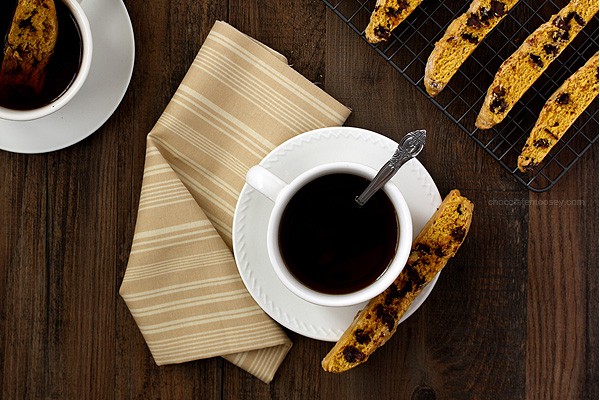 Pumpkin Biscotti

Gingerbread Biscotti
This post may contain affiliate links. As an Amazon Associate and member of other affiliate programs, I earn from qualifying purchase.