Apple Pancakes
Warm Apple Pancakes with sausage and cinnamon served with homemade Apple Cider Syrup will bring the flavors of fall to breakfast. Makes a small batch to enjoy breakfast for two.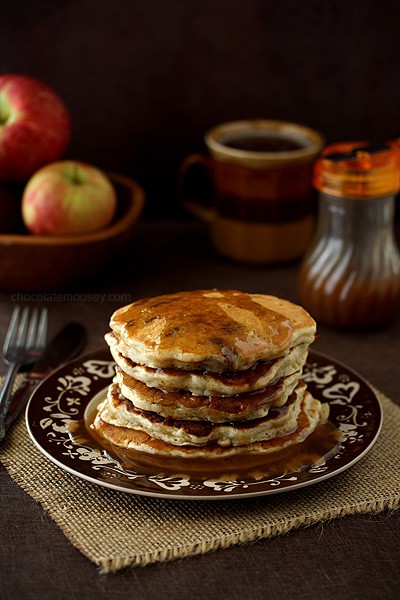 Every fall, I make these Small Batch Apple Sausage Pancakes For Two shortly after attending
the Delmont apple festival
.
Often I'm drowning in sweets, so I wanted to serve apples in a more savory way with sausage.
When it comes to making pancakes, I don't want to stand at the stove and make millions of pancakes one at a time when I want to eat breakfast now and not later.
That's why my Apple Pancakes recipe makes 6 pancakes. Less time cooking, more time eating.
There's no whipping egg whites early in the morning. There's no measuring out 1/4 of an egg and throwing away the rest.
These apple sausage pancakes do require a little extra time because you have to brown the sausage and shred the apples before you can make the pancake batter.
However, they'll be worth it! That's what lazy Sundays are for, right?
If you need pancakes faster, you can also check out my Chocolate Chip Pancakes For Two and Coconut Milk Pancakes.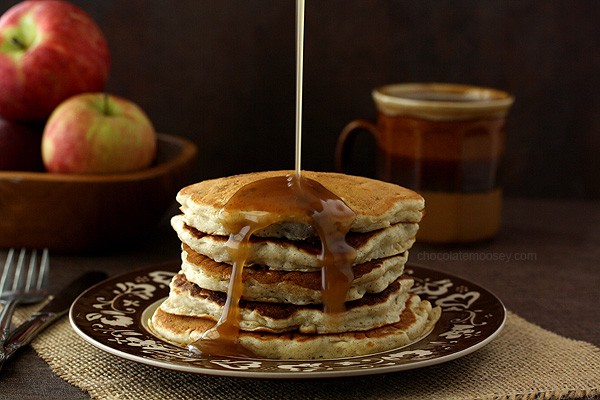 Which Apples Are Best For Pancakes?
Before we start the recipe, first we must talk about the ingredients. One question I get a lot is "Which apples are best for (insert recipe here)?"
For pancakes, I like to use a good baking apple such as Gala, Fuji, or even Golden Delicious.
Even though you're not technically baking the pancakes, you still want one that holds up to the heat of the skillet.
What is bulk pork sausage?
When I say bulk pork sausage, I'm referring to raw sausage you can easily crumble like ground beef, often found in a roll near the breakfast sausage.
You can also buy raw sausage links and squeeze the meat out of the casing. Sometimes that's a better option when cooking for two.
Bulk pork sausage comes in a variety of flavors. Flavor is up to you, although I usually go for traditional or maple.

How To Make Apple Sausage Pancakes From Scratch
Like everything else on this blog, these small batch pancakes for two are made from scratch. No baking mixes or Bisquick needed.
Just your basic flour, sugar, baking powder, salt, egg, milk, and melted butter.
To make the pancake batter, first you whisk together the dry ingredients. Then you whisk in the wet ingredients. Finally you stir in the cooked sausage and apples.
Before cooking, you want to let the batter rest for at least 5 minutes. This allows the gluten to relax so the pancakes don't toughen up while cooking.
The batter will also thicken a little more because the flour absorbs the liquid. If you let it rest longer and the batter is too thick, whisk in a little more milk to loosen it.
Next, heat your skillet. Ideally you want a non-stick pan. I let mine heat up while dry (aka no butter or oil). To make sure it's hot enough, I throw in a few drops of water. If they sizzle and evaporate quickly, the pan is ready.
However, if your pan isn't non-stick or you want a little more butter flavor, you can melt about 1/4 tablespoon of butter first. You can then use the remaining tablespoon for serving.
Once your skillet is hot, pour about 1/4 cup of batter into the pan. Your pancake is ready to flip when the edges are set and bubbles form in the middle. The second side won't need as much cooking time since it's already halfway cooked.
The heat will fluctuate while cooking. If your pancakes are getting too brown, turn the heat down. If your pancakes are taking too long to cook, turn the heat up.
Once ready, serve them with lots of butter and syrup.
Obviously these apple pancakes aren't vegetarian friendly with the pork sausage, but you can easily change that!
Omit the sausage and add an extra 1/4 cup shredded apple to the pancake batter.
How To Freeze Pancakes
If you're making small batch pancakes for one, pancakes do freeze well! Let the extras cool completely then store in a single layer in a freezer locked bag.
How To Rewarm Pancakes
Even though you're only making 6 pancakes, they get cold quickly if you don't serve them straight from the skillet.
If you're making all six and waiting until the end to eat, preheat your oven to 200F. Once you're done cooking, stick the pancakes in the oven for about 5 minutes or until warm.
Don't feel like turning your oven on (or you forgot)? You can reheat them in the microwave in 15 second increments.
Pancake Tips And Tricks
Not happy with your pancakes? Here are some troubleshooting tips to keep in mind:
If your pancakes are thin and didn't rise: make sure your skillet is hot before adding the batter; you need heat to react to the baking powder. If the pan is too cold, there is no heat. If there is no heat, the baking powder won't rise properly.
If your pancakes are too doughy and/or raw in the middle: they are too thick. Make sure they aren't more than 1/4 inch thick in the skillet.
If your pancakes aren't fluffy: you overmixed your batter. The more you stir your flour, the more the gluten develops. And overdeveloped gluten will result in chewy pancakes rather than fluffy. It's ok if your batter is a little lumpy, as long as there are no dry spots of flour left.
How To Make Apple Cider Syrup
You can't make pancakes without serving them with syrup! I made a homemade apple cider syrup to go with my apple pancakes for two.
Making pancake syrup is easy! Whisk together the ingredients including the apple cider and spices then bring to a boil and cook until thickened.
The apple cider syrup recipe makes a small amount too so you're not stuck with leftovers.
In a pinch, you can substitute apple juice for the cider and make apple juice syrup.
For more apple cider recipes, check out my Apple Cider Sangria.
What To Do With Leftover Bulk Pork Sausage

The hardest part about cooking for two is having leftover ingredients; it's not like you can buy a small amount of pork sausage. Here are some recipes using leftover sausage:
Apple Sausage Pancakes For Two with Apple Cider Syrup
Yield: 6 pancakes
Prep Time: 20 minutes
Cook Time: 30 minutes
Total Time: 50 minutes
Warm Small Batch Apple Sausage Pancakes For Two with a hint of cinnamon accompanied by homemade Apple Cider Syrup will bring the flavors of fall to breakfast.
Ingredients
2 ounces bulk pork sausage
3/4 cup all-purpose flour
1 tablespoon granulated sugar
2 teaspoons baking powder
1/2 teaspoon ground cinnamon
1/4 teaspoon salt
1 egg, room temperature
1/2 cup whole milk, room temperature
1 tablespoon vegetable oil or melted butter
1/2 cup apple, peeled, shredded, and squeezed dry (roughly half of a small apple - eat the rest as a snack)
Apple Cider Syrup
1/4 cup apple cider
2 tablespoons granulated sugar
1 teaspoon cornstarch
1/2 teaspoon lemon juice
1/4 teaspoon ground cinnamon
1/8 teaspoon ground nutmeg
1/8 teaspoon ground clove
1 tablespoon butter
Instructions
Heat a dry large skillet. Once hot, add the sausage and cook until no longer pink, about 3-4 minutes. Transfer to a plate or bowl lined with a paper towel and remove as much grease as possible. Crumble the sausage into tiny pieces.
In a large bowl, whisk together the flour, sugar, baking powder, cinnamon, and salt.
In a large measuring cup, whisk together the egg, milk, and oil/butter.
Gradually pour the wet mixture into the dry ingredients while whisking until everything is moistened (do not overmix - lumps are ok but there should be no pockets of flour). Stir in the sausage and apple. Let the batter rest for 5 minutes.
Optional: If you're not serving the pancakes immediately after cooking, preheat the oven to 200F. They will get cold quickly if you make them all before eating.
Heat a dry small non-stick skillet large enough to flip one pancake. If your skillet is not non-stick and/or you want extra butter flavor, melt 1/4 tablespoon butter. You can use the rest of the butter for serving.
If you're using a dry skillet, add a few drop of water to make sure your pan is hot enough (they should sizzle then evaporate quickly). If you're using butter, butter should be melted and hot. Once hot, pour in 1/4 cup of batter, making sure it's no more than 1/4 inch thick.
Cook until bubbles form on top and edges are set, about 1-2 minutes. Flip and cook the other side until brown, about 1 more minute.
Remove and place on a cooling rack. Repeat with the remaining batter. You may need to adjust your heat if your pancakes are getting too dark.
For the syrup: In a small saucepan, whisk together the cider, sugar, cornstarch, lemon juice, cinnamon, nutmeg, and clove. Bring to a boil then cook until thickened, stirring often, about 2-5 minutes. Remove from the heat and stir in butter until melted. Serve warm with pancakes.
If pancakes are cold, warm in the oven for 5 minutes. Serve with syrup and butter. Freeze any leftovers in a freezer-safe plastic bag.
Notes
To make vegetarian, omit the sausage and add an extra 1/4 cup shredded apple.
Not sure what to do with the remaining sausage? Check out these recipes using leftover sausage.
Recommended Products
As an Amazon Associate and member of other affiliate programs, I earn from qualifying purchases.
Source:
Taste of Home's Quick Cooking Magazine
, Sept./Oct. 2001 p. 12
This post may contain affiliate links. As an Amazon Associate and member of other affiliate programs, I earn from qualifying purchase.