Hash Brown Bowls with Baked Eggs
Hash Brown Bowls with baked eggs inside a bowl of cheesy hashbrowns will be your new favorite breakfast or brunch for lazy weekend mornings.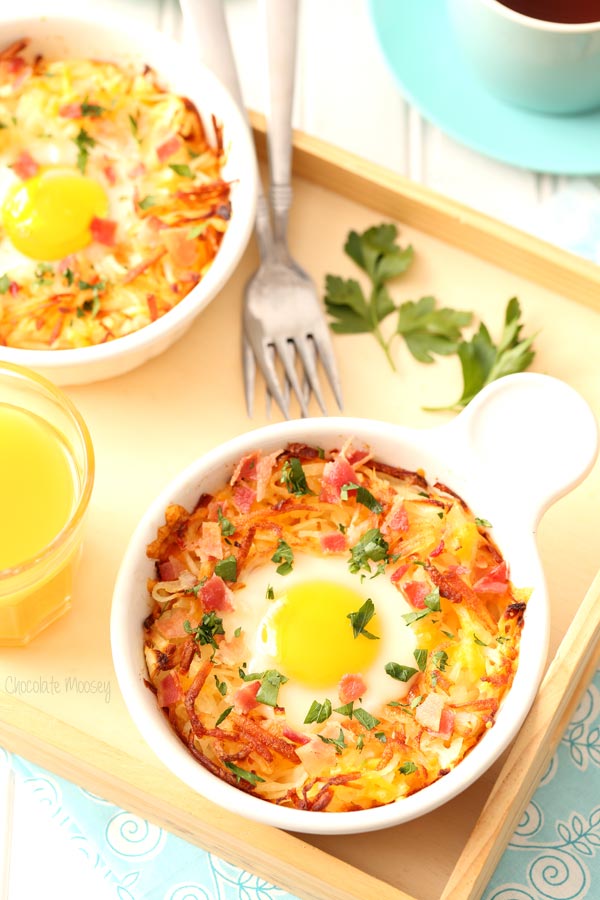 I am not a morning person.
I don't jump out of bed at the crack of dawn to meditate before the day begins.
I don't do morning workouts to feel energized the rest of the day.
I don't even take morning showers because I'd rather use that extra time to sleep.
Total night owl right here. I exercise and shower in the evenings and would much rather stay up until midnight than get up at 6 AM.
However, night owls still have to eat breakfast.
Most of the time I eat a quick snack, whether it's peanut butter toast, oatmeal, or grapefruit, but on Sundays I make it a point to take time for breakfast, whether it's small batch pancakes, waffles, or baked eggs with ham and cheese.
My favorite breakfast of all time is two over easy eggs, bacon, and crispy shredded hash browns; I almost always order this for breakfast when on vacation (with my second favorite breakfast being biscuits and gravy for two with sausage gravy).
Although you can serve eggs, bacon, and hash browns separately on one plate, I wanted to have a little fun, especially since weekends are usually associated with lazy mornings and brunch.
Have you heard of baked eggs in hash brown cups? Pretty much they are mini hash brown bowls baked in a muffin pan that holds a sunny side up egg in the middle. Great little breakfast and brunch appetizers.
I wanted to take that idea but turn it into an actual breakfast with these Baked Eggs in Cheesy Hash Brown Bowls, which makes enough for two servings (but you can certainly double or triple the recipe if you are serving a crowd).
Cheesy, crispy hash browns that hold a beautiful baked egg in the middle then topped with crumbled bacon and fresh herbs.
My favorite breakfast all in one bowl (and hopefully will become your favorite too!)
These hash brown bowls are totally customizable, which is great if everyone doesn't eat the same thing.
Use your favorite cheese, add green pepper or tomatoes, and top with your favorite herbs. I used fresh parsley because that's what I had, but fresh basil and cilantro would work too.
You can do a Mexican theme with chili powder, tomatoes, green peppers, and pepper jack cheese or a Mediterranean theme with kalamata olives, tomatoes, and feta cheese.
See where I'm going with this? Let your palate (or your guest's palate) be your guide.
I will admit even on the weekends, I'm still not a morning person.
There are days I need to drink coffee before I can even make coffee, let alone grate a whole potato.
That's when I reach for a bag of pre-shredded potatoes. They are ready to use straight from the bag – no peeling, no shredding.
If yours are frozen, make sure they are thawed and patted completely dry before baking.
For the ramekins, I used two 12-ounce ramekins that I found at a thrift store, the same ones I used for my
chicken pot pies for two
.
I knew the 6-ounce ramekins I had would be too small.
I highly recommend investing in large ramekins if you cook often for two.
With that said, you can still make this recipe in an 8-inch round or even square pan. You may need to adjust the baking time and you may be able to cook 3-4 baked eggs instead of 2 eggs.
Equipment you may need:
Baked Eggs in Cheesy Hash Brown Bowls
Yield: 2 servings
Prep Time: 15 minutes
Cook Time: 1 hour
Total Time: 1 hour 15 minutes
This easy baked eggs recipe cooked inside a bowl of cheesy hash browns topped with bacon and fresh herbs will be your new favorite breakfast or brunch for lazy weekend mornings.
Ingredients
2 cups thawed shredded hash browns, all excess moisture squeezed out and patted dry
1/2 cup shredded cheddar cheese
1/4 cup chopped onion
2 tablespoons olive oil
1/2 - 1 teaspoon salt, to taste
2 tablespoons crumbled bacon
2 tablespoons chopped fresh herbs, such as parsley or basil
2 eggs, room temperature
Instructions
Preheat oven to 425F. Have two 12-ounce ramekins ready*.
In a large bowl, mix together the hash browns, cheese, onion, olive oil, and salt. Divide evenly between the two ramekins and make a wide enough indent in the middle for adding the egg later.
Bake for 30-40 minutes or until the tops just start to turn golden brown (don't let them get too brown as you still need to cook the egg). Cool for 5 minutes.
Crack each egg into the middle of each bowl. Bake for another 8-12 minutes or until the egg whites are set. Top evenly with bacon and herbs. Serve immediately.
Notes
*If you don't have 12-ounce ramekins, you can make this recipe in an 8-inch round pan, lightly greased with cooking spray. Baking time should remain the same and you can add up to 2 extra eggs.
This post may contain affiliate links. As an Amazon Associate and member of other affiliate programs, I earn from qualifying purchase.