Serve a stack of these dairy free Banana Coconut Milk Pancakes for brunch to start your morning off a little sweeter.
Who here loves brunch? If you said yes, you're in luck! This week is now known as Brunch Week, thanks to the masterminds
Susan of The Girl In The Little Red Kitchen
and
Terri of Love And Confections
for coordinating this. Each day 32 bloggers will be posting wonderful brunch ideas you can add to your menu, ranging from cocktails to eggs benedict to donuts. I'm personally giving you three new recipes, but be sure to visit the other bloggers participating on days I'm not posting (list at the end of the post). Today I'm kicking off with Banana Coconut Milk Pancakes, a stack of sweet banana pancakes that are dairy free because I used canned coconut milk instead of dairy milk.
(One more thing – it wouldn't be Brunch Week without some amazing sponsors, so keep reading for your chance to win some awesome prize packs!)
To be honest, the line between breakfast and brunch is blurred for me. I know brunch is more savory and later in the morning, but the truth is what I eat for breakfast is also what I eat for brunch, and that usually involves being a little sweet. Like these banana pancakes are more on the sweeter side with the bananas and syrup. I make pancakes at least once a month. The best part is freezing leftovers so I don't have to make them again for a bit.
Because it's Brunch Week,
OXO
was kind enough to send us some tools for making brunch easier – a batter bowl where you can directly measure liquids in the bowl, a spatula to stir the batter, and a pancake turner to flip pancakes. One secret to making pancakes – when the top of the pancake has a good bit of bubbles on top, it's ready to flip.
The coconut flavor is subtle, so it's not in-your-face coconut pancakes. I don't want to mislead anyone if you're expecting a huge burst of coconut. They are considered more banana pancakes with an underlying tone of coconut. I got the idea to substitute coconut milk for dairy milk when a Twitter follower said something to me about it. This was a long time ago, so I can't remember who that follower was, but if that was you – thanks!
The syrup shown in the photos is my caramel syrup I used for my
chocolate chip pancakes
. I was out of maple syrup, so I just made my own (plus caramel + bananas = love). The syrup is thin when you make it, BUT if you accidentally thicken it too much (I let mine boil too long – oops), add some more water to thin it out.
Ingredients
1 cup all purpose flour
2 tablespoons granulated sugar
2 tablespoons baking powder
1 teaspoon ground cinnamon
1/2 teaspoon salt
1 egg
1 cup canned coconut milk, room temperature* (please see Note before measuring)
2 tablespoons vegetable oil
1 cup mashed banana (roughly 2 large overripe bananas)
Syrup, for serving ( homemade or store bought)
Instructions
In a large bowl, whisk together the flour, sugar, baking powder, cinnamon and salt.
In a large measuring cup, whisk together the egg, coconut milk, and oil. Pour into the dry ingredients and whisk together until everything is moistened (if it appears crumbly, keep whisking until it comes together). Whisk in mashed banana. The batter will be thick but still pourable.
Heat up a skillet (alternatively you can use a griddle). When it is hot, pour in 1/4 cup of the batter (you may need to use a spoon to help smooth it out into a pancake shape). When bubbles form on top and edges are firm, flip and cook the other side. It won't take as long to cook the second side. When it is brown, remove and place on the cooling rack. Repeat with the remaining batter. Serve with syrup, if desired.
Notes
*Before using, make sure the canned coconut milk is stirred together. Sometimes the solid and liquid separate in the can. What I do is dump the whole can into a large bowl, whisk everything together so it's all liquid (just like regular milk), then measure out 1 cup. If you're using leftover coconut milk that was refrigerated, it needs to be at room temperature - it'll be too thick if used cold.
7.8.1.1
3270
https://www.chocolatemoosey.com/2014/05/05/banana-coconut-milk-pancakes-dairy-free/
Source: Adapted from
The Kitchn
—-
If you enjoyed these Banana Coconut Milk Pancakes, you may also like these recipes: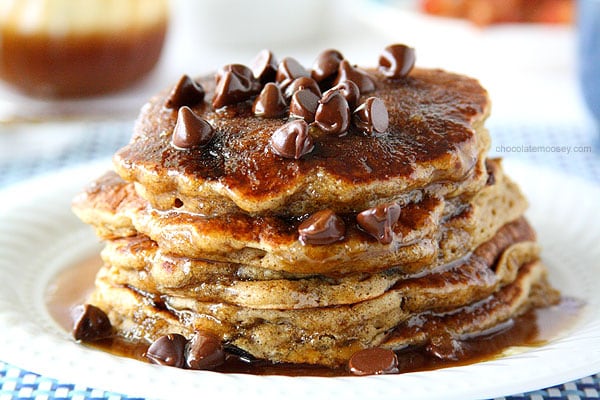 Spiced Chocolate Chip Pancakes with Homemade Caramel Syrup
Here are more brunch recipes for you to check out:
Beverages:
Brunch Eggs:
Main Brunch Dishes:
Brunch Breads and Sides:
Brunch Fruit and Vegetables:
Brunch Desserts:
—-
As I said earlier, we have amazing sponsors who have donated some great prizes for a gigantic Brunch Week giveaway. Because there are 11 (!) prizes, I created a special giveaway page where you can enter. Visit that page, read about the prizes, follow the instructions, and enter to win!
Disclosure – I received kitchen tools from OXO for participating in Brunch Week and was not required to use them. I was not paid for this post. All photos and words are my own.