Soft, chewy, and gooey – these small batch Chocolate Coconut Cookies are the perfect companion to dunk into a glass of milk.
I love trying new-to-me ingredients.
I used to have a really bad habit of buying random things at the store without knowing what to do with them. Then they sit there and usually go to waste (especially fresh produce).
I've gotten better at planning ahead and actually have an idea for these new items before buying them.
And if I don't, I whip out my phone and quickly look up some recipes before deciding.
My latest journey with new-to-me ingredients has been with almond milk. My vegan friend drinks it all the time and I keep hearing those almond milk commercials, so it wasn't unheard of.
The idea to try it popped into my head when I was making my Toasted Coconut Hot Chocolate.
It wasn't until this summer I finally tried it in my Cherry Almond Coconut Ice Cream.
And what pairs best with milk (of any kind)? Cookies!
As my mind wandered into recipe mode, I wanted something decadent. Something chocolately. Something that made you reach for a glass of milk.
That's when I came up with Double Chocolate Coconut Cookies. Chocolate cookies without eggs mixed with shredded coconut and studded with chocolate chips. The perfect companion for milk.
Cookies aren't typically made with milk, but I wanted to see if I could incorporate almond milk into the recipe as well as a glass for dunking. And I succeeded!
As far as the end result, these cookies are soft, chewy, and gooey, just like any chocolate chip cookie should be. Although you do lose the gooey part when the cookies are no longer warm.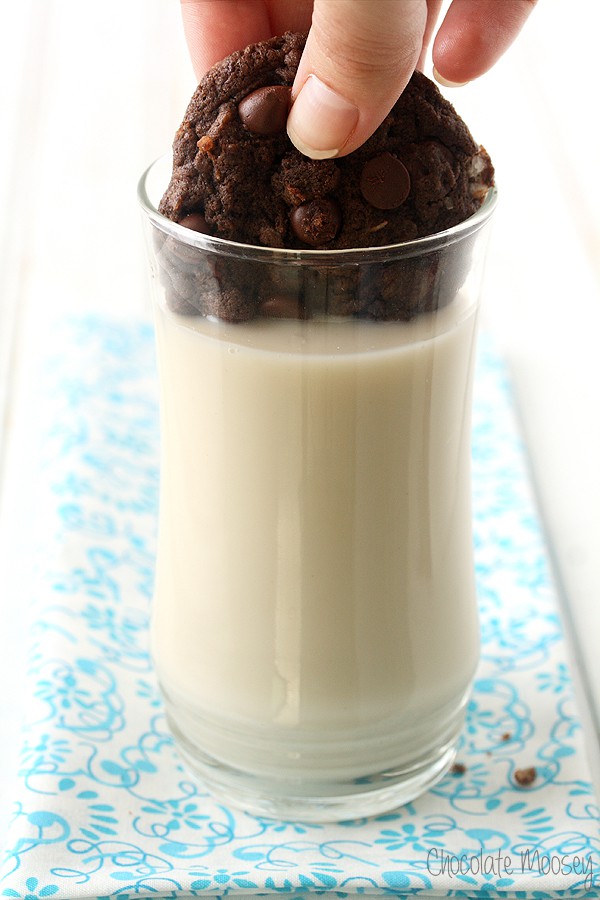 Equipment you may need for this recipe (Amazon affiliate links):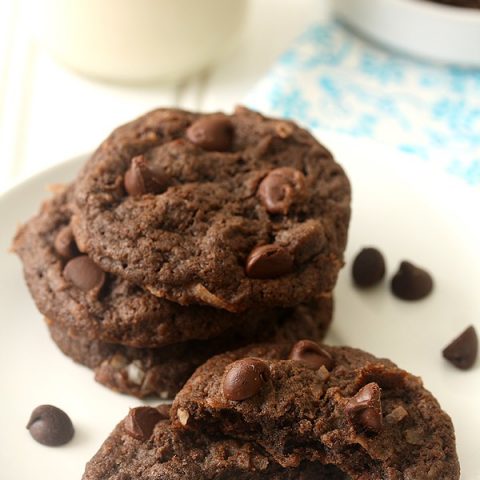 Chocolate Coconut Cookies (Egg Free)
Soft, chewy, and gooey – small batch Chocolate Coconut Cookies are the perfect companion to dunk into a glass of milk.
Ingredients
1/2 cup all-purpose flour
2 tablespoons unsweetened cocoa powder
1/4 teaspoon baking soda
1/4 teaspoon salt
1/4 cup (4 tablespoons or 2 ounces) unsalted butter, softened
2 tablespoons granulated sugar
2 tablespoons packed brown sugar
1 tablespoon almond or dairy milk
1/2 teaspoon vanilla extract
1/8 teaspoon coconut extract (optional - adds extra coconut flavor)
1/2 cup semisweet chocolate chips
1/4 cup sweetened shredded coconut
Instructions
Preheat oven to 350F. Line a cookie sheet with parchment paper.
In a medium bowl, sift together the flour and cocoa powder then stir in the baking soda and salt.
In a large mixing bowl on medium speed (with paddle attachment if using stand mixer), beat together the butter, sugar, and brown sugar until light and creamy, about 1-2 minutes.
Scrape down the bowl then beat in the almond milk, vanilla, and coconut extract.
Turn the speed down to low then gradually beat in the flour mixture until a dough forms. Add the chocolate chips and coconut.
Using a #40 cookie scoop or by hand, roll the dough into 1 1/2 tablespoon balls and place onto cookie sheet. Bake 8-10 minutes or until edges are set and the tops look done. Cool for 5 minutes then carefully remove to a cooling rack to finish cooling.

Store cookies in an airtight container at room temperature for up to 1 week.
Recommended Products
As an Amazon Associate and member of other affiliate programs, I earn from qualifying purchases.
Want more fun cookie recipes to dunk into milk?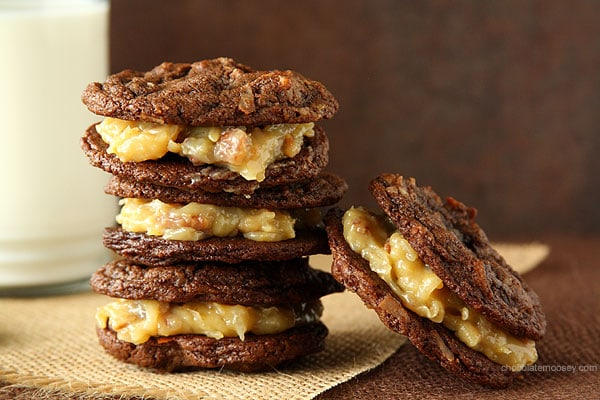 Award-Winning German Chocolate Cake Sandwich Cookies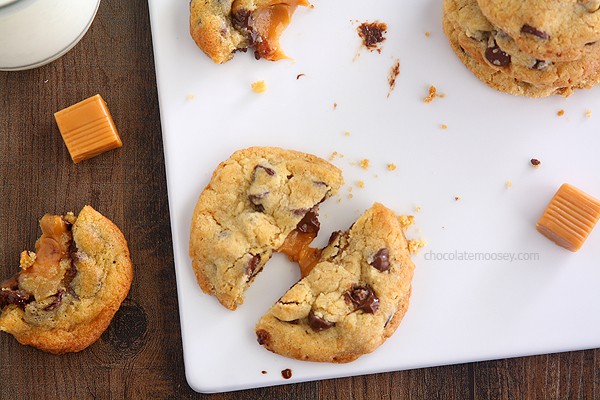 Caramel-Stuffed Chocolate Chip Cookies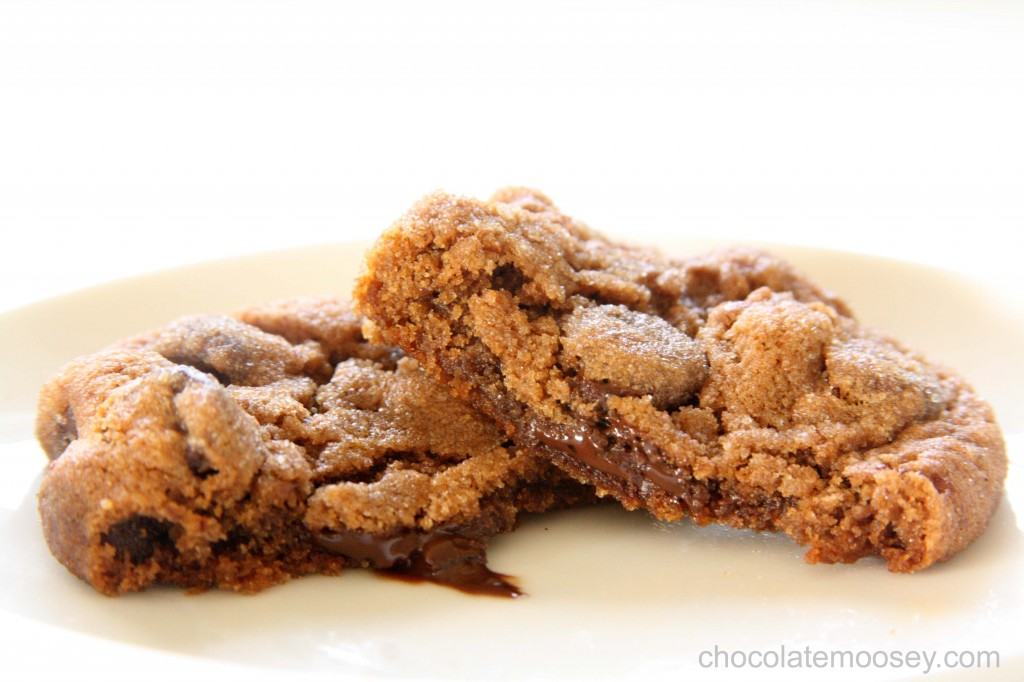 Chocolate Chili Spice Cookies

Chocolate Chip Cut Out Cookies

Double Chocolate Peanut Butter Thumbprint Cookies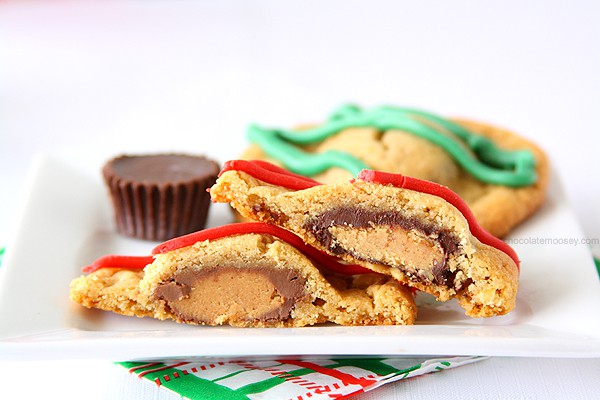 Double Peanut Butter Surprise Cookies