Passion Fruit and Coconut Milk Pops (Dairy Free, Vegan)
Wish you were somewhere tropical? These dairy free Passion Fruit and Coconut Milk Pops will transport you there with just one bite.
Remember in May when I posted my
Fajita-Spiced Shrimp Tacos with Dragon Fruit Salsa
? Along with the dragon fruit were a few passion fruit to try. At first I didn't know what they were; they reminded me of plums. As I read the label, I saw that they were passion fruit. I didn't know that's what they looked like! Passion fruit isn't new to me because I've had the juice before, but this was my first time working with the whole fruit. Of course as it's getting warm out, my mind went to these Passion Fruit and Coconut Milk Pops. Popsicles are such a great way to rehydrate yourself on a hot summer afternoon without the heaviness of ice cream.
When I posted a photo online of my passion fruit, my friend
Sam of The Little Ferraro Kitchen
called them lilikoi, which is Hawaiian for passion fruit. As I did more research on passion fruit recipes, I realized there are different colors. There's the dark plum kind you see in my photos with bright yellow pulp on the inside. Then there's an orange variation that to me look like mini oranges. You can eat the seeds, which I enjoyed because of the texture. The pulp is best used in liquid form since it's not firm enough to cut into cubes or anything.
Passion fruit has a tropical taste to it, a lot sweeter than the dragon fruit I tried. If you enjoy mangos or pineapples, then chances are you'll enjoy passion fruit. Because of its tropical nature, I knew pairing it with coconut milk and lime would be perfect in popsicles.
If you've been buying limes lately, you probably noticed the price is kinda ridiculous. That's because there is a lime shortage,
thanks to weather and criminals
. For these pops I used a lime I already had in my fridge, not realizing what was going on in lime world. However, lemons and even oranges will work if you need a cheaper substitution.
Equipment you will need (affiliate links):
Looking for more popsicle recipes? Check out strawberry popsicles and pineapple popsicles.
Passion Fruit and Coconut Milk Pops
Yield: 6 popsicles
Prep Time: 15 minutes
Total Time: 15 minutes
Wish you were somewhere tropical? These dairy free Passion Fruit and Coconut Milk Pops will transport you there with just one bite.
Ingredients
1 1/2 cups canned coconut milk (roughly 14 ounce can)
1/4 cup passion fruit juice
1/4 teaspoon lime zest
2 tablespoons powdered sugar
2 tablespoons passion fruit seeds
Instructions
In a blender, puree together the coconut milk, passion fruit juice, lime zest, and powdered sugar.
Pour into popsicle molds and insert wooden sticks. Freeze until firm, at least 4 hours.
Source: Adapted from
Food Network
—-
Want more? Here are more recipes: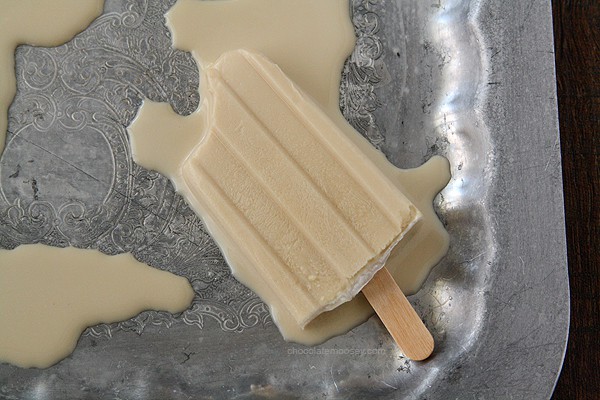 Root Beer Float Ice Cream Bars
This post may contain affiliate links. As an Amazon Associate and member of other affiliate programs, I earn from qualifying purchase.