Homemade Small Chocolate Cake recipe is a moist and delicious 6 inch chocolate cake for two from scratch without a cake mix. Top it with strawberry cream cheese frosting or chocolate ganache.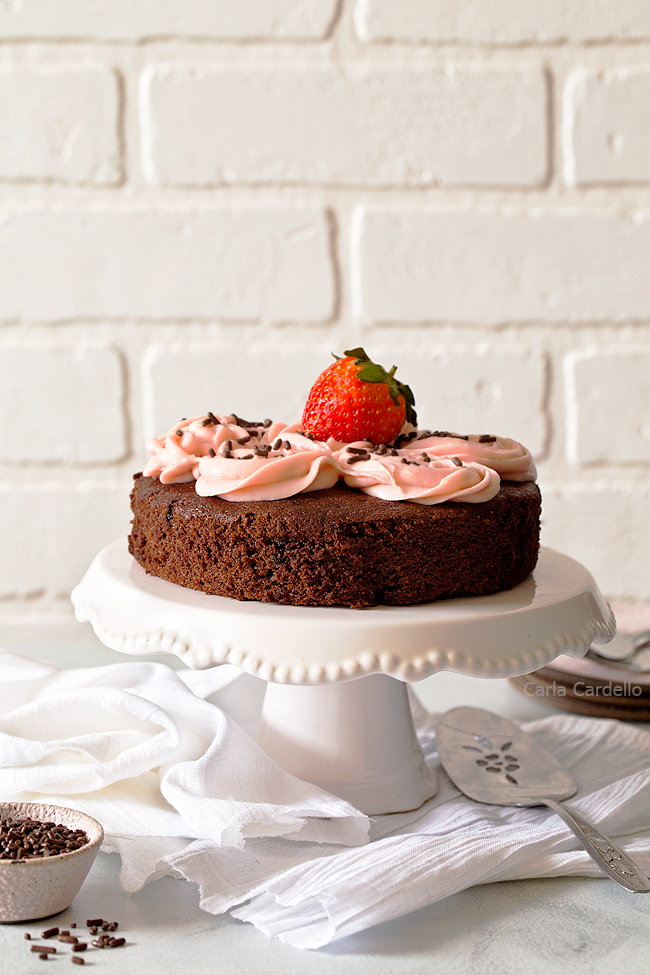 Happy (belated) Chocolate Cake Day! I recently found out January 27 was National Chocolate Cake Day.
Funny thing is I already planned on posting this recipe before I found out. Yes, yes I totally planned this.
I'm sharing this recipe because of Valentine's Day coming up. I mean look at it – it's dessert for two, chocolate, and has pink frosting. It checks all of the boxes for the holiday.
I used to let Valentine's Day bother me; I mean, what single person hasn't been reminded of their loneliness on February 14? But over the years I've embraced it.
Learning to love myself and be more confident has helped me greatly with being single over the years.
I'm still single at 30, but it doesn't bother me (as much) anymore. Sure, I still have my nights where I'm reminded how lonely I am and burst into tears, but who doesn't?
That's why every year for Valentine's Day, I make a point to treat myself. And what better way to say "I love you, self" than with a small chocolate cake recipe from scratch?
And of course if you're celebrating love with someone else, nothing says "thank you for loving me" like this 6 inch chocolate cake for two.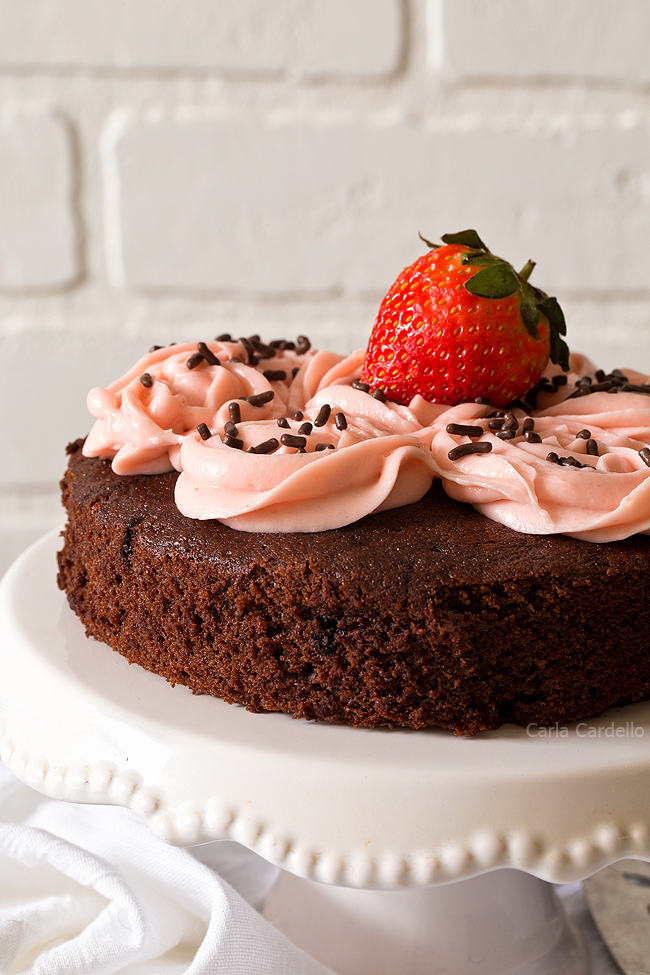 Buying A 6 Inch Round Cake Pan
In order to make this small batch chocolate cake, you need to buy a 6 inch round cake pan. Easy enough, right?
A 6 x 2 inch round cake pan holds about 2 cups of batter. You can buy one online from Amazon (affiliate link) or from your local craft store in the cake decorating aisle.
Don't have a 6 inch cake pan? I also turned this recipe into small batch chocolate cupcakes.
What is espresso powder?
The key to the best small chocolate cake is espresso powder.
Espresso powder is concentrated instant coffee crystals that can be dissolved quickly in liquid, similar to instant coffee but stronger in flavor.
It doesn't add any coffee flavor. Rather it enhances the chocolate to taste more chocolately, similar to adding salt to otherwise bland baked goods.
You can buy espresso powder at an Italian grocery store or the Italian section of your grocery store. If you can't find it, you can use instant coffee (although the flavor isn't as intense).
Some readers ask to leave espresso powder out of their chocolate cake. Although the recipe will work fine without it, please note it won't be as chocolatey as it should be.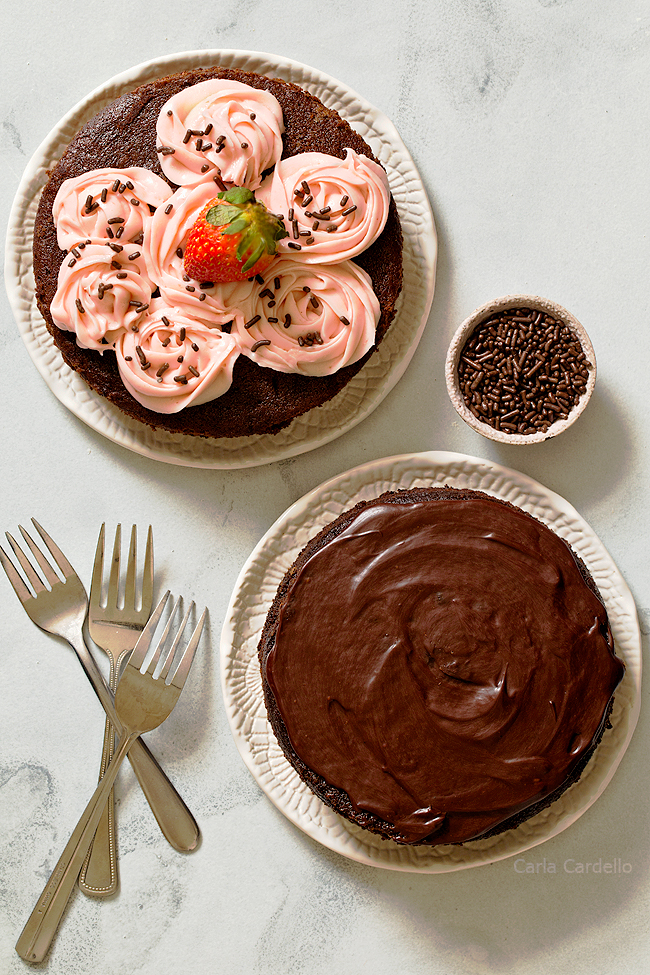 How To Make a Small Chocolate Cake From Scratch
To make a small chocolate cake without cake mix, first sift together your flour, cocoa powder, baking soda, espresso powder, and salt.
Next cream together your butter and sugars until smooth.
Then beat in your egg, vanilla, and melted chocolate.
To finish the cake batter, add the dry ingredients alternately with the buttermilk and coffee, adding the flour in 3 additions and the milk in 2 additions (begin and end with dry ingredients).
Pour the batter into a 6 inch round cake pan then bake at 350F for 25-30 minutes or until a toothpick inserted in the center comes out with a few crumbs (but not wet batter).
How long do you bake a 6 inch cake?
You bake a 6 inch chocolate cake at 350F for about 25-30 minutes.
It's important your oven temperature is accurate. Just because your dial says it's 350F degrees doesn't mean it actually is 350F.
Case in point: My old gas oven heats 25F hotter than what the dial says. That means if I set it to 350F, it actually heats up to 375F.
Baking my small cake at 375F means it'll bake faster, so I have a high chance of overbaking or even burning it, resulting in a dry not so fluffy cake.
On the flip side, if your oven heats up to 325F, that means your cake will bake slower, which affects the rise from the baking powder plus takes much longer to finish baking.
I highly recommend investing in an oven thermometer. It's inexpensive and will help prevent you from ruining your cake and wasting ingredients.
If your temperature is way off, you can sometimes calibrate your oven to be more accurate. Check with your oven's manual to see how to do this.
To tell if your cake is done, insert a toothpick in the center. If it comes out clean, the cake is ready. A few crumbs are ok, but you definitely don't want wet batter.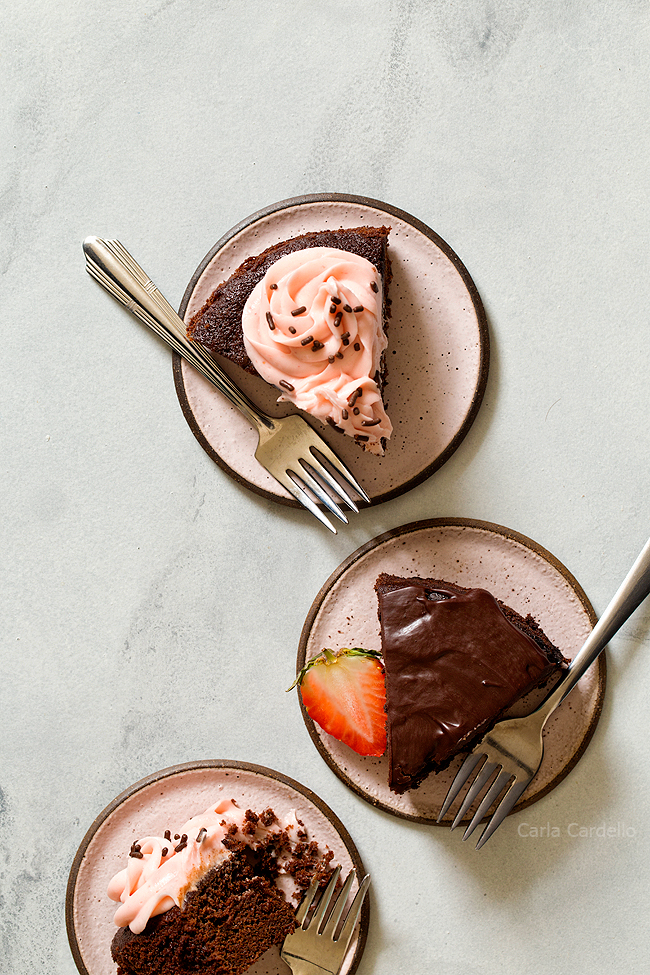 How many will a 6 inch cake feed?
Serving sizes are subjective, especially if you only want a small bite of cake. Generally 6 inch cakes can be sliced into 4-6 slices, making it about 4-6 servings per 6 inch cake.
However, if you slice the cake small enough, you can push for 8 slices, equaling 8 servings.
Ultimately serving size is up to you depending on how small you cut your 6 inch cake.
What makes a chocolate cake moist?
Nothing is sadder than dry chocolate cake, so this recipe is moist and intense.
Both coffee and espresso powder are my secret ingredients for making cake richer and chocolately than your average cake.
You can't actually taste the coffee, so even if you don't drink it, promise you'll still love this cake.
Of course if you absolutely refuse to use coffee, you can substitute hot water. It won't be as chocolatey, but it'll still be moist and delicious.
Buttermilk and brown sugar also help make a cake moist.
What can I use instead of buttermilk?
Buttermilk is necessary because its acidity reacts with the baking soda. If you're going to substitute for buttermilk, you need to make sure its replacement is also acidic.
To substitute for buttermilk, use 1/4 cup whole milk plus 1 teaspoon lemon juice or vinegar. Let sit for 5 minutes until it curdles.
How To Decorate A Small Chocolate Cake
As you can see from the photos, there's more than one way to decorate chocolate cake for two.
You can dress it up for Valentine's Day with Strawberry Cream Cheese Frosting or Strawberry Buttercream. Or you can go simple with chocolate ganache.
Want another flavor? Check out my full list of small batch frosting recipes.
How To Freeze A Chocolate Cake
Although a small chocolate cake only makes a few slices, sometimes you want to bake it ahead of time then freeze for freshness.
To freeze a whole cake, first make sure the cake is completely cooled.
If your cake is already frosted, place it on a baking tray or plate lined with parchment paper or plastic wrap then freeze uncovered for 1 hour or until firm. This will prevent the plastic wrap from sticking to your frosting and ruining it.
Next, wrap the cake in plastic wrap then stick in a freeze-safe plastic bag. Squeeze out as much air as possible.
Write the date on your plastic bag then freeze for up to 3 months.
How To Thaw A Chocolate Cake
When you're ready to serve your small chocolate cake recipe, place it in the refrigerator overnight to thaw. Then let it sit at room temperature for 15-30 minutes before serving so it's not cold.
It's harder to taste the flavors if you eat the cake straight from the fridge without warming up first.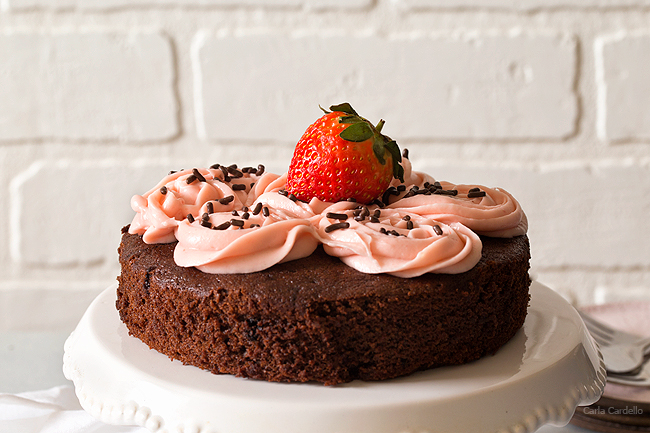 More Small Cake Recipes

Looking for more small cake recipes? I wrote a 6 Inch Cake Recipes guide with every flavor I've made.

Some popular recipes are:
Equipment You Will Need
Small Chocolate Cake Recipe
Homemade Small Chocolate Cake recipe is a moist and delicious 6 inch chocolate cake for two from scratch without a cake mix.
Ingredients
1 ounce semisweet chocolate, chopped
1/2 cup all-purpose flour
1/4 cup unsweetened cocoa powder
1/4 teaspoon baking soda
1/4 teaspoon espresso powder
1/4 teaspoon salt
1/4 cup (2 ounces or 4 tablespoons) unsalted butter, softened
1/4 cup packed brown sugar
1/4 cup granulated sugar
1 egg, room temperature
1 teaspoon vanilla extract
1/4 cup buttermilk or whole milk with 1 teaspoon lemon juice added, room temperature
2 tablespoons hot coffee or water
Strawberry Cream Cheese Frosting (get recipe here)
Chocolate Ganache (if making)
1 ounce semisweet chocolate, chopped
2 tablespoons heavy whipping cream
Instructions
Preheat oven to 350F. Lightly grease one 6-inch round cake pan then line the bottom with parchment paper.
Add about an inch of water to a pan and bring to a simmer. Turn off the heat and place a heatproof bowl over top. Add the chopped chocolate and melt until smooth. Remove from the heat and cool for 10 minutes.
In a medium bowl, sift together the flour and cocoa then stir in the baking soda, espresso powder, and salt.
In a large mixing bowl, beat together the butter, brown sugar, and sugar until light and creamy, about 1-2 minutes.
Beat in the egg and vanilla then beat in the melted chocolate.
Mix together the buttermilk and coffee.
Add the flour mixture alternately with the buttermilk mixture, adding the flour in 3 additions and the milk in 2 additions (begin and end with dry ingredients).
Transfer the batter to the pan. Bake 25-30 minutes or until a toothpick inserted in the middle comes out with a few crumbs (no wet batter). Cool for about 15 minutes, run a knife along the edge of the pan to loosen, and invert onto a cooling rack. Cool right-side-up.
Top with Strawberry Cream Cheese Frosting.
If making chocolate ganache: Add chocolate to a heatproof bowl. In a small saucepan, heat the cream until hot but not boiling. Pour it over the chocolate and wait 1 minute. Stir together until completely smooth. Immediately spread over the cooled cake. Let the chocolate firm up before serving.
Recommended Products
As an Amazon Associate and member of other affiliate programs, I earn from qualifying purchases.