Let there be cake! Homemade Small 6 Inch Chocolate Cake For Two is a moist and delicious one layer chocolate cake you can make from scratch without a cake mix. Top it with strawberry cream cheese frosting, chocolate ganache, or another frosting of your choice.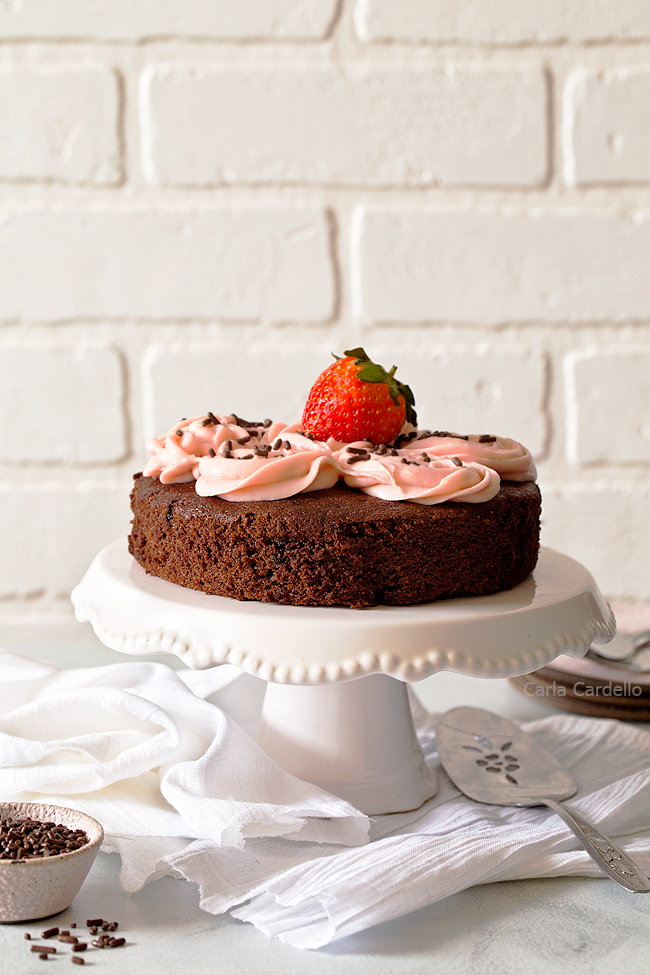 Happy (belated) Chocolate Cake Day! I recently found out January 27 was National Chocolate Cake Day.
Funny thing is I already planned on posting this recipe before I found out.
Yes, yes I totally planned this.
I'm sharing this recipe because of Valentine's Day coming up. I mean look at it – it's dessert for two, chocolate, and has pink frosting. It checks all of the boxes for the holiday.
I used to let Valentine's Day bother me; I mean, what single person hasn't been reminded of their loneliness on February 14? But over the years I've embraced it.
Learning to love myself and be more confident has helped me greatly with being single over the years. I'm still single at 30, but it doesn't bother me (as much) anymore. Sure, I still have my nights where I'm reminded how lonely I am and burst into tears, but who doesn't?
That's why every year for Valentine's Day, I make a point to treat myself. And what better way to say "I love you, self" than with a small 6 inch Chocolate Cake For Two from scratch? And of course if you're celebrating love with someone else, nothing says "thank you for loving me" like chocolate cake.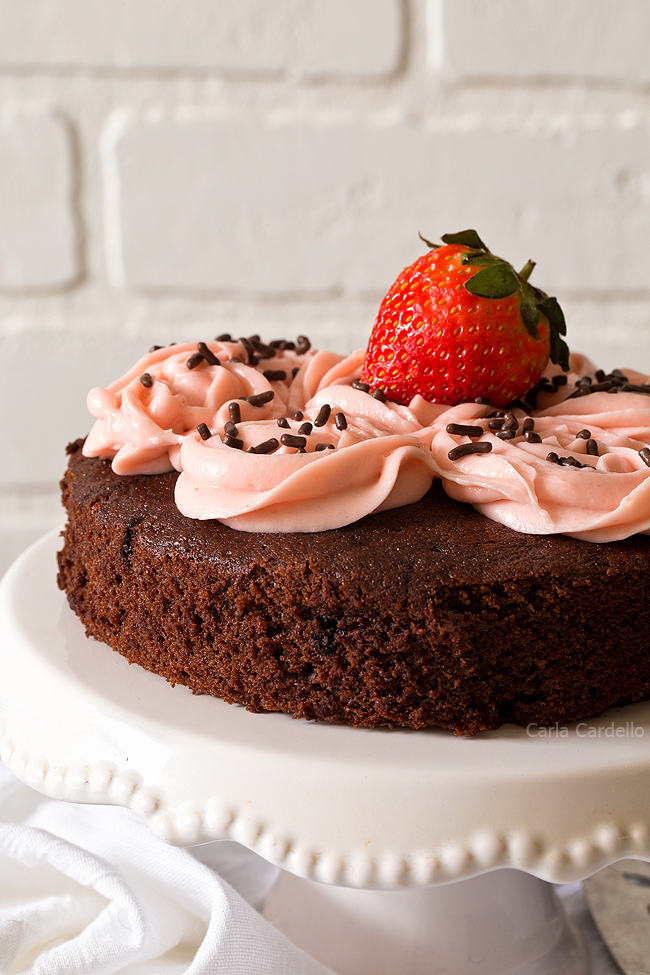 For four years, I lived in a small country town hours away from any major city with no family or friends. I literally had cows next door because I rented an apartment on a farm. You had to drive to the neighbor's house because they were spread out (unless you really wanted the exercise that day).
I worked in an office as the only in-house videographer. Sure I was part of a department, but pretty much I was working on videos alone. All of my coworkers were older and had families. If they weren't married, they had kids.
For the first two years or so, I was the only female in my department. When we had our annual meeting with all of the department employees from around the world in one room, I was probably only 1 of 2 females out of 100 men (give or take).
As you can imagine, I had a really difficult time fitting in. Single, 23, no kids, female at a dominant male company. Not to mention there was nothing happening on the weekends where as I always find something to do in Pittsburgh.
I spent a lot of time in my thoughts. Why was I single? Why didn't I have any friends? How in the world can I begin to connect with my coworkers? I'm an introvert; making friends is tough as it is, let alone with people I have zero in common with. I spent several years in a funk, feeling sorry for myself.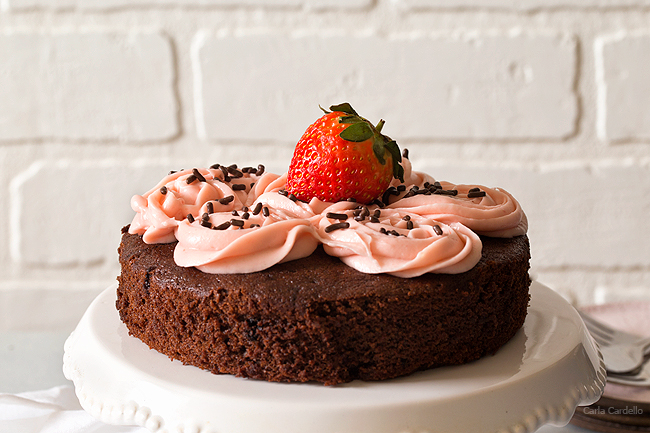 Then one day, something snapped. I wish I could tell you what caused it, but I woke up and decided to stop feeling bad about myself. Just like that. It's as lame as someone saying "Oh I'm successful because I got lucky." I really don't have a true solution for you other than I had enough.
I spent a lot more time blogging. A lot more time baking. A lot more time learning how to photograph food and be better at what I was doing. It's what launched me into this career to bring you recipes to make at home.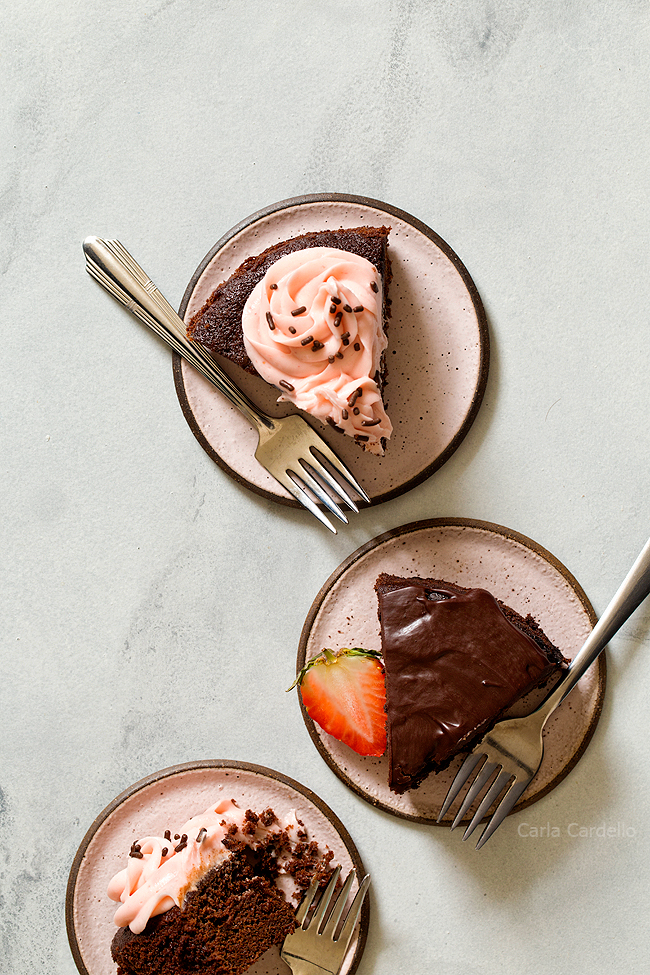 This simple chocolate cake recipe is based off of my
Devil's Food Layer Cake recipe
, which I made four times. First time I made too much batter. Second time I used too much leavening. Third time still too much leavening. Fourth time's a charm, right?
Nothing is sadder than dry chocolate cake, so this recipe is super moist and intense. Coffee is my secret ingredient for making it more chocolately than your average cake. You can't actually taste the coffee, so even if you don't drink it, promise you'll still love this cake.
Of course if you absolutely refuse to use coffee, you can substitute hot water. It won't be as chocolatey, but it'll still be moist and delicious.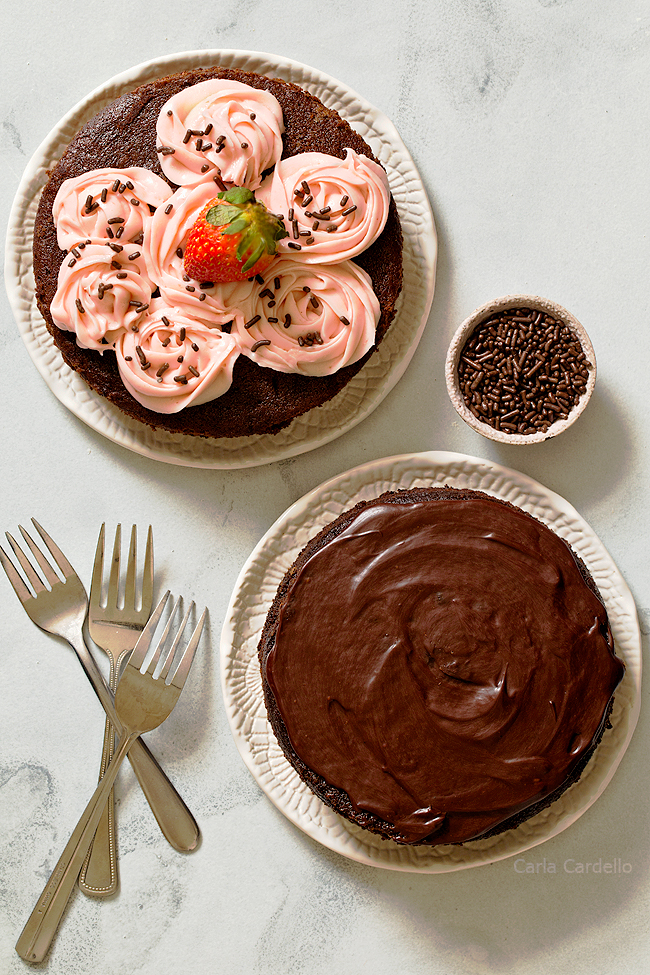 As you can see from the photos, there's more than one way to decorate a chocolate cake. You can dress it up for Valentine's Day with
Small Batch Strawberry Cream Cheese Frosting
. Or you can go simple with chocolate ganache.
For baking equipment, you're going to need a 6 inch round cake pan (affiliate link). If you make dessert for two on a regular basis, you should definitely invest in at least one pan, two if you want to make a small layer cake like my Cherry Vanilla Layer Cake.
Other Frosting Recipes For Chocolate Cake
Small Chocolate Cake For Two
Homemade Small Chocolate Cake For Two is a moist and delicious one layer chocolate cake you can make from scratch without a cake mix. Top it with strawberry cream cheese frosting, chocolate ganache, or another frosting of your choice.
Ingredients
1 ounce semisweet chocolate, chopped
1/2 cup all-purpose flour
1/4 cup unsweetened cocoa powder
1/4 teaspoon baking soda
1/4 teaspoon espresso powder
1/4 teaspoon salt
1/4 cup (2 ounces or 4 tablespoons) unsalted butter, softened
1/4 cup packed brown sugar
1/4 cup granulated sugar
1 egg
1 teaspoon vanilla extract
1/4 cup buttermilk or whole milk with 1 teaspoon lemon juice added
2 tablespoons hot coffee or water
Strawberry Cream Cheese Frosting (get recipe here)
Chocolate Ganache (if making)
1 ounce semisweet chocolate, chopped
2 tablespoons heavy whipping cream
Instructions
Preheat oven to 350F. Lightly grease one 6-inch round cake pan then line the bottom with parchment paper.
Add about an inch of water to a pan and bring to a simmer. Turn off the heat and place a heatproof bowl over top. Add the chopped chocolate and melt until smooth. Remove from the heat and cool.
In a medium bowl, whisk together the flour, cocoa, baking soda, espresso powder, and salt.
In a large mixing bowl, beat together the butter, brown sugar, and sugar until light and creamy, about 2-3 minutes.
Beat in the egg and vanilla then beat in the melted chocolate.
Mix together the buttermilk and coffee.
Add the flour mixture alternately with the buttermilk mixture, adding the flour in 3 additions and the milk in 2 additions (begin and end with dry ingredients).
Transfer the batter to the pan. Bake 25-30 minutes or until a toothpick inserted in the middle comes out with a few crumbs (no wet batter). Cool for about 15 minutes, run a knife along the edge of the pan to loosen, and invert onto a cooling rack. Cool right-side-up.
Top with Strawberry Cream Cheese Frosting.
If making chocolate ganache: Add chocolate to a heatproof bowl. In a small saucepan, heat the cream until hot but not boiling. Pour it over the chocolate and wait 1 minute. Stir together until completely smooth. Immediately spread over the cooled cake. Let the chocolate firm up before serving.