If you love peanut butter, this is the birthday cake for you! Mini Peanut Butter Layer Cake is a 3 layer peanut butter cake with homemade peanut butter frosting.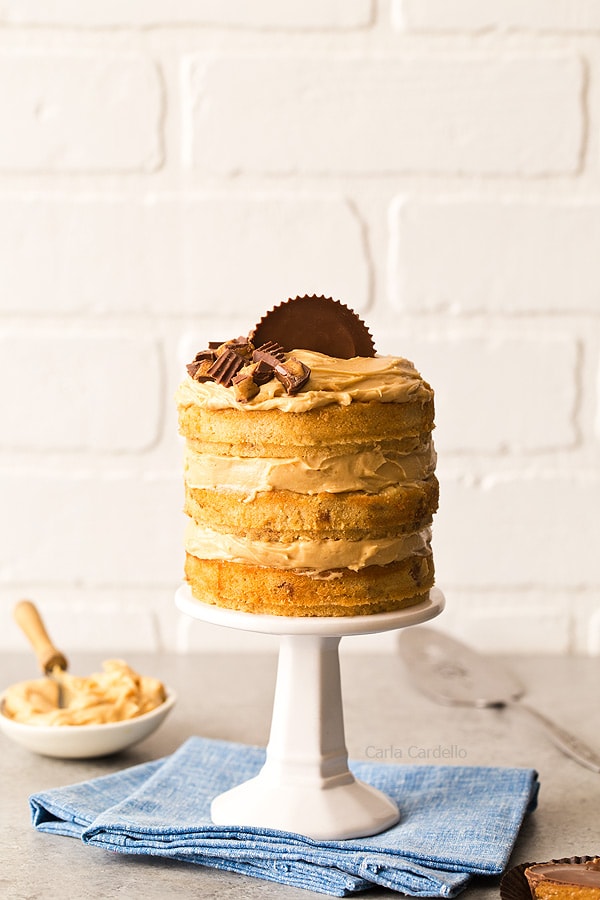 Today is my birthday. Happy birthday to me! (cue the confetti and horns).
However, it's not just *any* birthday. It's a milestone. It's my big 3-0. Officially an adult (although I've been adulting quite hard the past few years). That age where my metabolism slows down and I need to eat more salads.
Remind me why we look forward to growing up again?
This month is pretty busy for me, so I won't actually celebrate it with friend(s) until the end of the month where I have plans at a cat cafe drinking wine. Yup, this is 30 alright.
Of course every birthday needs cake (or birthday pies). My favorite is probably devil's food because it's a moist chocolate cake. My mom would make it for me (albeit from a box) growing up (also this photo will never get old).
Since I already posted that, what other kind of cake could I make? I've also done chocolate cake with peanut butter frosting.
How about a peanut butter cake? And since it's my birthday and I don't want to share/need to watch that pesky metabolism, I opted for a Mini Peanut Butter Cake with the dreamiest peanut butter frosting.
You don't even need to have killer decorating skills because all you need to do is stick a peanut butter cup into the top. Voila – instant cake topper.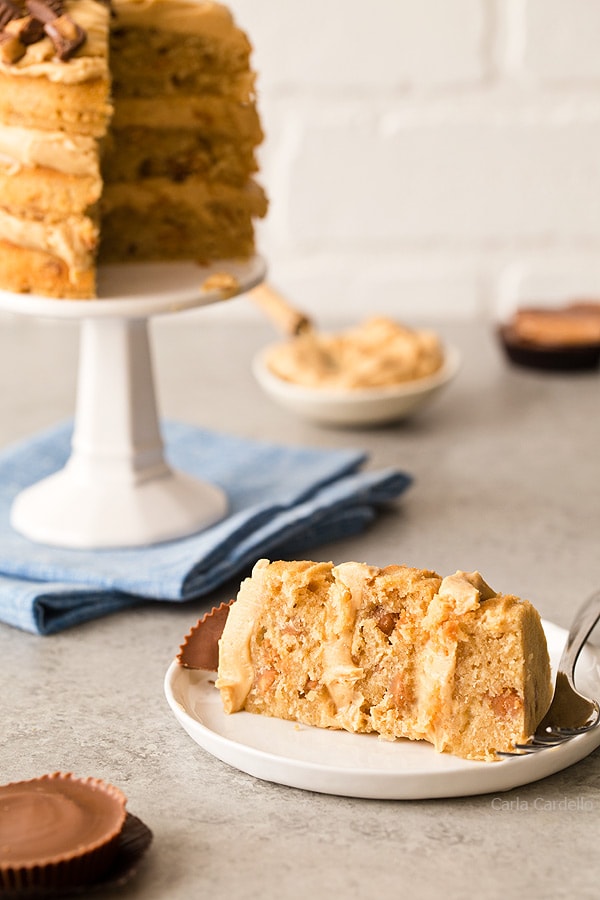 Peanut butter cake isn't something you see often. Usually if there's peanut butter involved, it's a chocolate cake with peanut butter frosting and/or peanut butter cups. I knew I wanted the cake batter to be full of peanut butter flavor.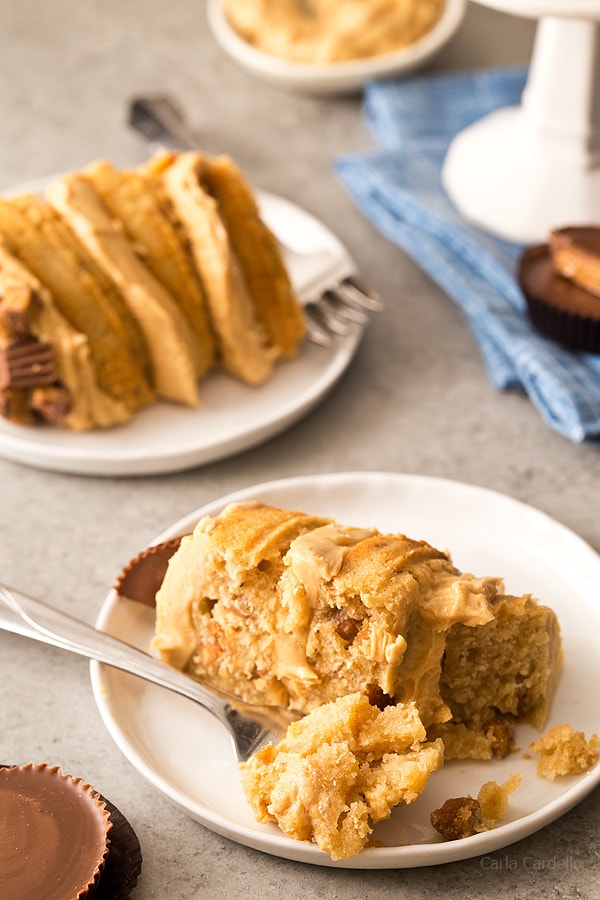 The
small batch peanut butter frosting
is my favorite. It's a light and fluffy buttercream frosting. Make sure you beat it long enough to make it airy.
If you love the combination of chocolate and peanut butter, you can also fill the cake with Small Batch Chocolate Frosting.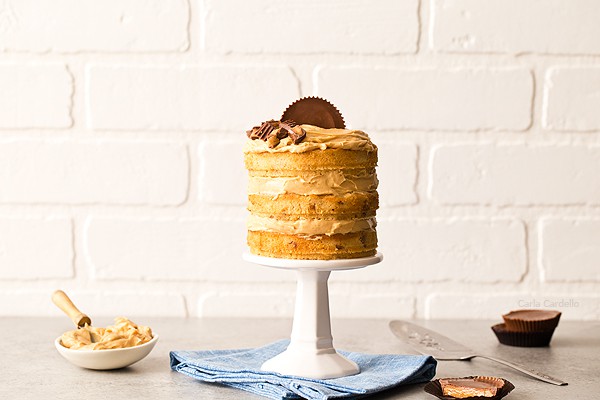 For those crazy people who don't like chocolate, leave off the peanut butter cups for the ideal birthday cake. You can even decorate it with peanut butter chips on top.
Items You May Need (affiliate links):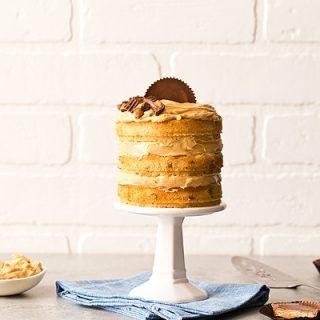 Mini Peanut Butter Cake
If you love peanut butter, this is the birthday cake for you! Mini Peanut Butter Layer Cake is a 3 layer peanut butter cake with homemade peanut butter frosting.
Ingredients
1/2 cup all-purpose flour
1/4 teaspoon baking powder
1/8 teaspoon salt
1/4 cup (2 ounces or 4 tablespoons) unsalted butter, softened
1/4 cup creamy peanut butter
1/2 cup granulated sugar
1 egg, room temperature
1/4 teaspoon vanilla
6 tablespoons whole milk, room temperature
1/2 cup peanut butter chips
Small Batch Peanut Butter Frosting (get recipe here)
Peanut butter cups, for garnish
Instructions
Preheat oven to 350F. Lightly grease three 4 inch springform pans.
In a medium bowl, whisk together the flour, baking powder, and salt.
In a large mixing bowl, beat together the butter and peanut butter until smooth, about 30 seconds. Add the sugar and beat until light and creamy, about 2-3 minutes. Beat in the egg and vanilla.
Add the flour mixture alternately with the milk, adding the flour in 3 additions and the milk in 2 additions (begin and end with dry ingredients). Stir in the peanut butter chips.
Divide the batter evenly among the three pans. Bake 20-25 minutes or until a toothpick inserted in the middle comes out clean. Cool completely.
While the cakes are cooling, make the peanut butter frosting (get instructions here).
Remove the cakes from the pan. If the cakes are round on top, cut the tops of the cake so they are flat for stacking. Place one cake layer on cake stand or plate. Add some of the frosting then top with another cake layer. Repeat with the remaining frosting and cake. Garnish with peanut butter cups.