Pumpkin meets Italy with pumpkin biscotti studded with semisweet chocolate chips – a perfect companion to dunk in your coffee.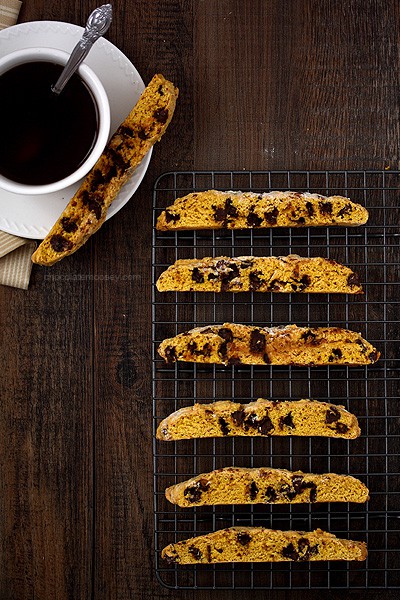 It's Day 3 of Cookie Week!
My final recipe for Cookie Week is Pumpkin Chocolate Chip Biscotti.
I love pairing pumpkin and chocolate chips together; it just tastes so natural. Or maybe because I'm chocolate chip obsessed.
Either way, I couldn't stop eating these. Usually when I take goodies into work, I'm done eating them, but for whatever reason, I couldn't put the biscotti down.
This isn't how it's supposed to work! I give food to my coworkers so I don't hog them down.
Whether you make these for a coffee date or keep a batch for yourself, you're not going to want to skip this recipe.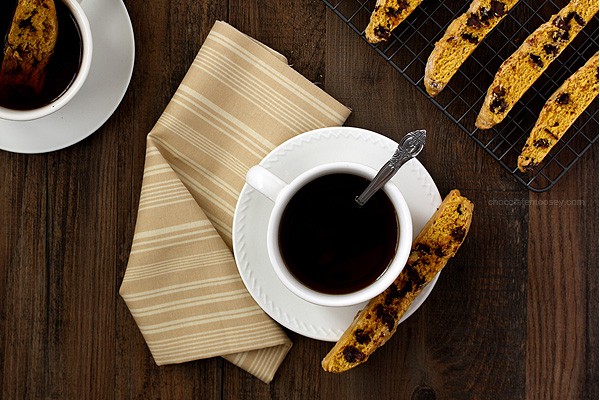 Biscotti is a twice baked cookie.
Even though traditional biscotti is so crunchy that it's almost hard to take a bite, these pumpkin biscotti are still slightly chewy, and I'm ok with that.
For biscotti purists, you may disagree, but for the rest of you, no need to hurt your teeth.
Little bit of warning – this dough will be sticky. I increased the amount of flour slightly from the original recipe but didn't want to add too much.
Just make sure you flour your hands and surface. Once you knead the dough, you can then transfer it to parchment paper to finish shaping.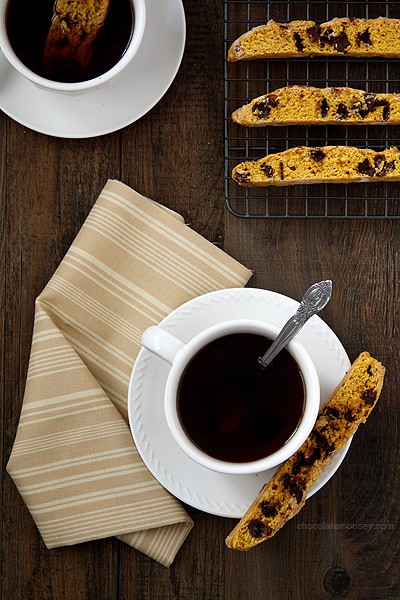 Pumpkin biscotti is great to mail as gifts because the cookies are sturdy enough and still taste great after a week.
To learn more about mailing Christmas cookies, check out my tips from mailing cookies.
Pumpkin Chocolate Chip Biscotti
Total Time:
1 hour
10 minutes
Pumpkin meets Italy with pumpkin biscotti studded with semisweet chocolate chips – a perfect companion to dunk in your coffee.
Ingredients
1 1/2 cups all purpose flour
1/2 teaspoon baking powder
1/2 teaspoon cinnamon
1/4 teaspoon nutmeg
1/8 teaspoon ginger
1/8 teaspoon clove
1/8 teaspoon salt
1/2 cup granulated sugar
1/4 cup canned pumpkin puree
1 tablespoon unsalted butter, melted
1 egg, room temperature
1/2 teaspoon vanilla extract
1/2 cup semisweet chocolate chips
Instructions
Preheat the oven to 350F. Line one cookie sheet with parchment paper.
In a medium bowl, whisk together the flour, baking powder, cinnamon, nutmeg, ginger, clove, and salt.
In a large bowl, whisk together the sugar, pumpkin, butter, egg, and vanilla until smooth.
Gradually stir the flour mixture into the pumpkin mixture until a dough forms and all of the flour is incorporated. Stir in the chocolate chips. The dough should be soft and slightly sticky.
On a floured surface with floured hands, lightly knead the dough. Add a little more flour if the dough is too sticky.
Place the dough onto the parchment paper and pat out into a log that is roughly 8 inches by 6 inches, no more than 1/4 inch high.
Bake 20-25 minutes or until brown, set on the edges, and center is firm. Remove from the oven but leave the oven on.
Cool the cookies for 10 minutes then transfer to a cutting board. With a serrated knife, cut the log into 1 inch wide pieces.
Place cut side down back onto the cookie sheet and bake 8 minutes. Flip and bake for another 8 minutes or until dry and firm. Cool completely.
Source: Adapted from
Simply Recipes