Pumpkin Cheesecake Brownies
When two desserts become one with a fall twist – Pumpkin Cheesecake Brownies with a chocolate cinnamon brownie bottom and a creamy pumpkin layer on top.
October 17, 2016 – my first new pumpkin recipe of the season.
I've been enjoying pumpkin goodies behind the scenes but haven't posted anything new until now. It took me awhile to even order my first pumpkin spice latte of the season.
I blame the weather because who wants to drink a PSL when it was still 80 degrees outside?
Now it's chillier and rainier, perfect PSL sipping weather. Ironically I've gone through 2 regular cans of pumpkin already in October because I have more pumpkin recipes coming up.
Last month I made a mocha brownie cheesecake. This time I made cheesecake brownies.
These Pumpkin Cheesecake Brownies are similar to my peanut butter cheesecake brownies but with a fall twist using pumpkin and cinnamon.
The cinnamon is actually in the brownie batter because it pairs well the chocolate. I discovered that trick with my chocolate chip pancakes and try to add cinnamon to chocolate whenever it makes sense.
Of course there are also chocolate chips because you can't have the best fudgy pumpkin brownies without chocolate chips.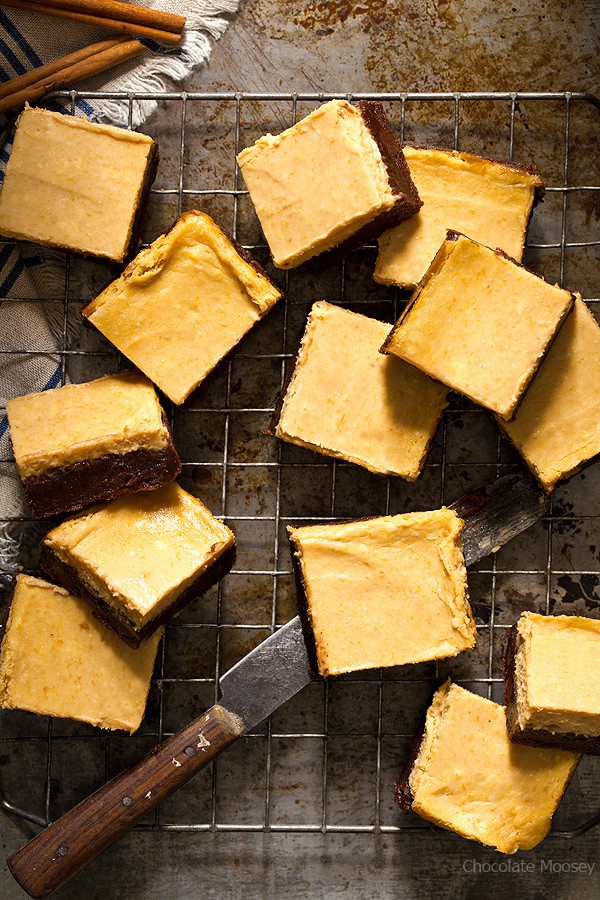 Do you have a canned pumpkin shortage in your area? I keep reading about friends frantically looking for pumpkin, but it's everywhere here in Pittsburgh.
I bought a few cans without any issues. Maybe I should pick up a case and then sell it when Pittsburgh does run out. Supply and demand, right?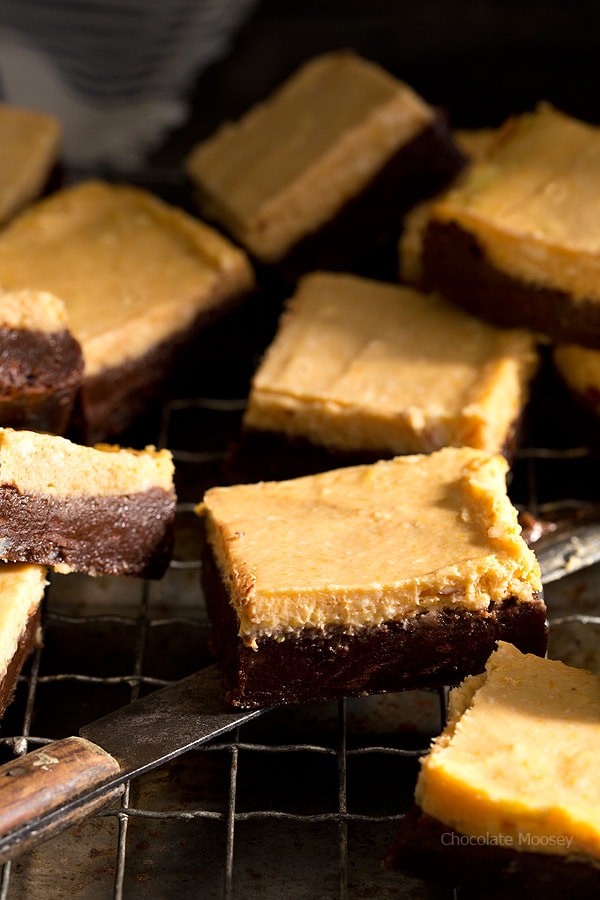 Usually when I think of pumpkin, I don't think of semi-sweet chocolate; I think about white chocolate or graham cracker first.
However, pumpkin does work well with these fudgy brownies. I do recommend keeping them refrigerated before serving because they can be a bit messy at room temperature (plus practicing good food safety with the cream cheese layer).
Want more recipes? Check out my Mini Pumpkin Cheesecakes.
More Brownie Recipes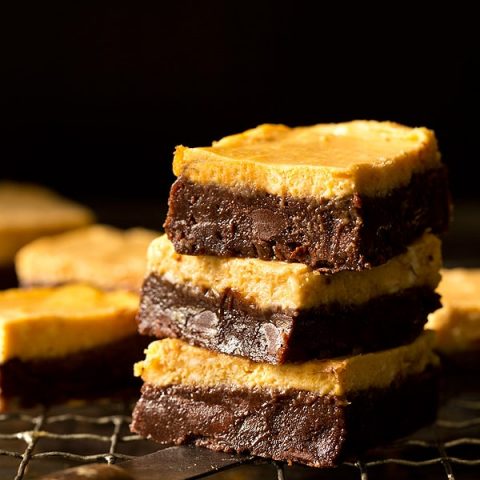 Pumpkin Cheesecake Brownies
Yield: 16 brownies
Prep Time: 30 minutes
Cook Time: 30 minutes
Total Time: 1 hour
Ingredients
Brownie Layer
1/2 cup (4 ounces or 8 tablespoons) unsalted butter, cut into 8 tablespoons
2 ounces unsweetened chocolate, chopped
1/4 cup unsweetened cocoa powder
1 cup granulated sugar
1 teaspoon ground cinnamon
1/4 teaspoon salt
1 teaspoon vanilla extract
1 egg, room temperature
3/4 cup all-purpose flour
1 cup semisweet chocolate chips
Pumpkin Cheesecake Layer
8 ounces cream cheese, softened
1/2 cup granulated sugar
1 egg, room temperature
1/2 cup canned pumpkin
1 teaspoon vanilla extract
Instructions
Preheat the oven to 350°F. Line an 8x8 pan with parchment paper or grease with cooking spray.
For the brownie layer: In a medium saucepan, melt together the butter and chocolate until smooth. Remove from the heat and whisk in the cocoa powder, sugar, cinnamon, and salt (the batter will be really thick and grainy – keep going). Beat in the vanilla and egg. Whisk in the flour. Stir in the chocolate chips. Scrape the batter into the baking pan and smooth the top with a spatula.
For the cheesecake layer: In a large mixing bowl, beat together the cream cheese and sugar until smooth, about 2-3 minutes. Beat in the egg, pumpkin, and vanilla.
Spread the cheesecake on top of the brownie layer, smoothing it out. Bake 25-30 minutes or until the top is firm and the edges pull away from the sides of the pan. Cool completely to room temperature then refrigerate at least 4 hours to allow the flavors to develop. Store in an airtight container in the refrigerator for up to 1 week.
This post may contain affiliate links. As an Amazon Associate and member of other affiliate programs, I earn from qualifying purchase.