Double Peanut Butter Surprise Cookies
What's better than a single peanut butter cookie? Double Peanut Butter Surprise Cookies stuffed with a peanut butter cup and drizzled with chocolate on top.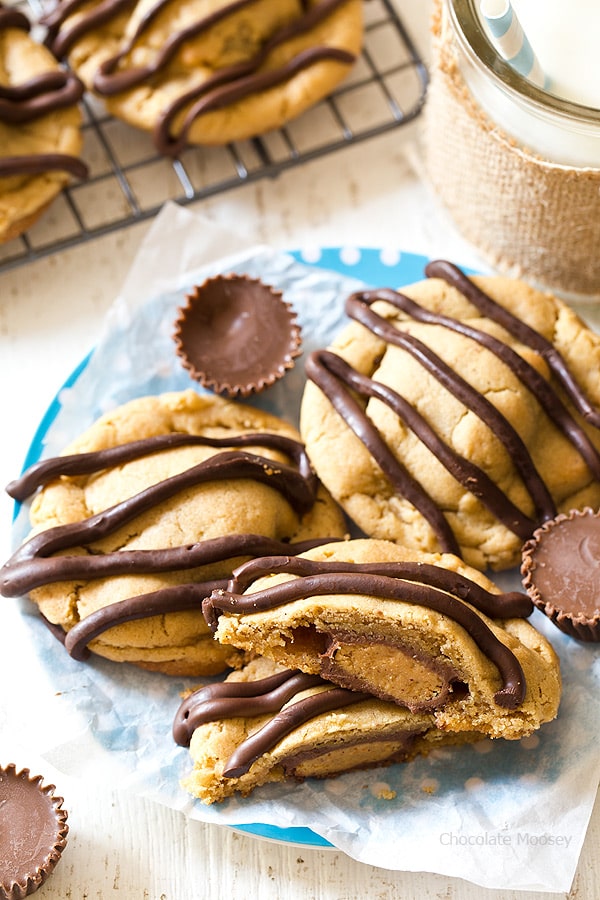 Show of hands – how many are mailing cookies this month for Christmas?
And how many want these Double Peanut Butter Surprise Cookies to show up on your doorstep?
Looks like I see you have both hands raised.
Every year, I bake all kinds of cookies for the holiday, usually with some sort of chocolate peanut butter combination.
Every December, I go through the big stack of recipes I save in my mom's recipe box she gave me and determine what will make this year's holiday baking list.
I try to add one or two new recipes to see how well they stack up with the classics. I knew as soon as I saw the clipping I saved, I wanted to make these Double Peanut Butter Surprise Cookies.
As the name states, they are soft cookies with double the peanut butter flavor with a fun surprise in the middle.
To make them even more exciting, I drizzled chocolate on top.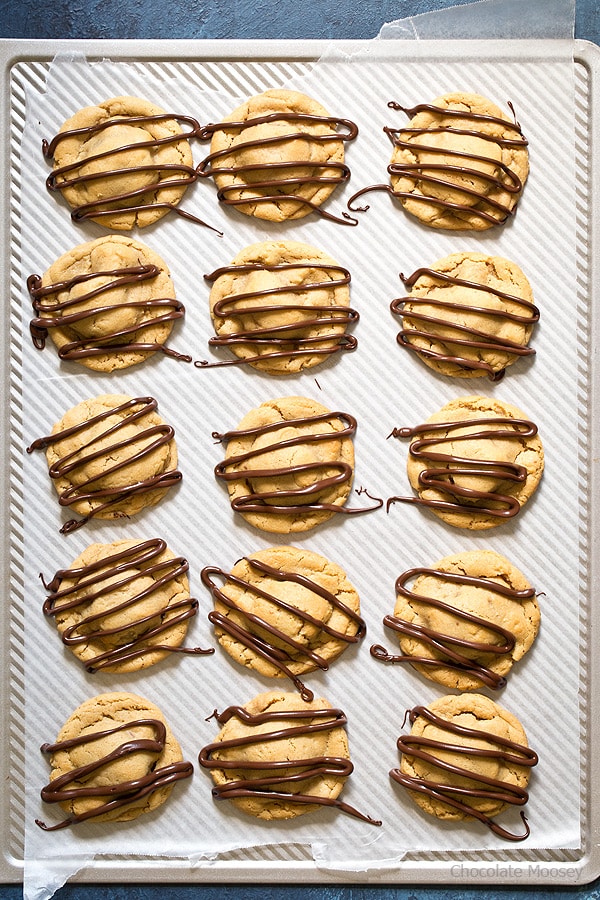 Chocolate and peanut butter is definitely a favorite of mine, bonus points if it involves a peanut butter cup on top of that.
The surprise isn't them showing up in the mail but rather biting into a hidden peanut butter cup.
Or a Hershey's kiss when I ran out, which makes them Inside Out Peanut Butter Blossom Cookies.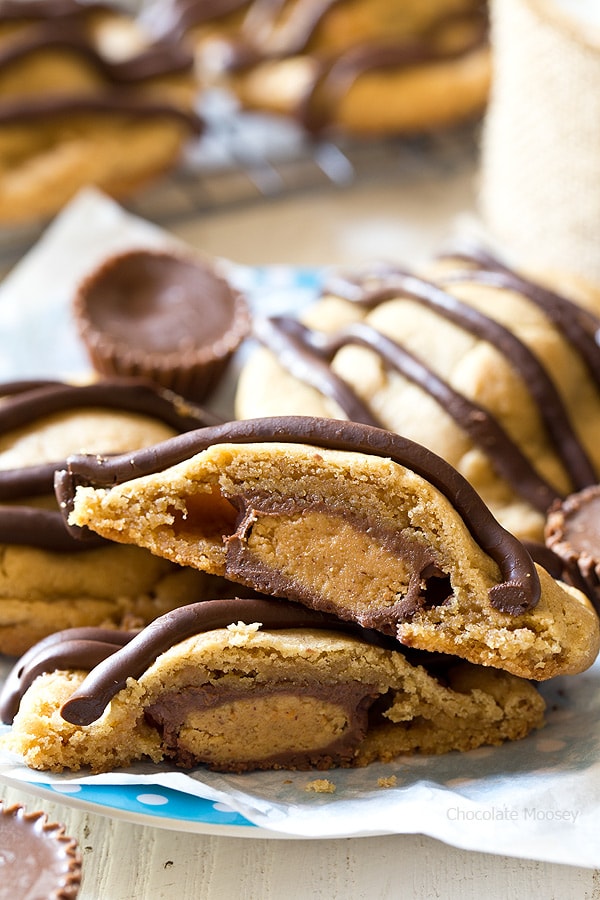 Last year was my first time mailing cookies through the Great Food Blogger Cookie Swap with my
Maple Gingersnap Cookies
.
If you're mailing cookies for Easter, you can send my Cadbury Egg Cookies.
This year, I decided to skip the official sign up and exchange with a few friends.
Mailing is such a great way for me to share my love with those who don't live near me.
Even though this is only my second year mailing, I have learned some tips along the way:
1.
Choose a recipe that will stay fresh after a few days.
This one is hard to judge, but you want to make sure the cookies still taste good after arriving.
Some that I've sent in the mail are Chocolate Gingersnaps, Maple Gingersnaps, Peanut Butter-Stuffed Cookies, Nutty Oatmeal Ginger Sandwich Cookies, and of course my peanut butter cookies.
Make sure they can stand up to the weather too. If it's going to be warm, you may not want to mail anything that will melt easily, such as chocolate fudge.
2. Use a container for the cookies.
Whether you use a metal tin or a fun cardboard box, you want to put the cookies inside something before putting them into the box used for shipping.
Not only will they help keep the cookies fresher, they will not bounce around as much.
3. Use a sturdy box roughly twice the size of the container used to hold the cookies.
Of course the more snug the container is inside of the box, the better, but you also want to leave space for cushioning, such as bubble wrap, packing peanuts, or even crumpled up newspaper.
Imagine the worst case scenario when shipping. Your box gets shaken, flipped, possibly even tossed around. You want to make sure the container does not shift around when moved.
Even if you write "fragile" or "do not place anything heavy on top," the lady at the post office told me they cannot always guarantee a human being would be handling the box at all times. There are certain stages where machines handle them.
4. It's usually cheaper to use a regular box than a flat shipping rate box.
The post office now offers (free) boxes that no matter how much the box weighs or where it is going (in the US), it is one price to ship.
Unless you are mailing something heavy, chances are using your own box is cheaper.
The first time I used a flat rate box for cookies, the lady told me I could have saved $5 if I used an unmarked box.
Now I tend to save boxes throughout the year and rip off any labels and scratch out any writing.
Worst case you can buy a roll of brown mailing paper (near mailing supplies in most stores) and wrap the box if the company printed directly onto it (think Amazon boxes).
You could probably even get away with wrapping paper. Just make sure the address is clearly labeled. If the print is too busy, write the address onto white paper, cut it out, and tape it on.
5.
Don't put anything worth keeping at the very top before you seal it up.
When you open a box with a box cutter, you may cut through the first thing in the box. You don't want the person to cut up the Christmas card or holiday socks.
Usually the bubble wrap is enough, but sometimes you may want to stick a piece of cardboard or paper on top.
6. Buy packing tape.
Seriously, there's a reason it is called packing tape. Trust me.
7. Always mail on a Monday, no later than Tuesday.
Most of the time, the box will take 3 days to arrive. You don't want to have it sitting in a warehouse over the weekend!
As you get closer to Christmas, sometimes it'll take 4 days.
Of course if you are desperate, you can pay the extra for faster shipping, but it's going to be expensive.
8. Get delivery confirmation.
It's only a few bucks and worth having if your box takes an unexpected delay. This is not the same as getting insurance.
I'm not entirely sure what I was thinking when I agree to do cookie swaps. I love giving and receiving cookies, but I'm the only one in the house with a few extra dozen tempting me every minute…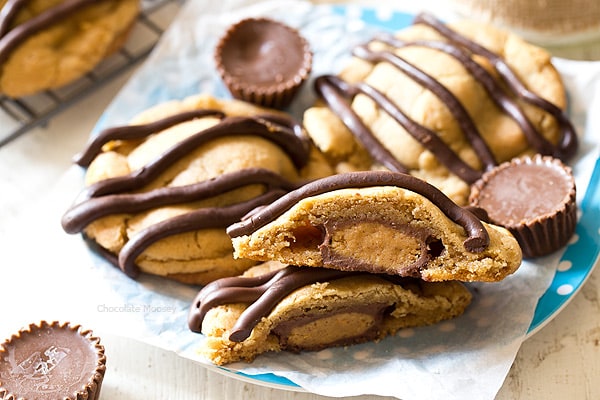 Items You May Need (affiliate links):
Looking for more peanut butter cookies? Check out my Small Batch Peanut Butter Cookies and Peanut Butter Cookie Cups.
Double Peanut Butter Surprise Cookies
Yield: 18 cookies
Prep Time: 30 minutes
Cook Time: 10 minutes
Chill Time: 1 hour 15 minutes
Total Time: 1 hour 55 minutes
What's better than a single peanut butter cookie? Double Peanut Butter Surprise Cookies stuffed with a peanut butter cup and drizzled with chocolate on top.
Ingredients
1 1/4 cup all-purpose flour
1 teaspoon baking soda
1/2 teaspoon salt
1/2 cup smooth peanut butter
1/4 cup (2 ounces or 4 tablespoons) unsalted butter, softened
1/2 cup granulated sugar
1/2 cup packed brown sugar
1 egg
1 teaspoon vanilla
18 unwrapped mini peanut butter cups
1 cup semisweet chocolate chips
Instructions
In a medium bowl, whisk together the flour, baking soda, and salt.
In a mixing large bowl, beat together the peanut butter, butter, sugar, and brown sugar until creamy and smooth, about 2-3 minutes. Beat in the egg and vanilla. Gradually beat in the flour mixture until combined. Chill the dough for 1 hour.
Line two cookie sheets with parchment paper. Using a #40 cookie scoop (roughly 1 1/2 tablespoons) or by hand, scoop one dough ball, flatten the dough, and wrap around one peanut butter cup, sealing the dough completely. Place onto the cookie sheet. Repeat with the remaining dough. Chill the dough balls 15 minutes.
While the dough is chilling, preheat the oven to 375F. Once ready, bake 10-12 minutes or until brown and edges are set. Let cool on the tray for 5 minutes before transferring to a cooling rack. Cool completely.
Once the cookies are cool, place the chocolate chips in a small heavy-duty sandwich bag. Microwave for 30 seconds at power 5. Massage the bag a bit then continue heating in 10 second intervals at power 5 until the chocolate is melted. Push all of the chocolate to one corner of the bag and cut a small hole. Pipe on top of cookies. Let the chocolate harden before serving. Store in an airtight container for up to 1 week.
Notes
* Use Hershey's Kisses for Inside-Out Peanut Butter Blossoms.
This post may contain affiliate links. As an Amazon Associate and member of other affiliate programs, I earn from qualifying purchase.