Pumpkin Cannoli
Italy meets fall with mini Pumpkin Cannoli, which are made easier with pre-made cannoli shells.

I am so smitten over living in the city right now.
Gone are the days where I have to drive 45 minutes over the mountain and through a bunch of small towns, just to do most of my shopping.
The days where if I got stuck behind a truck or slow-moving car, I was stuck in that lane for the rest of the trip (and when there is a passing zone, that's usually when heavy traffic is coming the other way).
The days where if I needed some kind of special ingredient (like ladyfingers), there was a good chance I couldn't find it (and if I did, it was after I drove 45 minutes and stopped at multiple stores).
Now I feel like a whole new world has opened up. Let's start with the library.
I've never been so madly in love with a library before. I can practically get ANY BOOK I want.
Ok, maybe not directly from my library, but they get books from other libraries in the county when I request them.
Books that either I'm not sure about buying (hello, cookbooks!) or ones that I know I'll only read once. I've always been a book lover, but this is insane.
Then there's the food. Not only do I have access to a multitude of coffee houses and restaurants, there are also the grocery stores.
I'm 20 minutes away from Trader Joe's and Whole Foods (which is a big deal, considering I was 3 hours away from them before).
And there are so many specialty stores, especially ethnic grocery stores, that if I need a specific ingredient, I can find it no problem.
I never realized how much I missed Pittsburgh.
Before moving back, my parents and I would go down to the Strip District to shop (and before you get too excited over the name, it's just a bunch of stores, mainly food, like a strip mall).
Dad and I always had to stop at Pennsylvania Macaroni Company, me for olive oil and him for licorice.
Of course I've been back since I moved, and that's when I spotted a box of mini cannoli shells on sale.
In my basket they went, awaiting their cannoli fate. After some brainstorming, I decided Pumpkin Cannoli would be perfect, given the time of year.
A few weeks ago, Little Italy of Pittsburgh had their Little Italy festival.
Considering small country towns rarely had these fun festivals, I wanted to go (plus it was only 10 minutes from where I live).
I don't think there was a vendor that didn't have cannoli for sale. Now that I had recently indulged in one, it was time to make my own.
Cannolis aren't meant to be sweet, so don't expect that when you make these Pumpkin Cannolis.
It's mainly a ricotta cheese mixture with a little bit of powdered sugar to balance it out.
I was hoping they'd be a little more pumpkin in color, but the spices toned down the color a bit.
Pumpkin Cannolis
Italy meets fall with these mini Pumpkin Cannolis, which are made easier with pre-made cannoli shells.
Ingredients
1/2 cup ricotta cheese (strained if necessary)
2 tablespoons powdered sugar
1/4 cup canned pumpkin puree
1/4 teaspoon ground cinnamon
1/8 teaspoon ground nutmeg
2 tablespoons heavy whipping cream
12 mini cannoli shells
Semisweet chocolate chips, for decorating (preferably mini)
Instructions
In a medium bowl, whisk together the ricotta, powdered sugar, pumpkin, cinnamon, and nutmeg.
In a small mixing bowl, beat the heavy cream until stiff peaks form (when you pull the beaters straight up, peaks will form and not fall over). Fold the cream into the ricotta mixture. Chill one hour.
Once chilled, pipe the ricotta mixture into each cannoli shell. Sprinkle a few chocolate chips onto each one.
Want more pumpkin recipes?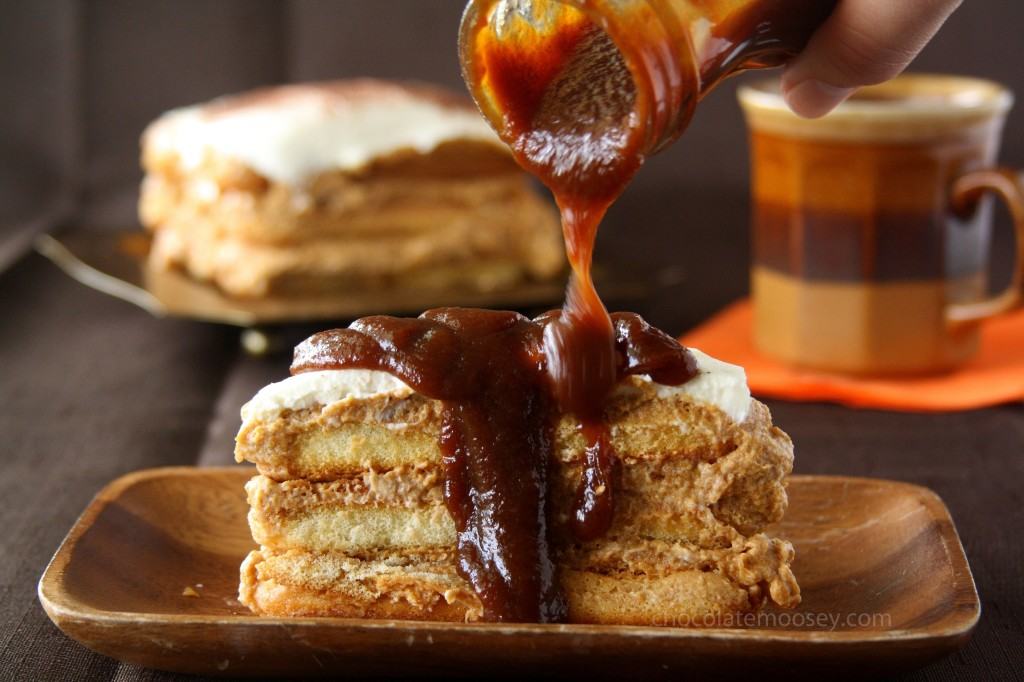 Pumpkin Tiramisu with Pumpkin Butter Caramel Sauce
This post may contain affiliate links. As an Amazon Associate and member of other affiliate programs, I earn from qualifying purchase.