Banana Blondies With Nuts
If you have overripe bananas sitting on your counter but are tired of making banana bread, bake up these Banana Blondies with nuts instead. They taste like banana bread in bar form and are a great on-the-go snack.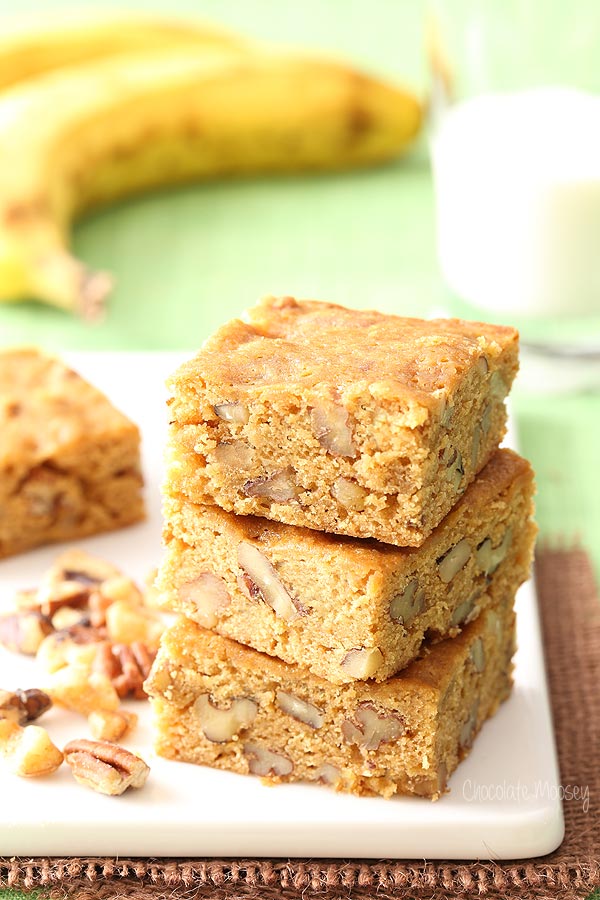 Are you on Instagram? Lately I've been using it more often, ranging from behind the scene photos in my kitchen to new posts to
asking you very important food questions
.
Last weekend I was traveling, so I included some travel photos too.
I do wish I used Instagram more back when Murray was still around. Imagine the explosion of cat photos!
In addition to uploading photos, I also browse other accounts as I love to see what's going on. I ended up winning an Instagram giveaway of nuts by telling them I would bake Banana Blondies.
And since I'm a (wo)man of my word, I did indeed make Banana Blondies with nuts, specifically walnuts and pecans.
They are a great way to use up that 1 overripe banana you may have laying around in your kitchen if you don't feel like baking up yet another loaf of banana bread, mini banana bread, or small batch banana muffins.
In fact, these blondies remind me of eating banana bread in bar form as the texture is a bit cakey and dense.
Bonus points for being a great on-the-go snack because I packed a few for my plane ride. Nuts are a great source of protein and energy, after all.
What makes this recipe a blondie?
For starters, there is no cocoa powder or chocolate like a brownie would.
One time I saw a recipe for peanut butter "brownies" that had no chocolate in them whatsoever. That would be a blondie.
Second, they call for brown sugar and not granulated sugar, which helps give blondies their blonde look.
You can totally customize these banana blondies to your liking.
I couldn't decide whether I wanted walnuts or pecans, so I added a little bit of both.
Feel free to use your favorite nut or even add chocolate chips to mix. My personal preference is semisweet, but white or even peanut butter would work as well.
You can even make some white chocolate raspberry blondies from Anna Banana.
Banana Blondies
Yield: 16 squares
Prep Time: 15 minutes
Cook Time: 23 minutes
Total Time: 38 minutes
If you have overripe bananas sitting on your counter but are tired of making banana bread, bake up these Banana Blondies with nuts instead.
Ingredients
1/2 cup (4 ounces or 8 tablespoons) unsalted butter, cut into 8 tablespoons
3/4 cup packed brown sugar
1/2 cup mashed banana (roughly 1 large banana)
1 egg, room temperature
1 teaspoon vanilla extract
1 cup all-purpose flour
1/2 teaspoon baking powder
1/4 teaspoon salt
1 cup chopped walnuts, pecans, and/or chocolate chips (can use a mixture or only one type)
Instructions
Preheat oven to 350F. Line an 8x8 pan with parchment paper.
In a large saucepan, melt the butter.
Remove from the heat and whisk in the sugar, banana, egg, and vanilla.
Switch to a rubber spatula and gradually stir in the flour, baking powder, and salt. Stir in the nuts/chips.
Transfer the batter into the pan and bake 20-23 minutes or until a toothpick inserted in the center comes out clean (a few crumbs are ok). Cool completely before cutting. Store in an airtight container for up to 1 week.
Source: Adapted from
Simply Recipes
More Banana Recipes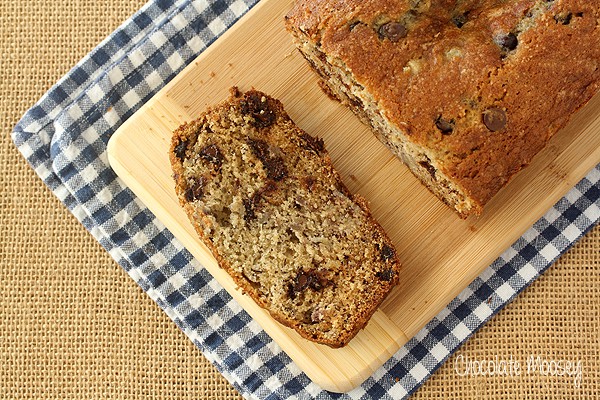 Banana Chocolate Chip Bread
Banana Cupcakes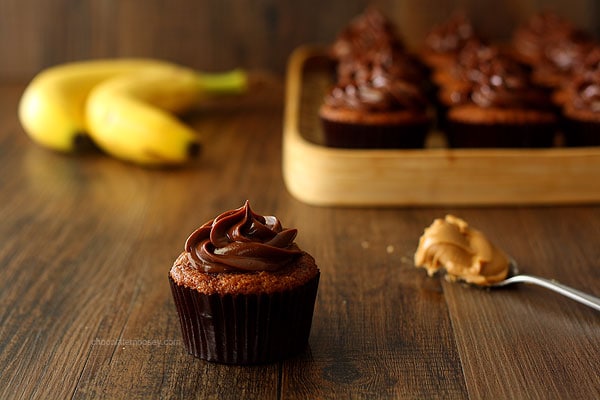 Roasted Banana Cupcakes with Peanut Butter Ganache Frosting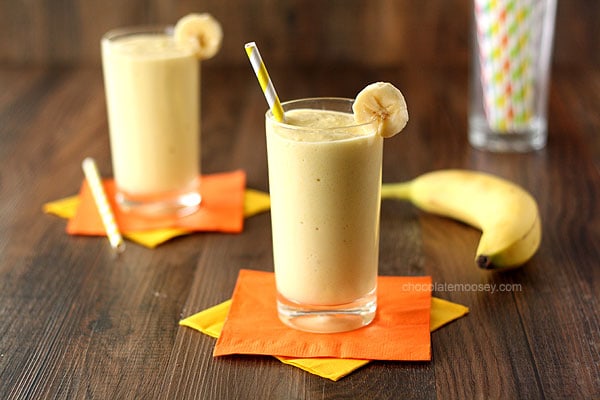 Banana Mango Yogurt Smoothie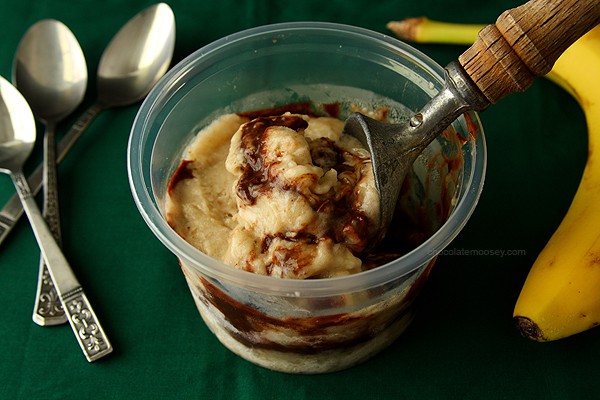 Banana Fudge Swirl Ice Cream
This post may contain affiliate links. As an Amazon Associate and member of other affiliate programs, I earn from qualifying purchase.