Banana Biscotti
This Banana Biscotti recipe with walnuts is reminiscent of banana bread with its sweet aroma and uses up any overripe bananas that may be sitting out on the counter.
I'm not sure why, but I haven't felt very festive this year. I did nothing for Halloween (didn't even get trick or treaters!) and barely decorated my apartment.
When I was thinking of cookie recipes to share, I wasn't feeling pumpkin, gingerbread, maple, or any other flavors you may associate with fall and Christmas.
Instead, I made Banana Walnut Biscotti because I was in the mood for banana bread.
Funny story – I didn't realize until I was getting ready to make this recipe that I actually posted pumpkin biscotti. Total coincidence.
I guess when I think of the holidays, I think of friends and family chatting in the evening with a cup of coffee, and coffee usually equals biscotti. Which is ironic because I don't drink coffee past dinner time.
Regardless of how festive you're feeling inside, this Banana Walnut Biscotti can be enjoyed all year round (and is also a great alternative to small batch banana muffins when using up those overripe bananas).

I'm one of those people who never have overripe bananas in the house; I have to purposely buy my bananas and wait for them to ripen before baking.
Although I did buy these from a discounted produce vendor, which means I only had to wait a day or two before using.
If you do find yourself needing to bake this biscotti today but your bananas are not ready, you can roast the bananas to speed up the process.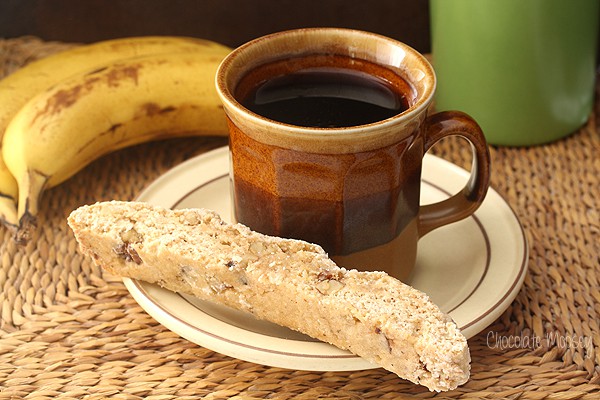 What I love about biscotti (besides eating them) is that they are pretty sturdy as far as cookies go, which makes them great for mailing.
You can also wrap them up inside a coffee mug with some hot cocoa or coffee packs for an easy homemade gift.
I know I'd much rather get that than another bottle of lotion or candle (you know, the gifts you give when you don't know what to get. Both things I actually never use).
But Banana Walnut Biscotti isn't just a holiday gift-giving cookie – make them all year round!
As long as there are overripe bananas in kitchens across the world, banana biscotti will never go out of season.
Banana Walnut Biscotti
Yield: 1 dozen
Prep Time: 30 minutes
Cook Time: 45 minutes
Total Time: 1 hour 15 minutes
This Banana Walnut Biscotti recipe is reminiscent of banana bread with its sweet aroma and uses up any overripe bananas that may be sitting out on the counter.
Ingredients
3 cups all-purpose flour
1 cup granulated sugar
1 teaspoon baking powder
1 teaspoon ground cinnamon
1/2 teaspoon ground nutmeg
1/4 teaspoon salt
2 eggs
1/2 cup mashed banana (1 medium overripe banana, around 5 ounces)
1 teaspoon vanilla extract
1 cup chopped walnuts
Instructions
Preheat the oven to 350F. Line one cookie sheet with parchment paper.
In a large bowl, whisk together the flour, sugar, baking powder, cinnamon, nutmeg, and salt.
In another large bowl, beat together the eggs, mashed banana, and vanilla until smooth. Gradually beat in the flour until incorporated then stir in the walnuts.
On a floured surface with floured hands, lightly knead the dough. Place the dough on the parchment paper and pat out into a log that is roughly 15 to 20 inches by 5 to 6 inches, no more than 1/2 inch high. If dough is too sticky, add a little bit more flour. Bake 22-25 minutes or until brown, set on the edges, and center is firm. Remove the cookies from the oven. Turn the oven down to 300F.
Cool the cookies for 15 minutes then with a serrated knife, cut into 3/4 inch wide pieces. Place cut side down back onto the cookie sheet and bake an additional 15-20 minutes until firm. Cool completely.
Source: Adapted from
my pumpkin biscotti recipe
Looking for more baking recipes?
This post may contain affiliate links. As an Amazon Associate and member of other affiliate programs, I earn from qualifying purchase.