Sometimes there's just not enough room in the oven to bake another holiday side dish. Cook these Easy Scalloped Potatoes from scratch in a cheddar cheese sauce on the stove to save oven space.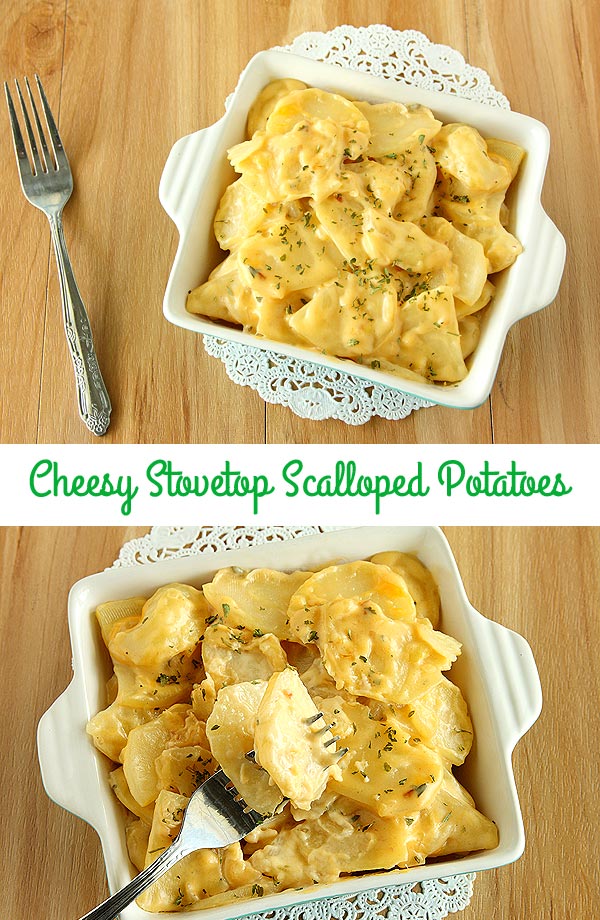 Growing up, we always had the boxed scalloped or au gratin potatoes for the holidays. It doesn't matter if it was Thanksgiving, Christmas, or Easter; there were potatoes as a side. After cooking on my own for several years, I decided to make scalloped potatoes homemade without all of the preservatives. It took me a few holidays to get it right, especially on the stove. Usually the oven was lined up to bake two, three, even four dishes, so I set out to make Easy Cheesy Stovetop Scalloped Potatoes as a way to avoid baking in the oven.
My Easy Cheesy Stovetop Scalloped Potatoes took several attempts because if you don't stir often, they will burn on the bottom. Plus you need to make sure you have a big enough pan to start with. You want a wide pan to help evenly cook the potatoes instead of stacking them on top of each other.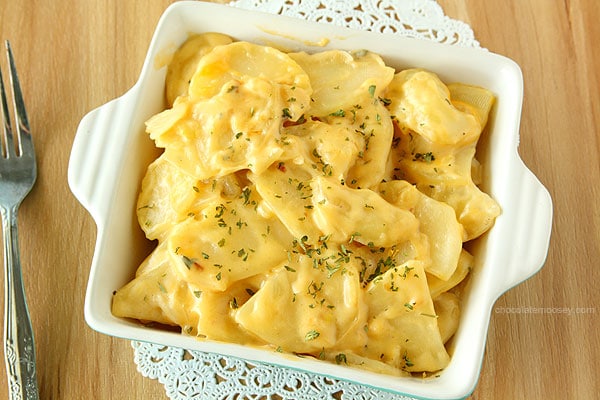 The key to cooking scalloped potatoes is to thinly slice the potatoes evenly. I don't own a mandolin, so I just slice them carefully with a knife and make sure they are the same thickness. My dad usually does this part during the holiday as I am busy preparing all of the other million dishes. He does a great job at it (especially since he can't mince garlic – don't ask).
Update – I now own a mandoline, which I reviewed for my homemade salt and vinegar chips recipe.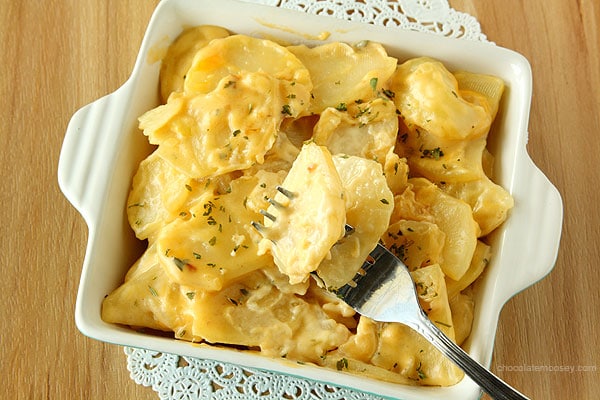 Easy Cheesy Stovetop Scalloped Potatoes can be dressed up for the holiday, including Easter. To give it a more springtime feel, add fresh herbs, such as parsley or basil. That's not to say it is a holiday side dish only; if you need a change from mashed potatoes or French fries, scalloped potatoes make a great addition to everyday meals.
Items You May Need (Amazon affiliate links):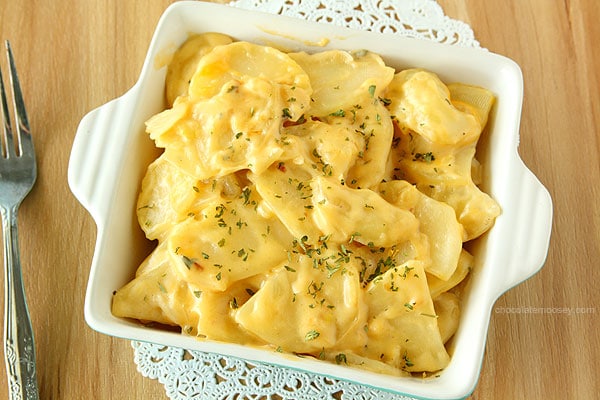 Ingredients
2 tablespoons unsalted butter
1/2 cup chopped onion
1 clove garlic, minced
2 tablespoons all-purpose flour
1 teaspoon salt
1/2 teaspoon garlic powder
1 1/2 cups whole milk, room temperature
1 pound russet potatoes (roughly 2 large potatoes), peeled and thinly sliced (preferably with a mandoline for even, thin cuts)
1 cup shredded cheddar cheese
Instructions
In a Dutch oven or another large saucepan, melt the butter. Add the onion and garlic and cook 5 minutes. Stir in the flour, salt, and garlic powder until a roux (thick paste) forms. Whisk in the milk.
Bring to a boil and add the potatoes. Cook for 10-20 minutes or until the potatoes are done, stirring often (cooking time depends on thickness - test until done. Stirring often is highly recommended as the bottom of the pan may burn if not stirred often). Add the cheese and stir until melted. Serve warm.
Notes
© Chocolate Moosey. All images and content are copyright protected. Please do not use my images without prior permission. If you want to republish this recipe, please rewrite it in your own words or link back to this post for the recipe.
7.6.3
3136
https://www.chocolatemoosey.com/2013/03/26/easy-cheesy-stovetop-scalloped-potatoes/
More Holiday Side Dish Recipes

Creamy Garlic Mashed Potatoes