What do you do when there's not enough room in the oven to bake a holiday side dish? Learn how to cook homemade Easy Cheesy Stovetop Scalloped Potatoes from scratch in a cheddar cheese sauce to save oven space.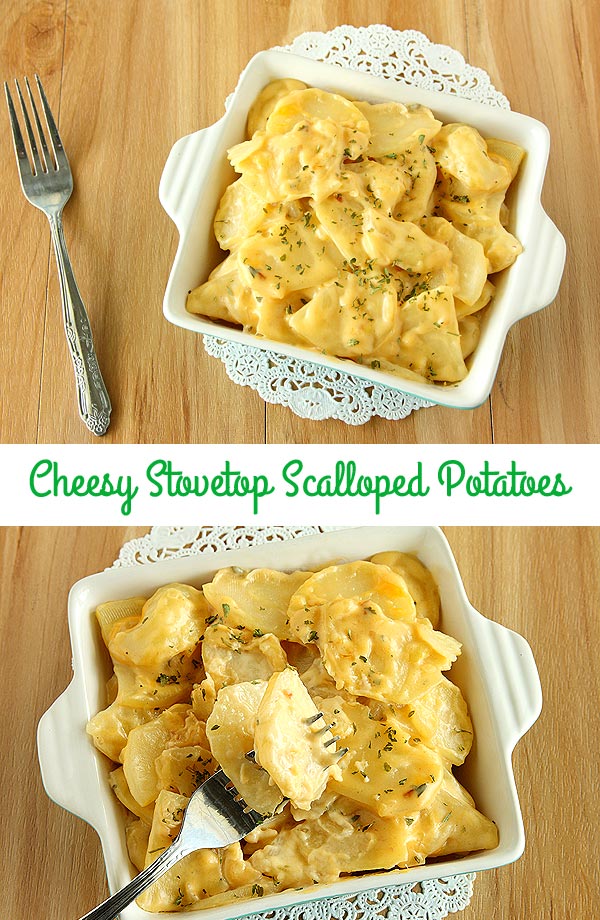 Growing up, we always had boxed scalloped or au gratin potatoes for the holidays. It doesn't matter if it was Thanksgiving, Christmas, or Easter; there were potatoes as a side.
After cooking on my own for several years, I decided to make homemade scalloped potatoes without all of the preservatives. It took me a few holidays to get it right, especially cooking it on the stovetop.
Cooking for the holidays, especially Thanksgiving, means the oven is lined up to bake two, three, even four dishes.
When there's no room left in the oven, you're left cooking side dishes on the stove. That's why I set out to make Easy Cheesy Stovetop Scalloped Potatoes as a way to avoid baking in the oven.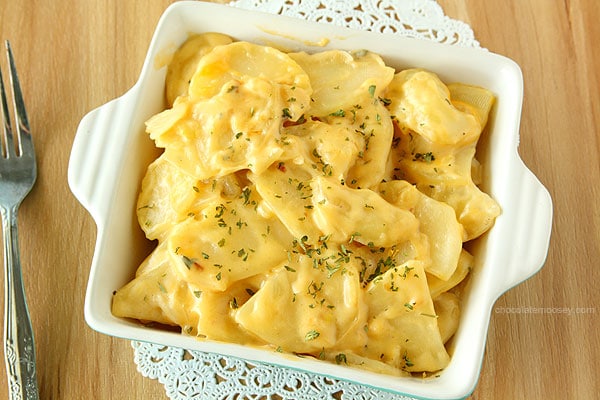 How do you make homemade scalloped potatoes?
The key to cooking Easy Cheesy Stovetop Scalloped Potatoes is to thinly slice the potatoes evenly using a handheld mandoline (affiliate link).
I reviewed my handheld mandoline for my homemade salt and vinegar chips recipe so you can see it in action.
My dad usually does this part during the holiday as I am busy preparing all of the other million dishes. He does a great job at it (especially since he can't mince garlic – don't ask).
If you don't own a mandoline, slice them carefully and evenly with a knife.
How do you cook scalloped potatoes on the stove?
First, you need to use a wide-bottomed pan, preferably a Dutch oven (affiliate link). It helps evenly cook the potatoes instead of stacking them on top of each other.
Next, you need to create a roux, which is a paste made of fat, flour, and liquid. This helps thicken the cheese sauce that'll coat the potato.
Finally, you cook the thinly sliced potatoes in boiling milk. You will need to stir often because the potatoes may burn on the bottom if you don't.
What's in scalloped potatoes?
The ingredients for Easy Cheesy Scalloped Potatoes are potatoes, cheese, and milk with additional flavors such as garlic. You can also add fresh herbs such as thyme or rosemary.
I highly recommend using whole milk due to the fat content. Skim milk won't have the same results.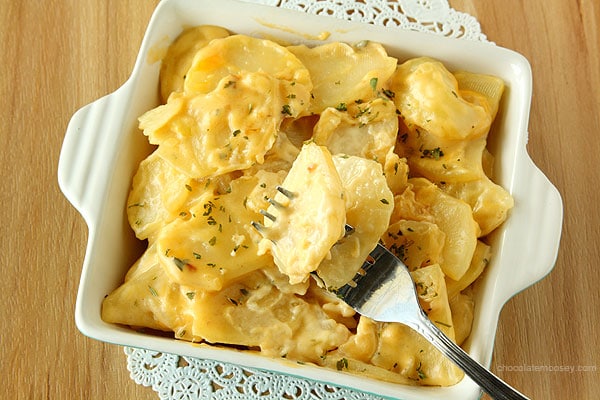 What's the difference between scalloped potatoes and au gratin potatoes?
After spending numerous hours researching and reading through recipes, nobody else knows either.
Some sources say scalloped potatoes don't have cheese, but obviously my recipe does. The boxed scalloped potatoes I ate growing up definitely had a cheese sauce.
Another difference is au gratin has breadcrumbs on top, but most au gratin recipes I saw didn't include breadcrumbs, including my Garlic Parmesan Au Gratin Potatoes.
In conclusion, the rest of the world doesn't know the difference between scalloped and au gratin. They DO know anything with cheese and potatoes is a winner, no matter what you call it.
Which potato is best for scalloped potatoes ?
I personally think Russet potatoes make the best potato for scalloped potatoes because of their higher starch level, which results in a creamier sauce.
However, I've seen other scalloped potato recipes using Yukon gold, which better hold their shape. Whichever potato you choose, bake until the potatoes are fork tender.
Other Thanksgiving Side Dish Recipes
Items You May Need (Amazon affiliate links):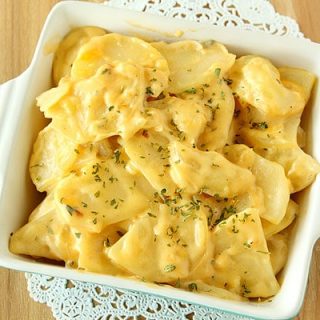 Easy Cheesy Stovetop Scalloped Potatoes
Learn how to cook homemade Easy Cheesy Stovetop Scalloped Potatoes from scratch in a cheddar cheese sauce to save oven space.
Ingredients
2 tablespoons unsalted butter
1/2 cup chopped onion
1 clove garlic, minced
2 tablespoons all-purpose flour
1 teaspoon salt
1/2 teaspoon garlic powder
1 1/2 cups whole milk, room temperature
1 pound russet potatoes (roughly 2 large potatoes), peeled and thinly sliced (preferably with a mandoline for even, thin cuts)
1 cup shredded cheddar cheese
Instructions
In a Dutch oven or another wide-bottomed saucepan, melt the butter. Add the onion and a big pinch of salt and cook 5 minutes until softened. Add the garlic and cook 1 minute.
Stir in the flour, salt, and garlic powder until a roux (thick paste) forms. Gradually whisk in the milk.
Bring to a boil. Once boiling, add the potatoes. Cook covered for 15-20 minutes or until the potatoes are fork tender, stirring often to prevent burning on the bottom.
Stir in the cheese until melted. Serve warm.
Recommended Products
As an Amazon Associate and member of other affiliate programs, I earn from qualifying purchases.