Greek Pita Pizza
Put a Mediterranean twist on pizza night with Greek Pita Pizza! Top yours with ground lamb, olives, feta, pickled red onion, and arugula for an easy yet fulfilling meal. Makes 4 pita pizzas, ideal when you want dinner for two.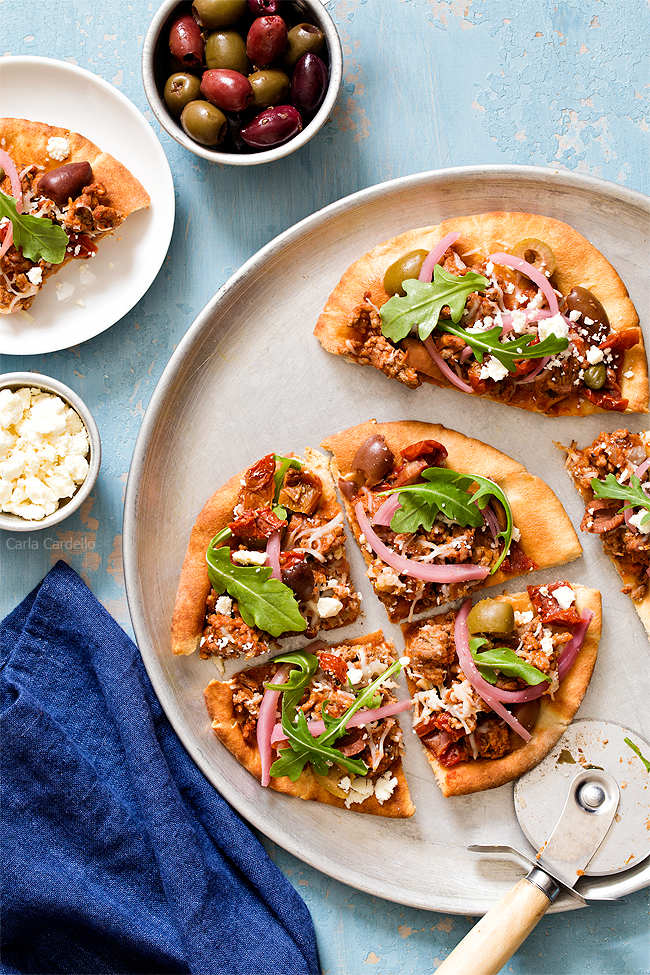 Two things you need to know about me:
1. I love pizza.
2. I accomplish a lot each day so when it's finally time to make dinner, my energy meter is low.
Sure on my day off I'll make homemade pizza dough for Prosciutto Arugula Pizza, but when I'm working all day, especially on days where I'm testing cake recipes or shooting cookies, the last thing I want to do is actually make dinner.
I'm sure you know the feeling. You spent all day on your feet because you're a nurse taking care of your patients. Or you work retail and dealt with cranky customers for eight hours.
Or you work in an office and was forced into a giant networking event talking to people so you are mentally drained (sounds silly, but introverts like me get it).
This is where you want to buy take out or throw a frozen pizza into the oven and call it a night. But then you remember you need to be a good adult and save money for retirement.
Now what do you make for dinner?
I often make pizza because you can add almost any topping you want. Plus not all pizzas need to have a yeast dough, like Greek Pita Pizza.
The pita bread acts as the crust. Once you crisp it up in the oven, you won't even miss the traditional dough.
Instead of slathering it in pizza sauce, I cooked ground lamb in tomato sauce. Not a lamb fan? You can easily use ground beef instead. Then of course you can't forget the cheese and toppings.
I first made pita pizza from one of Nigella Lawson's cookbooks. I can't remember which one because I donated a lot of books before moving apartments last year, but it was a simple and quick way to eat pizza.
Brush some olive oil and sea salt onto each one, bake, then top. Voila! Dinner in no time.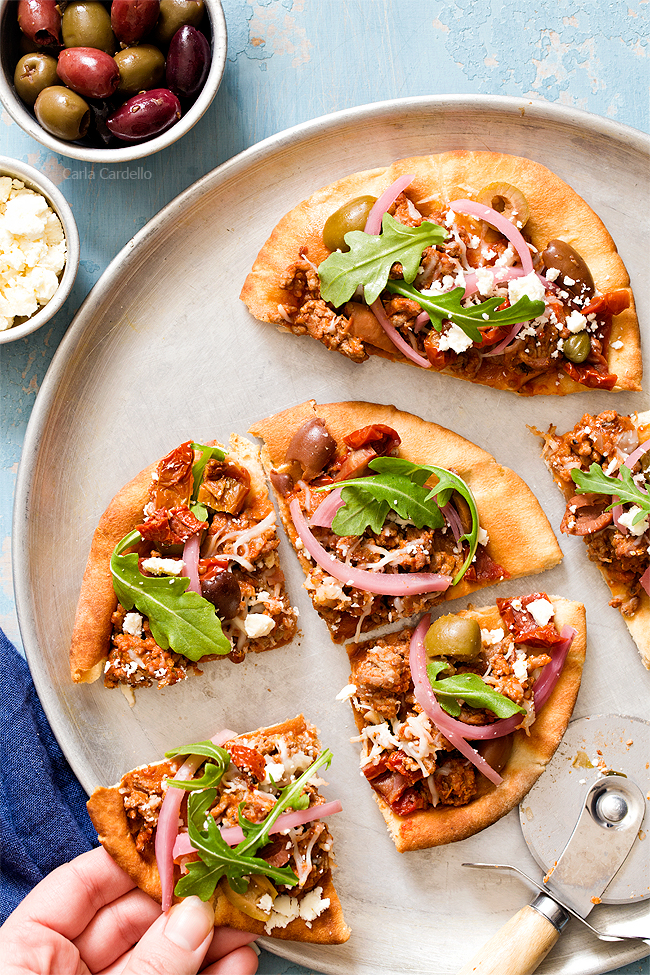 Because pita is often associated with Mediterranean cuisine, I went Greek with my pita pizza toppings: ground lamb,
pickled red onion
, feta cheese, and olives. I topped it with arugula for a mini "salad" component.
To make my pizzas even easier, I used a jarred Santorini Medley, which is made of Greek olives, garlic, sun dried tomatoes, and capers. Because everything is pre-sliced, you don't have to do any prep work before topping.
I'm excited to bring you this recipe because I love olives. I was one of those kids who could eat an entire can of black olives like they were chips.
As an adult, my parents buy me olives for special occasions. They go to the deli, fill up a container with stuffed olives, and give them to me for Christmas and my birthday.
One time they bought me olives for no reason other than they were visiting me. Isn't adulthood exciting?
I also go through a ridiculous amount of olive oil. It's my go-to oil for most cooking.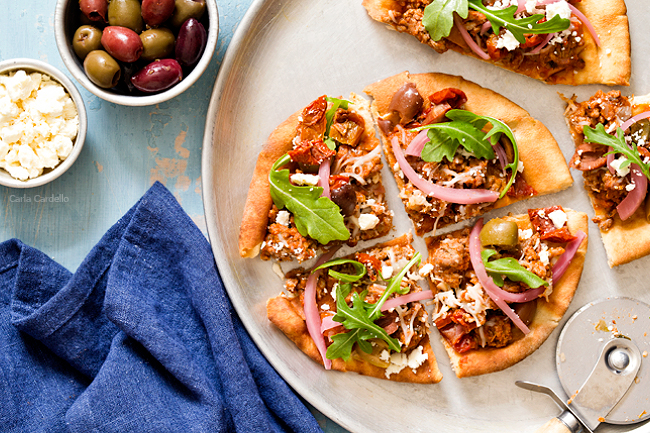 The trickiest part was how long to cook pita pizza. I knew I wanted to melt some mozzarella cheese on top to keep the ground lamb in place, but I also didn't want to overbake them.
What I did was baked it for 4 minutes, flipped and baked another 4 minutes, then after adding the toppings baked for another 2-3 minutes.
If you don't need to cook any of your toppings, bake the pita for 5 minutes on each side. If it's not crispy enough, bake for another 2-3 minutes.
Want to make your pita pizza a full meal? Serve it with kohlrabi soup!
What Should I Do With Leftover Pita Bread?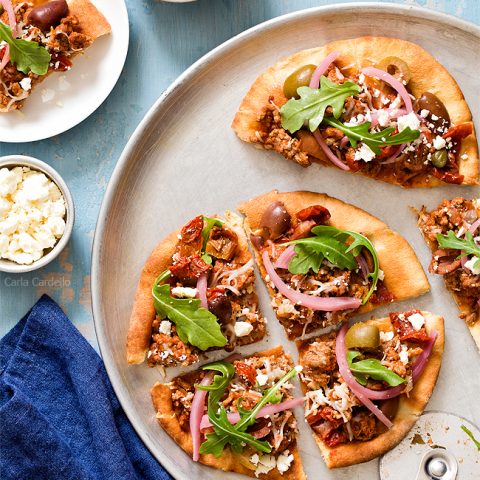 Greek Pita Pizza
Yield: 4 servings
Prep Time: 15 minutes
Cook Time: 20 minutes
Total Time: 35 minutes
Put a Mediterranean twist on pizza night with Greek Pita Pizza! Top yours with ground lamb, olives, feta, pickled red onion, and arugula for an easy yet fulfilling meal.
Ingredients
4 slices pita bread
1 teaspoon olive oil plus more for brushing
1/2 pound ground lamb or beef
1/4 cup diced onion
1 garlic clove, minced
1/4 cup canned tomato sauce
1 teaspoon dried oregano
1/2 teaspoon sea salt
1/4 cup shredded mozzarella cheese
1 jar Santorini Medley (Greek olives, garlic, sun dried tomatoes, and capers)
Pickled red onion (homemade recipe here)
Feta cheese
Arugula
Instructions
Preheat oven to 400F. Have 1-2 baking sheets ready.
Brush each side of the pita bread with olive oil then lightly season with sea salt. Place on baking sheet(s). Bake 4 minutes. Flip then bake another 4 minutes.
Meanwhile, heat 1 teaspoon olive oil in a large skillet. Once hot, add the ground lamb, onion, and a big pinch of salt. Cook until lamb is no longer pink, breaking it into pieces with a wooden spoon as it cooks. Drain off any excess grease.
Add the garlic and cook 60 seconds.
Stir in the tomato sauce, oregano, and salt. Bring to a boil. Cook for 2-3 minutes or until the sauce has thickened.
Once the pita has finished baking, divide the lamb mixture and mozzarella among the pitas. Bake 2-3 minutes or until the cheese has melted.
Top each pizza with the Mario Santorini Medley, pickled red onion, feta, and arugula.
This post may contain affiliate links. As an Amazon Associate and member of other affiliate programs, I earn from qualifying purchase.