Italian Sausage Pizza Bites
Serving pizza is popular for a party, but sometimes you don't have room for a whole slice. Problem solved with Italian Sausage Pizza Bites, which are mini pizzas topped with a homemade pizza sauce, mozzarella cheese, and hot Italian sausage with peppers.
Now that the Big Game is in two weeks, it's time to talk football food!
Since the Steelers played for their Game Day spot last night, that means I wrote this post without knowing who won.
Either everyone in Pittsburgh is on cloud nine for beating the Patriots and rallying for another championship ring or everyone is miserable and cranky.
Seriously, there is such pride for sports in this city, it affects our mood. Glad I'm not commuting to the city this morning.
Regardless of who won, my Big Game plans consist of my dad inviting himself (and the rest of the family) over to my place with a bribe of hoagies from one of my favorite sub shops.
Apparently I will be watching the game no matter what. That also means I need to start planning my menu since it wouldn't be the Big Game without stuffing ourselves silly.
I'm already planning on making baked buffalo wings, but I want to serve one more item since there will be four of us.
Pizza is pretty common for Game Day, but with all of the food going on, who has room for a whole slice?
Enter these Italian Sausage Pizza Bites. They are mini pizzas topped with a homemade pizza sauce, mozzarella cheese, and hot Italian sausage with peppers.
First you line a muffin pan with pizza dough cut into round circles. Then you top it with a homemade pizza sauce.
I always keep a can of tomato sauce and paste in my pantry to make these kinds of sauces at a moment's notice.
Next is the cheese then the Italian sausage with peppers.
To help save you time, I cooked the sausage and sauce in the same pan so you have one less dish to wash. I'm generous like that.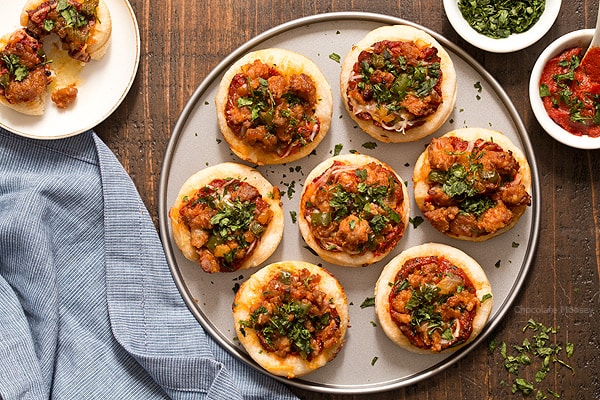 Since these pizza bites are best eaten when baked, you can prep everything ahead of time then pop them in the oven during Half Time.
Make the sausage and sauce, cool, then store in the fridge.
While that's cooking, line your muffin pan with the pizza dough, cover with plastic wrap, and store in the fridge.
Once you're ready to bake, all you have to do is assemble. I recommend saucing your dough right before baking so it doesn't get soggy.
Got leftover sausage? Make my sausage gravy recipe for 2 then pour over biscuits and gravy for two.
Italian Sausage Pizza Bites
Yield: 12 pizza bites
Prep Time: 30 minutes
Cook Time: 30 minutes
Total Time: 1 hour
Ingredients
1 ball of prepared pizza dough (homemade or store bought), cut into twelve 2.5 inch circles
1/4 pound (4 ounces) hot Italian ground sausage
2 tablespoons chopped onion
2 tablespoons chopped green bell pepper
1 clove garlic, minced
3/4 cup canned tomato sauce
2 tablespoons tomato paste
1 teaspoon dried oregano
1 teaspoon dried parsley
1 teaspoon dried basil
1 teaspoon granulated sugar
1/2 teaspoon salt
1/4 cup finely shredded mozzarella cheese
Instructions
Preheat oven to 375F. Lightly grease a 12-cup muffin pan.
In a large hot skillet, cook the sausage, onion, and green pepper until brown and no longer pink, about 10-12 minutes. Remove the sausage mixture with a slotted spoon to a bowl, leaving the grease behind.
Add the garlic to the hot grease and cook for 1 minute (if there's not enough grease, add up to 1 tablespoon oil). Add the tomato sauce, tomato paste, oregano, parsley, basil, sugar, and salt. Stir until the tomato paste is smooth then bring to a boil. Taste and add additional seasoning if necessary. Remove from the heat and let cool.
Place one pizza circle into the bottom of each greased muffin cup. Top each with roughly 1 tablespoon sauce. Sprinkle with cheese. Top with sausage mixture.
Bake 15 minutes or until the dough is golden brown and cheese is melted. Let cool 10 minutes then serve immediately.
This post may contain affiliate links. As an Amazon Associate and member of other affiliate programs, I earn from qualifying purchase.