Brussels Sprouts and Ricotta Flatbread
When you don't have time to make pizza dough, make flatbread pizza for dinner with this Brussels Sprouts and Ricotta Flatbread recipe with a garlic ricotta cheese spread.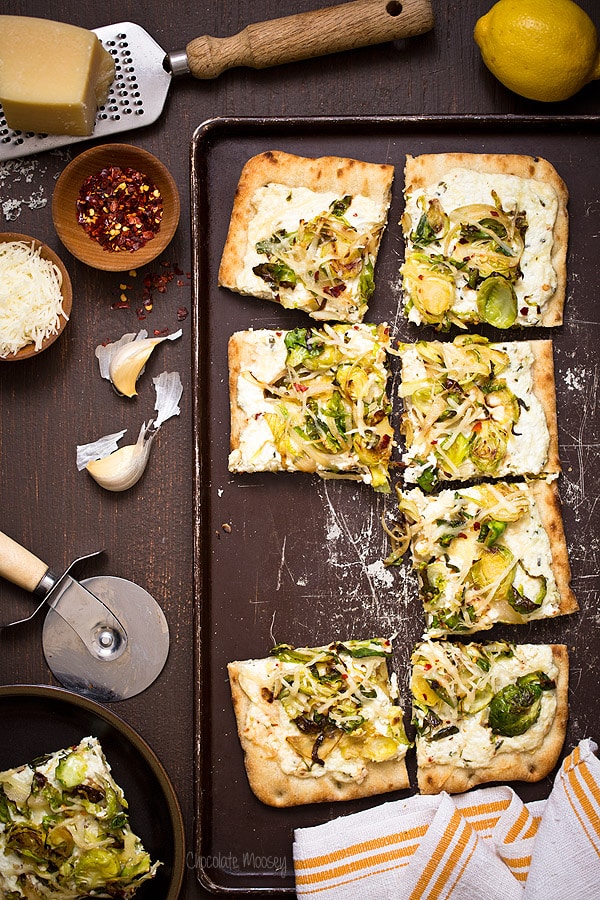 A couple of months ago, a friend and I had a discussion over brunch about making recipes from scratch vs. semi homemade.
We both love to cook and bake from scratch, but sometimes after a long day of work, all you want to do is eat dinner now and not an hour later.
When is it ok to take shortcuts in the kitchen?
Even if you buy premade pizza dough, you're still making the toppings and sauce from scratch (at least I am), and it's still a million times cheaper than ordering pizza delivery or stocking your fridge with frozen pizzas.
Then there are tortillas and bread, two things I definitely don't make myself.
Yes, I could and certainly know how but reality is I don't, and I want to share with you how I truly eat at home.
Flatbread is another great example. Of course I wanted to make homemade flatbread, but my attempt was more like pizza than flatbread albeit still tasty.
Not to mention the dough was very soft and hard to work with since it was nearly impossible to roll out and transfer to my pan.
I really wanted flatbread, so I gave in to temptation, went to the store, and bought flatbread. I don't give a second thought to buying tortillas, so no need to feel guilty for buying flatbread.
This Brussels Sprouts and Ricotta Flatbread was inspired by my trip to NYC last month where a group of us blogging friends finally met in person, although you wouldn't know it because we're all good friends online.
Since I was eating sweets all day (including Baked and Ample Hills Creamery), I wasn't super hungry when we met up for dinner.
On the menu the restaurant had a Brussels sprouts flatbread, which caught all of our attention, and half of us ended up ordering it.
Although the flatbread made a satisfying dinner, I was disappointed it didn't scream Brussels sprouts; I tasted mainly lemon juice and ricotta.
There was also something spicy not listed on the menu (red pepper flakes?) because the heat snuck up on you the more you ate.
Determined to recreate that dinner at home, I started brainstorming.
This recipe is not meant to be a copycat as I wanted more emphasis on the Brussels sprouts, a little less lemon juice, and not as much spice.
Considering I've eaten this recipe for dinner three times already, it's safe to say I knocked it out of the park.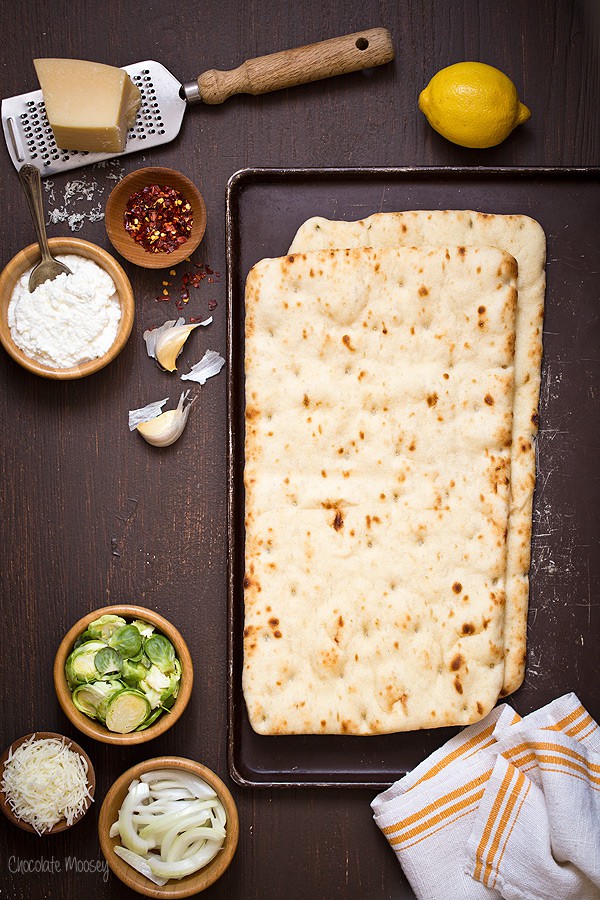 What's the difference between flatbread dough and pizza dough?
I still don't know. Some sources say flatbread dough doesn't have yeast. Other sources say it's the same dough but pizza has sauce, cheese, and toppings while flatbreads can be anything you want (like my ricotta cheese spread).
I noticed some flatbread recipes had much less flour (1 1/2 – 2 cups) than pizza dough (3 cups).
Then you have flatbread vs. pita bread vs. naan.
I gave myself a headache trying to figure this all out! I attempted the dough by hand, but it turned into a pizza more than flatbread.
Frustrated, I waved the white flag and bought flatbread.
Except it took me three trips. The first store only had pita.
The second store had what was labeled as flatbread but was very similar to pita. They had another flatbread brand that was so thin, you could use them as tortillas. No, I wanted naan for my flatbread.
Finally the last store had both naan and the big rectangular flatbread you see in the photos. That was the shape I wanted.
If you find yourself in a similar boat but can't find the flatbread I used, feel free to adjust the recipe and make several smaller flatbreads.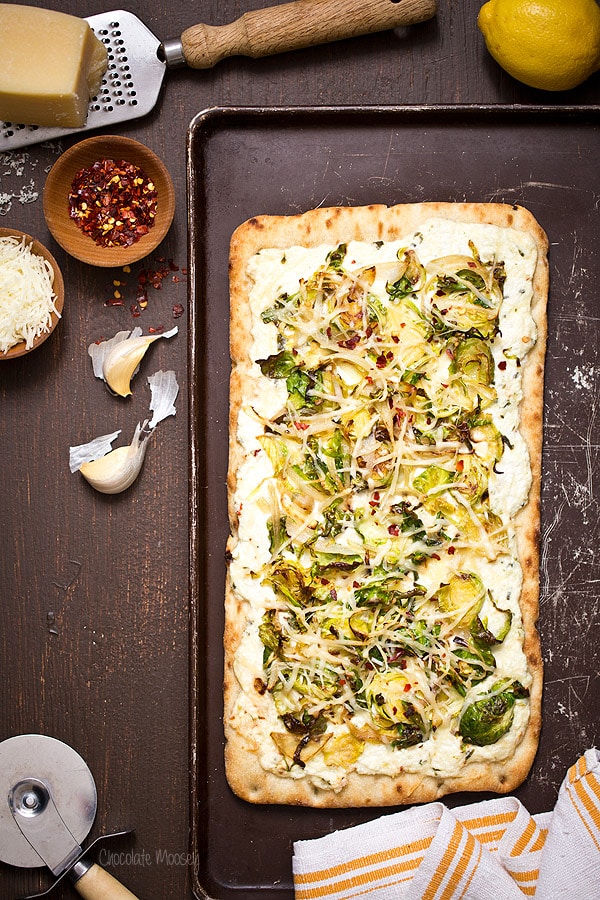 In the mood for something else? Check out my Prosciutto Arugula Pizza.
Brussels Sprouts and Ricotta Flatbread
Yield: 2-4 servings
Prep Time: 15 minutes
Cook Time: 10 minutes
Total Time: 25 minutes
When you don't have time to make pizza dough, make flatbread pizza for dinner with this Brussels Sprouts and Ricotta Flatbread recipe with a garlic ricotta cheese spread.
Ingredients
1 tablespoon olive oil
1 cup thinly sliced Brussels sprouts
1/2 cup onion slices
1/4 teaspoon sea salt
1 cup full-fat ricotta
1 clove garlic, minced
1/2 cup shredded mozzarella cheese
1 1/2 tablespoons lemon juice
1 tablespoon basil paste or fresh chopped basil
1/4 - 1/2 teaspoon crushed red pepper, to taste
1/2 cup grated Parmesan cheese
1 rectangular flatbread (or several small round flatbread)
Instructions
Preheat oven to 425F. Have a baking sheet ready.
In a large skillet, heat the oil. Once hot, add the Brussels sprouts, onion, and sea salt. Cook until lightly brown, about 5 minutes.
Meanwhile in a large bowl, mix together the ricotta, garlic, mozzarella, lemon juice, basil, and red pepper.
Place the flatbread on the baking sheet. Spread the ricotta mixture evenly on the flatbread then top with Brussels sprout mixture. Sprinkle with Parmesan cheese. Bake 8-10 minutes or until flatbread is toasted and cheese has melted.
This post may contain affiliate links. As an Amazon Associate and member of other affiliate programs, I earn from qualifying purchase.