Award-Winning German Chocolate "Cake" Sandwich Cookies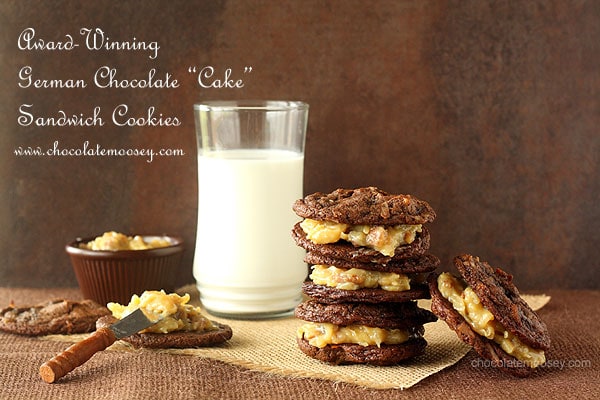 So far in my life, I entered three contests and won all three. Two of them I didn't even test. That's what they do on The Next Iron Chef, right?
Anyway, these German Chocolate "Cake" Sandwich Cookies took first place out of 17 entries last week in a local cookie contest.
The chewy chocolate coconut pecan cookies are a home run alone but pair them with coconut pecan filling? Grand slam.
My coworker texted me about the cookie contest posted in the newspaper, the same paper as the cupcake contest.
Already I had ideas forming in my head, the first thing being a sandwich cookie.
My first reaction was a brownie cookie with either caramel or marshmallow filling. Then I went to a smores sandwich cookie. I was all set on the smores one but then was worried about the toasted marshmallow staying fresh.
I'm not sure when it happened, but I decided on these German Chocolate "Cake" Sandwich Cookies (the cake is in quotes because the cookies are actually chewy).
All I had to do was drop off a dozen the morning of the deadline.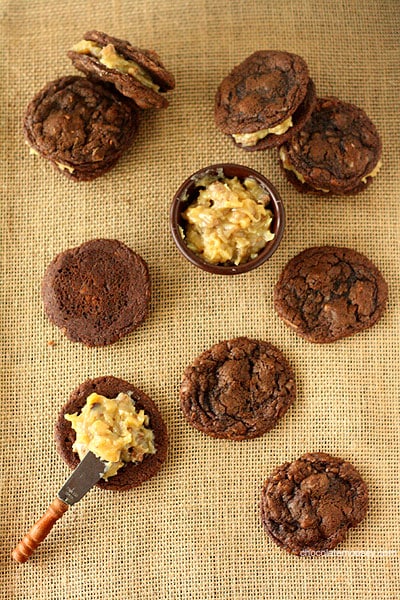 Although I had the opportunity to enter two recipes and increase my chances of winning, my heart wasn't set on two.
You know how you have that nagging feeling in your gut? I couldn't bring myself to concentrate on two.
Was I being crazy for turning down another entry? My friend quoted to me "Do one thing and do it well."
I knew I was stretched for time because I cram everything into the weekend, which this particular weekend consisted of 5 photo shoots and shopping at Walmart 40 minutes away for essentials.
I didn't even have time to test the recipe, which was ok since I made them over the summer (minus the ice cream part) baked the cookies and made the filling Sunday night.
Except I had to run to the store since I bought the wrong kind of canned milk. Then I stopped.
Now what? Will my cookies get soggy if I assemble them now? Should I put them together in the morning? Do I need to assemble them now so the filling hardens and "glues" the cookies together?
I assembled them Monday morning and packed them into freezer bags.
The container I was originally going to use was too small, so the lady at the desk was probably thinking I'm crazy when I showed up with two freezer bags inside a shallow cardboard box.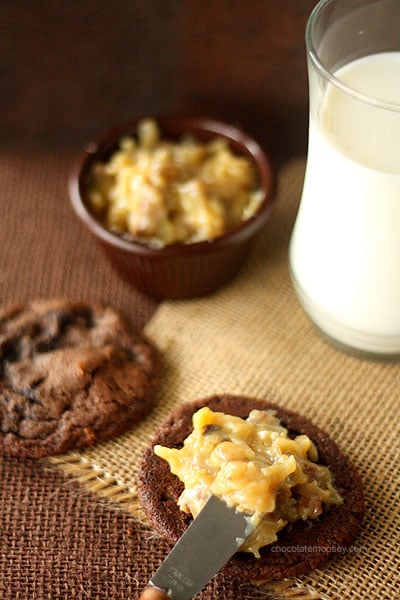 Tuesday rolled around, and no phone call. They printed in the article that they would contact the winner Tuesday.
I accepted that I lost and was anxious to see who won. Thursday afternoon I'm getting ready to go to lunch when I saw "Unknown" calling my phone.
When the newspaper called me back in April, it came up "Unknown". Hmm maybe they were calling to tell me I was in the top 5 (who would also be published)?
Turns out they were swamped the past two days and didn't get a chance to call me. I guess newspapers miss their deadlines too.
I'm terrible at reacting by the way. The guy was probably wondering why I wasn't more excited.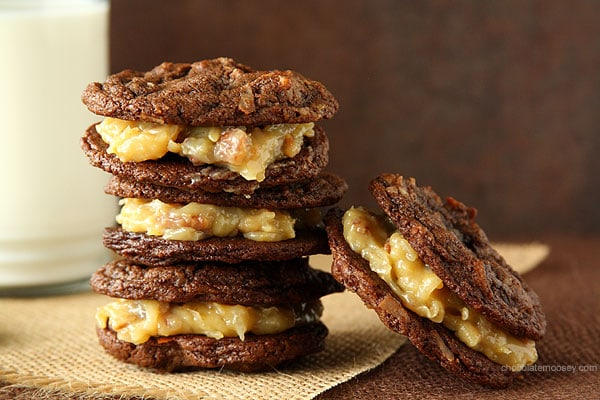 So here we are with these Award Winning German Chocolate "Cake" Sandwich Cookies. I have such a terrible time baking cookies because they spread so much.
I think with my prize money, I'm going to buy high-quality cookie sheets and butter (I already bought my stand mixer).
Oh and in case you're wondering, I used German chocolate, which is 48% chocolate. I wanted the cookies to be as authentic as possible. However, you can substitute semisweet chocolate.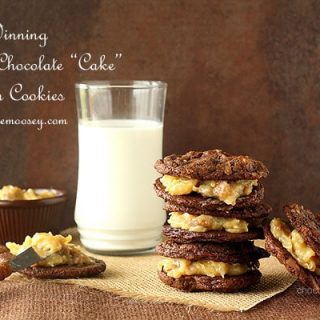 Award-Winning German Chocolate "Cake" Sandwich Cookies
Yield: 21 sandwich cookies
Ingredients
2 cups flour
1/2 cup unsweetened cocoa powder
1 teaspoon baking soda
1/8 teaspoon salt
1 cup (2 sticks) unsalted butter, softened
1 cup sugar
1 cup brown sugar
2 teaspoons vanilla extract
2 eggs
4 ounces German chocolate, chopped into small chunks
1 cup sweetened flaked coconut
1 cup pecans, chopped
Filling
14 ounces sweetened condensed milk
2 egg yolks
1/2 cup (1 stick) unsalted butter, cut into tablespoons
1 teaspoon vanilla extract
1 1/3 cup sweetened flaked coconut
1 cup pecans, chopped
Instructions
In a large bowl, whisk together the flour, cocoa powder, baking soda, and salt. Set aside.
In another large bowl, cream together the butter and both sugars until light and fluffy, about 2-3 minutes.
Beat in the vanilla and eggs.Gradually beat in the flour mixture until combined. Stir in the chocolate, coconut, and pecans. Chill in the refrigerator for at least 30 minutes.
Once the dough is chilled, line 4 cookie sheets with parchment paper.* Roll the dough into 1 1/2-inch balls (I used #40 scoop) and place onto cookie sheets. Chill for at least 15 minutes.
While the dough is chilling, preheat oven to 375F. Bake the cookies 10-12 minutes or until firm on the edges. Let cool on the sheets for a few minutes before removing to cooling racks to cool completely.
While the cookies are cooling, make the filling: In a medium saucepan, heat the milk, yolks, and butter until the butter melts. Whisk often because the mixture burns easily.
Once the butter melts, heat the mixture until it bubbles, whisking constantly. Cook a few more minutes until thickened. Remove from the heat and whisk in vanilla, coconut, and pecans. Let cool completely.
Once everything is cool, assemble the cookies: Place a spoonful or two of filling onto one cookie and top with another cookie. Repeat with the remaining cookies. Store in an airtight container.
Notes
*If you don't have enough cookie sheets, let them cool between each use.
This post may contain affiliate links. As an Amazon Associate and member of other affiliate programs, I earn from qualifying purchase.