German Chocolate Cheesecake
Take traditional German chocolate cake to the next level with this sinful German Chocolate Cheesecake topped with a homemade coconut pecan frosting. If you love your desserts decadent and creamy, this recipe is for you.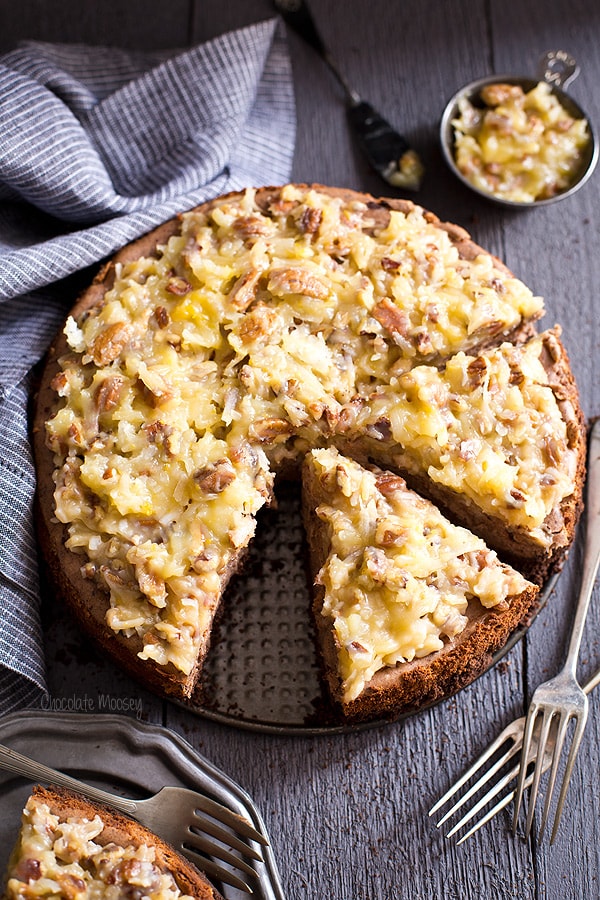 I decided I'm going to start a fan club – the I Love German Chocolate Cake Everything fan club.
Based on recipes I've made in the past, I'm on a mission to make German chocolate everything.
So far I have German Chocolate Pecan Pie, cheese ball, cupcakes, sandwich cookies, a mini cake, and (my personal favorite) ice cream.
Of course being the cheesecake fanatic that I am, it was only natural to make a German Chocolate Cheesecake, complete with a homemade coconut pecan frosting on top.
I'm not sure what it is about that coconut, pecan, and chocolate combination, but I'm hooked. Probably because I have the world's biggest sweet tooth.
I'm not the other one who feels this way either.
When I took leftover cheesecake to my coworking space, one person described it as having a chocolate mousse texture – ultra creamy and decadent.
Slices didn't last long once everyone got word that there was German chocolate cheesecake in the kitchen.
Want to make a smaller cheesecake? Use my 6 Inch Chocolate Cheesecake recipe then make one batch of German chocolate frosting for the top.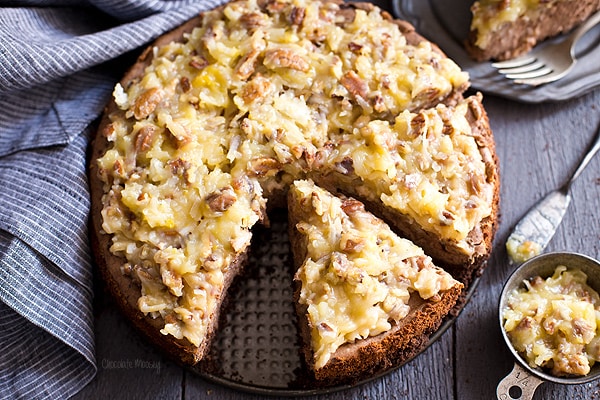 Fun fact – German chocolate cake did not originate from Germany.
It's called German chocolate because a man named Sam German developed German's chocolate used in the cake.
Ideally you'd want to use the green box that's labeled German chocolate, which is 48 percent cacao.
However, semisweet chocolate, which is 56 percent cacao, will work just as well.
For the crust I used chocolate graham crackers, but feel free to substitute chocolate sandwich cookies.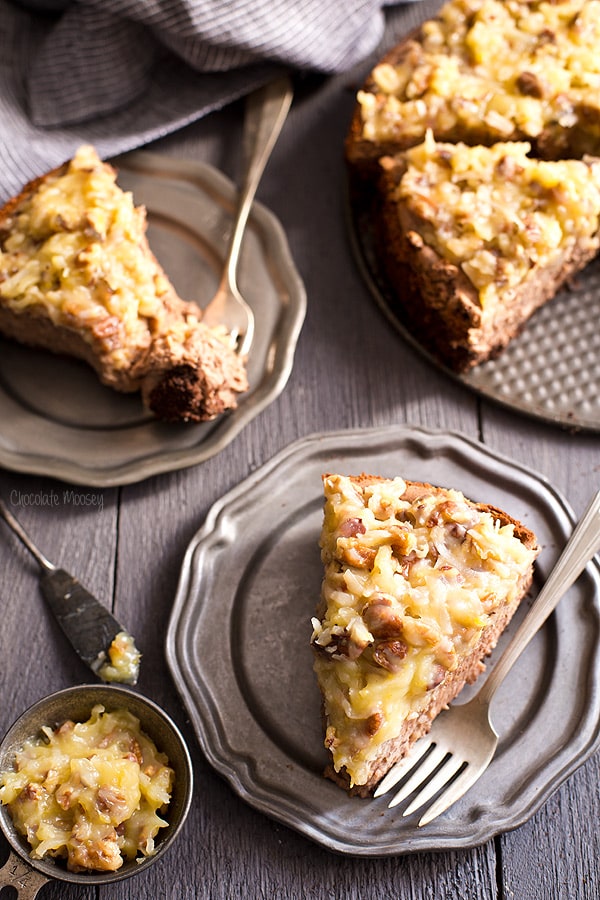 Have you ever noticed when you make German chocolate cake frosting, it calls for evaporated milk?
I'm not a fan of opening a large can for only a small amount.
Luckily, you can use heavy whipping cream in place of the milk. I always have a large carton of whipping cream in my fridge since I make homemade whipped cream and ice cream often.
Check out my Small Batch German Chocolate Frosting for the recipe.
You do need to buy a springform pan in order to make this chocolate cheesecake as they are too delicate to invert from a regular cake pan. Removing the sides of the springform pan makes it easier to cut and serve.
For more cheesecake recipes, check out my Pecan Pie Cheesecake.
German Chocolate Cheesecake
Yield: 8-10 servings
Prep Time: 30 minutes
Cook Time: 40 minutes
Chill Time: 4 hours
Total Time: 5 hours 10 minutes
Take traditional German chocolate cake to the next level with this sinful German Chocolate Cheesecake topped with a homemade coconut pecan frosting.
Ingredients
2 1/2 cups chocolate graham cracker crumbs
6 tablespoons unsalted butter, melted
24 ounces cream cheese, room temperature
1 cup granulated sugar
3 eggs, room temperature
4 ounces semisweet chocolate, melted
1 teaspoon pure vanilla extract
Doubled batch of Small Batch German Chocolate Frosting (get recipe here)
Instructions
Preheat oven to 350°F. Have an 8.5 inch or 9 inch springform pan ready.
In a large bowl, mix together the graham cracker crumbs and melted butter. Pat into the bottom and roughly 2 inches up the side of the pan.
In a large mixing bowl, beat together the cream cheese and sugar until light and fluffy, about 3-4 minutes. Beat in the eggs, one at a time, for 1 minute each. Add the melted chocolate and vanilla then beat for an additional 1-2 minutes.
Pour the batter into the crust then bake 35-40 minutes or until the center is almost set (it'll move when the pan is shaken, but the top should be firm when you touch it). Remove from the oven and cool 1 hour in the pan.
Carefully run a knife along the edge to loosen the cheesecake. Cover and refrigerate for at least 4 hours or overnight.
While the cheesecake is baking, make a double batch of Small Batch German Chocolate Frosting (get the instructions here).
Remove the pan side from the cheesecake. Spread the frosting on top then cut and serve. Store leftovers in an airtight container in the refrigerator for up to 1 week.
Source: Adapted from Taste Of Home
This post may contain affiliate links. As an Amazon Associate and member of other affiliate programs, I earn from qualifying purchase.