Mini German Chocolate Cake For Two
Show someone how much you care by baking up this homemade Mini German Chocolate Cake with coconut pecan frosting from scratch, which makes enough dessert for two (or you can pretend it's a single serving cake. It is February, after all).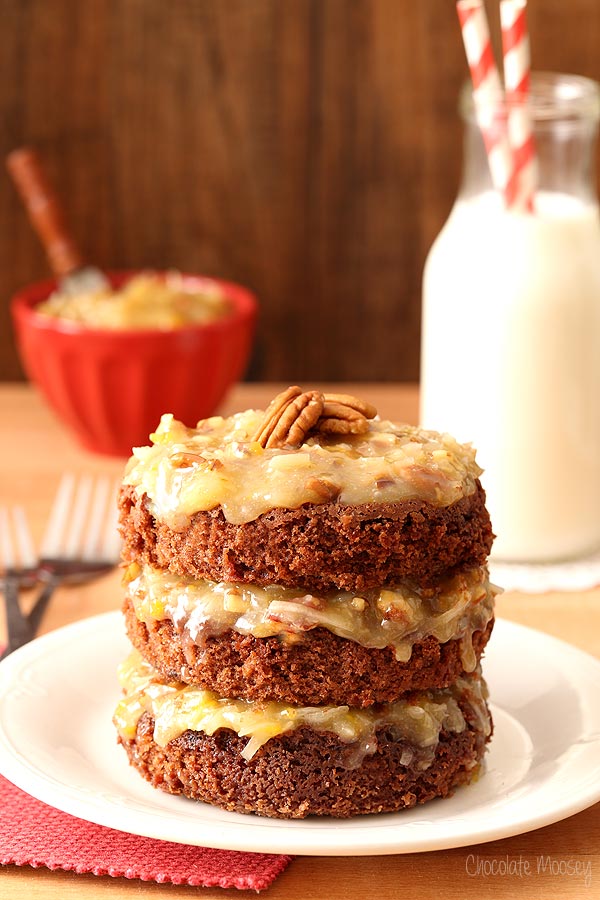 Hello, February!
The month of love with heart-shaped sprinkles and springform pans.
The month of (insanely expensive) roses and sing-o-grams (do they even still do those anymore?).
The month of indulgent chocolaty goodness.
February sounds like a pretty awesome month when described that way, no?
But February also tends to ruffle up feathers in the world of romance.
If you're in a relationship, you feel extra pressure to impress.
If you're single, you're reminded that you're single.
I'm single this year for Valentine's Day (again), but I'm not letting it get me down. In fact, I choose to look at Valentine's Day in a different way.
I want to extend the definition to all love, whether it's friends, family, neighbors, coworkers. If you can't beat them, join them, right?
And although I believe love should be celebrated all year round and not only one day of the year, I will take any and all excuses to eat chocolate cake.
Since February is practically synonymous with chocolate, I wanted to make one of my favorite cakes in mini form you can share with someone you love, whether it's romantically, friendly, family, neighborly, whatever: Mini German Chocolate Cake For Two.
It's a three layer mini chocolate cake with homemade coconut pecan frosting slathered in between. I didn't frost the sides, so it's a mini naked layer cake.
I ended up sharing this cake with both my dad and my brother (during recipe testing I made two cakes, so yay extra cake) as nothing is stronger than a family's love.
Whether you share with your spouse, your parents, or even your best friend, you will taste the love in every bite.
What is German chocolate cake?
German chocolate cake is a sweet chocolate cake with a creamy coconut pecan frosting.
Despite its name, German chocolate cake is not German. In fact, it's based off of a Texas sheet cake, also a chocolate cake with coconut pecan frosting.
The name comes from a guy named Sam German who invented a new type of chocolate to use, which is now sold in a green box labeled German's chocolate.
It's purely coincidental his name happened to be the word German and not in any relation to Germany.
The name of the cake started out as German's chocolate cake, which meant the cake belonged to Sam German. However, along the way the 's was dropped, making it seem like the cake came from Germany.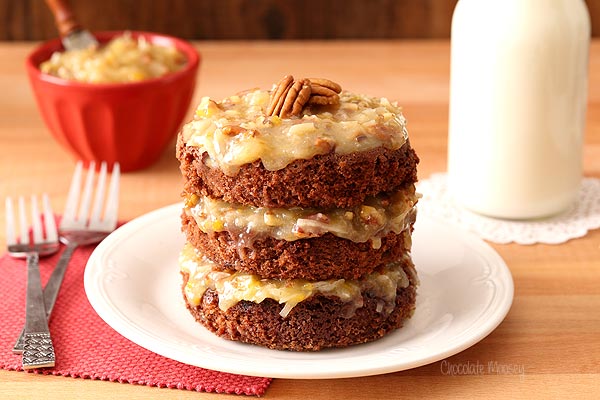 This Mini German Chocolate Cake for two originally started out as one layer. Then I realized the batter wouldn't fit into one 4 inch pan, so I opted to do two separate layers (one layer for each person).
My first attempted failed as the batter overflowed.
Rather than scale it down, I decided to go all fancy and bake a three layer cake.
More wow factor. More cake to eat.
Want more mini cakes? Check out my recipes for Mini Chocolate Guinness Cake and Mini Peanut Butter Cake.
If you don't have 4 inch springform pans, this recipe does fit into one 6×2 round cake pan. You can check out my Small German Chocolate Cake post for more details.
What makes German chocolate cake different from chocolate cake?
The difference between German chocolate cake and chocolate cake is the type of baking chocolate used.
For German chocolate cake, you'd use German's chocolate, which is around 48% cacao. For a regular chocolate cake, you'd use semisweet chocolate, which is around 55% cacao.
These cacao percentages (not cocoa) refer to how much of the chocolate is made from pure cacao beans and how much is added sugar.
The higher the percentage, the higher the cacao bean, which means it'll be bitter. On the flip side, the lower the percentage, the more sugar is added, which means it'll be sweeter.
Unsweetened chocolate is 100%, which means it's all cacao bean and no added sugar. It's also inedible to eat as a snack (trust me).
Semisweet chocolate is usually around 55%, which means 55% is cacao bean and 45% is added sugar.
German chocolate is 48% cacao bean and 52% added sugar.
An easy way to remember all of this is the higher the percentage, the bitterer it will be.
In summary, German chocolate cake is different than regular chocolate cake because the chocolate used is sweeter.
From my baking experience, the quality of the ingredients really does affect the end product, especially chocolate.
I've baked with all kinds of chocolate, ranging from discount grocery stores and off-brand names to everyday and organic brands.
Not all chocolate is created equal, so you want to splurge a little extra on high-quality chocolate as you can taste the results.
Rule of thumb: If you won't eat it on its own, you won't want it in a cake.
How do you make German chocolate cake moist?
Nothing is sadder than a dry chocolate cake! So how do you keep your cake moist?
Buttermilk is the key to making German chocolate cake moist. It makes the batter slightly acidic, which in return keeps the cake moist and tender by breaking down long, tough strands of gluten.
As a small batch baker, I get not wanting to buy a quart of buttermilk. Sometimes I get lucky by finding a pint for sale.
However, you can substitute dairy whole milk for buttermilk. However, it's extremely important you add lemon juice or white distilled vinegar to the milk. This acidity is needed to react properly with the baking soda.
For every 1/4 cup whole milk, you want to add 1 teaspoon lemon juice or vinegar.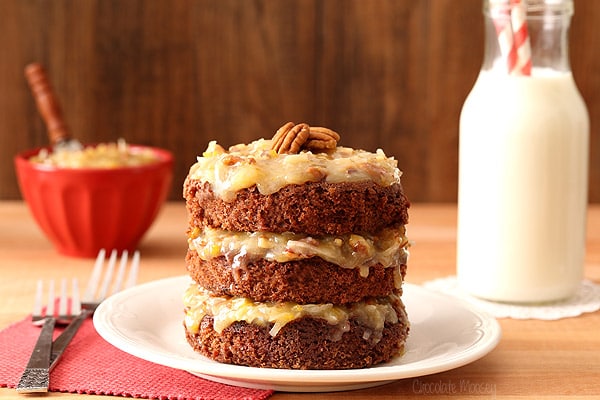 I think what I love a little more than the cake is the frosting itself.
Traditional German chocolate frosting, which is coconut and pecans, uses canned evaporated milk.
However, I didn't want to open a can since I would only be using a small amount. Instead, I used heavy whipping cream as I always have a carton in the fridge.
Check out my Small Batch German Chocolate Frosting post for the recipe!
Items You May Need (Amazon affiliate links):
More German Chocolate Recipes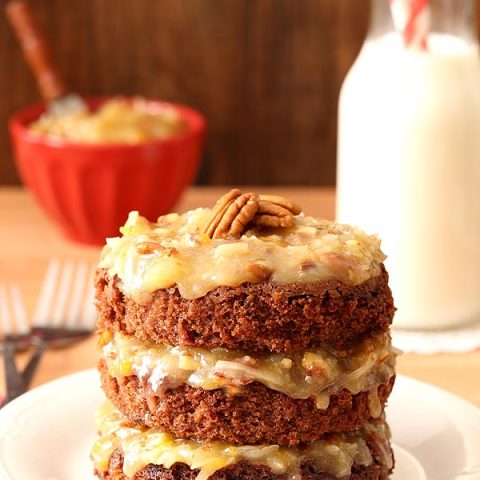 Mini German Chocolate Cake For Two
Yield: 2-4 servings
Prep Time: 30 minutes
Cook Time: 20 minutes
Total Time: 50 minutes
Show someone how much you care by baking up this homemade Mini German Chocolate Cake with coconut pecan frosting from scratch, which makes enough dessert for two.
Ingredients
1 ounce German baking chocolate, chopped
1/2 cup all-purpose flour
1/4 teaspoon baking soda
1/8 teaspoon salt
1/4 cup unsalted butter, softened
1/2 cup granulated sugar
1 egg, room temperature
1/4 teaspoon vanilla extract
1/4 cup buttermilk or whole milk with 1 teaspoon lemon juice added, room temperature
2 tablespoons prepared coffee or water, room temperature
1 recipe Small Batch German Chocolate Frosting (get the recipe here)
Instructions
Preheat oven to 350F. Lightly grease three 4-inch springform pans and place on a baking sheet.
In a large heatproof bowl over a pan of simmering water (do not let the bowl touch the water), melt the chocolate. Remove from the heat and let cool 15 minutes.
In a medium bowl, whisk together the flour, baking soda, and salt.
While the buttermilk is in the measuring cup, add the coffee and combine.
In a large mixing bowl, beat together the butter and sugar until smooth and creamy, about 2 minutes.
Beat in the egg and vanilla and beat an additional minute. Beat in the melted chocolate.
Gradually add the flour mixture and buttermilk mixture in three additions, beginning and ending with the flour mixture. When you add the final flour addition, turn off the mixer and finish mixing by hand until everything is just incorporated - you do not want to overmix the batter.
Divide the batter among the three pans and gently tap each pan a few times against the counter, breaking up any potential air bubbles. Bake for 20-25 minutes or until a toothpick inserted in the center of each cake comes out clean. Cool completely then run a knife along the edge of each cake before unmolding the cake pans.
While the cake is baking, make the Small Batch German Chocolate Frosting (get the instructions here).
If the cakes have a rounded top, cut off part of the top until flat. Place one cake layer on a serving plate or cake stand. Spread some of the cooled frosting then top with another cake layer. Repeat until all frosting and cake are gone.
Recommended Products
As an Amazon Associate and member of other affiliate programs, I earn from qualifying purchases.
Source: Adapted from
Kraft
This post may contain affiliate links. As an Amazon Associate and member of other affiliate programs, I earn from qualifying purchase.