The Pittsburger (Primanti Style Burger With French Fries and Coleslaw)
Bring a little bit of Pittsburgh home to your kitchen with The Pittsburger – homemade burgers topped with coleslaw and French fries, inspired by Primanti Brothers in Pittsburgh.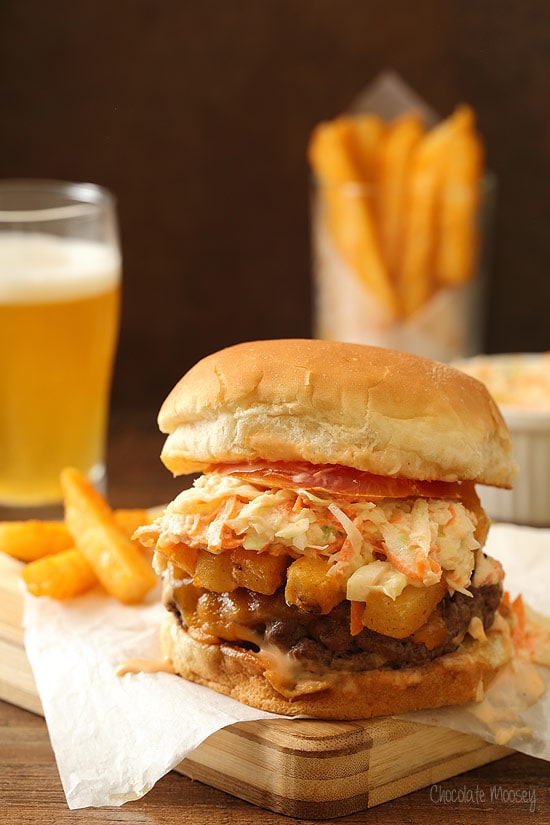 If you've been reading my blog for the past year or so, there's no secret that my heart belongs to Pittsburgh where I was born and raised.
For 4 years I did live mid state, but I was yearning to get back.
I didn't realize how much I missed Pittsburgh until I started job hunting 2-3 years ago. I had to expand my search to other cities, but none of them made me excited.
I did have a job interview in Philadelphia for a position I thought I wanted, but it isn't until now that I look back and am secretly glad I wasn't offered it.
Pittsburgh is such an underestimated city. Usually when people plan a vacation, chances are Pittsburgh isn't in the top 10.
We don't have The Liberty Bell, The Statue Of Liberty, or The Freedom Trail. We aren't a very touristy city, but that is what makes Pittsburgh awesome.
When you come here, you're going to get the true city experience. No overhyped tourist attractions. No overpriced hotels or museum tickets. No fighting for a spot on an overcrowded beach and paying too much for a hot dog. Just pure Pittsburgh love.
When you think of places to eat in Pittsburgh, there's a 99 percent chance you think of Primanti Brothers.
It's a sandwich shop that made Pittsburgh famous by putting coleslaw and French fries on their sandwiches rather than serving them on the side.
As much as I love eating out, it gets expensive. That's why I wanted to bring Pittsburgh to my kitchen with The Pittsburger.
Now it's not meant to be a copycat recipe; rather I used it as inspiration for two reasons.
One – I didn't want to make a sandwich with deli meat on Italian bread. Two – when you do order the Pittsburger from their restaurant, the patty is so small, you can barely taste the meat.
When I order a burger, I want a fat, juicy burger that I can sink my teeth into. One that you have to squish down a little in order to take that first big bite.
Plus Pittsburgh has some pretty important burger history. Did you know The Big Mac was invented in Pittsburgh, 5 minutes from where I live right now?
In fact, there's a Big Mac museum in my hometown. Ironically I've only been there once and don't remember much except there's a giant Big Mac statue.
Anyway, whether you're firing up the grill for a summer cook out or looking for a more exciting burger to eat during the week, this Pittsburger will satisfy your craving and bring a little taste of Pittsburgh to your kitchen.
As much as I love grocery shopping, I hate making trips to multiple stores just to get everything on my list. Luckily, ALDI has everything I need for these burgers, including ground beef, hamburger buns, and cheese.
Unfortunately, my particular ALDI was sold out of coleslaw, so I went with Plan B and picked up the ingredients I needed to make my own.
If your ALDI has coleslaw, feel free to use that. Since I was making coleslaw, I saved myself some prep time by picking up ALDI seasoned French fries.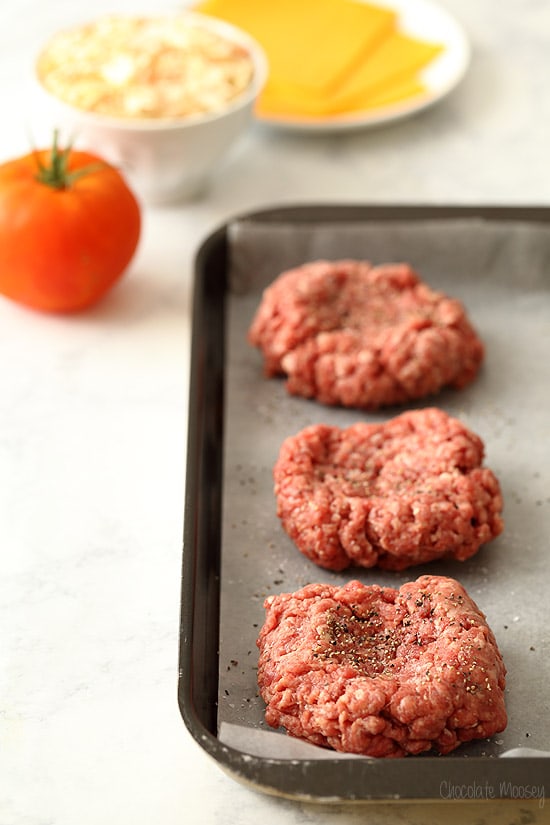 The key to making great hamburgers is how you handle the meat.
First, buy 80 percent lean 20 percent fat as that ratio is ideal for making hamburgers.
Second, do not put anything in your meat. This was tough as I always add some spices or onion, but the more you handle the meat, the tougher it'll get.
That's why it's recommended you sprinkle your patties with salt and pepper right before cooking.
Third, when you shape your patties, put a slight indent in the center so the burgers don't shrink. Nothing is sadder than a patty smaller than your bun.
Once your meat is cooked, time to top with French fries and coleslaw! And of course it wouldn't be a Pittsburger without ranch dressing (we are very serious about our ranch), so I mixed it with some hot sauce for a spicy condiment.
Serve your Pittsburger with Caesar Pasta Salad, Italian Potato Salad, Amish Potato Salad, or Amish Macaroni Salad.
More Burger Recipes

Looking for more? Check out these other delicious burger recipes:
The Pittsburger (Primanti Style Burger With French Fries and Coleslaw)
Yield: 4 servings
Prep Time: 30 minutes
Cook Time: 8 minutes
Total Time: 38 minutes
Bring Pittsburgh to your kitchen with The Pittsburger - homemade burgers topped with coleslaw and French fries, inspired by Primanti Bros.
Ingredients
1 pound ground beef, thawed (80/20 blend)
Salt and pepper, to taste
2 teaspoons vegetable oil
4 hamburger buns
4 slices cheddar cheese
1 pound frozen french fries, cooked according to package directions
1 cup coleslaw, homemade or store bought
4 slices tomato
1/4 cup ranch dressing
1 tablespoon hot sauce
Instructions
Divide the beef into four 4-ounce portions. Shape into patties, making a slight indent in the middle. Season the top with salt and pepper.
In a large skillet, heat 1 teaspoon oil over medium heat. When hot, add 2 buns, tops and bottoms separated and face down, until toasted. Repeat with the remaining 2 buns and 1 teaspoon oil. Remove the buns and leave the pan over medium heat.
Add 2 patties and cook for 4 minutes. Flip, sprinkle with more salt and pepper, then top with 1 slice cheese each. Cook another 4 minutes or until they reach an internal temperature of 160F degrees. Repeat with the remaining 2 patties and cheese.
To assemble, add one burger to one bottom half of a bun. Top with 4-5 French fries, 1/4 cup coleslaw, and 1 slice tomato.
In a small bowl, mix together the ranch and hot sauce then spread some on the top bun before adding. Repeat with the remaining ingredients. Serve immediately.
Disclosure: This post is sponsored by ALDI. Thank you for supporting me and the companies I work with as sponsored posts help pay for the costs of running Chocolate Moosey, including website hosting and groceries for recipe development.
This post may contain affiliate links. As an Amazon Associate and member of other affiliate programs, I earn from qualifying purchase.