Bacon Cheeseburger Dip
Make cheese dip more exciting to eat by making creamy skillet Bacon Cheeseburger Dip with cream cheese, ketchup, mustard, mayonnaise, sweet pickle relish, and paprika.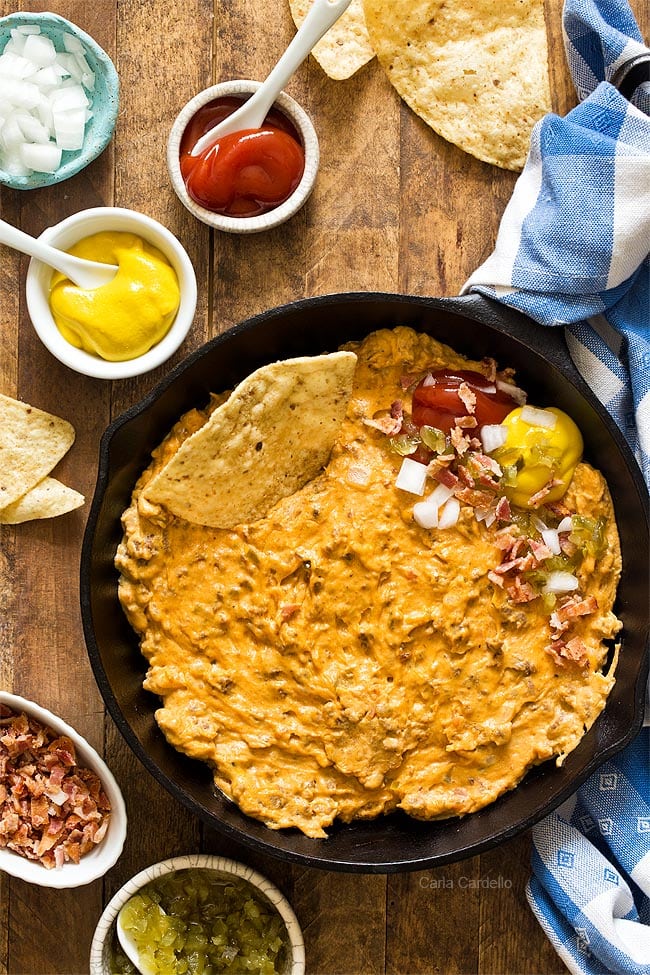 This post is sponsored by Red Gold Tomatoes.
With
4th of July
right around the corner, I think about all the summer fun happening around the neighborhoods – cook outs with family and friends, pool parties, picnics, sitting in the a/c.
That's me with the last one. As much as I love sunshine, I love my a/c even more. But that doesn't mean I miss out on summer food.
When I go to my parents for the holiday, I do almost all of the cooking. Often I plan the menu then cook most of the food in their kitchen.
When I think of summer gatherings, I immediately think about my avocado burgers on the grill. I also think about snacking because if there's one thing I love more than dessert, it's snacking.
That's where the inspiration behind this creamy skillet Bacon Cheeseburger Dip came from – the smell (and taste!) of summer cheeseburgers plus my love of snacks. And bacon – can't forget that!
This isn't just a cheese dip with meat. No, it's a cheese BURGER dip. That means it tastes like you're biting into my BBQ Bacon Burger without the bun.
What makes a burger dip taste like a burger? The condiments!
That's why I was excited to use Red Gold Tomato Ketchup (made from the highest-quality, freshest, best-tasting tomatoes!), mustard, mayonnaise, relish, and Worcestershire sauce. I also added some paprika, an ingredient often found in what is called special burger sauce.
This small batch cheese dip recipe makes about 4-6 servings, depending on how much you eat. And if you do have leftover dip, you can use it as a filling for quesadillas or grilled cheese for dinner.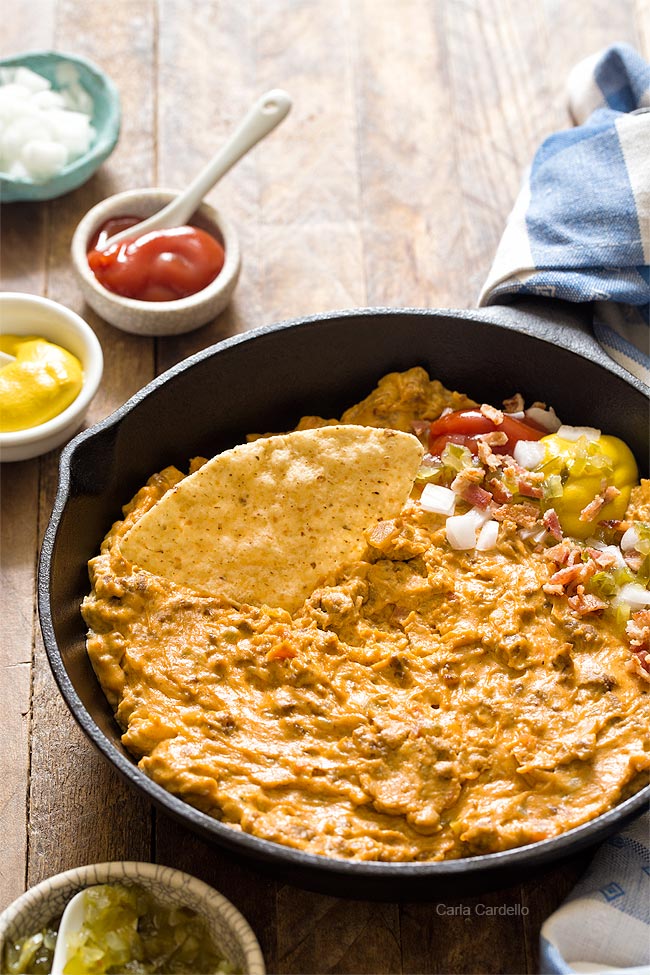 I decided to fully cook this cheeseburger dip on the stovetop rather than baking in the oven because my gas oven is an inferno.
Even in the winter, my entire apartment heats up to 75F with the oven on. Imagine all of that extra heat in the summer.
How To Make Bacon Cheeseburger Dip
First, you start with the bacon. Since I'm not turning on the oven, the best way to cook bacon is on the stove in a large skillet.
You want to start with a cold skillet. It sounds counterintuitive, but you want to slowly heat the bacon. This allows the fat to melt and the bacon to crisp up, known as rendering the fat.
This also means you'll have bacon drippings leftover in your pan. You want this deliciousness to cook the ground beef and onions later.
If you put cold bacon into a hot pan, the fat would immediately seize up, resulting in flabby bacon. I actually enjoy flabby bacon (don't judge!), but for this cheeseburger dip you want crispy bacon strips.
Ideally you want to use a cast iron pan to render the bacon fat, but any large skillet will do.
After the bacon is cooked and removed from the pan, next you want to add the ground beef and onion to the bacon drippings.
This will give the meat more flavor as it cooks. Cook until the beef is no longer pink, anywhere from 5-10 minutes depending on how hot your pan is.
Make sure you break the meat into small pieces with a wooden spoon as it cooks because you want bite-sized pieces for your cheese dip.
At this point you want to drain all of the grease from the pan because you don't need it anymore.
Next you want to stir in the condiments, which as I mentioned earlier gives this bacon cheeseburger dip recipe its distinct burger flavor.
For the ketchup I used Red Gold Tomato Ketchup, made by a family-owned company who has been making tomato products with the passion and care only a family can provide. They use the highest-quality, freshest, best-tasting tomatoes for their products.
I use their canned tomatoes a lot in my one pot lasagna soup and balsamic tomato skillet chicken. This time I wanted to use their ketchup because nothing says summer like ketchup on hamburgers and hot dogs. They also make jalapeno ketchup if you want to make spicy cheeseburger dip.
Because this is a cream cheese dip, it will be on the thick side but still dippable. However, if you find your cheese dip too thick, you can thin it out by stirring in some milk.
This may be especially true if you're reheating your cheeseburger dip as it'll thicken even more as it cools.
Speaking of reheating, you can absolutely make this bacon cheeseburger dip ahead of time. Make as directed, refrigerate, then reheat either in a skillet or in a crock pot before serving. Stir in some milk as you reheat to help make it dippable again.
More Recipes Using Ketchup

The hardest part about cooking for two is having leftover ingredients. What do you do with a bottle of ketchup besides squeeze it onto hamburgers and hot dogs?

Here are several recipes using ketchup as an important ingredient:
Bacon Cheeseburger Dip (Small Batch)
Yield: 4-6 servings
Prep Time: 20 minutes
Cook Time: 30 minutes
Total Time: 50 minutes
Creamy skillet Bacon Cheeseburger Dip with cream cheese, ketchup, mustard, mayonnaise, sweet pickle relish, and paprika.
Ingredients
2 strips uncooked bacon
1/2 pound (8 ounces) ground beef
1/4 cup diced white onion
1 garlic clove, minced
4 ounces full-fat cream cheese, softened and cut into 8 pieces
6 tablespoons Red Gold Tomatoes Ketchup
1/4 cup mayonnaise
2 tablespoons yellow mustard
2 tablespoons sweet pickle relish
1 tablespoon Worcestershire sauce
1 teaspoon ground smoked paprika
1 1/2 cups shredded cheddar cheese
Salt, to taste
Nachos, for serving
Instructions
Add bacon to a large skillet and turn the heat on to medium. Once the bacon starts cooking, cook on one side until crispy, about 3-4 minutes then flip and finish cooking the other side, another 2-3 minutes.
Remove the bacon and place on a plate lined with a paper towel; pat off as much grease as you can. When cool enough to handle, crumble bacon. Leave the bacon drippings in the skillet.
Add the beef, onion, and a big pinch of salt to the bacon drippings and cook until meat is no longer pink, breaking it into pieces with a wooden spoon as it cooks, about 5-10 minutes. Add garlic and cook 1 minute. Drain off any excess grease.
Turn the heat down to low and add the cream cheese, ketchup, mayonnaise, mustard, relish, Worcestershire sauce, paprika, and crumbled bacon. Stir until cream cheese has melted.
Stir in the cheddar cheese and cook until melted. Taste and adjust for salt, if needed. Serve warm with nachos.
Disclosure: This post is sponsored by Red Gold Tomatoes. Thank you for supporting me and the companies I work with as sponsored posts help pay for website hosting and groceries.
This post may contain affiliate links. As an Amazon Associate and member of other affiliate programs, I earn from qualifying purchase.