Learn how to make this fresh Strawberry Cream Cheese Frosting with real strawberries. Use it to frost cupcakes and strawberry cake.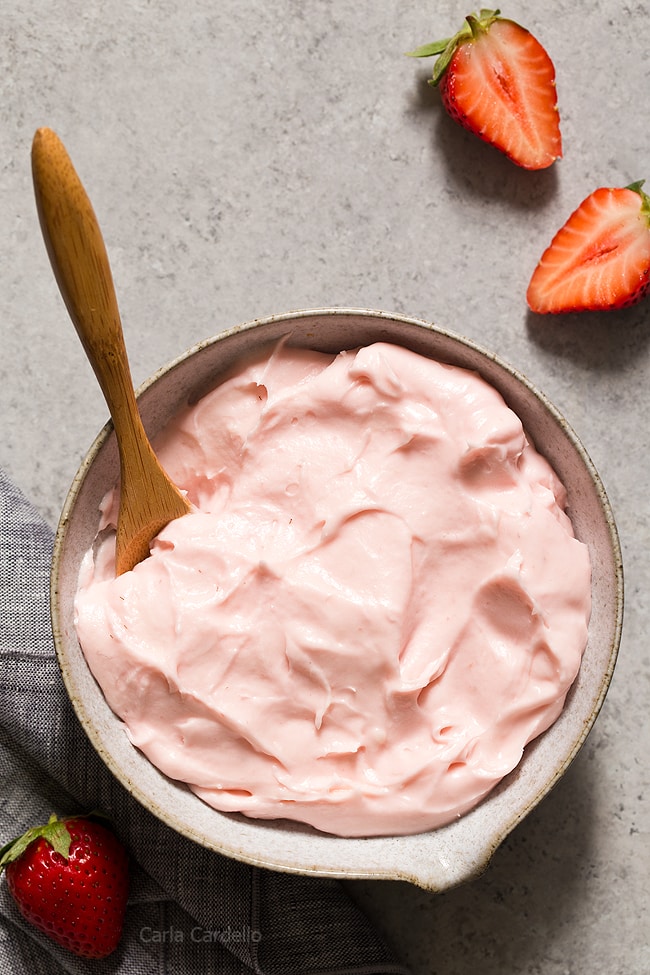 Last week I read a post that was a long time coming. According to my age, I'm supposedly a millennial, growing up in a world immersed in technology. I'm narcissistic, lazy, and expect to be coddled with participation trophies.
Except I grew up in a time without technology. I passed paper notes in high school. I didn't get my first cell phone until my freshman year in college. I don't think my family even had the Internet until I was in middle school. Of course you couldn't actually use it if somebody else was on the phone.
When I went on field trips, I used disposable cameras. I'd have no clue how the photos turned out until the film was developed. My parents did have a Polaroid camera, but it didn't work half the time.
When there was a new song on the radio, I'd wait with a blank cassette tape on hand, pressing the record button as soon as the DJ stopped talking. Most of the time they talked over the song intro, so it was hit or miss.
True millennials never experienced a life without technology. They were born into it. Me on the other hand – I'm caught in between millennial and generation X. That's when I read about a new term called Xennials. Of course the date range doesn't include my year, but the whole article describes me to a tee.
Growing up the way I did shaped the way I cook and bake. I learned how to cook in home economics class. Everything was made from scratch. No cake mixes or canned soup. It became an obsession of mine, although I have been a little more relaxed once I started working full time.
A few years ago, I posted strawberry cupcakes with strawberry cream cheese frosting. No cake mix. No Jello. All fresh strawberries. My strawberry cream cheese frosting recipe became popular enough to deserve its own post. Use it to frost cupcakes, strawberry layer cake, or strawberry snack cake.
There is a little bit of cooking involved, but it's the best way to get the most strawberry flavor. You also don't have to worry about chunks of strawberry getting stuck in your piping bag (affiliate link).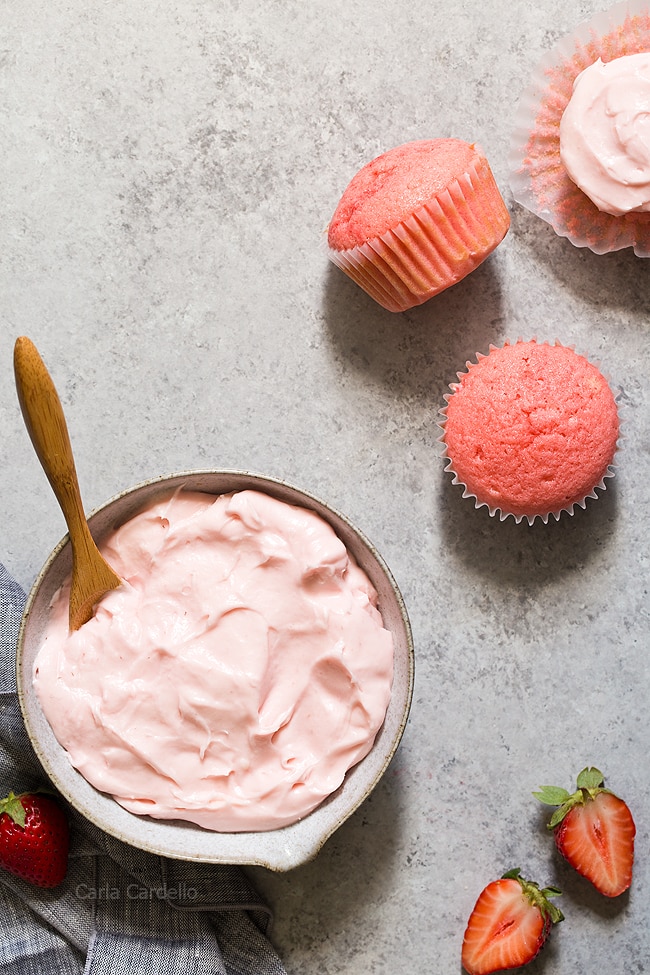 Typically the cream cheese frosting is naturally pink from using strawberries. However, if your berries aren't juicy enough, you may need to add a drop or two of red food coloring.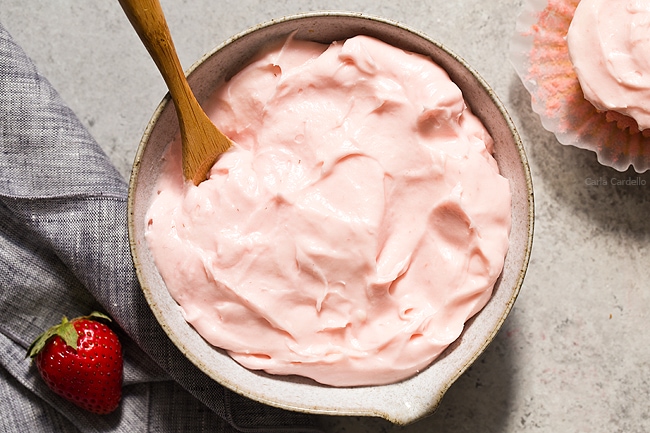 It's important you follow the directions and cook the strawberries down enough to equal 3 tablespoons; otherwise, your frosting will be too runny. This means actually measuring it and keep cooking until it's 3 tablespoons. Please don't skip this step.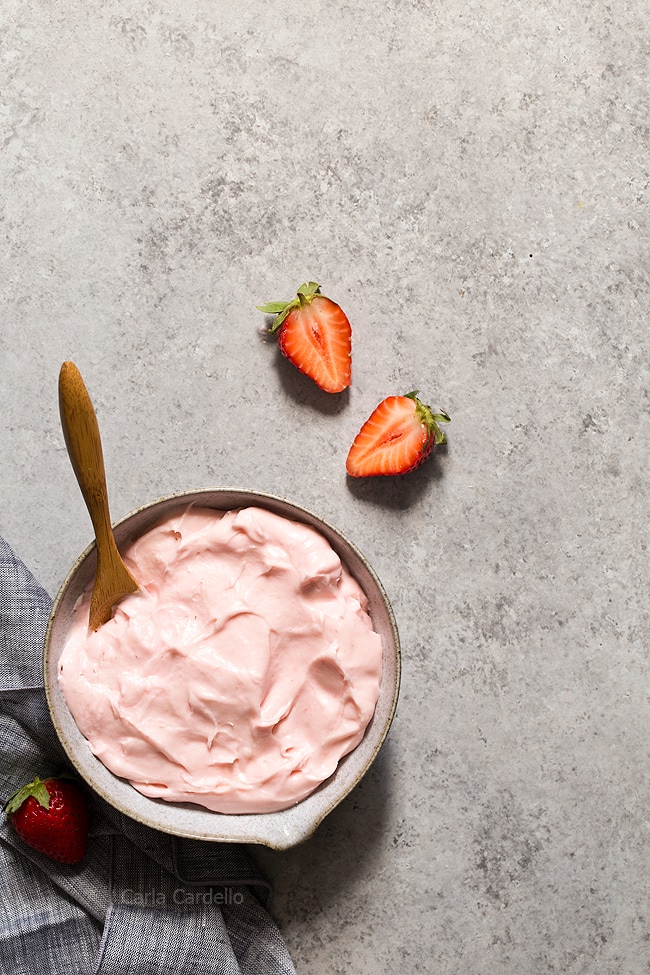 And depending on how warm your kitchen is (especially during the summer), if it's a little too soft for piping, refrigerate the frosting for 15 minutes or until it starts to firm up again.
Yields Roughly 2 1/2 cups frosting (enough to generously pipe 12 cupcakes or frost a 2-layer cake))
Strawberry Cream Cheese Frosting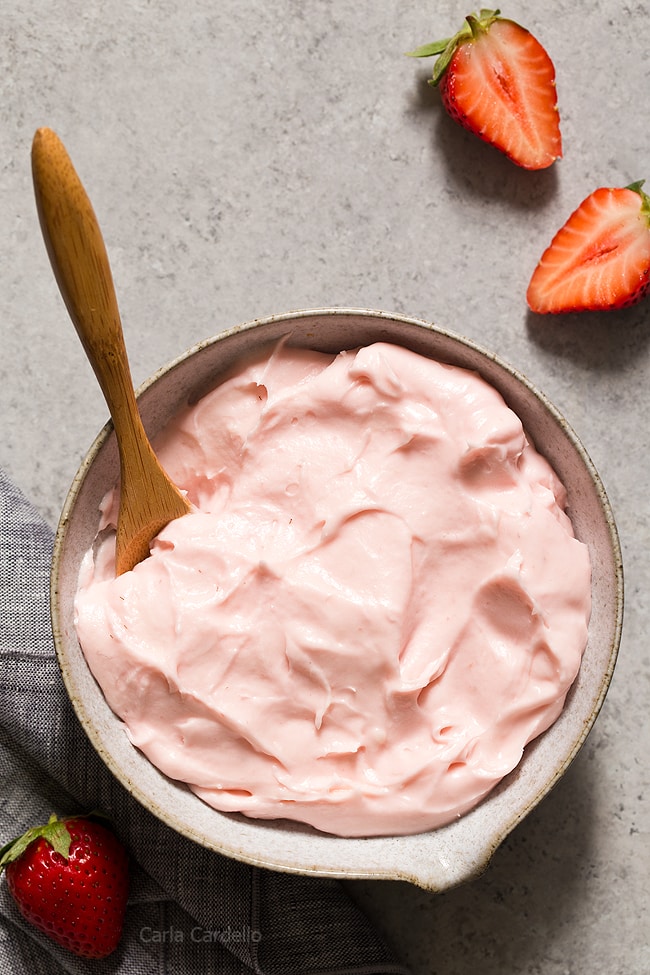 Ingredients
1 1/4 cups chopped strawberries
1 tablespoon granulated sugar
1/2 cup (4 ounces or 8 tablespoons) unsalted butter, softened
8 ounces cream cheese, softened
3 cups powdered sugar
Pinch of salt
1/2 teaspoon vanilla extract
1-3 drops of red food coloring (optional)
Instructions
In a blender, add the the strawberries and granulated sugar. Process until smooth. Pour through a fine mesh strainer, discarding any solids left behind. You should have 1/2 cup puree.
Add the puree to a medium saucepan and bring to a boil over medium heat. Turn down to low and cook for 10-15 minutes or until the puree thickens and cooks down to 3 tablespoons (please measure as anything more than this will make the frosting runny). Cool to room temperature (or refrigerate until cold to speed it up).
In a large mixing bowl, beat together the butter and cream cheese for 30 seconds or until combined then add the powdered sugar and salt. Beat until light and fluffy, 3-5 minutes. Beat in the strawberry mixture and vanilla. If the frosting isn't pink enough, add a few drops of red food coloring.
Use immediately or store in the refrigerator for up to 1 week. If the frosting is too soft to pipe right away, refrigerate in 15 minute increments until piping consistency.
7.6.3
3613
https://www.chocolatemoosey.com/2017/07/10/strawberry-cream-cheese-frosting/