Homemade Gravy Without Meat Drippings is an easy from scratch gravy recipe made without meat drippings so you don't have to wait for the meat to be done. You can even make gravy ahead of time, reducing stress for holiday dinners such as Thanksgiving and Christmas.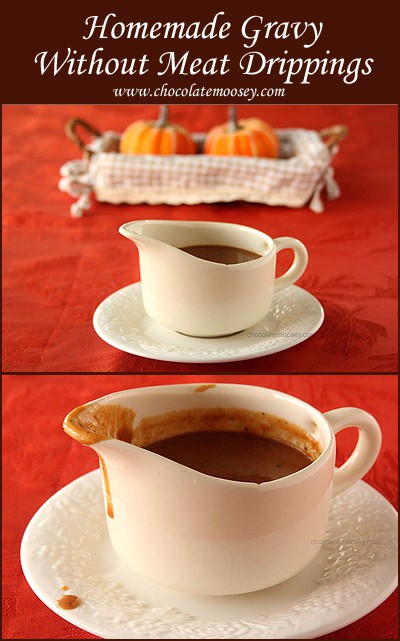 We are only a few days away from Thanksgiving! So far I've given you dessert ideas, ranging from
Pumpkin Pie For Two
and
Small 6 Inch Pumpkin Cake
to
Pumpkin Cheesecake
and
No Bake Pumpkin Cheesecake.
Now that I have you all hyped up on sugar, how about I share something savory? Once a year, I make Homemade Gravy Without Meat Drippings for Thanksgiving.
Wait, what? You mean you don't have to wait for the Thanksgiving turkey to be done in order to make gravy?
That's right – you can now make gravy ahead of time with my Homemade Gravy Without Meat Drippings recipe!
How do you make the best gravy from scratch without drippings?
Instead of making pan gravy with meat drippings, you make a roux using flour and broth.
In this case I use chicken broth to go with my Cornish Hen with Homemade Classic Stuffing, but you can easily adapt it to match your dinner, such as beef broth for beef pot roast or vegetable broth for mashed potatoes.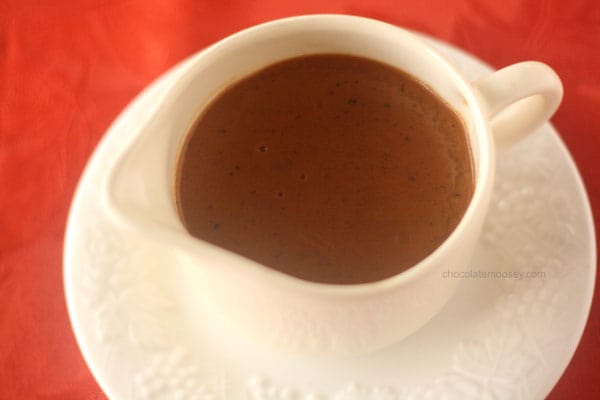 Why make homemade gravy without drippings?
When it comes to learning how to properly make gravy, you use meat drippings for the flavor, but what happens if you don't have any?
For example, if you wanted to make a quick gravy for mashed potatoes, you may not be making any meat for the main course. Especially if you're vegetarian. Vegetarians should not be denied gravy.
Or you cook for 1-2 people and simply not going to make a giant pot roast or a whole turkey. And if you do make a small meat for your main course, you may not have enough drippings.
Or you have a giant meal like Thanksgiving where you can take all the help you can get for making recipes ahead of time. Traditional homemade gravy from scratch is a last minute recipe since you can't do anything until the meat is done.
By using flour and broth, you can prepare it ahead of time then reheat it for serving.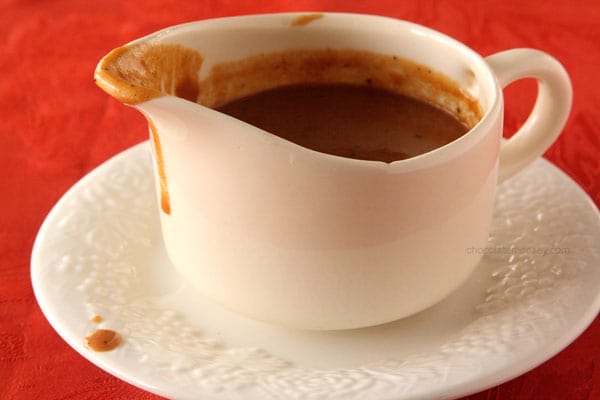 If you're worried about lack of drippings means lack of flavor, don't be! Frying the onions adds a huge boost of flavor in addition to the broth of your choice.
The more flavorful your broth is, the more flavorful your gravy will be. That's why I use broth instead of water.
You can use any type of broth to complement your dish. I typically use chicken, but feel free to use turkey, beef, vegetable, mushroom, pretty much whatever you want.
The best way to serve gravy is over mashed potatoes. Above is my
Creamy Garlic Mashed Potatoes
.
I put actual garlic cloves in with the potatoes while they are boiling, which gives the dish a very strong garlic flavor.
You can also make Cheddar Pumpkin Mashed Potatoes to use up any canned pumpkin you may have leftover from making pumpkin pie.
The best part about making gravy without meat drippings is you do not have to wait until your dinner is done cooking to make the gravy.
Maybe for a normal dinner that wouldn't be a big deal, but this is Thanksgiving we are talking about!
You already have a million things going on – prep this, cook that, carve this, serve that.
When everything in the oven has about 15 minutes left, I start the gravy. That way, when everything is ready, the gravy is ready too.
However, if you don't want to deal with making gravy during cooking, you can make this the day before and refrigerate
It will thicken greatly when it is cold, so right before serving, put it in a small saucepan and heat until smooth and pourable again. You may need to stir in a little more broth to thin it out.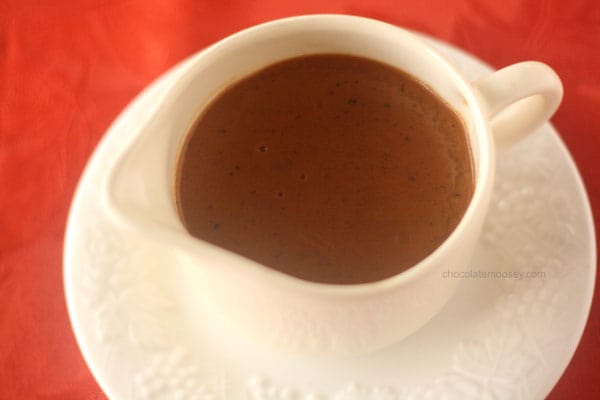 Now that you have the best gravy recipe, check out my
Thanksgiving Dinner For Two
post to plan the rest of your Thanksgiving menu!
Homemade Gravy (Without Meat Drippings)
Homemade Gravy Without Meat Drippings is an easy from scratch gravy recipe made without meat drippings so you don't have to wait for the meat to be done.
Ingredients
1/4 cup (2 ounces or 4 tablespoons) unsalted butter, cut into 4 pieces
1/2 cup diced onion
2 tablespoons all-purpose flour
1/2 teaspoon salt
1 cup broth or stock, any flavor
1 tablespoon whole milk
Instructions
In a medium sauce pan, melt the butter. Once hot, add the onion and a big pinch of salt and cook until softened, about 5 minutes. If you want chicken gravy as dark as the photos, continue cooking the onion until caramelized.
Stir in the flour and and salt and cook for 1 minute.
Slowly whisk in the broth/stock and cook until thickened, about 3-5 minutes.
Remove from the heat and whisk in the milk. Serve while hot.*
Notes
You can make this ahead of time since no meat drippings are needed. It will gel up in the fridge, so when you are ready to serve, heat it back up in a sauce pan and whisk until smooth and hot. You may need to add more broth/stock to thin it out.

Oh is it turkey time?
Feedmefeedmefeedme