An easy from scratch gravy recipe made without meat drippings so you don't have to wait for the meat to be done. You can even make gravy ahead of time, reducing stress for holiday dinners such as Thanksgiving and Christmas.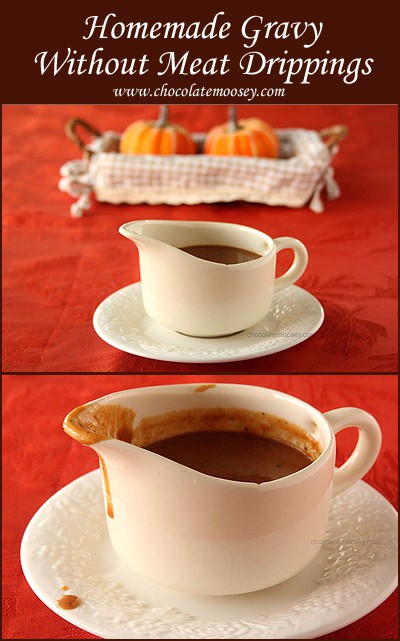 We are only two days away from Thanksgiving! So far I've given you dessert ideas, ranging from
pumpkin pie cupcakes
and
pumpkin tiramisu
to
no bake pumpkin cheesecake
and
pumpkin truffles
.
Now that I have you all hyped up on sugar, how about I share something savory? Once a year (not kidding), I make Homemade Gravy Without Meat Drippings for Thanksgiving. Wait, what? You mean you don't have to wait for the bird to be done in order to make gravy? That's right – you can now make gravy ahead of time!
When it comes to learning how to properly make gravy, you take meat drippings, but that's the problem – I don't make dishes where there are drippings. I don't make a pot roast or a whole turkey. I'm not a huge chunk of meat kind of gal.
Yes, I do like eating meat, but I'd rather have steak fajitas than meatloaf or pork chops. I know my parents made gravy a few times from those powdered mixes, although I think my mom has made homemade gravy once or twice.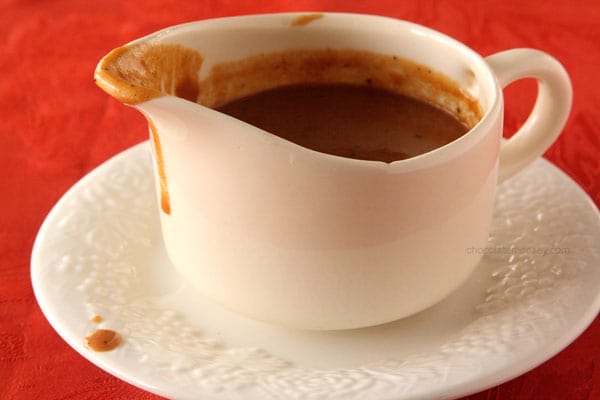 If you're worried about lack of drippings means lack of flavor, don't be! Frying the onions adds a huge boost of flavor in addition to the stock of your choice (the more flavorful your stock is, the more flavorful your gravy will be).
You can use any type of stock to complement your dish. I typically use chicken, but feel free to use turkey, beef, vegetable, mushroom, pretty much whatever you want. Speaking of onions, if you have picky eaters who freak out over onions or if your onions get a little too done, strain the gravy before serving. Nobody will ever know.
Remember when I said earlier I make gravy only once a year? I mean it. First, I don't make meals that require gravy.
Second, if I do make mashed potatoes, I make them creamy enough that I don't need gravy. See the mashed potatoes in the pictures? That's my Creamy Garlic Mashed Potatoes. I put actual garlic cloves in with the potatoes while they are boiling, which gives the dish a very strong garlic flavor (garlic lovers unite!) Of course you can cut back the amount of cloves and not add as much milk.
The best part about making gravy without meat drippings is you do not have to wait until your dinner is done cooking to make the gravy. Maybe for a normal dinner that wouldn't be a big deal, but this is Thanksgiving we are talking about!
You already have a million things going on – prep this, cook that, carve this, serve that. When everything in the oven has about 15 minutes left, I start the gravy. That way, when everything is ready, the gravy is ready too.
However, if you don't want to deal with making gravy during cooking, you can make this the day before and refrigerate. It will thicken greatly when it is cold, so right before serving, put it in a small saucepan (or a bowl for the microwave) and heat until it is smooth and pourable again.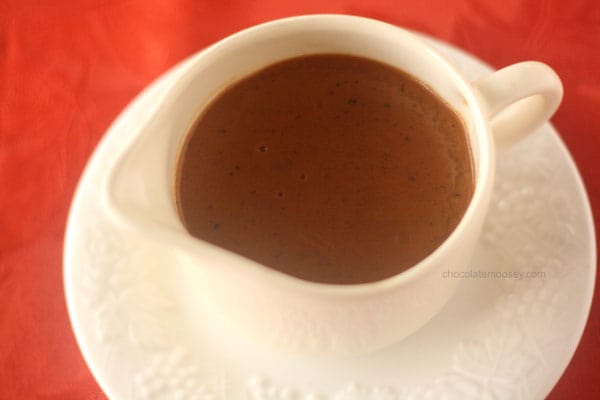 Yields 1 cup (roughly 4-6 servings)
Homemade Gravy (Without Meat Drippings)
Ingredients
4 tablespoons (1/2 stick) butter
3/4 cup onion, chopped (roughly 1 small onion)
2 tablespoons flour
1 cup broth, any flavor
1 tablespoon heavy cream or milk
Salt to taste
Instructions
In a large sauce pan, melt the butter. Cook the onion until lightly browned, roughly 5-8 minutes. Whisk in the flour and cook for 1 minute. Whisk in the stock and cook uncovered until thickened, roughly 5 minutes. Whisk in the cream or milk and season with salt to taste (I use roughly 1/2 teaspoon). Serve while hot.*
Notes
* You can make this ahead of time since no meat drippings are needed. It will gel up in the fridge, so when you are ready to serve, heat it back up in a sauce pan and whisk until smooth and hot.
7.8.1.1
2969
https://www.chocolatemoosey.com/2012/11/20/homemade-gravy-without-meat-drippings/
Source: Adapted from
Brown Eyed Baker

Oh is it turkey time?
Feedmefeedmefeedme