One Pot Lasagna Soup
In the mood for lasagna but don't have time to make one? Luckily this One Pot Lasagna Soup is ready in under an hour! Made with canned tomatoes so you can make it all year round.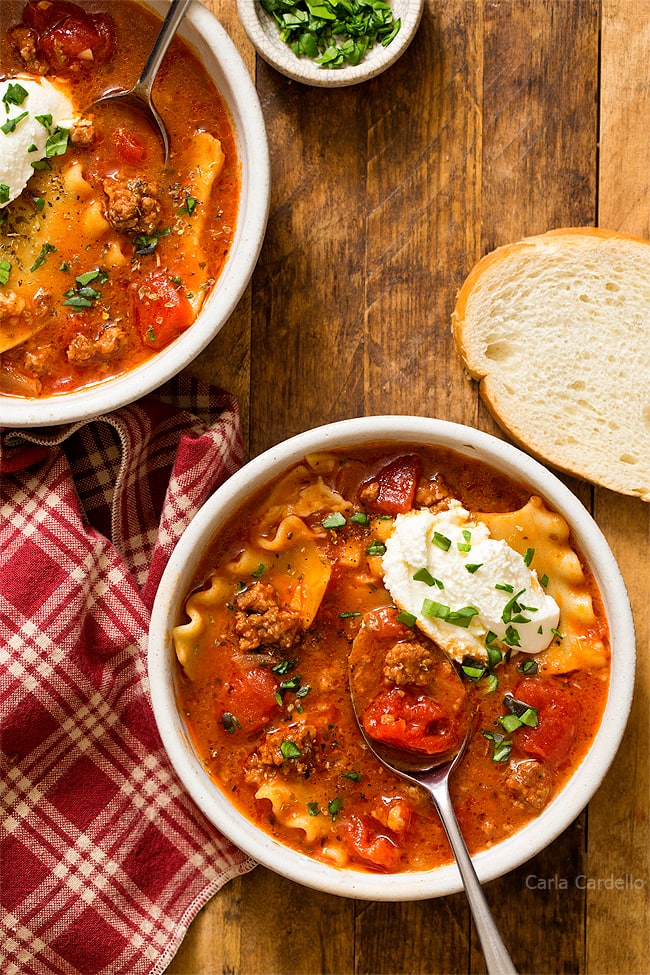 I think this is the part where I'm supposed to be a good blogger and give you a healthy recipe to jump start your New Year diet because we're all too fat from Christmas.
Truth is I don't care; I'm not one to go on a diet. Add more vegetables to dinner? Sure. Serve an arugula side salad? Yes. Make a glorified cheesecake with only 100 calories? Nah I'm good.
Instead of jumping on the diet train, I'm jumping on the hearty comfort foods train to get you through the snow (or the rain. It's been a strange few days in PA).
I've had the idea to make One Pot Lasagna Soup For Two since last year. Although my lasagna for two is delicious, it takes awhile to assemble. Perfect for Sundays. Not perfect for busy weeknights.
Wouldn't it be great if you could cozy up with some lasagna after a long day of working? That's where soup comes into play.
I love making soups because it takes under an hour to prep and cook.
Most of the time you're waiting for it to finish cooking, so you can multitask while you wait, such as getting a head start on dishes or playing with your super needy cat. Mr. J doesn't like it when I'm working and can't play with him.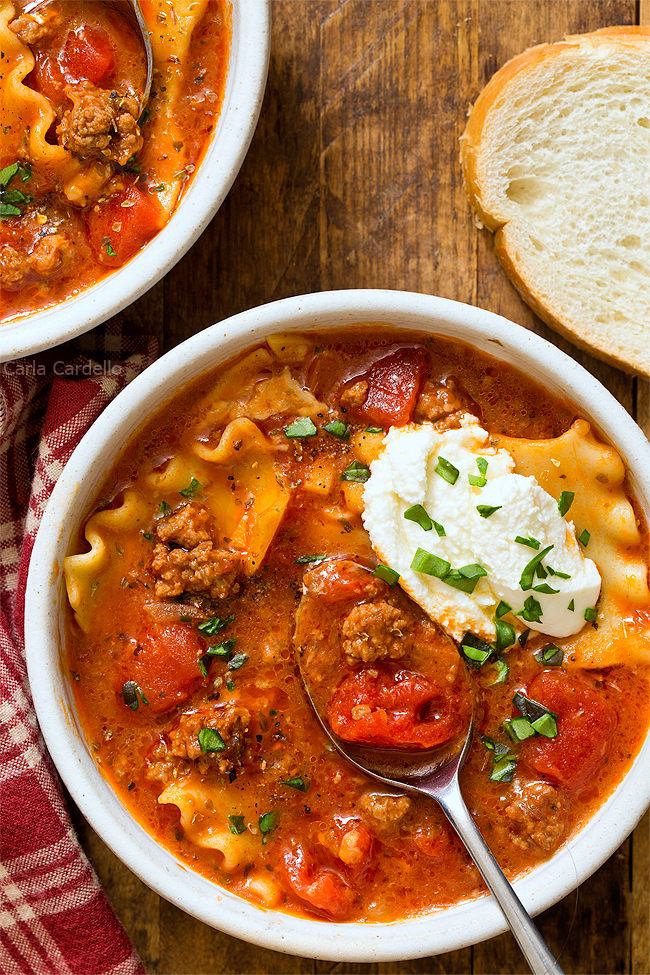 The Ingredients
Lasagna soup starts out by browning ground beef. If you want to go meatless, bulk it up with mushrooms and carrots.
Once you drain the grease, you then add the onion, garlic, tomato paste, tomatoes, broth, and seasoning.
I opted for chicken broth even though it's a beef dish because it's lighter in flavor. Vegetable stock works too if you're not using meat.
Finally, you add the lasagna noodles. I used regular lasagna noodles vs. oven ready noodles, but either will work in this situation. Keep an eye on the time and cook until al dente.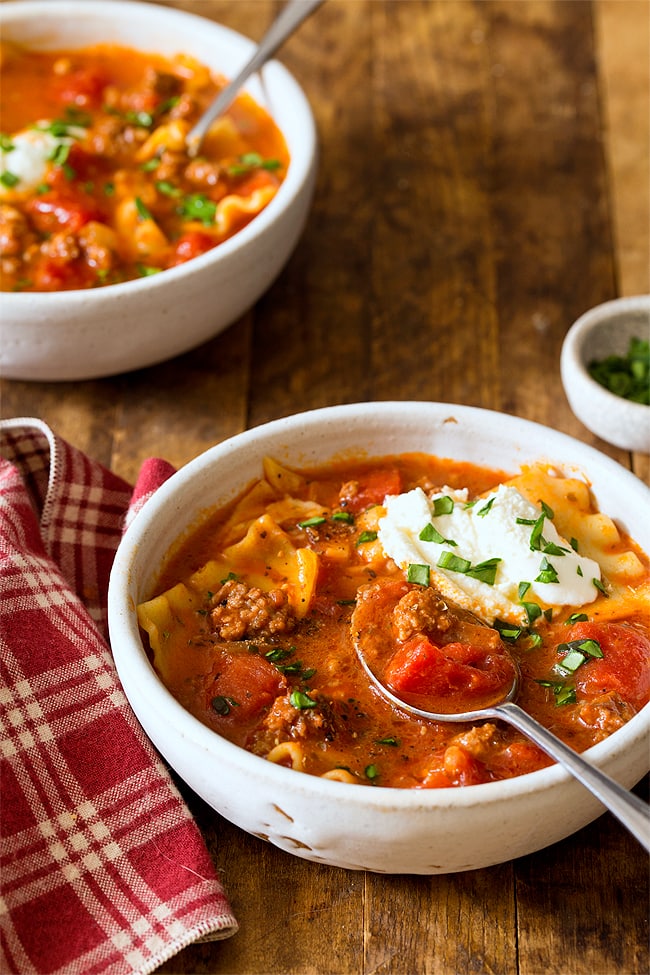 Can I make lasagna soup in one pot?
It's important to point out this recipe is a one pot meal.
I found similar recipes cooking the lasagna noodles separately, which seems like an unnecessary extra step. You can cook the noodles directly in the broth without having to dirty a second pot. I call that a #dinnerwin.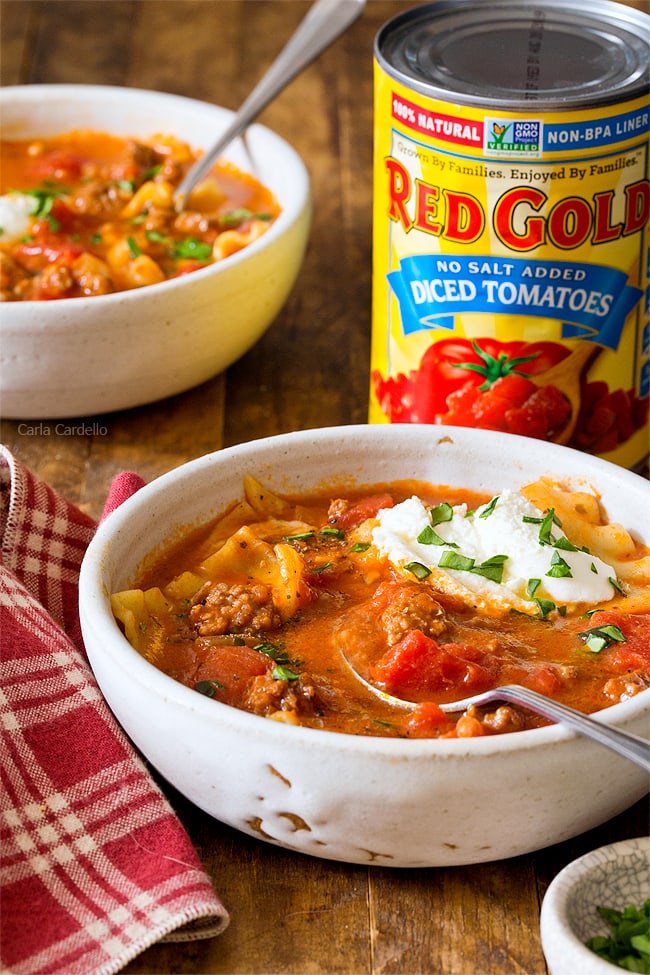 Should I use canned or fresh tomatoes?
Because it's the middle of January, I opt for canned tomatoes. Fresh tomatoes aren't very, well, fresh tasting in the winter since it's not tomato season.
Although there are certain canned vegetables I don't use (looking at you, canned peas), I use Red Gold canned tomatoes because of the high quality regardless of being from a can.
Their tomatoes are canned within hours of being picked from the vine on their family-owned farm. You won't even miss the fresh tomatoes!
Depending on your region, you may see cans labeled Redpack. They belong to the same family as Red Gold, so they are the same quality tomatoes.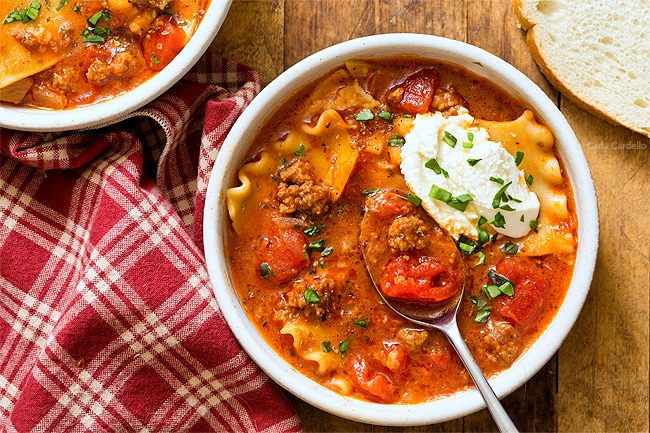 Can you make lasagna soup in a slow cooker?
While you certainly can make soup in the slow cooker, I opted not to because you have to brown the ground beef first. Since you'd be dirtying a pot anyway, I kept all of the cooking on the stovetop.
If you don't mind the extra cooking or you have a stovetop safe crock pot insert, you can finish the soup in the slow cooker. About 30 minutes before serving, add the lasagna noodles and cook until al dente.
Variations for Lasagna Soup

Vegetable Lasagna Soup: Omit the ground beef and use vegetable stock instead of chicken. Heat 1 tablespoon olive oil and saute 4 sliced white button mushrooms and 1 large diced carrot along with the onion. After the noodles are fully cooked, add 6 ounces frozen chopped spinach and cook for 2-3 minutes or until hot.
Buffalo Chicken Lasagna Soup: Use 1 large chopped chicken breast instead of the beef. Cook 3-5 minutes then flip and cook another 3-5 minutes or until fully cooked. Remove the chicken and continue with the recipe. Stir in 1/4 cup hot sauce along with the broth. After the noodles are cooked, stir in 2 ounces room temperature cream cheese (cut into small pieces) until melted then add the cooked chicken.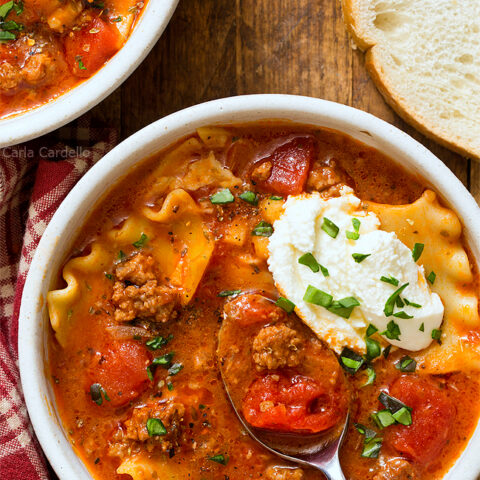 One Pot Lasagna Soup For Two
Yield: 4 servings (2 bowls per person)
Prep Time: 15 minutes
Cook Time: 30 minutes
Total Time: 45 minutes
Ingredients
1 teaspoon vegetable oil
1/2 pound ground beef
1/2 cup chopped onion
1 garlic clove, minced
2 tablespoons tomato paste
1 (14.5 ounce) can Red Gold Diced Tomatoes with juices
2 cups chicken stock or broth
1 teaspoon dried oregano
1 teaspoon salt
1 teaspoon granulated sugar
1/2 teaspoon ground black pepper
4 uncooked lasagna noodles, broken into bite-sized pieces
1/2 cup shredded mozzarella cheese
1/4 cup shredded Parmesan cheese
1 tablespoon chopped fresh basil
1/4 cup full-fat ricotta cheese
Instructions
Heat the oil in a Dutch oven or large pot until hot. Add the beef, onion, and a pinch of salt. Cook until the beef is no longer pink, breaking it into pieces with a wooden spoon as it cooks. Drain off any excess grease.
Add the garlic and cook 60 seconds.
Stir in the tomato paste, tomatoes with juices, broth/stock, oregano, salt, sugar, and pepper. Bring to a boil.
Once boiling, add the noodles. Cook until al dente, about 10-12 minutes, stirring occasionally.
Stir in the mozzarella, Parmesan, and basil until cheese has melted. Taste and adjust the seasoning.
To serve, top each bowl with 1 tablespoon ricotta.
Disclosure: This post is sponsored by Red Gold Tomatoes. Thank you for supporting me and the companies I work with as sponsored posts help pay for website hosting and groceries.
This post may contain affiliate links. As an Amazon Associate and member of other affiliate programs, I earn from qualifying purchase.