Craving apple pie but don't want to be stuck with leftovers? I have the perfect solution for your apple pie fix – Double Crusted Apple Pie For Two with a homemade pie crust and apple pie filling.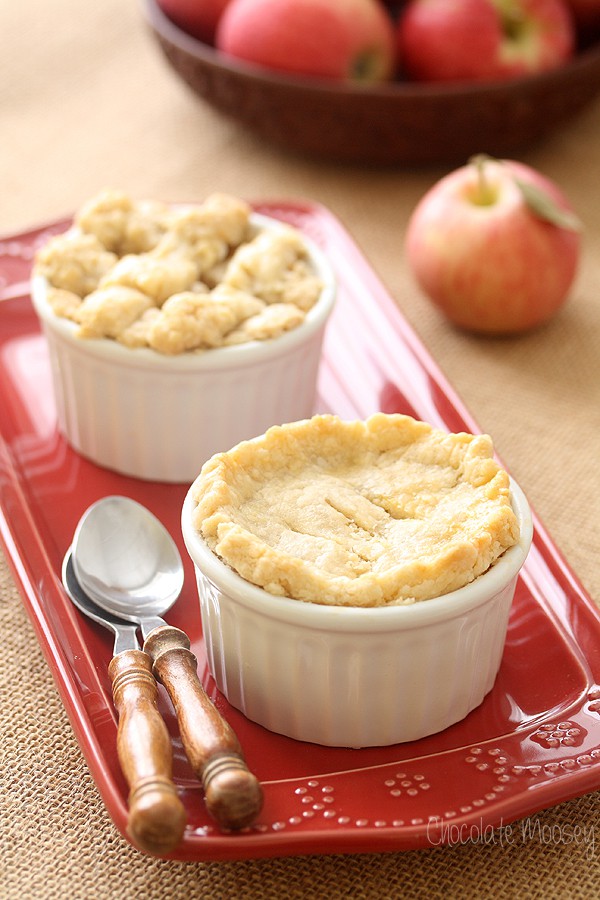 It's apple season in Pennsylvania, which means you're going to be seeing quite a few apple recipes in September and October. Dad and I always kick off the season by picking apples at
our favorite farm
south of Pittsburgh. Since I bake with apples a lot, I had a recipe idea list leftover from last year. At the very top was this Apple Pie For Two recipe. Make two mini pies in ramekins so you don't have a giant pie leftover. Check. I admit I was a little nervous making them look good, but shaping the homemade pie crusts were easy peasy. If you have been craving homemade apple pie but for whatever reason didn't want a whole pie in the kitchen (there's only two of you, you live alone, you're the only one who eats apple pie, etc.), then you definitely need to make this recipe. Pronto.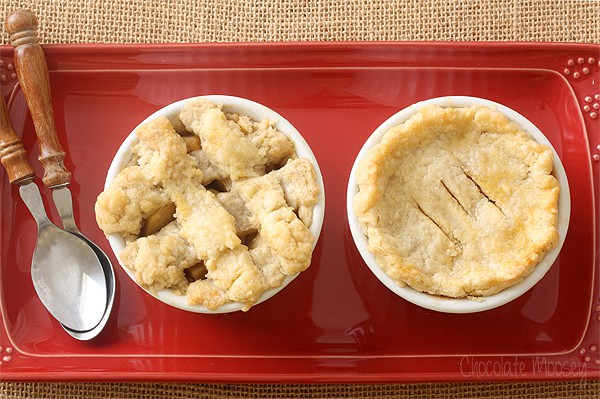 Labor Day weekend is when Dad and I always pick apples because of the extended holiday weekend, mainly because I was either away at college or at my previous job a few hours away. Although it didn't matter this year since I moved back to the area, we kept it the same weekend. And unfortunately for us, it was pouring rain the day we had planned. The rain did let up by the afternoon, so we took a chance.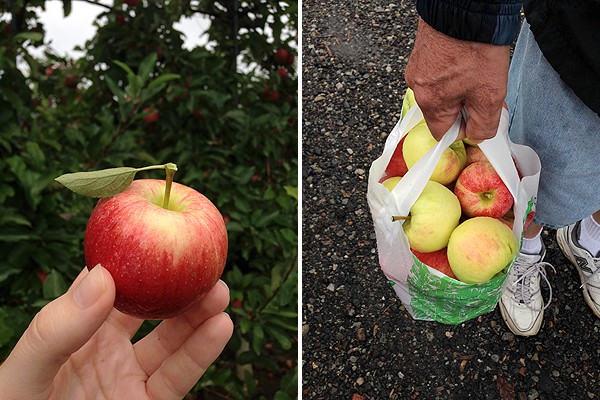 And then it rained again when we got to the farm. Fortunately, you can still pick apples in the rain, so we did. The farmer met us up at the top of the hill by the apple orchard and told us we were the first crazy people to be picking apples in the rain that day. Hey, more apples for us, right? Shortly afterwards, another family did join us in the orchard. I didn't take many pictures since it was raining (plus Dad was holding the umbrella and the apple bag, so he needed me to pick the apples). The two varieties we got were Ginger Gold and Gala. If you do get the chance to pick apples in the rain, it is quite refreshing. And cold. But we were laughing about it.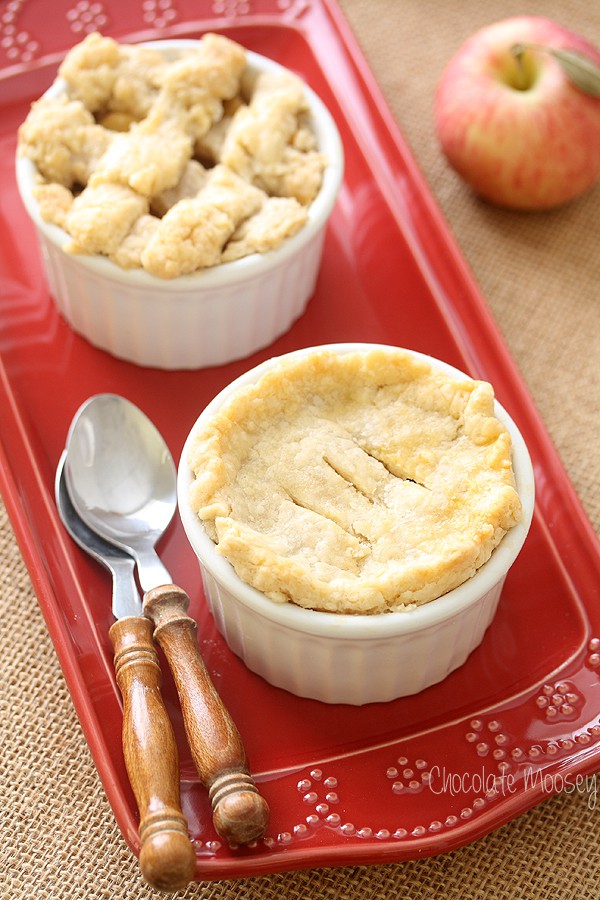 Time to make the pies! I accidentally made these mini apple pies double-crusted. I originally only wanted to cover the tops with pie crust but made too much dough. Most apple pies have a top and bottom crust anyway, so I kept going.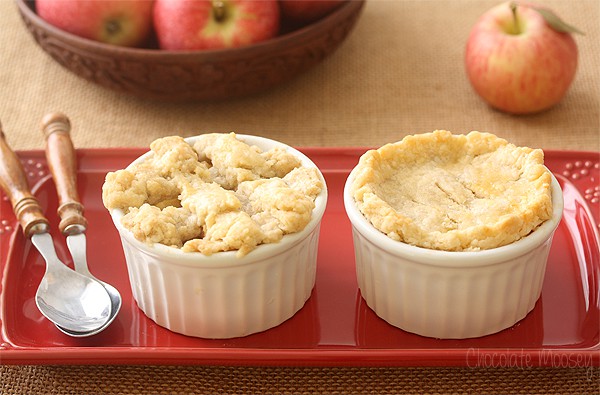 Your choice of top crust is completely up to your imagination. I like the fully covered crust better than my (rustic) lattice work, but I promise either way these pies will look impressive. For more ideas on different pie crust looks,
here's a handy tutorial from Martha Stewart
. I really want to try the braided crust. And buy a pastry cutter to make the fancy lattice crust.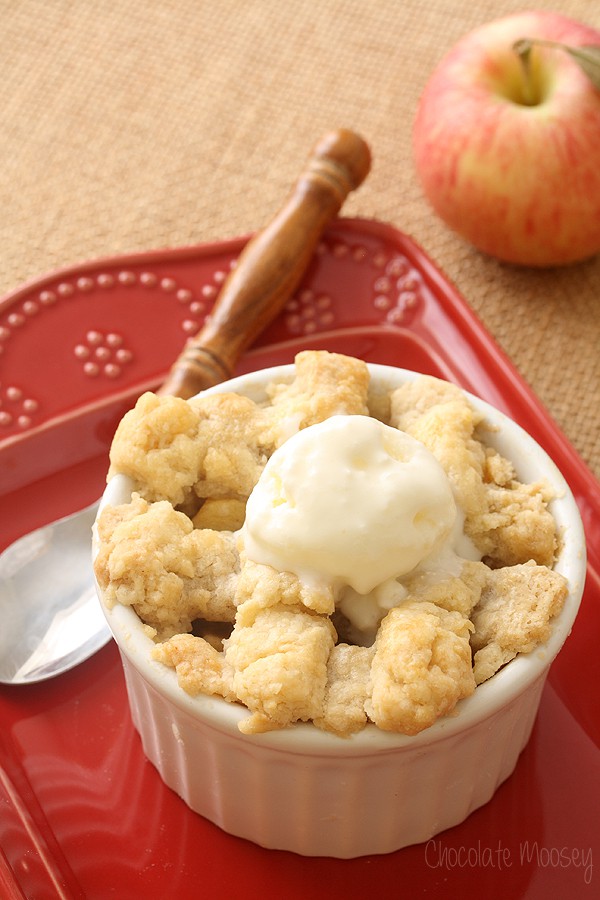 Of course what is apple pie without ice cream on top? I topped them with my
buttermilk ice cream
, but you are welcome to use
vanilla bean
or even
apple cider
. Want to take it even one step further? Drizzle some
homemade apple cider syrup
on top.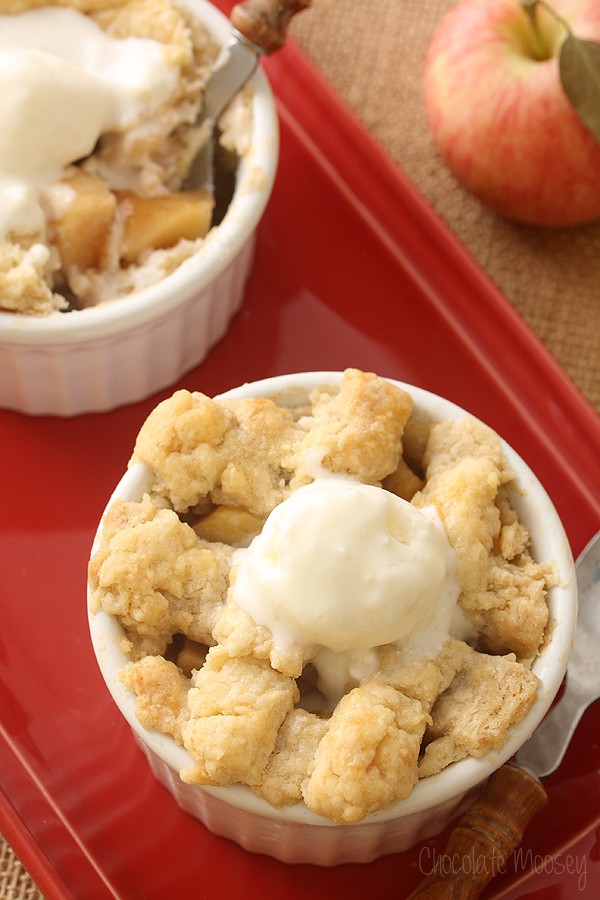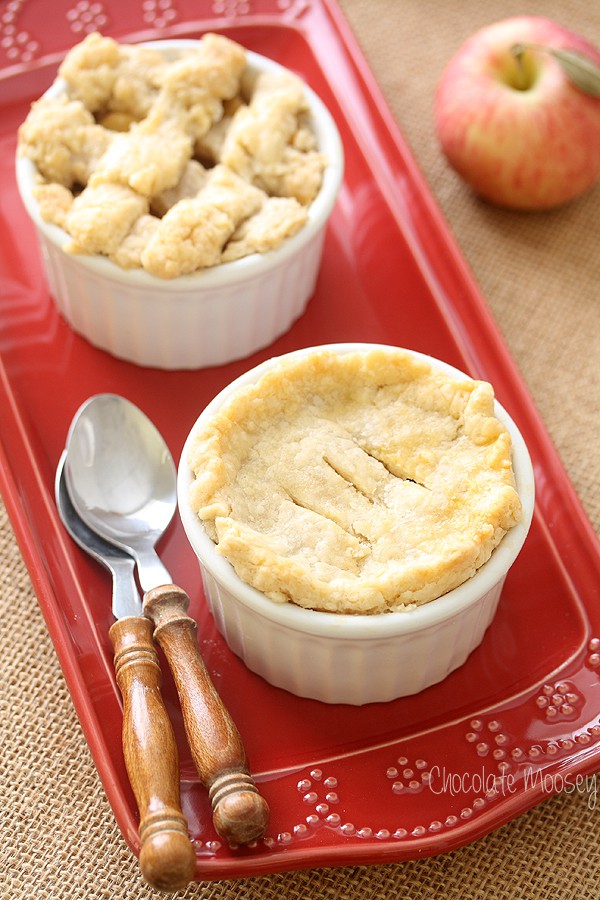 Ingredients
Pie Crust

1 cup all purpose flour
1/2 teaspoon salt
3 tablespoons cold shortening, cut into 3 pieces
3 tablespoons cold unsalted butter, cut into 3 pieces
2 tablespoons cold water

Apple Pie Filling

1/4 cup water
1 teaspoon lemon juice
1/4 cup granulated sugar
1 tablespoon cornstarch
1/2 teaspoon ground cinnamon
1/4 teaspoon ground nutmeg
Few drops of vanilla
1 1/2 cups chopped, peeled baking apples (such as Gala, Golden Delicious, or Jonagold)
Instructions
For the pie crust

In a large bowl, mix together the flour and salt. Using a pastry blender or your fingers, cut the shortening and butter into the flour mixture until the mixture resembles coarse meal. Stir in the ice water and blend well.
On a lightly floured surface, form the dough into a ball and lightly knead it. Divide the dough evenly into four pieces. Flatten each piece into an evenly round disk. Wrap in plastic wrap and refrigerate at least 1 hour or until cold.

For the apple filling

In a large saucepan, combine the water, juice, sugar, cinnamon, nutmeg, and cornstarch. Stir over medium heat until thickened and bubbly. Stir in vanilla and apples and cook for 5 minutes or until the apples start to soften (don't fully cook them), constantly stirring. Remove from the heat and let cool.

To assemble

Preheat oven to 350F. Have two six-ounce ramekins* and a cookie sheet ready.
Take one pie crust piece out of the refrigerator. On a lightly floured surface, roll it into a circle slightly bigger than your ramekin. Line the bottom and sides of the ramekin with the crust, patching it together if necessary. Fill the crust with half of the pie filling.
Take another pie crust piece and roll into a circle just big enough to cover the top. Place it on top and seal the edges. Cut a few slits in the top to let steam escape. If making the lattice crust, cut the dough in strips and lay the pieces on top in a criss-cross pattern.
Repeat Steps 2 and 3 with the remaining pie crust and filling.
Place each ramekin on the cookie sheet and bake 35-40 minutes or until the top is golden brown. Cool for 15 minutes. Serve warm with ice cream or cool to room temperature.
Notes
*If you use ramekins that are not six ounces, you may need to adjust the amount of pie crust and filling used. Use your best judgement.
7.8.1.1
3318
https://www.chocolatemoosey.com/2014/09/15/apple-pie-for-two/
Want more recipes like this?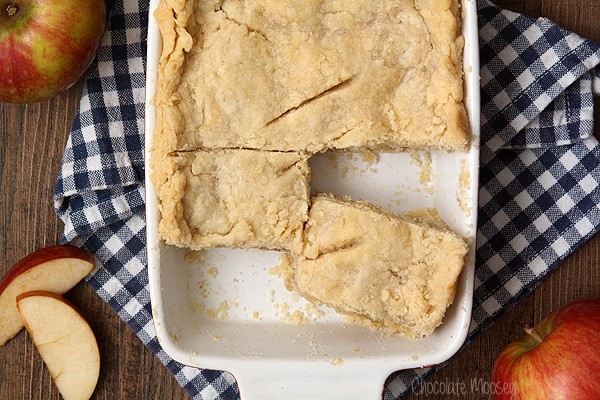 Apple Half Slab Pie

Apple Dumpling Cobbler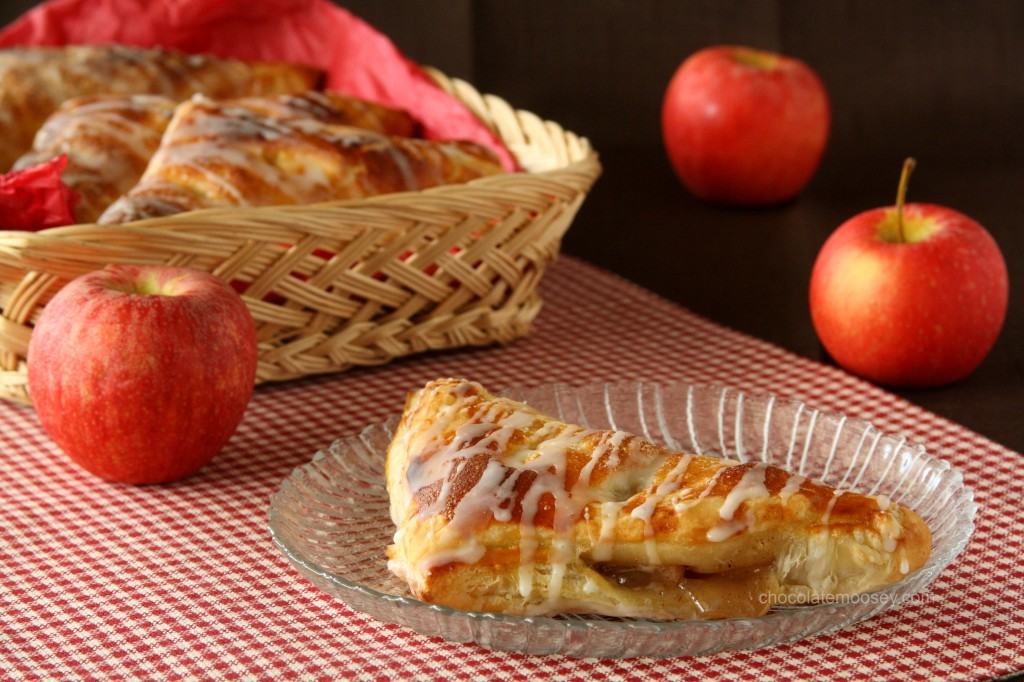 Apple Turnovers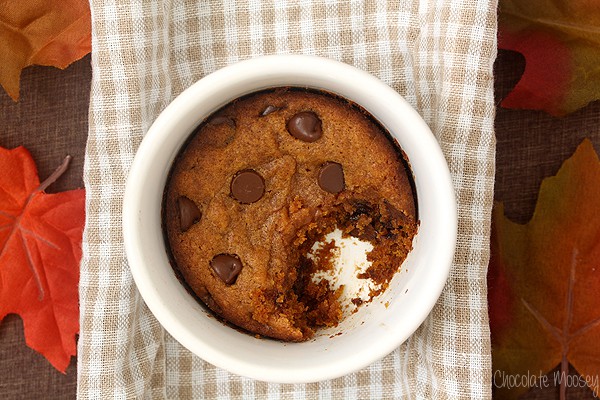 Single Serving Pumpkin Chocolate Chip Cookie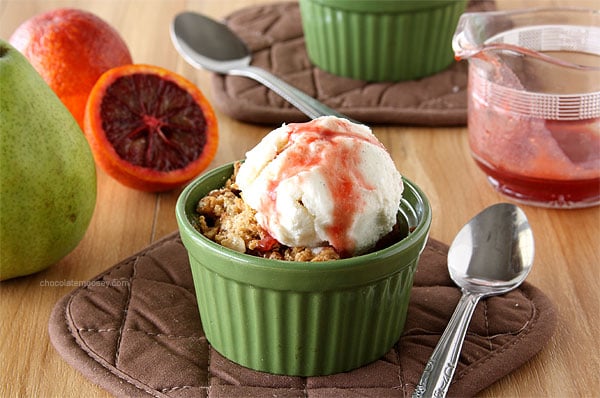 Pear Walnut Crisps For Two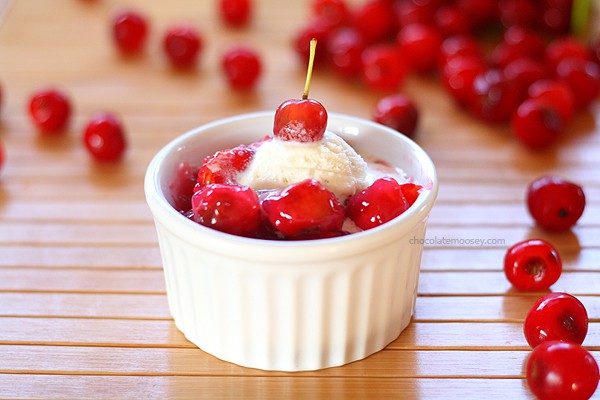 Single Serving Cherry Pie Ice Cream Sundae