Homemade Cranberry Sauce (Small Batch)
Whether you're making Thanksgiving for two or don't want leftovers, this small batch Homemade Cranberry Sauce recipe made with fresh orange juice and zest will brighten your dinner table.
It's almost Thanksgiving! Do you serve fresh cranberry sauce with your
stuffed turkey breast
or
stuffed Cornish hen
?
I'm not talking about the can-shaped jelly nobody wants to touch.
I'm talking about this recipe for Homemade Cranberry Sauce with fresh cranberries and fresh orange juice cooked down into a small batch sauce for a nice pop of flavor.
Actually I'm not sure why it's called a sauce as it reminds me more of a jam.
Names aside, this easy cranberry sauce adds a nice touch of sweetness to a savory meal. The acidity cuts through all the fat from the crispy turkey skin, cheesy stove top scalloped potatoes, and green bean casserole without mushroom soup.
What's special about my small batch cranberry sauce is it only makes 2-4 servings.
That's ideal if you're making Thanksgiving dinner for two or Christmas dinner for two.
Or maybe only a few people enjoy fresh cranberry sauce. Or if you're the only one who eats it, consider it single serving cranberry sauce.
My recipe for cranberry sauce is also incredibly easy to make. Boil everything in a saucepan until thick, which is about 10-15 minutes. That's it. Done.
You can make your small batch cranberry sauce while the bird is cooking.
You can make it the day before and warm before serving. You can even make it on Monday and keep it in the fridge until Thursday. How's that for planning ahead?
Cooking With Fresh Cranberries
Can we talk about how I've never had fresh cranberries before this cranberry sauce recipe? My only experience with cranberries is from a can.
I remember my parents opening a can of cranberry sauce for Thanksgiving, and the sauce ("sauce"?) kept the shape of the can.
I think I've had cranberry juice once or twice in my life but not enough to tell you what cranberry tastes like. Until now.
I decided to eat a fresh cranberry straight from the bag and let me warn you – don't do that. They are extremely tart, much like rhubarb.
Never had raw rhubarb? Yea you don't want to taste that one raw either.
Although cranberries are very tart on their own, balancing them out with sweetness makes them much more enjoyable.
Ingredients For Fresh Cranberry Sauce
To make small batch cranberry sauce, the ingredients are fresh cranberries, sugar, fresh oranges, cinnamon, and a big pinch of salt.
For the orange juice, I highly recommend buying oranges then squeezing fresh juice from them. It tastes so much fresher.
However, if you want to use bottled orange juice, make sure it's either unsweetened or adjust the amount of sugar in the recipe.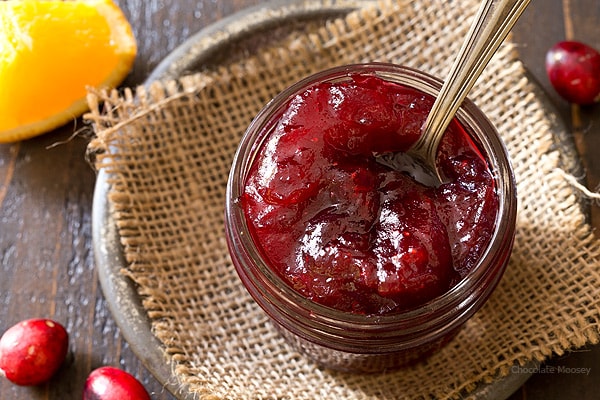 How To Make Cranberry Sauce
Making homemade cranberry sauce with orange juice is as easy as boiling water!
Add your cranberries, sugar, orange zest, orange juice, cinnamon, and salt to a large saucepan then bring to a boil.
Once boiling, cook until the fresh cranberries break down into a sauce, roughly 10 minutes for a small batch.
Seriously so easy!
How long does homemade cranberry sauce last?
The best part about making fresh cranberry sauce from scratch is you can make it ahead of time! Small batch cranberry sauce lasts up to 2 weeks in the fridge.
Can you freeze homemade cranberry sauce?
Yes, you can freeze fresh cranberry sauce! Transfer your leftovers to an airtight container then freeze for up to 2 months.
When ready to serve, defrost in the refrigerator overnight.
What To Do With Leftover Cranberry Sauce
In addition to Thanksgiving dinner, cranberry sauce pairs well with a variety of cheeses, including Brie, Gouda, and cream cheese.
Make a grilled cheese using Gouda. Make my cranberry baked Brie for snacking on a charcuterie board for two. Or simply slather it on top of crackers with cream cheese.
How To Freeze Fresh Cranberries
This small batch cranberry sauce won't use a whole bag, so you'll have leftover fresh cranberries.
Use them up to make Cranberry Apple Crisp or Cranberry Sangria, or Cranberry Goat Cheese Appetizer by Foxes Love Lemons.
However, you can also freeze fresh cranberries for future use.
Lay them out in a single layer on a rimmed cookie sheet and freeze for about an hour or until firm. This helps keep the cranberries from freezing together in one giant clump.
Transfer and seal them in a freezer bag for up to 1 year.
More Thanksgiving For Two Recipes

Now that you have your easy cranberry sauce, are you ready for the rest of your Thanksgiving dinner? If you're still planning, add one of these Thanksgiving recipes to your menu
Homemade Cranberry Sauce (Small Batch)
Yield: 6 ounces
Prep Time: 15 minutes
Cook Time: 10 minutes
Total Time: 25 minutes
Whether you're making Thanksgiving for two or don't want a ton of leftovers, this small batch Homemade Cranberry Sauce made with fresh orange juice and zest will brighten your dinner table.
Ingredients
1 cup fresh cranberries
1/2 cup granulated sugar
1 tablespoon orange zest
1/2 cup freshly squeezed orange juice, about 2-3 large oranges* (see Note)
1/4 teaspoon ground cinnamon
1/8 teaspoon salt
Instructions
In a large saucepan, whisk together the cranberries, sugar, zest, juice, cinnamon, and salt. Bring to a boil.
Once boiling, cook for 10-15 minutes or until cranberries have burst and sauce has thickened. Cool to room temperature before serving. Store up to 2 weeks in the refrigerator.
First published November 10, 2016
This post may contain affiliate links. As an Amazon Associate and member of other affiliate programs, I earn from qualifying purchase.