Double Chocolate Espresso Bundt Cake with Caramel Glaze
Sinful and rich Double Chocolate Espresso Bundt Cake with coffee, chocolate chips, and a caramel glaze makes a stunning cake to serve your guests.
Mixers beating at full speed. Mess of flour everywhere. Ovens on full blast. Dishes piled high.
Once November rolls around, that's pretty much the scene in every kitchen. Holiday baking has begun!
This time of the year can be stressful for most, including myself. When time is limited and company is coming over, you don't have time to deal with mishaps.
How many of you ruined a cake because it stuck to the pan? Notice me raising both hands and a foot?
I avoided bundt cakes because they stuck most of the time. Until now.
When I was asked to use PAM Cooking Spray in the kitchen, I knew I'd be testing it out with this Double Chocolate Espresso Bundt Cake with Caramel Glaze.
Why? Because I made this once before, just to have it rip in half when unmolding.
I don't think it helped that my pan was 10 years old either. So with a new pan and PAM Cooking Spray in hand, I was ready to unmold the perfect bundt cake.
I love bundt cakes for their simplicity.
The shape of the pan, whether simple or fancy, makes it ready for serving almost instantly.
No need to bake three layers of cake and beat several sticks of butter for frosting, just to prove you have the frosting skills of a three-year-old.
Just dust with powdered sugar or drizzle with Bundt cake glaze before serving.
The last thing you need is for all your hard work to stick. Trust me – I've cried over my fair share of ruined cakes.
The idea behind this Double Chocolate Espresso Bundt Cake recipe is to make a quick and simple cake to serve with coffee (or tea), whether it's the end of a holiday meal or a quick get together in the evening.
I started with the idea of espresso because everybody needs extra energy during the holiday. What pairs well with espresso? Chocolate and caramel.
Did you know using coffee in the batter enhances the chocolate? That's why I paired it with a chocolate cake then drizzled caramel glaze on top.
If you are not a coffee lover, just substitute plain boiling water.
Looking for a smaller cake? Check out my small Bundt cake recipe.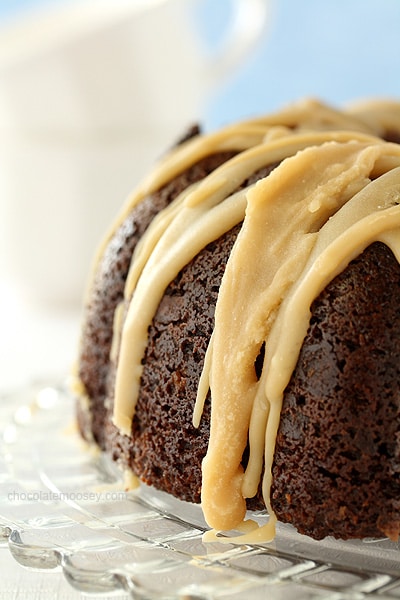 So go ahead. Grab some coffee and a spoon. I'll be there to join you shortly since I won't need to throw a tantrum in the kitchen, now that my bundt cakes won't stick anymore.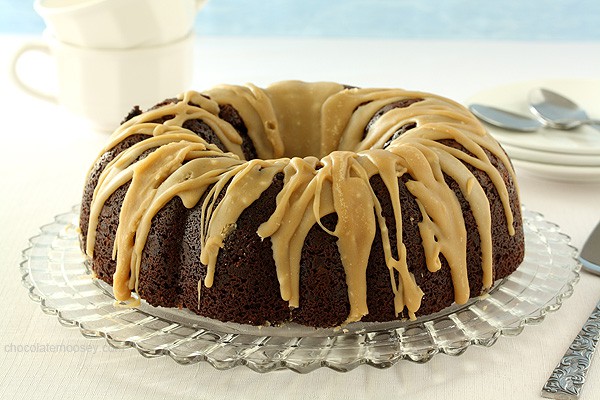 Double Chocolate Espresso Bundt Cake with Caramel Glaze
Sinful and rich chocolate cake with espresso and chocolate chips topped with a caramel glaze makes a stunning cake to serve your guests with coffee.
Ingredients
2 cups all purpose flour
1 teaspoon baking soda
1/2 teaspoon salt
1 cup (2 sticks) unsalted butter, cut into tablespoon pieces
1 cup sour cream
1/2 cup Dutch process cocoa powder*
1 tablespoon espresso powder dissolved into 3/4 cup boiling water
2 cups granulated sugar
1 tablespoon vanilla extract
2 eggs
1 cup semisweet chocolate chips
Glaze
4 tablespoons unsalted butter
1/2 cup brown sugar
2 tablespoons heavy whipping cream or milk
1/2 teaspoon vanilla extract
1/2 cup powdered sugar, sifted
Instructions
Preheat oven to 350F. Grease a 10-12 cup bundt cake pan with cooking spray.
In a large bowl, whisk together the flour, baking soda, and salt. Set aside.
In a large saucepan, melt the butter. Once completely melted, whisk in the sour cream until smooth. Whisk in the cocoa powder and espresso then whisk in the sugar and vanilla until smooth.
In a small bowl, lightly beat the eggs. Add a little bit of the hot batter to temper the eggs then add it back into the saucepan. Gradually whisk in the flour mixture then stir in the chocolate chips.
Pour the batter into the cake pan and bake 40-45 minutes until the cake is firm, slightly pulled away from the sides of the pan, and a toothpick comes out clean. Cool in the pan for 20 minutes then invert it onto a large plate to cool completely.
For the glaze: In a medium saucepan, melt the butter. Stir in the brown sugar and cream/milk until smooth. Boil for 1 minute then remove from the heat. Whisk in the vanilla and powdered sugar until smooth and thick. Pour over cooled cake and let sit for a few minutes or until the glaze hardens.
Notes
*It is highly recommended to use Dutch process cocoa. However, if you do substitute standard cocoa powder, increase baking soda to 1 1/2 teaspoons.
Source: Adapted from
About.com
If you enjoyed this Double Chocolate Espresso Cake with Caramel Glaze, you may also enjoy these recipes from me:
This post may contain affiliate links. As an Amazon Associate and member of other affiliate programs, I earn from qualifying purchase.