Chocolate Zucchini Bread
This deliciously moist quick bread recipe makes exactly one 9×5 loaf of Chocolate Zucchini Bread using leftover zucchini, cocoa powder, chocolate chips, and melted butter.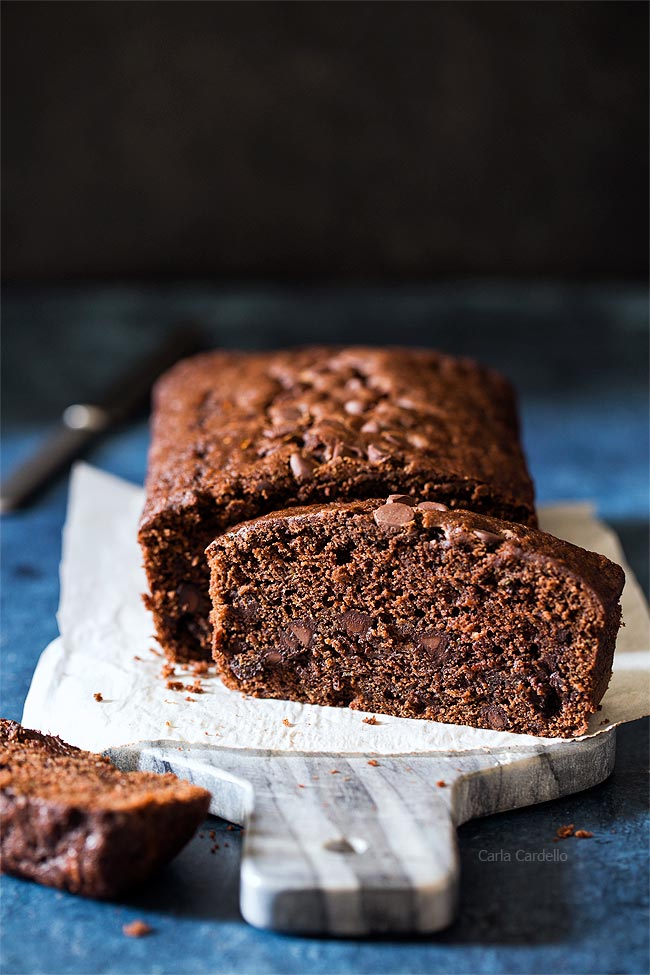 I wasn't originally going to post this recipe, but once I realized I couldn't find what I wanted to make, I thought you might be in the same boat as well.
All I wanted was a simple loaf pan recipe for chocolate zucchini bread. One, chocolately and moist quick bread using up leftover zucchini. That shouldn't be too hard, right? Right?!
Turns out almost every recipe I found made not one but TWO 9×5 loaves. I'm lucky to get through one loaf, let alone two.
And sure I could cut these recipes in half, but a lot used 3 eggs. Not exactly easy to scale down.
And I suppose you can freeze the second loaf, but right now my freezer needs to be organized so I would be playing Tetris with said extra loaf, never to be seen again until six months from now when it's all freezer burnt.
Then when I finally found a few recipes that made only one loaf, I wasn't happy with the ingredient list.
Using all vegetable oil means a super moist bread, but it would lack flavor from no butter. Likewise beating a stick of butter means flavor but more on the dry side.
See where this is going?
So I bring to you exactly one moist Chocolate Zucchini Bread made with leftover zucchini, cocoa powder, chocolate chips, and melted butter. No need for a chocolate drizzle on top because it's that good on its own.
Want to know a secret? I mostly buy zucchini at farmer's markets just so I can make zucchini bread. $1 for a giant zucchini? That gets me both dinner and dessert!
For dinner you can make either these Baked Zucchini Fries or Garlic Parmesan Stuffed Zucchini (which is probably more useful if you buy a bunch of smaller ones, usually 3 for $1 or $2).
When making the bread, you can certainly grate the zucchini by hand, but I find it much quicker to use a food processor with a shredding attachment.
I use my processor a lot even for my small batch recipes – grating zucchini, carrots, and cabbage; making pesto; and even making pie dough.
If you have the room, I highly recommend buying one! I can't find the exact model I have, but you can usually find a good food processor on Amazon (affiliate link).
Need a gluten free option? Check out this Gluten Free Zucchini Bread from Seasonal Cravings.
Once you're done grating, you need to squeeze out the excess liquid so the bread doesn't get too soggy.
That's where a ricer (affiliate link) comes in handy. Of course you can do it the old-fashioned way with paper towels, but it's much more efficient with a ricer.
I used an aluminum 9×5 loaf pan (affiliate link). Although it slid out easily after greasing the pan, you can use a piece of parchment paper for peace of mind, especially if your pan is on the older side.
The best way to store quick bread is by wrapping it tightly in plastic wrap and letting it sit at room temperature for up to 3 days. Question is whether it'll last that long!
More Quick Bread Recipes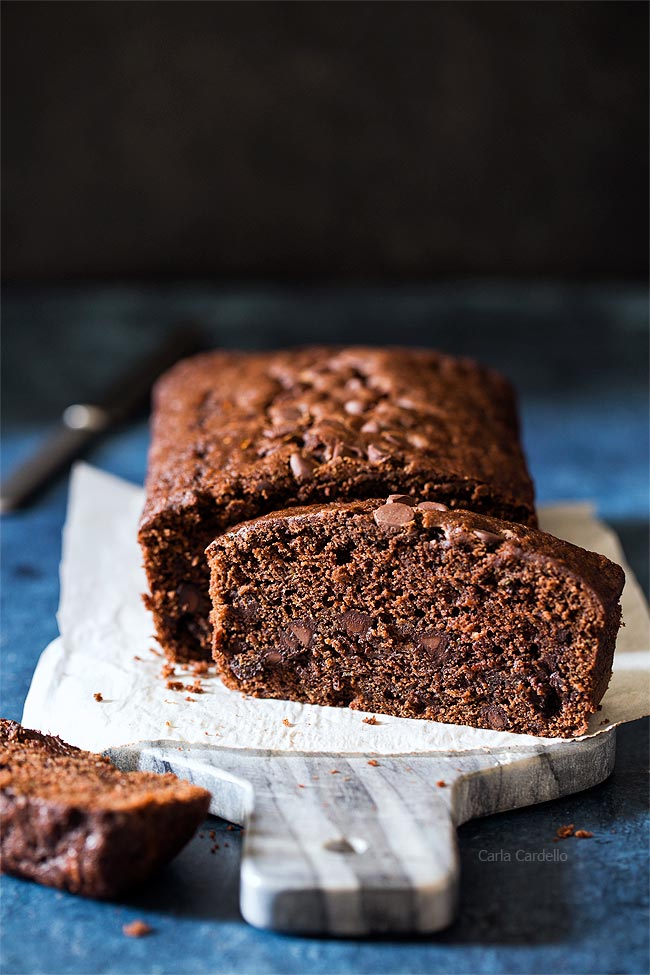 Chocolate Zucchini Bread
Yield: 1 (9x5) loaf
Prep Time: 20 minutes
Cook Time: 1 hour
Total Time: 1 hour 20 minutes
Ingredients
1 1/2 cups all purpose flour
1/2 cup unsweetened cocoa powder
1/2 teaspoon baking powder
1/2 teaspoon baking soda
1/2 teaspoon salt
1/2 cup (1 stick or 4 ounces) unsalted butter, melted
1 cup granulated sugar
2 eggs, room temperature
1 teaspoon vanilla extract
2 cups grated zucchini, squeezed dry
1 cup semisweet chocolate chips
Instructions
Preheat oven to 350F. Lightly grease a 9x5 loaf pan.
In a large bowl, sift together the flour and cocoa powder. Stir in the baking powder, baking soda, and salt.
In a another large bowl, beat together the melted butter and sugar until smooth, about 1-2 minutes.
Beat in the eggs, one at a time, until incorporated. Add the vanilla and zucchini.
Gradually add the flour mixture (do not overmix). Stir in the chocolate chips.
Scrape the batter in the pan. Bake 55-60 minutes or until a toothpick inserted in the middle comes out mostly clean (may have some chocolate from the chocolate chips but shouldn't be wet batter).
Cool for 15 minutes then invert on a cooling rack to cool completely. Wrap tightly in plastic wrap and store at room temperature for up to 3 days.
This post may contain affiliate links. As an Amazon Associate and member of other affiliate programs, I earn from qualifying purchase.