Slow Cooker Shredded Beef Sliders
In the mood for barbecue but don't want to turn on the oven? These small batch Slow Cooker Shredded Beef Sliders with an easy homemade barbecue sauce and coleslaw will do the trick!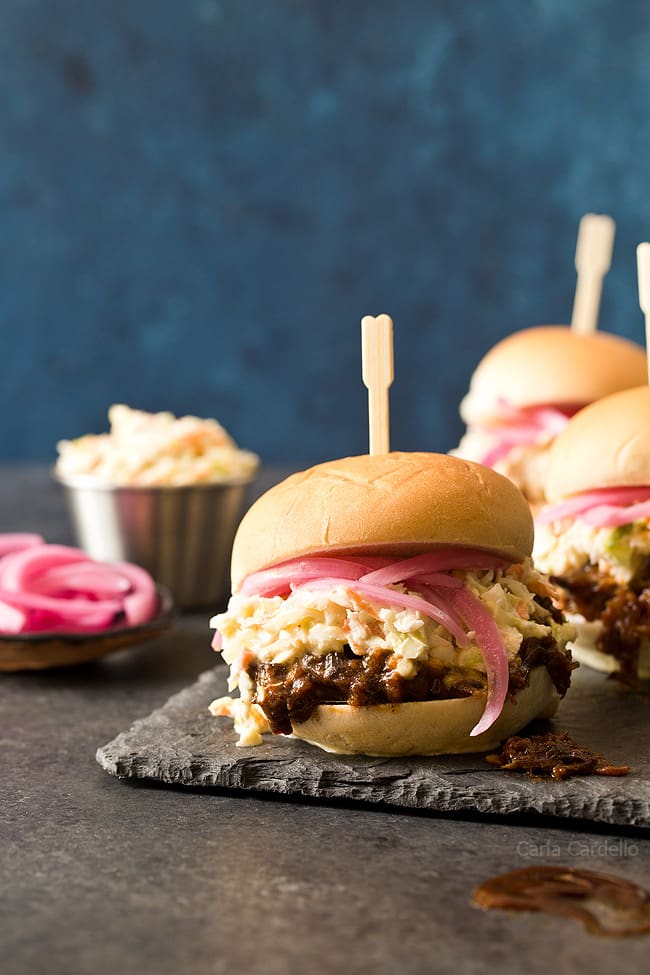 Freelancing while single and alone is probably one of the most challenging careers to do, and people who are doing exactly this don't get enough credit.
Sure, the lives of little tiny humans don't rest in your hands, but it's a different kind of challenge.
One where you can't rely on your spouse's income when work dries up.
One where you're sick but you still have to figure out what to eat when you can barely stand up let alone drive to the store. Luckily you can manage to cook some eggs, but you still have to not pass out while making said eggs.
One where you're sick but you're on your own for healthcare and will probably lose coverage if the Republicans get their way.
One where you realize if you knocked yourself unconscious from an unfortunate accident, nobody will discover your lifeless body for another 6 days.
One where you're walking by yourself and wonder if you were kidnapped right now, how long until somebody noticed.
One where you have to find the motivation to keep going when the last thing you want to do is keep going.
Creativity puts so much doubt in your head when things aren't going right. There's nobody around to cheer you on. There's nobody around telling you it's going to be ok.
One time I asked Siri for advice and she couldn't/wouldn't help me. It's only you, yourself, and, well, you.
This is the challenge I face every day. I'm not pretending other lifestyles are less challenging, and some of you will chime in and tell me exactly how wrong I am because I don't have kids.
And in some aspects I do and will never deny that, but it doesn't make my feelings any less valid when the crushing loneliness takes your breathe away.
But life goes on and I have to keep going, even if I don't know what I'm doing.
Sometimes figuring out dinner is a victory in itself.
And when you spend all day on your feet working, it's hard to find the energy to stand at the stove.
That's where having a slow cooker comes in handy. You can throw everything in it ahead of time, set the timer, then by the time you're done with work, everything is ready to eat.
These Slow Cooker Shredded Beef Sliders with a sweet and spicy BBQ sauce are my latest adventure in slow cooking for two.
This recipe makes 8 BBQ sliders or 4 sandwiches, depending on the size of your bun.
Most pulled beef recipes make twice that amount. I don't mind leftovers for lunch the next day, but I don't want leftovers all week.
And if you do get tired of sandwiches, you can also serve the BBQ beef over creamy garlic mashed potatoes.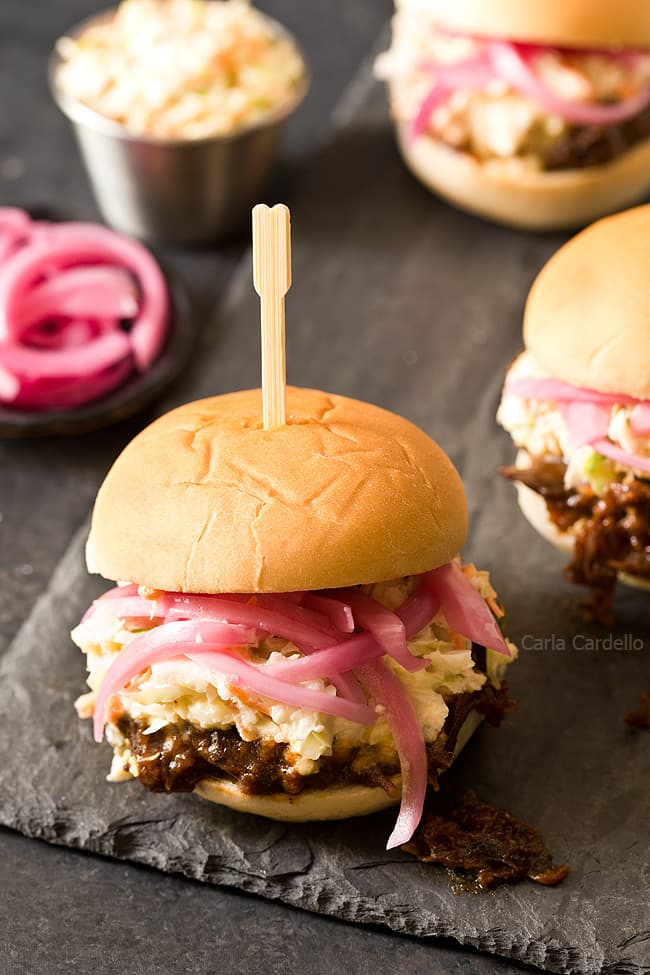 When cooking for one or two, buying protein is probably the toughest challenge. Mainly because it's difficult to buy 1 pound pieces; most pieces are 2 pounds or more.
However, you do have two options: ask your butcher to cut a 1 pound piece or buy what's available and portion it yourself.
I use a digital scale to weigh my 1 pound piece then I wrap and freeze the remaining meat.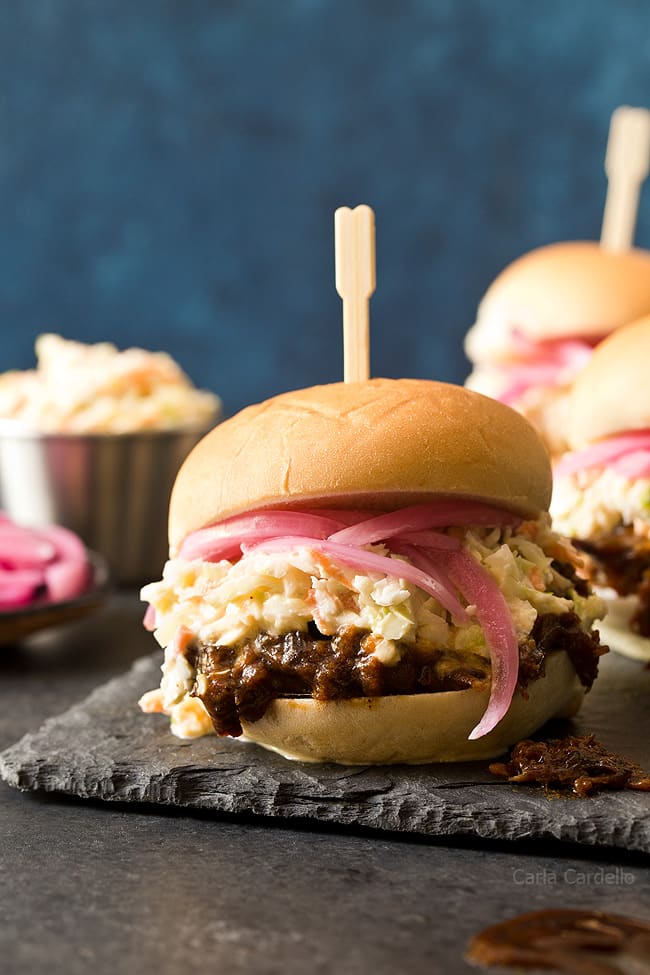 Chuck roast is ideal for slow cooker beef sliders. Using the slow cooker helps break down this tough cut of meat until it practically falls apart on its own.
Make sure there's a decent amount of marbling on the meat because that marbling provides flavor. More fat = more flavor.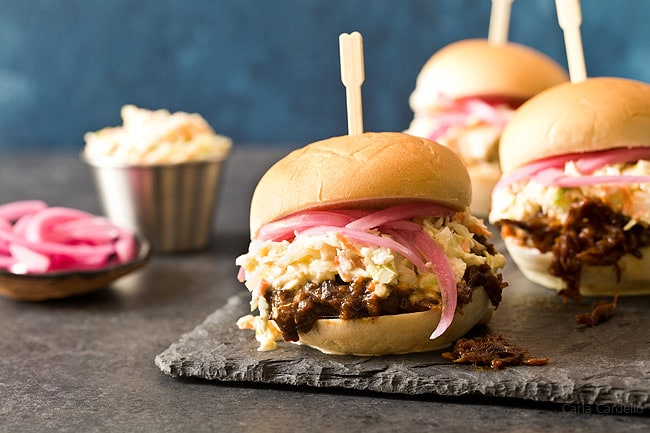 You know what? I lied about buying meat being the toughest challenge.
Buying cabbage for homemade coleslaw proves to be even more difficult. When was the last time you bought cabbage weighing less than a pound?
If you're stuck with cabbage for days, make sure you check out my post on what to do with leftover cabbage which includes Haluski and Thai Sweet Chili Shrimp with Cabbage Noodles.
If it's March, I make stove top corned beef and cabbage.
To finish, serve these sliders with pickled red onion or pickled jalapenos on top.
For side dishes, make my Caesar Pasta Salad or Italian Potato Salad.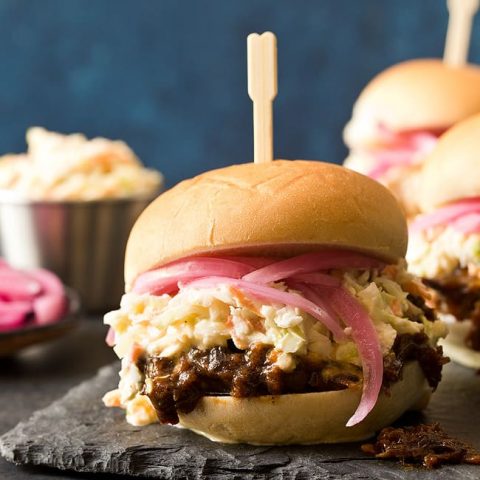 Slow Cooker Shredded Beef Sliders
Yield: 4 servings (8 sliders or 4 sandwiches)
Prep Time: 30 minutes
Cook Time: 8 hours
Cool Time: 15 minutes
Total Time: 8 hours 45 minutes
In the mood for barbecue but don't want to turn on the oven? These small batch Slow Cooker Shredded Beef Sliders with an easy homemade barbecue sauce and coleslaw will do the trick!
Ingredients
1 pound beef chuck roast, patted dry and sprinkled with salt to taste
1/2 cup ketchup
1/4 cup packed brown sugar
1/4 cup honey
2 teaspoons apple cider vinegar
1 teaspoon Worcestershire sauce
2 teaspoons ground chili pepper
1 teaspoon smoked paprika
1/2 teaspoon garlic powder
1/2 teaspoon onion powder
1/2 teaspoon salt
8 slider buns
Pickled red onion, (homemade or store bought), for serving
Pickled jalapenos (homemade or store bought), for serving
Coleslaw
2 cups shredded cabbage (roughly 8 ounces cabbage)
1 large carrot, peeled and grated
2 tablespoons diced onion
1/2 cup mayonnaise
2 tablespoons milk
2 teaspoons white distilled vinegar
1 teaspoon granulated sugar
Instructions
In a 6-quart slow cooker, add the beef.
In a large bowl or measuring cup, whisk together the ketchup, brown sugar, honey, cider vinegar, Worcestershire sauce, chili pepper, paprika, garlic powder, onion powder, and salt.
Pour the sauce over the beef and evenly spread with a spoon, ensuring the beef is covered.
Cover and cook on high for 4-6 hours or on low for 8-10 hours or until the beef is cooked and easily falls apart with a fork.
Meanwhile, make the coleslaw: In a medium bowl, combine the cabbage, carrot, and onion. Whisk together the mayonnaise, milk, vinegar, and sugar then add to the cabbage mixture. Refrigerate for at least 30 minutes before serving.
Shred the beef with 2 forks. Stir everything together. Remove the insert from the slow cooker and let cool for 15-30 minutes or until the meat absorbs enough sauce to serve.
Serve on slider buns with coleslaw, pickled red onion, and pickled jalapenos.
Notes
The barbecue sauce and coleslaw can be made ahead of time to help with prep the day you add the beef to the slow cooker.
Disclosure: This post contains Amazon affiliate links.
This post may contain affiliate links. As an Amazon Associate and member of other affiliate programs, I earn from qualifying purchase.