Slow Cooker Maple BBQ Pulled Chicken Sandwiches
Not sure what to do with that chicken breast in the freezer? Cook up some sweet and spicy sandwiches for dinner with Slow Cooker Maple BBQ Pulled Chicken Sandwiches! Makes 4 servings in a crock pot. Ideal for dinner for two.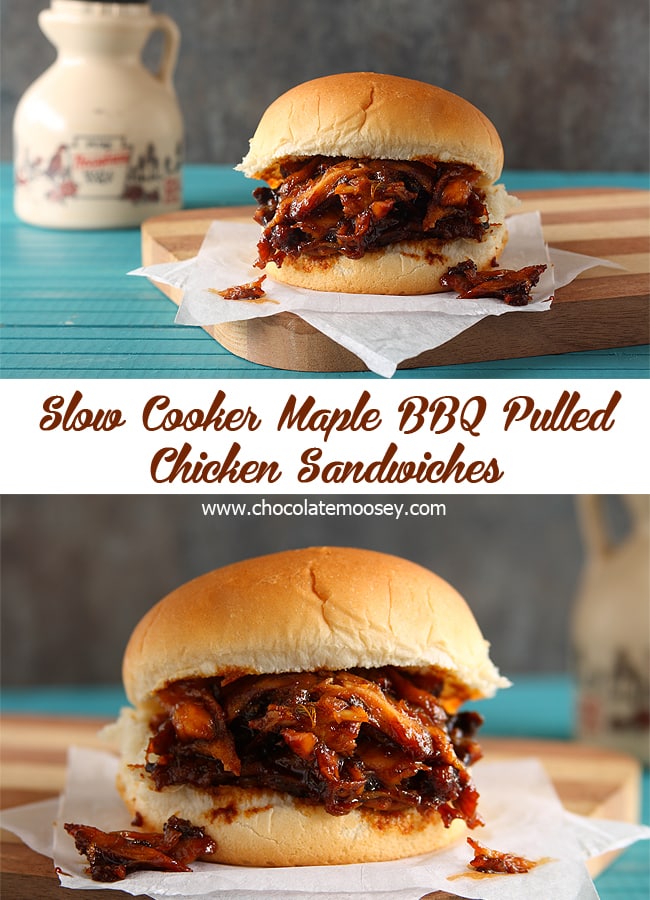 For the longest time I didn't trust slow cookers.
The idea of leaving the house with a slow cooker on all day made me nervous. It wasn't until I was forced to buy not one but two for a client that I decided to test it out.
Slow cookers are designed to not blow up your kitchen when left attended. They heat at a very low temperature and won't burn your food (as long as you have enough liquid).
And if you aren't home after time is up, it'll turn over to the warm setting so it doesn't overcook.
The two slow cookers I own are the 6 quart Crock Pot and 1.5 quart Chefman slow cooker (affiliate links).
I've made several slow cooker recipes, including Salsa Chicken, Gyro Rice Bowls, and Shredded Beef Sliders.
I decided to go back and make my Maple BBQ Pulled Chicken Sandwiches in a crock pot.
I originally made them in a Dutch oven then baked it for a few hours. I left those instructions in case others want to learn what you can use instead of a slow cooker by converting it for the oven.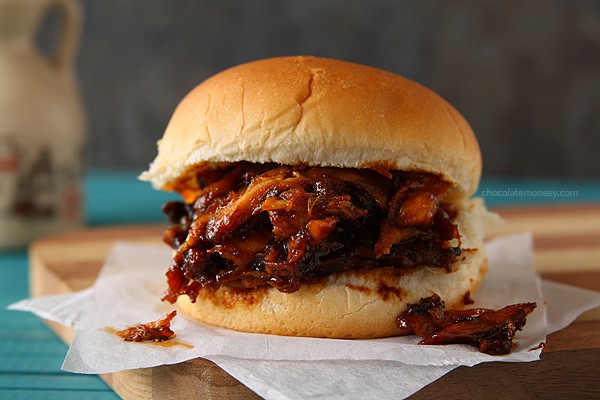 The pulled chicken is sweet and spicy with a balance between the maple syrup and jalapenos.
The sauce will seem quite liquidy, but it'll cook down. Once you shred the chicken and mix it together, it should be thick enough.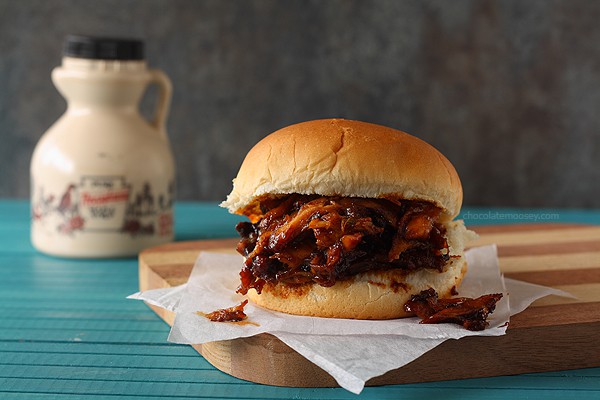 It seems like all of the crock pot recipes on the internet make 8 servings or more. Since I'm not feeding a huge family, I scaled this recipe down to make 4 servings. Ideal for two people to eat two sandwiches each. The meat is also delicious in salads and tacos.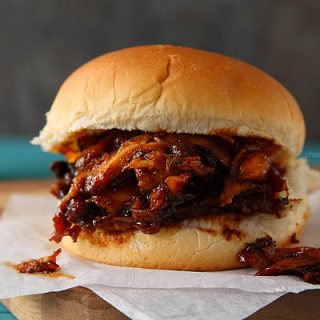 Slow Cooker Maple BBQ Pulled Chicken Sandwiches
Yield: 4 sandwiches
Prep Time: 15 minutes
Cook Time: 6 hours
Total Time: 6 hours 15 minutes
Ingredients
1 large boneless skinless chicken breast, thawed, patted dry, and lightly salted
1/2 cup chopped onion
1 jalapeno, chopped
1 garlic clove, minced
1/2 cup pure maple syrup
1/4 cup apple cider vinegar
1/4 cup canned tomato paste
1 tablespoon brown sugar
1 tablespoon Dijon mustard
1 tablespoon Worcestershire sauce
1 teaspoon ground paprika
1 teaspoon ground chili powder
1/2 teaspoon ground cumin
1/4 teaspoon salt
1/4 teaspoon ground black pepper
4 hamburger buns
Instructions
Slow Cooker Instructions
In a 6-quart slow cooker, add the chicken. Top with onion, jalapeno, and garlic.
In a large measuring cup or bowl, whisk together maple syrup, vinegar, tomato paste, brown sugar, mustard, Worcestershire sauce, paprika, chili powder, cumin, salt, and pepper.
Pour sauce over the chicken. Cover and cook on high for 4-6 hours or on low for 8-10 hours or until chicken is cooked and easily falls apart with a fork.
Shred the chicken with 2 forks then stir to incorporate the sauce. Serve on hamburger buns.
In the oven (no slower cooker)
In a large Dutch oven on the stove, heat 1 tablespoon vegetable or olive oil. Add the chicken top side down and cook until browned, about 4-5 minutes. Flip and cook another 4-5 minutes or until golden brown. Transfer to a plate and keep warm.
Add the onion, jalapeno, and garlic to the pot and cook until softened, about 5 minutes.
Stir in the maple syrup, vinegar, tomato paste, brown sugar, mustard, Worcestershire sauce, paprika, chili powder, cumin, salt, and pepper. Bring to a boil.
Once the sauce is boiling, turn the heat down to a simmer. Add the chicken and cover with sauce.
Cover with a lid and cook for 1-2 hours or until the chicken is cooked to 165F degrees and easily falls apart. Once the chicken is cool enough to handle, shred and place back in the sauce. Serve on buns.
Notes
© Chocolate Moosey. All images and content are copyright protected. Please do not use my images without prior permission. If you want to republish a recipe, please rewrite it in your own words or link back to the post for the recipe.
Source: Adapted from Choosy Beggars
This post may contain affiliate links. As an Amazon Associate and member of other affiliate programs, I earn from qualifying purchase.