Slow Cooker Banh Mi Rice Bowls
Slow Cooker Banh Mi Rice Bowls with shredded pork, pickled vegetables, and baguette croutons is a fun dinner for two twist on a Vietnamese sandwich. Great way to use up that pork shoulder in your freezer!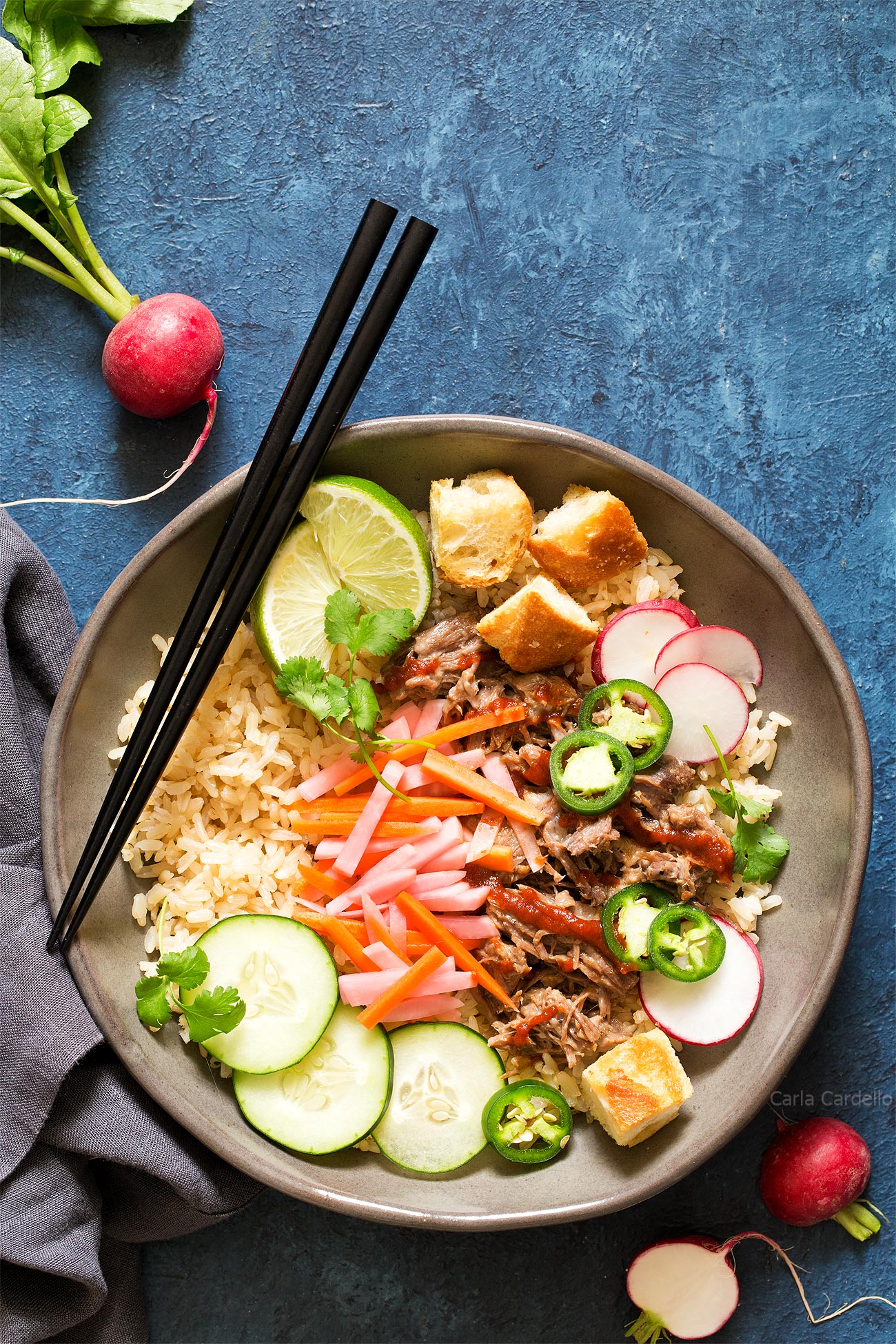 Last month as I was going through my recipe archive, I noticed I eat a lot of chicken. A. Lot. In fact, it made me realize I don't branch out enough cooking other proteins. I do eat beef and pork on a weekly basis, but for some reason I don't blog about it as often.
As I was thinking about dinner ideas to use other proteins, I started focusing in on pork. Then I started thinking about how to make Slow Cooker Banh Mi Rice Bowls.
A banh mi is a Vietnamese sandwich with meat and pickled vegetables served on a baguette. Most of the time it's pork, but I've seen a few chicken and beef banh mi at restaurants.
I had my first banh mi last year when a restaurant dedicated to banh mi opened up near my coworking space. I'm always open for anything, but it took some strong convincing for my parents to eat there. I knew they'd love the sandwiches; it was a matter of introducing them to a new word.
As you can imagine, eating out adds up. I wanted a way to enjoy the flavors of banh mi at home with a twist. I brought out my trusted slow cooker to cook some pork shoulder while I was busy working all day.
The pickled vegetables and baguette croutons can be made ahead of time, so when the pork is done, all you have to do is serve everything over rice.
The pork is cooked in the slow cooker (I have this
6 quart one
). You want to use a tougher cut of pork such as pork shoulder (sometimes referred to as pork butt) because the low and slow cooking breaks down the fat, making the meat tender and moist when ready to serve.
I find most slow cooker recipes make too much food for two people, so it's been my goal to make slow cooker dinners for two. Throughout my recipe testing, I've learned one pound of meat in the slow cooker makes roughly 4 servings.
However, tougher cuts of meat are hard to find in small sizes when they're prepackaged, so I usually ask the butcher to cut a 1 pound piece for me. However, if you're forced to buy several pounds at once, cut the meat into 1 pound portions using a digital scale when you get home and freeze the extras. That way you can grab what you need for future meals without defrosting the whole thing.
These Slow Cooker Banh Mi Rice Bowls are made up of several components:
Meat – I made an Asian maple pulled pork inspired by the local banh mi restaurant who serves a maple pork banh mi.
Pickled Vegetables – Pickling makes vegetables taste 1000x more delicious. Typically banh mi is made with daikon radish, but I used the more common red radish. Don't like radishes? Pickling them takes away their bite, making them more pleasant to eat.
Baguette – Since I served my banh mi over rice, I made baguette croutons to incorporate the bread. After all, banh mi translates into bread.
Spice – Typically banh mi is served with sriracha and jalapenos for extra spice. Of course if you don't like spicy, leave them out of your rice bowl.
After slow cooking the pork, I served it over
Veetee Rice
, which is microwavable rice ready in 2 minutes. It's convenient and fast, ideal for when you get home after a long day of work, your pork is ready, and you don't want to spend another 15 minutes making rice. I used whole grain brown rice for its nutty flavor, but you can also use white long grain rice. Check out their
store locator
to find their products near you.
More Slow Cooker Recipes For Two

Not in the mood for pork? Check out these other slow cooker recipes for dinner:
Slow Cooker Banh Mi Rice Bowls
Slow Cooker Banh Mi Rice Bowls with shredded pork, pickled vegetables, and baguette croutons is a fun dinner for two twist on a Vietnamese sandwich. Great way to use up that pork shoulder in your freezer!
Ingredients
1 pound boneless pork shoulder or pork butt
Salt and ground black pepper, to taste
2 tablespoons soy sauce
2 tablespoons maple syrup
2 tablespoons rice or apple cider vinegar
1/4 teaspoon ground ginger
1/4 teaspoon onion powder
1/4 teaspoon garlic powder
2 trays Veetee Dine-In Whole Grain Brown Rice
Sliced cucumbers, sliced radishes, sliced jalapenos, lime wedges, cilantro, and sriracha, for serving
Pickled Vegetables (Can be made ahead of time)
1/2 cup rice or apple cider vinegar
1/2 cup water
1/2 cup granulated sugar
1/2 teaspoon salt
1/2 cup thinly sliced carrot (roughly 1 large carrot)
1/2 cup thinly sliced radish (roughly 2 large radishes)
Baguette Croutons (Can be made ahead of time)
1 cup 1-inch baguette bread cubes
1 tablespoon olive oil
Sea salt, to taste
Instructions
In a 6-quart slow cooker, add the pork. Sprinkle salt and pepper on top.
In a large measuring cup or bowl, whisk together the soy sauce, maple syrup, vinegar, ginger, onion powder, and garlic powder. Pour over pork.
Cover and cook on high for 4-6 hours or on low for 8-10 hours or until pork is cooked and easily falls apart with a fork.
Shred pork with 2 forks. Stir everything together until the juices are absorbed back into the meat (you may need to let this sit off the heat for a few minutes before stirring again).
For the pickled vegetables: Whisk together the vinegar, water, sugar, and salt in a medium saucepan. Bring to a boil and whisk until sugar and salt has dissolved. Add the carrots and radishes to a heatproof jar or container. Pour the hot vinegar mixture over top. Let sit at room temperature for at least 1 hour before serving. Store in the fridge in an airtight container.
For the baguette croutons: Preheat oven to 350F. In a large bowl, mix together the baguette cubes, oil, and enough sea salt to taste. Spread onto a baking sheet. Bake 10-15 minutes or until golden brown and crunchy. Cool completely before storing in an airtight container.
When ready to serve: Cook the rice in the microwave according to package directions. Place rice in the bottom of each serving bowl then top with shredded pork, pickled vegetables, croutons, cucumbers, radishes, jalapenos, lime, cilantro, and sriracha.
Disclosure: This post is sponsored by Veetee Rice and also contains Amazon affiliate links. Thank you for supporting me and the companies I work with as sponsored posts help pay for website hosting and groceries.
This post may contain affiliate links. As an Amazon Associate and member of other affiliate programs, I earn from qualifying purchase.